Salt Lake City, UT
Salt Lake City 4
Monster Energy AMA Supercross Championship
On Wednesday night, the 14th round of the Monster Energy AMA Supercross Championship took place as the 450SX riders were joined by the 250SX West Region riders.
In the 450SX main event, Red Bull KTM's Cooper Webb fought off Honda HRC's Ken Roczen at the beginning of the race before taking his third win of the championship. Rockstar Energy Husqvarna's Zach Osborne finished in second, tying a career best in the 450SX class, and Monster Energy Kawasaki's Eli Tomac charged from a poor start to take the final podium spot away from Rocky Mountain ATV/MC-KTM-WPS' Blake Baggett.
Following the race, Webb, Osborne, and Tomac spoke with the media in a Zoom press conference call after the race, hosted by NBC Sports' Daniel Blair.
Daniel Blair: Eli, congratulations on the ride. We're at that point in the season where the numbers really do come into play. You've got a pretty big points lead. It looked like today there was a lot of patience from you. Was that just a daily situation just based on the track and how you were feeling? Or are you starting to kind of look at those numbers and know that the decisions can be made a little bit more cautiously, at least coming through the pack?
Eli Tomac: Yeah. The start was unacceptable. Yeah, I'm going to start looking long-term, but the start was unacceptable. I was like third guy in line going to the first turn there and was buried. The outcome was fine, but to be honest I was pretty stressed out when I saw first lap Cooper [Webb] and Kenny [Roczen] up front. I'm like, "Oh no. This might be a ten-point night." Just kept digging there. Got to third. That was acceptable. Can't be doing those starts like that again.
Zach, congratulations. We've talked about this, and I'll somewhat ask it again. Since we've been here in Salt Lake City, you've put together the best run we've seen of your career. You tied your career best with a second. Mentally are you getting into a new mode and a new zone that you haven't really felt yet in the 450 class? On track that's what it looks like.
Zach Osborne: Yeah. I think the biggest thing for me right now is just I'm in a really good head space. I feel fresh when I get to the races. I've just been really enjoying the time here in Salt Lake with my family. It's been honestly just a huge refresher for me. I think that's been the biggest thing. My bike has changed a little bit from the beginning of the year. I'm doing a little bit better at adapting the bike throughout the day. But the biggest thing is just I'm enjoying riding right now and I'm enjoying going to the races.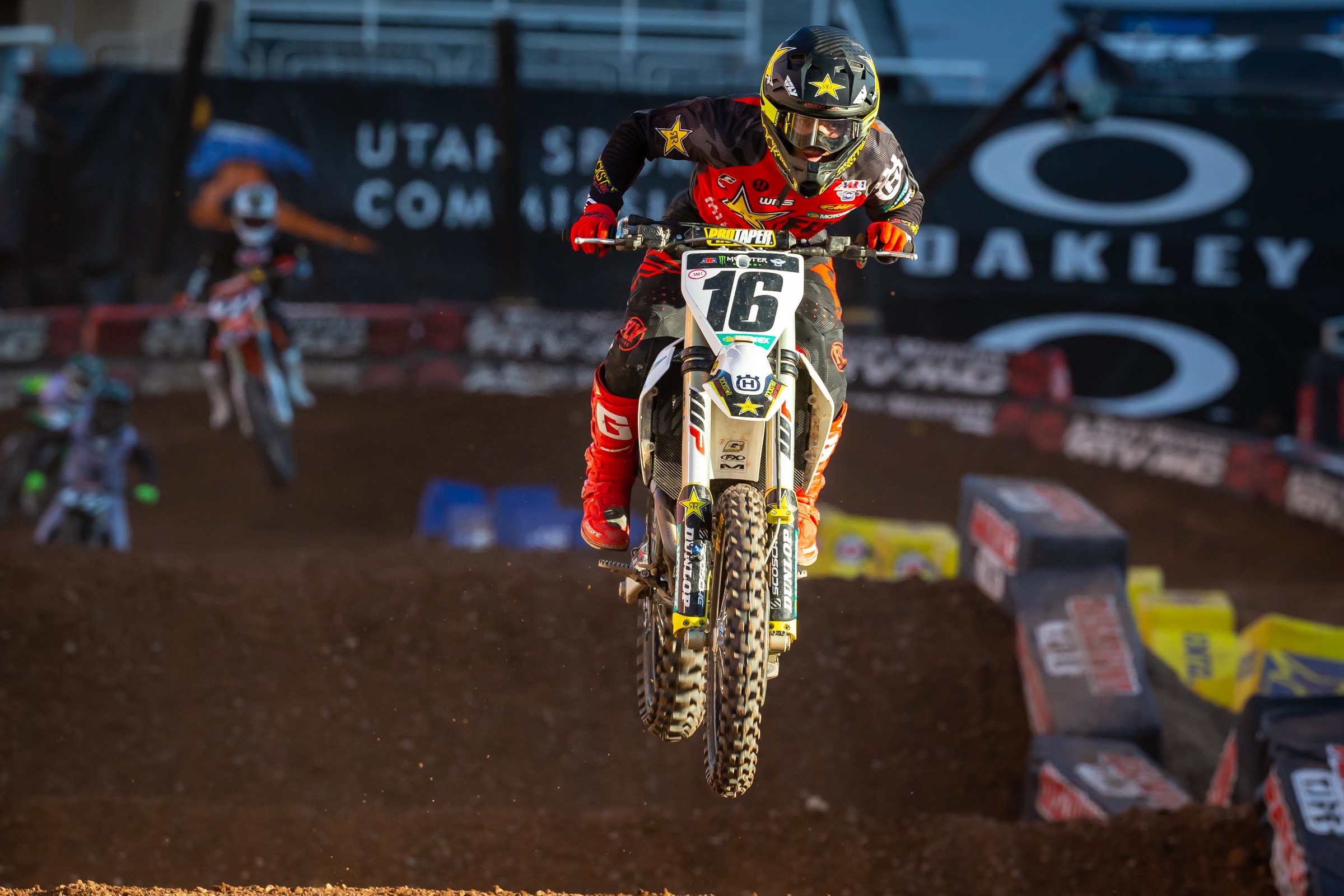 Cooper, today was a pretty complete day. The heat race, you were in a good battle but won that one. Then that main event a good battle early and then won this one. Do you feel like overall with yourself, the bike, that everything just gelled today? From front to back it just seemed like a complete day.
Cooper Webb: It turned into that, for sure. Honestly, I feel like my speed has been good this whole time. Everything has been good. Today was good. The heat race I actually made a little bit of mistakes and stuff like that, but I was able to still win. The main event just getting that good start really helped. Kenny was really fast in the beginning, and he was like that in the heat. I just kind of kept plugging away, doing my laps, and he fell off a little bit. I got into where I could just kind of ride my own race. It was a great race to win.
Zach, in the heat race I saw you drop back. I wasn't sure what happened there. Then also, has Bobby Hewitt been happy with your riding so far in Salt Lake?
Osborne: The heat race thing was just a little malfunction with my shock. Something that I don't think I've ever seen happen since I've been on the Husqvarna WP stuff. But Bobby has been really happy. He's a little bit remote right now, but he's been really happy with everything and the team has been gelling really well. That's all I can say.
Cooper Webb, just talk about the whoops and the turn after the whoops. You and Kenny went at it probably 18 laps between the heat and the main there. Talk about your strategy and your lines that you were using through that section.
Webb: Yeah. He's obviously really quick in the whoops. I'm getting better, but I wasn't as fast as him. I just knew if I hit that line all day, he wouldn't be able to pass me, no matter how fast he was going. That was kind of my strategy. I saw he was going more to the right. That looked like a better line, but like I said in my head I felt like he couldn't make the pass there. In the heat he was really good in the whoops and in the main I felt like I was holding my own a bit better when they got more chewed up. That was a little bit of the strategy there.
Pretty late in the afternoon, with the sun in your face, it looked like you guys would come out of that rhythm section and make that corner for the triple. How blind was that for everybody?
Osborne: The triple in our main was like blind. Might as well have been blind-folded.
Cooper, early on in the main event you were obviously in battle with Ken. Were you anticipating that he was going to drop off at some stage? What was going through your mind at that point of the race?
Webb: Just trying to do my laps. I felt like our pace was really good. We were both riding good. He was a little better in places, I was a little better. We were just riding really good. I think the track was one of those that you had to kind of give and take. There wasn't a ton of passing spots, but I was clicking my laps. After the heat he was super fiery. We did ten hard laps, so I kind of felt like maybe he figured it out or whatever, but obviously he seemed to make some mistakes and whatnot. He was riding good.
For the 450 class, now that you have four races in the same venue on very different dirt conditions every time, are you changing the setup a lot from round to round, or has it basically been a baseline that you guys have gotten and stayed at, with the exception of the mud race?
Tomac: I've been pretty good. My bike has had a really good base all year, so I can kind of leave her be.
Osborne: Same for me. I haven't really changed that much other than clickers one direction or the other. It's one of those deals where the dirt is a little bit different as far as the rhythm lanes go, but the corners have been kind of bermy. That's kind of been the case every race. It's kind of the same every time.
Webb: Same for me. I've been able to get a good base during the break and just a click or two here and there. I've been pretty happy with things.
Eli, it sort of feels like there's a new Eli this year. We've talked in the past about little mistakes here and there that have caused you some issues. Is there anything consciously you've done this year to try to overcome that?
Tomac: I wish I could say there is, but no. I haven't done anything different. It's just making those bad starts or whatever, minimizing the damage there. I had a bad race in Atlanta. I went down and I got back to fourth. Tonight, I was totally buried in 12th or 16th or something and got back to third. So those are the nights that have changed for me versus the past. Just more racing, the more experience you get, I guess.
Cooper, in the heat race Kenny was doing that three-three before the finish line and you were doubling. Were you aware that he was doing that during the race, and he was gaining quite a bit of time on you? Obviously, you changed it for the main, but during the heat race were you aware?
Webb: No, not until after. I had done it in practice and honestly, I don't know why I wasn't doing it in the heat. After re-watching in the semi and stuff I could see that's where he was really catching me a lot. I knew for the main that it was going to be important to hit it. I had done it in practice and the way the track ended up being it was a lot more hard pack in the night show versus practice. So, I guess I was just kind of second guessing that. But in the main I think I hit it about every lap. So that was a good deal.
Eli, the TV had you somewhere around 15th off the start. What happened? Do you know what the deal was there? Two, I saw you in practice going three in on the rhythm after the whoops. never saw you do it again. Was it slower? I couldn't get a time on it, so I don't know which way you were thinking either on that rhythm.
Tomac: The start, I don't know what happened. I do know Zach beat me out to the inside, so that jacked me up. It was just a bad start. Looking back now, I probably should have went over a few more gates, but shoulda, coulda, woulda. I never did that three after the whoops. I was looking at it, but I never popped that three. The lane was, in my opinion, just misery. To start with a double.… I don't know what happened there. There wasn't much going on in that lane.
Zach, podiums are good and runner-up finishes are better than thirds, but are you getting to the point now where you're not satisfied with that and your goal is now to win these races?
Osborne: Yeah, for sure. Of course, that's the goal. I've got everything in the top five but a win so far since we've been here. Like I said the other day, you have to walk before you can run. This season has been really challenging for me up until really the first race of this little swing we're doing. For me it's been really positive this whole trip. I can't be too disappointed. My main goal was to come here and kind of turn the momentum of the season that I had going which was turning down and get turning up and I think I've done that. It takes a lot of pressure off of me just to hang some results and be up in the mix. I think the win will come soon enough. I'm in a good position as far as my body goes, my bike, and I feel like I can do it before we leave here.
Cooper, to try to get for the championship, you obviously have to get the wins in there. Any mind games going on? Are you trying to put pressure on everybody else? I can see a couple little things like one time you and Eli are going through the whoops side by side and you were looking over sideways at him or things like that?
Webb: I was trying but he's been very mentally strong. He's been freaking ripping. I think it's a little easier with some of the other guys, but not so much with him. At this point just try to do what I can on the bike and keep getting great starts, which I think has helped. I've gotten first and second twice now, so I think that's about as good as I can ask for. Three more and we'll see what will happen. I've been happy just knowing that I gave it my all these last seven and really kind of turned into so far I think it's been good just to be able to run with Eli. The beginning of this season I think he definitely had a bit of the upper hand. So that's been cool.
If you prefer to watch the press conference, watch the archive below: