With Jett Reynolds, it all seemed automatic. He would show up, he would win, he would go home, he would show up somewhere else, he would win again. Of all the riders busting out of the Bakersfield, California, area, he was perhaps the brightest star of all. Wining was inevitable. For four-straight years (2013-2016), he won both of his classes at Loretta's, racking up eight career titles by age 13. He won another title in 2017, pushing his title run to nine straight, but 1-1-DNF scores in the Mini Sr. class that year finally ended his streak.
Mike Alessi, Adam Cianciarulo, and James Stewart are tied with the all-time Loretta's Youth title record with 11. Reynolds could tie it if he had a good year in 2018….or 2019…but he never got a chance. Injuries kept him from the race in '18. Injuries kept him out of the race again in '19. What seemed automatic seems much tougher now, as Jett keeps working his way back from one tough break after another.
We checked in with the Team Green prodigy to find out the latest.
Current Age: 16
Hometown: Bakersfield, CA
Instagram: @jettreynolds79
Team: Monster Energy/Pro Circuit Team Green Kawasaki
Classes: 250B & Schoolboy 2
Racer X: How's quarantine been treating you?
Jett Reynolds: It's been good. I got a new trainer, Kellen Overall, so I've been working with him. Been boot camping it. Working really hard, training really hard and riding my dirt bike a lot lately. It's summertime now so the heat is starting to get here. Just been having fun riding my dirt bike and training, riding jet skis on the weekends. Everything has been going good lately.
What races were you able to get in before everything shut down?
I've done quite a bit of the Supercross Futures. I did Anaheim, Glendale, and Oakland. Then I did a Loretta Lynn's Area Qualifier and a couple Road to Mammoth qualifiers. I got hurt right after that. Broke my collarbone. So I missed out on Daytona and the Spring Nationals in Texas. So super bummed on that. It's kind of the story of my life these past three years. I haven't really raced too much.
I know you won nine Loretta Lynn's Championships and then you've had to sit out the last two years. Take us through what has gone on.
Yeah. Last year at the regional, it was the last lap and I crashed and dislocated my shoulder and still had a half a lap to go. I rode half a lap with a dislocated shoulder. I didn't know if I destroyed my shoulder again, because in 2018 I messed it up pretty damn bad. I didn't really know what was going on because I had never really dislocated it. So I went to the hospital. They put it back in. Then the next week, I had to race another regional. I qualified for that and a week later I broke my collarbone, that same shoulder I dislocated.
So how much time did you take off for that?
I could have been riding within three weeks to a month, but I was so over the small bikes. I was ready for bigger and better things for the 250 so I told [Kawasaki Team Green manager] Ryan Holiday, "I don't know if I can do this." He agreed. I didn't ride from June to September.
What was your first race on the 250?
My first race on the 250 was AZ Open in December.
How did you end up?
I got second and third and another third. My third day on a real 250, I broke my ankle so I was off for a month and a half. I had four or five months off the bike going into AZ Open on three weeks of prep with 20-minute motos on a rough track. I clearly wasn't ready, but kind of fueled my fire for what I need to work on. It really helped me going into the races I did. I did pretty well.
So what happened in 2018?
In 2018 I went a very long time with no injuries. [In] 2018 at California Classic I broke my humerus. I broke the bone completely off. Had an AC joint separation. I broke my collarbone at the same time. There was a lot going on. Whenever I broke the bone off, it stretched my nerves so I didn't have feeling in my hand. I couldn't even move my fingers for two months. I was getting kind of worried about that. Nerve damage really does suck because it takes a long time to come back. It came back after three months and started getting better and better. After that, I was going to race Monster Cup in October, and I broke my wrist and I broke my pelvis.
A lot of big injuries!
Yup. I've had about seven surgeries in the past two and a half years. It's been a rough go.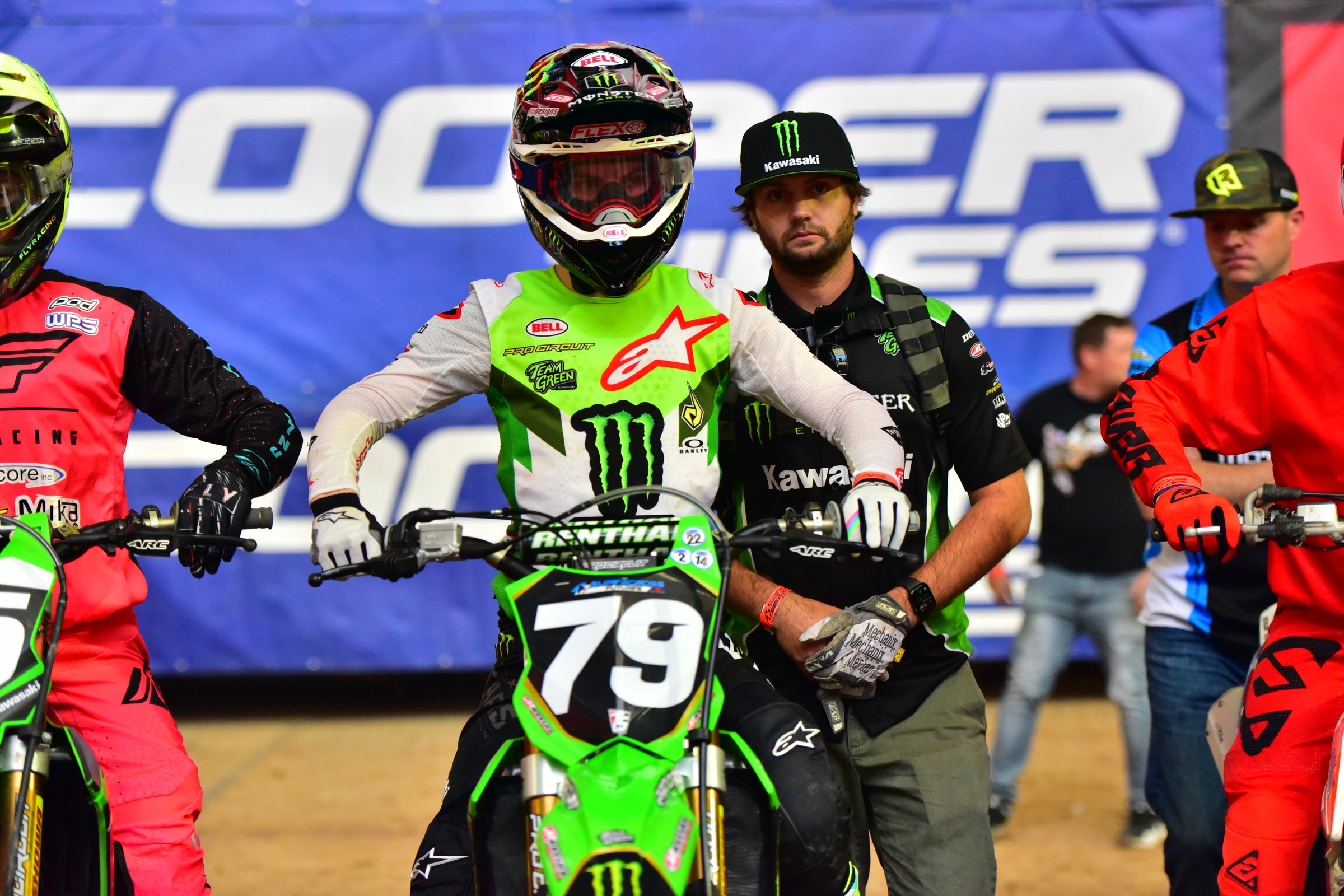 That's rough. What has been your biggest take away from it all?
Mentally it's so crazy just because you get hurt over and over. You really question yourself. Do you really want to keep doing this? I think I have a good future if I can keep it on two wheels. I've learned to back it down on the bike a little bit, because it was all pretty much practice crashes. Just stay strong, especially with this sport. Your mental game has got to be super strong. Can't give up. Keep pushing. I'm not the fresh kid anymore going into the pros. Hopefully when I do turn pro, I won't have these string of injuries like most rookies have for their first two years.
What classes are you planning to race this year at Loretta's?
Two fifty B and Schoolboy 2 is what I'm going to be riding. Then after Loretta's, I'll go straight to A class and do a year of A and then straight into pros with Monster Energy/Pro Circuit Kawasaki. Stoked on that.
What are your goals for Loretta's?
To win. I'm not going to be very happy at all if I don't win.
---
Main Image: Courtesy of Kawasaki