May 2020 Racer X magazine cover model and Monster Energy/Star Racing Yamaha racer Shane McElrath was right in the hunt before the COVID-19 pandemic virus found its way into the 2020 Monster Energy Supercross Championship. Sent out to contest the 250SX East Region Championship by his new team, the North Carolinian opened his 2020 season with a huge win at Tampa followed by podium scores at Arlington and Atlanta. McElrath slotted-in at fifth in Daytona—the last race run thus far in 2020—leaving him a scant 10 points adrift of class lead man Chase Sexton.
But that was then, and this is now, and now means that our governor, one Gavin Newsom of California, has issued a state-wide-warning to dictating that all Californians hold station on the home front. To that end, McElrath spoke to us via his one-bedroom apartment down Temecula way where he was busily climbing the walls.
"Well, I'm currently in my apartment in California," pointed out McElrath on Friday morning. "My wife and I just finished a workout a little bit ago and we're kind of bound-up inside a little bit as far as hanging out, I guess. We've also been going on some bike rides. My trainer Gareth Swanepoel, he's got a little gym set up in his garage, so when we do gym stuff, we all meet up at his house to do that. We're really just being extra careful, but not much has really changed. I mean for us; we're still working pretty much. It's all kind of weird just because there are not a lot of people out. It's actually pretty nice!"
Having been a racer virtually his entire life, McElrath has found himself, to the best of his or anyone else's ability, trying to think it all through. So, is it a tall order to ask a world class racer to practice moto social distancing?
"Yeah, it is," McElrath answered with a sigh. "At first it was really tough because we got word Indy was cancelled on our way to Indy. We were like 30 minutes from landing in Indianapolis when we got the final confirmation, so we hopped on a flight straight back to California when we landed. That turn was pretty tough. From that, our days were all messed up because we were all over the place. We have a routine of what we have to do as racers, well when we got back to California, it was like, 'Now what do we do?' And we didn't really have anything to do. That was the mentality. This past Monday, we found out supercross is on hold for at least the next couple weeks and for us, we will now have outdoors coming up at some point. That's really been our mindset right now. Moving forward now with supercross, we have the bike and we have the time on it already this year that we can go back and just ride and race it. Right now, though, as an East Coast rider, we're kind of behind on outdoor testing, so we're just using this time right now to get ready. In fact, yesterday was my first time really riding the 250 outdoors. I got to ride the 250 yesterday and I was really impressed with it. As of right now we're on outdoors with the mindset of getting ready for the first race—whenever that is."
At this point, I read off a press release from MX Sports: "The Dirt Diggers Motorcycle Club has announced that they have canceled the 52nd Annual Hangtown Motocross Classic, which was scheduled for May 16, 2020, over concerns over the outbreak of coronavirus."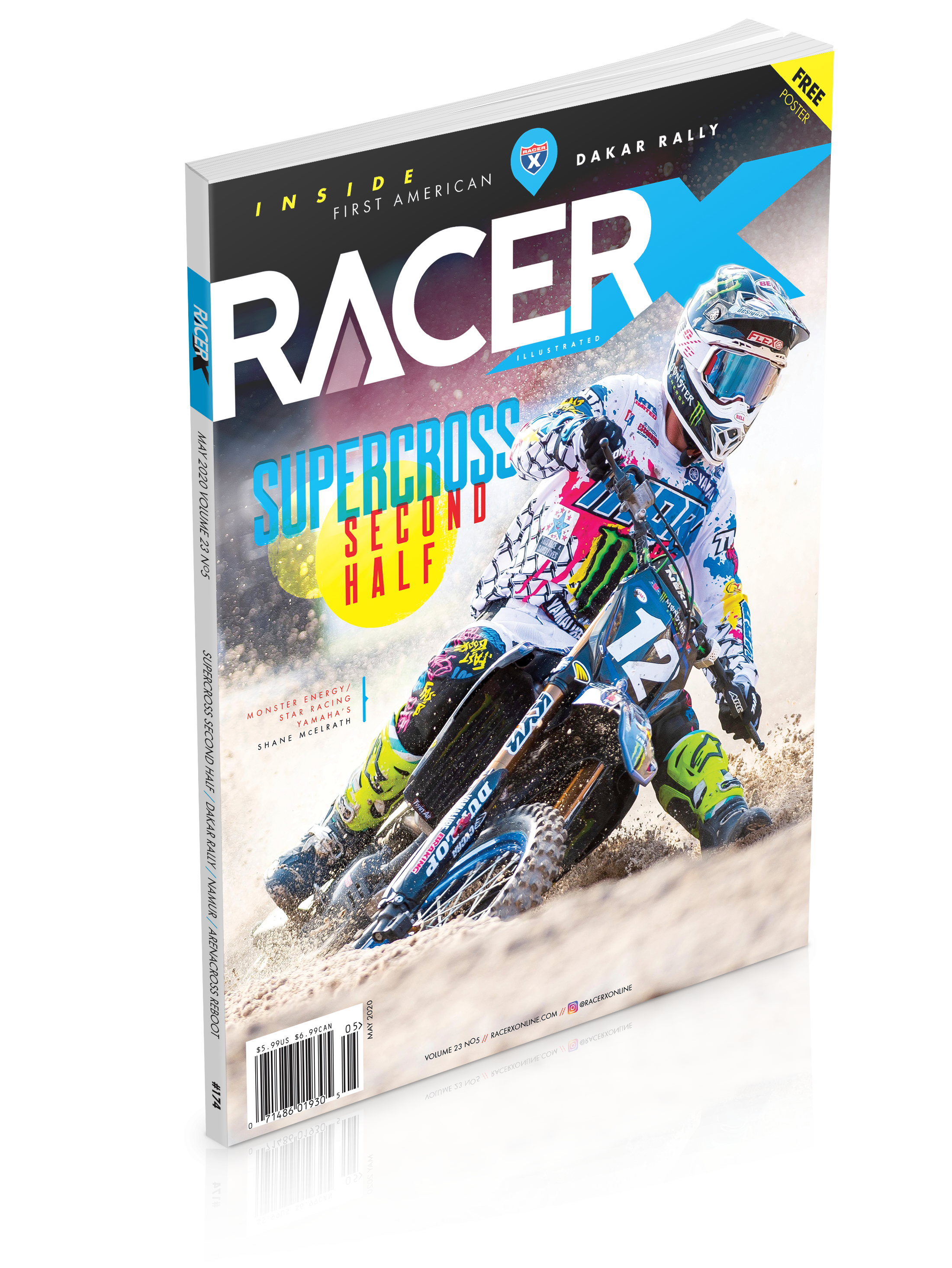 Racer X Illustrated Supercross Magazine
The May 2020 Issue
Inside the May issue of Racer X magazine: As Monster Energy Supercross departs the West Coast, the 250SX East Region takes the spotlight. Ricky Brabec is the first American motorcyclist to win the Dakar Rally. Former GP racer Rob Andrews on what makes Belgium's Namur one of the world's great tracks. Arenacross is making a comeback—again—with AMA Kicker Arenacross. All these features and much more in the May issue.
Read the Issue Now
Preview the Issue Now
"I found out about the Hangtown cancelation yesterday," said McElrath. "It's weird. Yesterday, we were about to leave the track and it was raining on us and my mechanic said, 'Enjoy your five-day weekend.' I said to him, 'What are you talking about? We're supposed to be riding on Friday, but everything is really on hold.' Everything is non-accessible right now. We have to be really conservative during this period. It's more of a training phase that we are in, meaning it's more about being off the bike than on the bike because the bikes take so much wear and tear. We have to be conservative with the parts that we already have because it's really hard to get some other parts right now.
"It's one of those things where people have asked me what I think about all this already and I don't know what to think," he furthered. "It's been like, 'Dude, what do you think?' Honestly, I don't know what to think. I'm mentally preparing and physically preparing and we're now in a situation like this and I don't know what to think. Right now we were still doing good in supercross and we were making a lot of progress and I was enjoying being with the team and just learning and growing and now that everything is on hold, it's hard to really think about because we have another job to do that is coming up, but we don't know when. As far as supercross as of late, I haven't even really gotten to think about it much because it's right back to getting ready for the outdoors. It's really hard to say anything about anything right now, really."
Despite the chaos and, understandably, frustration permeating the United States motocross scene, McElrath and the entire Monster Energy/Star Racing Yamaha organization have remained in close communication, ready to pounce, when and if the word comes down that the coast is clear to race again.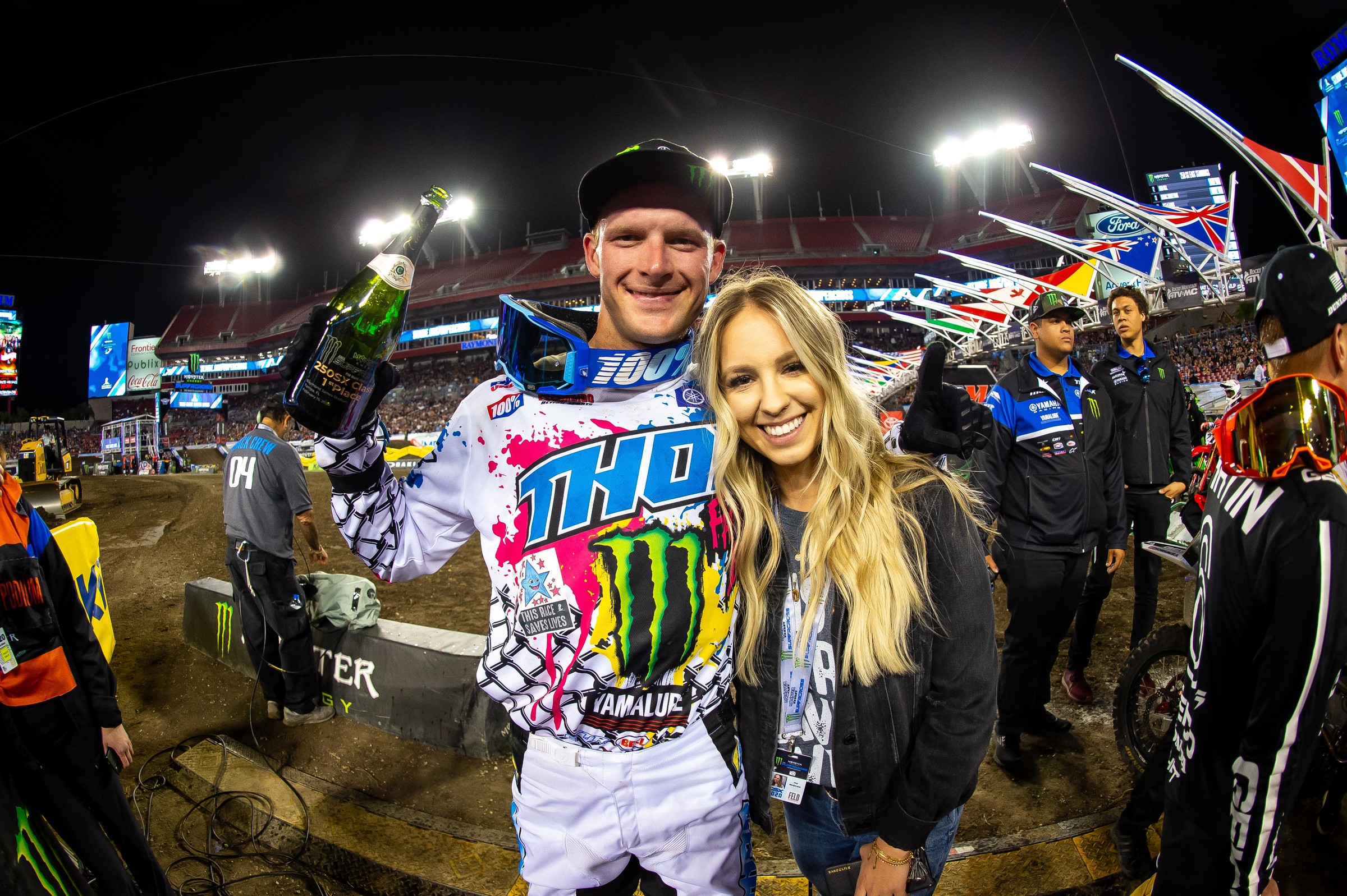 "We've all been in close communication, but it has been more about trying to figure things out," McElrath explained. "There are a lot of rumors going around. That's understandable, but I just don't want to sit around to find out what could happen or this and that. It's more like, what's certain right now? Okay, well the next four supercross races are certainly canceled and now the first outdoor race is cancelled. Really, it's trying to take things one step at a time. In talking with the team, it's like, 'Okay, well let us know when you find stuff out.' Now it's really back to work and back to preparation for whatever comes next whether that is the rest of the supercross season or the start of outdoors. There's just no control over making plans right now. Wait it out. That's the only thing we can do."
Before tearing himself away from the phone in order to go back Netflix and playing video games (kidding), McElrath spoke about what was an excellent start to the 2020 racing season with the Monster Energy/Star Racing Yamaha organization.
"I'm very happy with the team. Very happy with the bike, the trainer, the teammates," he said. "It's a really good environment. For me, for my career, it was a good choice because we were kind of at a crossroads because we didn't know what to do. We knew that we needed to do something big because we'd been stagnant in our lives and our faith and our walk with the Lord. That was all a big motivating factor to change something drastic. We took this step of faith and wanted to do something that was scary because everything we had tried was the same result. We weren't really going out of our comfort zone. This was a big step and we're real happy being here. We're real happy with the team and the atmosphere and the direction we're going. It's really good for us and where we are at in our lives and our marriage. It's really good."