Racing dirt bikes is a dangerous affair, and the list of riders who've seen championships slip through their fingers due to injury is not short. However, one racer you won't find on that list is Phoenix Racing Honda's Kyle Peters, who managed to wrap up the 2020 AMA Kicker Arenacross championship over the weekend despite breaking a bone in his wrist the previous week at the Arlington Supercross. We caught up with Peters to learn more about his challenging weekend.
Racer X: Kyle, what's up, how are you? You've got a new championship under your belt, that's got to feel nice.
Kyle Peters: Yeah, that's cool! Arenacross isn't exactly my forte. I've never actually done it. It was something new and fun, and I had a really good time with it.
Wrapping up the title in your first attempt has got to be pretty cool.
For sure, it's really cool. The first round was definitely an experience with bike setup. I didn't know what to expect or how the series was run, either. It was just a lot different than supercross. It took some learning, but overall I felt pretty good coming into the season with my team. We put in a lot of work in the off-season and I felt like I had a bit of a chip on my shoulder, that I needed show what I'm made of. I needed to more or less prove myself. It's really a bummer I hurt myself in Arlington, I was feeling really good. I ended up seventh in Tampa and felt like I didn't really even show what I was capable of. I started in the back and went through the field. I think I was like sixth in free practice [in Arlington] before I had that big crash in the first qualifier. Other than that, I'm stoked to get the championship locked up with a round to go. That was a really cool feeling. I didn't finish out of second place until the very last round due to my wrist.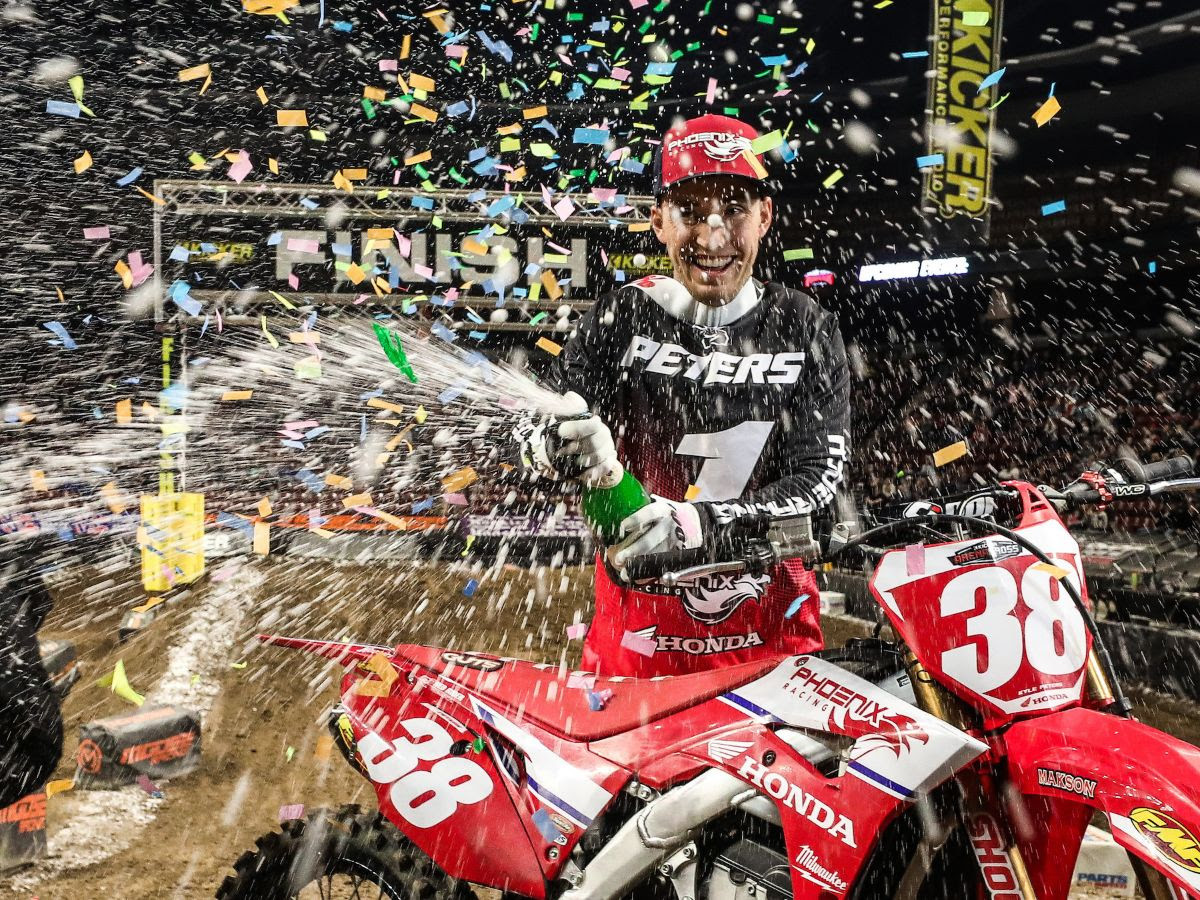 The whole Phoenix Honda team did really well. Wasn't last week the first time you or your teammate, Jace Owen, didn't win?
Yeah. [Laughs] It was pretty funny, we basically dominated. When we weren't in the same heat race, I think we won every heat race and every main. I went on a, I think it was an 11-race win streak or something like that. That was really cool. I had another little win streak going on before the last round too. It was awesome to get back to winning. It's fun and it's something I haven't been able to do for a long time. [Laughs] The team was awesome this year and arenacross was really cool. The confidence I have from that, with the chip on my shoulder, I think was going to make for a really good supercross season. But things happen, and hopefully we'll get healed up in time to make a few at least.
Talk about the hand. You hurt it in Arlington but then still wrapped up the arenacross title. How bad was it?
I just broke one bone in my wrist. It's called the triquetrum and it's broken all the way through.
You guys are ridiculous. I ask how bad your hand is and you say, "Oh, it's just one bone." But it's still a broken bone!
It could be worse, it's not terrible. I did that in the first qualifier and I thought it was just a stinger. I tried to line up for the main event and wasn't quite up for it, it'd gotten a little too swollen and sore. I went to the doctor the next week and found out it was broken and was really kind of dodging phone calls. I didn't really want anyone to know. Thankfully we were able to lock up the championship and get it done. There was some time there where I was unsure how I was even going to be. It was a wild week.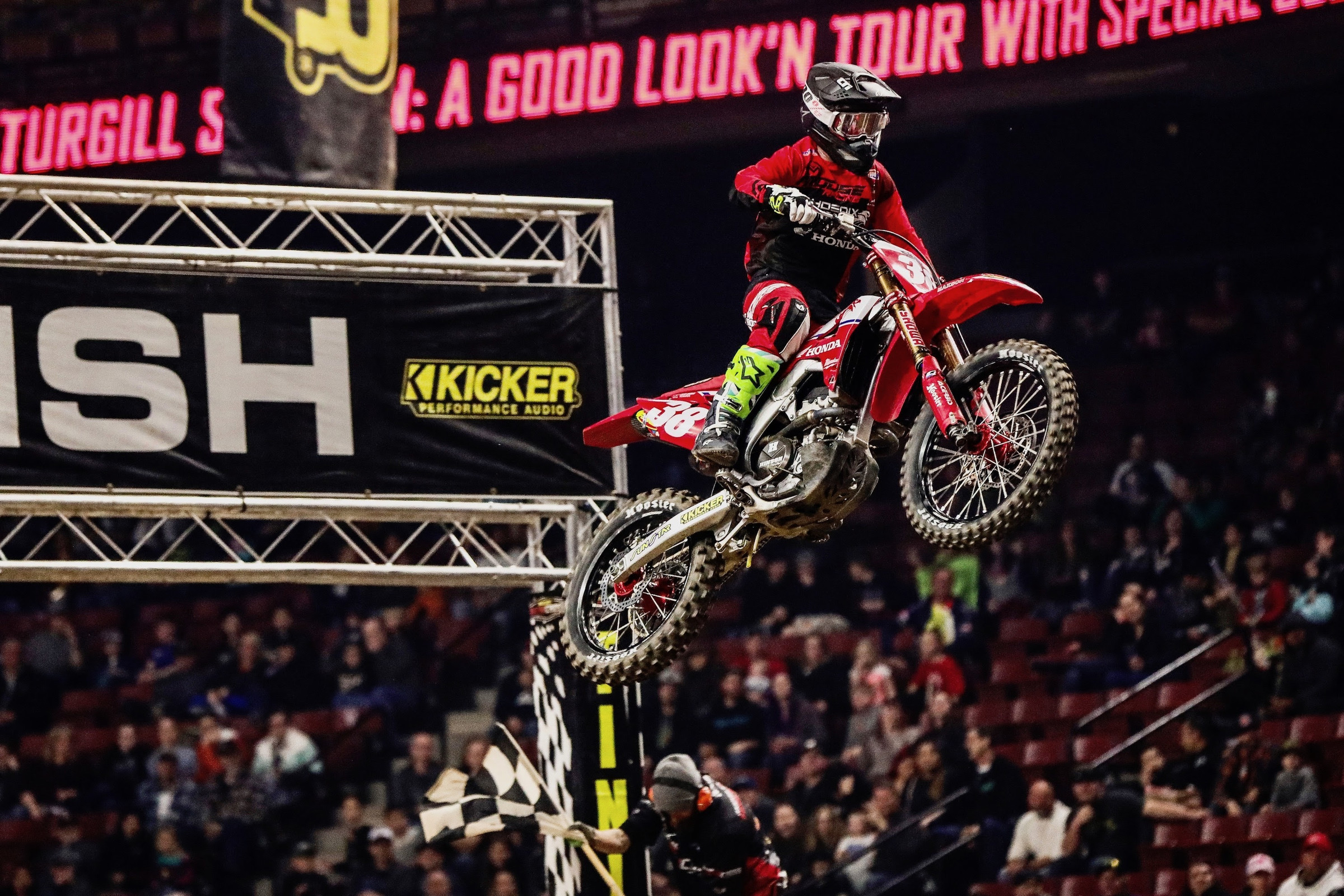 Coming into the race, did you have doubts, or were you confident you'd be able to hang on?
I knew what it was going to take and what I had to do. I've ridden through injuries a lot, unfortunately, and I knew it was going to suck. I knew it was going to be hard to do, but I also knew it had to be done. Whatever it took, that's what I was going to do. But there was a little bit of time where I was like, "Maybe it's too bad, maybe it'll hurt too much and I won't be able to finish it off." But you just have to keep telling yourself it's fine, you'll get it done, and that it doesn't hurt.
You kept this thing pretty secret. We even had you listed on our injury report as having just a bruise.
Well originally Jace [Owen] was going to go and stick with supercross. I didn't even know he got hurt. I knew he had a big wreck in Arlington, with Jordon Smith and whatnot, but I didn't know what was all involved. He was close enough in the points where if he would have come last weekend it would have been really hard to actually lock it up. He was planning on going to Atlanta anyway. And I didn't find out until later in the week it was actually broken anyway. It was sore and I was hoping for the best and I didn't really want to go and find out.
You were keeping it so secret you were even keeping it a secret from yourself!
One hundred percent. Whatever it was, whether it was broken or not, I had to race. It didn't matter. I still had to go. That was my thought process. I was telling everyone it was bruised and that's what I was telling myself.
You said you're hoping to be back before the end of supercross. Do you have a specific timeframe in mind?
The doctor said six to eight weeks, but I think we motocross racers just heal faster than everyone else. I'd like to say maybe a month. I'll start riding sometime in the next couple weeks and see how I feel. If it feels good I'll come out and race. But I also don't want to be the guy out there running around in tenth or 15th place. I know I'm capable of a lot more than that and I want to be able to show it.
Well, congrats on the championship and a great season.
Thank you. I'm pumped for the team, we're all gelling really well. I'm a big fan of the Honda too, I'm very comfortable on it. We're going to keep working and try to make it work in supercross too, this year, or whenever.