Oakland, CA
Oakland
Monster Energy AMA Supercross Championship
Robbie Wageman has quietly put together a solid season in the 2020 250SX West Region Championship of Monster Energy AMA Supercross. The Nuclear Blast Rockwell Yamaha rider has been in every main event and snagged a season best 12th-place finish at round four in Glendale, Arizona. With one round left of the West Coast swing before the break, we checked in with the younger Wageman brother to see how things are going.
Racer X: I actually heard you were a little bit under the weather last week. How are you feeling this week? Are you feeling all better now?
Robbie Wageman: Yeah. I'm doing a lot better now. I've been getting a little bit under the weather kind of all year so far. Definitely feeling better now. We're feeling good going into San Diego.
It's been a good season for you so far, 13th in points, pretty consistent finishes. What do you think of your 2020 season so far?
Yeah, man. I'm having a great time. The whole Nuclear Blast Rockwell Yamaha team is awesome. They're supporting me really well. I'm super stoked with our finishes so far this year. Just got to get off to a better start in the main event and position myself better towards the beginning of the race. My fitness feels great throughout the whole main event, so that's definitely helping a lot. But I'm having a blast.
You were pretty strong towards the end of 2019 SX. It seems like you're kind of picking up right from there. Did your off-season go really well and you're just kind of feeling the flow of it all?
Yeah. My off-season went awesome with the team, and also, I think just maturing a little bit. Another year under my belt racing. This will be my third full season now. Just having those couple seasons under my belt and learning the program every weekend and just finishing every race and just being there, having fun, positive. All that kind of stuff I think is also playing a part in my 2020 season.
I know you mentioned switching over to the Nuclear Blast Rockwell Yamaha team. How was that transition jumping from the Honda to the Yamaha? How have you really gelled with the team as well?
Jumping from the Honda to the Yamaha wasn't too bad as jumping from a Yamaha to a Honda. I've always been a Yamaha person my whole life, from 85s, so last year was my first year on a different brand so that was a little tough. Going back to the Yamaha is like being back at home. It's awesome. I'm gelling with the bike really well. The team really helped me a lot. They're super positive and super helpful. It's good to have a good group of people behind you and just pushing me to be better every weekend.
Are you feeling pretty happy with your bike setup so far? Do you think that there's any areas you still want to make some improvements in?
I'm stoked with my bike right now. We did quite a bit of testing off-season and we got my bike dialed just the way I like it. I really honestly haven't changed a thing from round one to now. Haven't changed a clicker on the suspension. Nothing. I'm pumped with it.
Two rounds ago in Glendale, you had your best result of the year, finishing 12th. Do you like the Triple Crown format?
Yes, I do. It's a lot of racing and riding throughout the whole day, which is kind of gnarly. But I think it's cool to switch it up. The fans get a different perspective. It's definitely weird going into the night program and it just being a main event. You're used to going in the heat race which is short. All three main events, it's definitely different but I enjoy it. It's fun.
Moving forward, we have the East Coast break coming up for you. Are you looking forward to that? What's your plan for when the series swings East?
It will be nice to probably relax for a couple days and just get my body back, working out and stuff like that. I do want to race a couple East Coast rounds on a 450. I'm trying to line that up right now with the team. We're trying to figure out a way to do that, but not really counting on it right now. If it happens, it happens. I'll be pumped. If not, it's not the end of the world. I'll just keep grinding day in and day out. I like to race. I'm a racer, so if I can keep racing every weekend, I'd love to do that, but a break is nice too.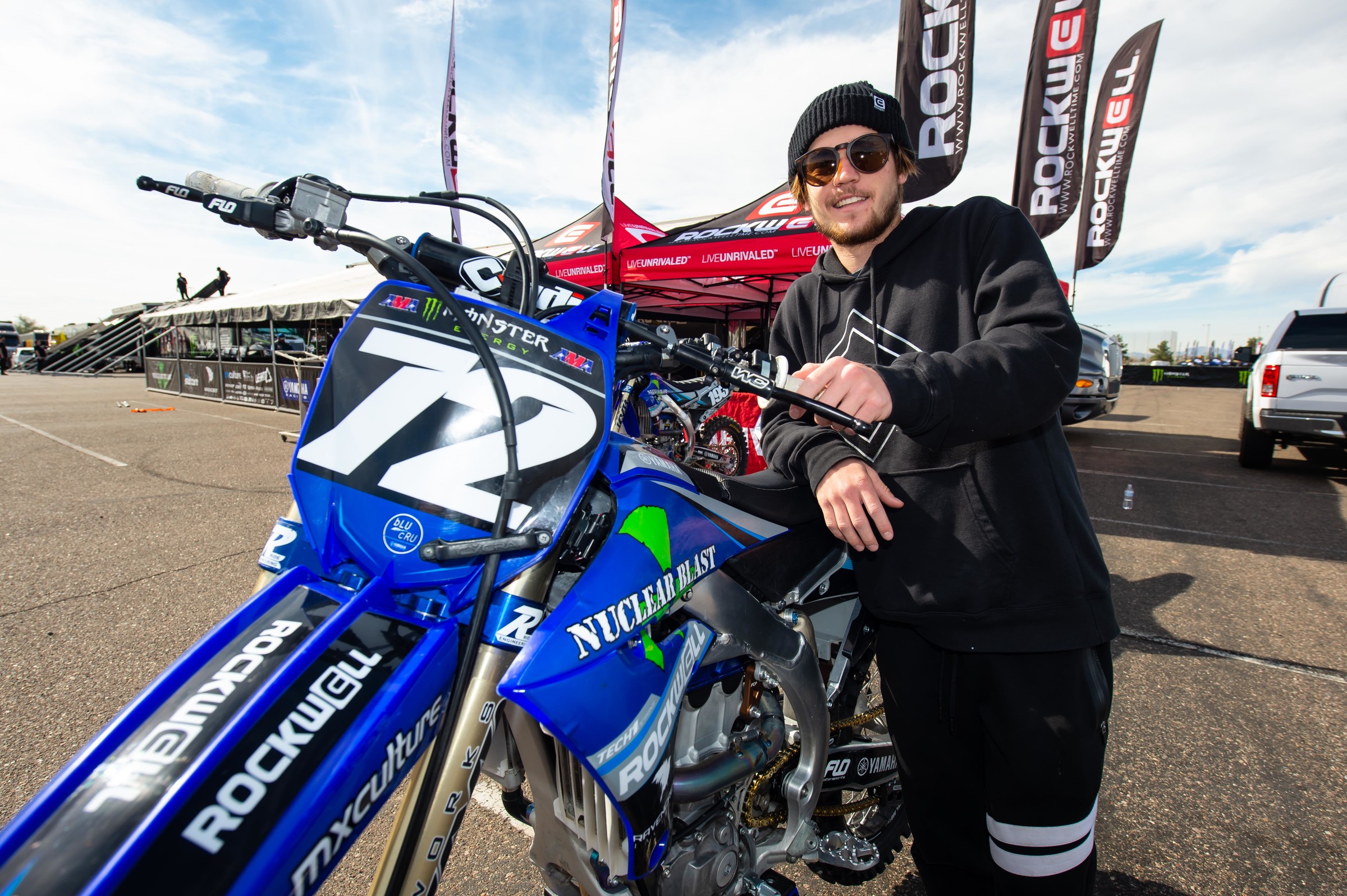 If you can't make it out East with the team, where is your training program at? I know you said you're going to take a couple days off. How much are you riding versus going to the gym, and who are you working with as a trainer?
I pretty much do everything on my own training-wise. Me and my brother [RJ Wageman] have a good training plan. Me and him just do it together. I have a track out here located by my house, about 15 minutes away so I pretty much just ride there. It's nice. It's close to home. I can ride and work out same day. I'm at home. It definitely makes it a lot easier.
I know you also did some of the 125 All Star stuff outdoors last year. Is there any plan in the works to do nationals this year, or are you just going to do some All Star races again?
We haven't really figured that out yet. I'd like to do a couple outdoors, but we're still checking on that.
Goals for the rest of the season? Would you be more satisfied with a top ten in a race or top ten in points?
I definitely want to be top ten in the race, also definitely want to be top ten in points. Just the rest of the season going to kind of keep doing what I'm doing and hopefully the results will be getting better in the main events. So not really pushing to be like, "I got to be top ten next weekend." I just want to get better each weekend and improve each weekend, whether it's one position a weekend or all of the sudden I get eighth one weekend. That's awesome. I'd just like to keep improving every weekend.