Mitchell Falk had a rookie year full of ups and downs in 2019. Going through the KTM amateur program and graduating onto the factory Troy Lee Designs/Red Bull KTM team, Falk endured the usual rookie pains. After missing some supercross and motocross races due to injury, he was not signed back onto the team for 2020 and was left searching for a ride in just his sophomore year as a professional.
He signed on with the BWR [Brian White Racing] Engines Honda team for 2020 but spent much of the offseason dealing with a wrist injury. We caught up with Falk this week to talk about his season thus far as he works back to being fully healthy again.
Racer X: So, you came into 2020 coming off that wrist injury and then I know you had a crash before Anaheim 2 that you got a bit dinged up in. Has it been tough trying to race through these injuries that you've had?
Mitchell Falk: Yeah, so obviously with the wrist injury, I had that at the end of October and that kind of put me riding again at the beginning of December. So, automatically I was kind of two months back on riding time so I thought to myself at the time, "Hey, if I get to A1 and I'm ready, great, and if not I'll head into round three or so and go from there." The week before Anaheim, I decided to go racing because I didn't want to… you know I've been in scenarios where I've gotten hurt and tried to join in mid-season and that's hard in itself just trying to catch up on racing time. So, I figured I would go racing and unfortunately three days before A1 I just cased a jump and hurt my other wrist, my good wrist. That was the hardest part. I had my broken wrist that felt good, everything was healed, and then I sprained my other wrist really bad where it's still hurting today. I honestly didn't know if I was going to be able to race A1 and I was. I made it into the main, that was great. It's been a struggle. It hasn't been smooth by no means but I've just been trying to keep on.
At A1, I know you said you made the main, but was it tough trying to hang on with that jammed wrist?
Yeah, basically the whole day. Funny story actually, the first practice I had it all taped up and it was either wide open or totally off the gas and I was scared in free practice. There were a few scary moments. So, I just decided to un-tape the thing and deal with some of the pain. I just wanted to learn as much as I could without making another mistake to further injure myself and I ended up getting into the main. Before the main event even started, I decided I wasn't going to do it just with the lack of seat time. I hadn't even done a 15-minute moto yet so there was no way I was going to do it with a hurt wrist.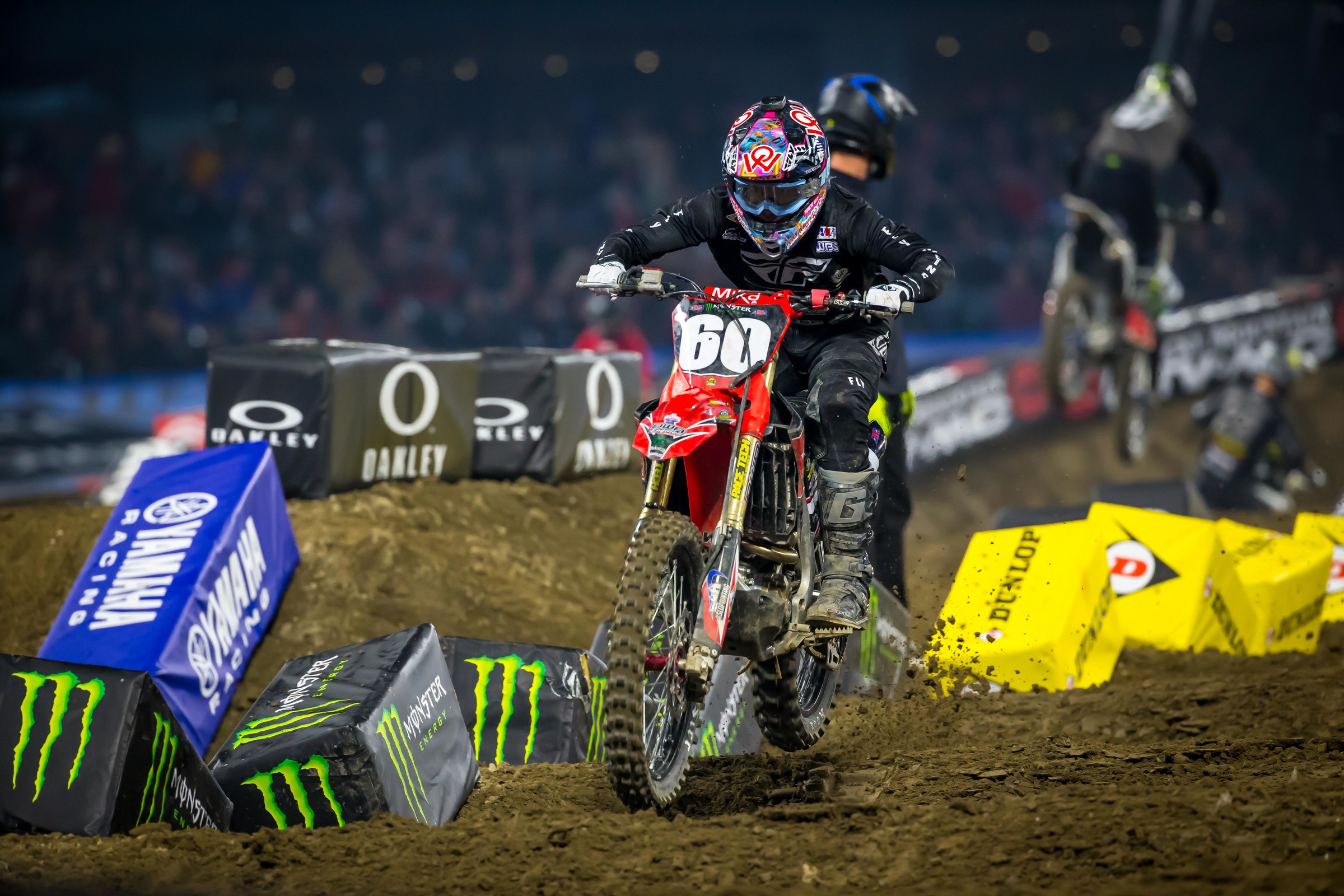 Beyond the injuries, you've gone through this team change here going to BWR. How has that been so far? How do you like the team and everything?
The team's been awesome. Straight from the beginning I told them, "Hey I'm hurt right now. I hold myself to a high expectation but realistically this is where I'm at and I'll do my best." They were super understanding with the injury and said, "Hey let's just get to the race and try to get better and make small goals." So, that's been really nice that they've been supportive and just tried to help me get better and get through the races.
Obviously having to go from KTM to Honda. How has that adjustment been with the bike?
Honestly, it's been pretty smooth. I've rode KTM my whole life, so I didn't know what to expect. The Honda handles really well, and it can go through little chatter bumps without getting funky and wanting to pitch sideways. So, that was really nice, and I enjoyed that. Just trying to do a couple tweaks with the suspension and, unfortunately, I haven't been able to do that before the season started to get everything dialed. I've been trying to do a tweak here and there after the races when we can and trying to get it better little by little.
Moving into your second year of supercross from your rookie year last year. What have you been able to build from your experience gained last year coming into this year?
I feel like all that I learned last year would have really applied in the off-season, which I didn't get. So, that was hard. It's hard to compare. I wish, in a perfect world, I would be able to take all that experience and put it into this year but I've been stacked up with so many different circumstances that I really just had to start fresh and kind of re-learn and really just try to gain confidence. That's the biggest thing is trying to gain confidence back.
With the injuries holding you back and prep time coming into the season not being where you wanted to be, how do you feel about your results so far?
Having an amateur career like I did, I was always there battling. You know, I raced [Austin] Forkner, [Chase] Sexton, [Sean] Cantrell, [Michael] Mosiman, all those guys that are doing really well now. I always expected to be right there with them and kind of battling more towards the front of the pack and it just hasn't gone that way. There's been a lot of things that have come up along the way. If anyone knew the whole story, it's pretty crazy just to not give up I'd say, that's my biggest thing. Just try to keep working hard and hopefully it will straighten itself out.
I don't know how much you want to talk about this, but how did that relationship with TLD KTM end? Do you feel like they were kind of quick with you there?
It could go both ways. They were patient with me having injuries at the end of my amateur career. To keep it short and not to burn any bridges, I felt like I was not really given the time of day while I was racing for them. I feel they didn't put their full effort into getting me comfortable on the bike. There was never a full test day for supercross to sort out suspension and find a setting that made me comfortable. I felt like they could have helped me more and I always gave my full effort into it, so it wasn't something where I was just going through the process and collecting a check. I was always there working hard. I worked with [Tyla] Rattray the whole year. I'd go back and forth to Florida. So, I was fully committed, and it seemed for whatever reason that things didn't work out. Obviously, the whole team struggled with Shane [McElrath] and Jordon [Smith] so it wasn't just me. That was the bummer part. I was kind of hoping that they'd see, "Hey the whole team struggled so let's give him another shot and help him more." But yeah, it just didn't work out that way.
I hear you mention going back and forth between Florida and California. Are you back in California full time now? What's your training program like and who have you been training with?
So, I'm in California full time. I'm from here so that's always been my home and Florida I just would just go straight to Aldon's [Baker] place, The Baker's Factory. That was the reason I'd go back there. But now the team's based in California as well so there's no reason for me to go out there and financially it's kind of hard for me too. So yeah, staying in California and as far as trainers go, I've worked with so many different guys. As I said, Rattray and also [Tyler] Kalisiak and I've always been on a structured program for probably six years or so now. So, I kind of know the ins and outs of it and I've been able to keep my training up and just try to build. Now I'm at the point where I'm riding full time again without all these little nagging injuries and I'm looking for a new trainer. Going to get that all sorted out to finish the year off strong in supercross.
Moving forward, we have the break coming up in a couple weeks here. Are you looking forward to that and hoping to get back to 100% health again?
Yeah, definitely! Usually, I always love racing but this time I'm actually waiting for that break. Not to say that I don't want to keep getting better these next few rounds, but it is extremely hard to get better during the week when you only have two days, maybe three [to ride]. When you're not racing you can kind of ride four days and not have to worry about blowing yourself out for the weekend. It will be nice to get into a full program and build a base because I kind of skipped over that part in the off-season.
Is the team going outdoors with you as well? Or is there any plan in place for that right now?
Right now there's no plan. I've heard maybe that they're thinking about doing outdoors, but at the moment nothing is signed and I'm just kind of taking it step by step. I have a bike that I purchased, it's all ready in case I need to do the first couple rounds and we'll go from there.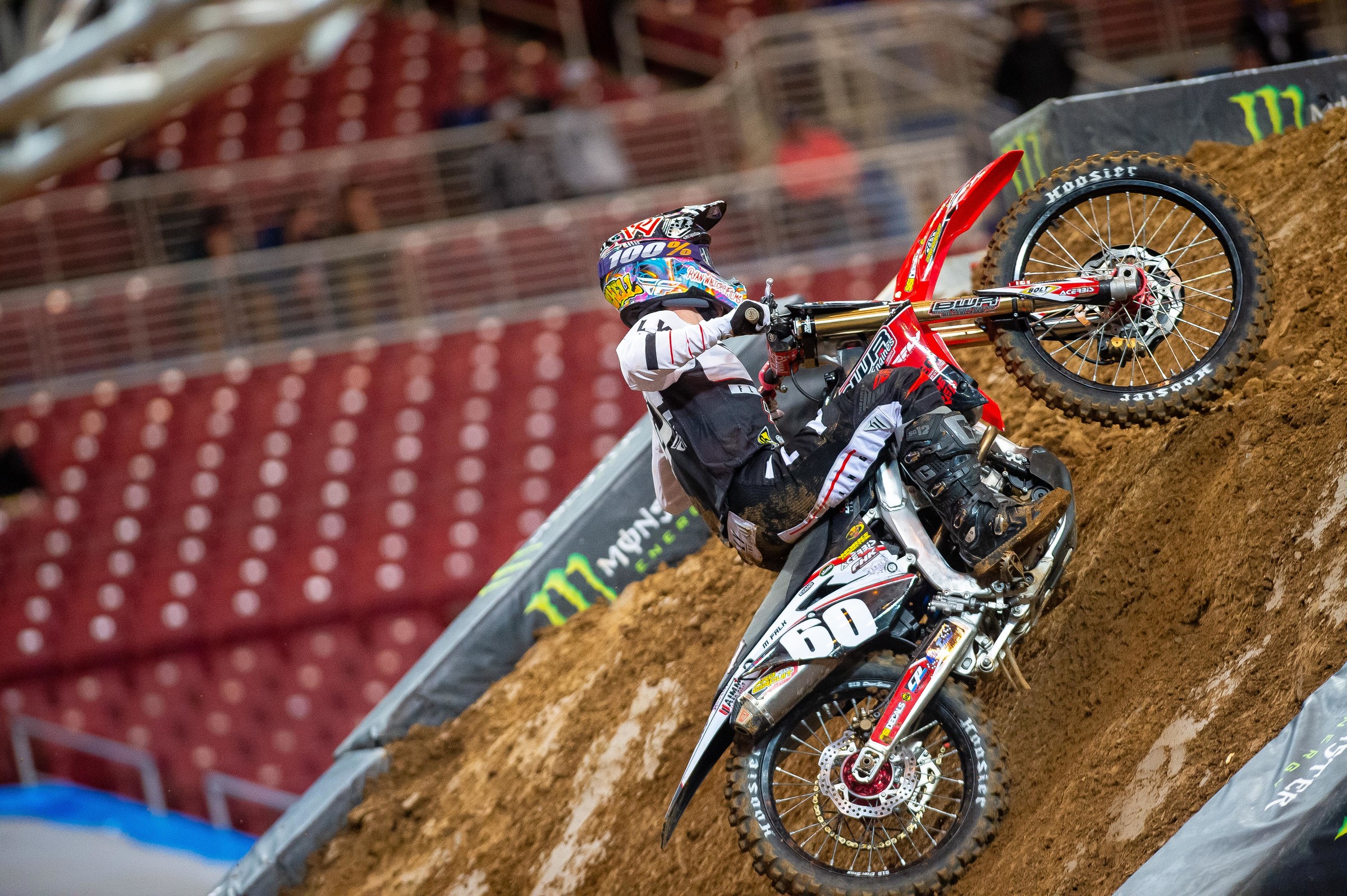 If you do have to do the first couple rounds on your own, are you going to just keep trucking along and go east? Or is it just to do the west coast swing and if you don't have a ride by then you might be out?
I would do the whole series if I could but financially, you look at it as a privateer, it's hard to go the full 12 rounds all the way across the country and back. It's hard on the bikes, too, is the main thing, it's not like supercross. Just take it to those first three rounds that I can get to and go from there. If things are going well then, hey, maybe we'll go to the fourth round but it kind of depends.
Last question, if you are able to get back to a fully reasonable health by the end of the west coast series, where do you see yourself mixing in with this? I know you mentioned racing with Mosiman and those guys growing up, are you just thinking top 10 as soon as you're back to full health?
Yeah, full health and back on training and a regular routine, program, and feeling 100 percent on the bike again. I think I need to start with top 10 and if I get a top 10 maybe keep climbing up the ladder. The way things have gone I can't say once I'm 100% I need to get a top five. That would be pretty unrealistic. So, just get back to full health and keep trying to get better and set small goals and keep trying to fight for that top 10.