Renthal Introduces Fatbar36 Handlebar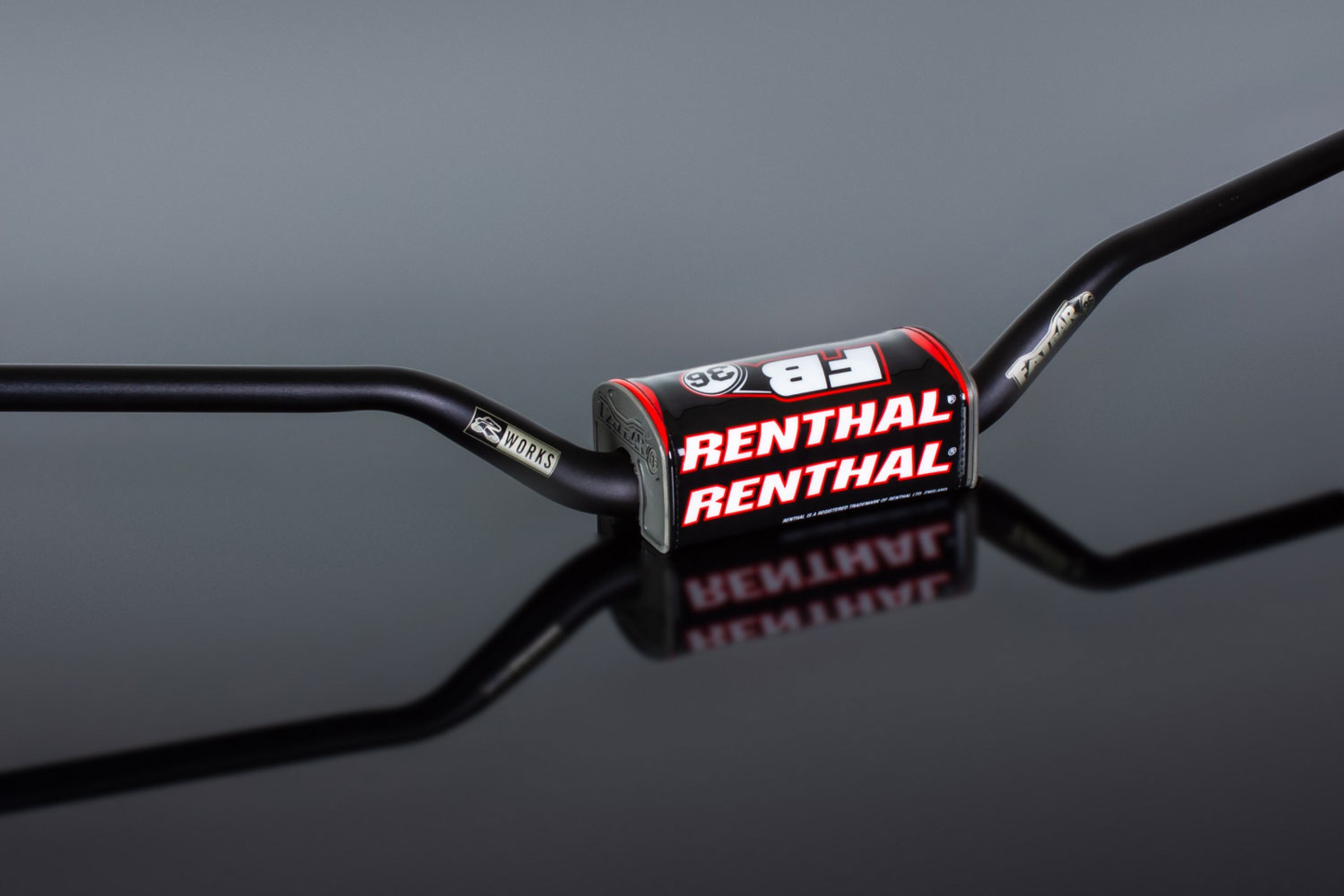 From Renthal:
Working alongside our factory race teams we developed the concept to improve performance through weight reduction without compromising existing handlebar strength. Every time you accelerate, brake, corner, jump you work against the weight of the motorcycle. By reducing weight, it improves the performance of your motorcycle in all of these areas resulting in faster lap times.
Renthal has employed its 50+ years of experience in handlebar design, testing and racing to develop the R-Works Fatbar36 the ultimate in lightweight motocross handlebars. Utilizing Renthal's 36Tech™ handlebar standard and proprietary Zarilium® material to give a high strength handlebar at the lowest possible weight. The R-Works Fatbar®36 is 36% lighter than our standard 28mm diameter Fatbar®, previously the lightest motocross handlebar.
36TECH™ - Advanced Technology
36TECH™ is a new handlebar standard developed by Renthal to push forward the boundaries of handlebar technology. The 36mm clamping diameter tapers down to a conventional 22mm control section at each end, using advanced wall geometry, maximising material efficiencies in wall thickness along the entire length of the handlebar to reduce weight.
New Material – 20% Stronger
Zarilium® is a new aluminium alloy exclusive to Renthal. This new alloy has 20% greater ultimate tensile strength, while maintaining the same elongation properties. This additional strength has allowed Renthal to achieve the maximum weight reduction possible whilst matching the best in class strength of the Renthal® 28mm diameter Fatbar®.
World Class Testing
Renthal is at the forefront of handlebar testing. The only handlebar manufacturer using data acquisition and equipped with it's own in house test facility. This perfectly positions Renthal to maximize its 50+ years of handlebar design, development and championship winning race experience. The result is the best performing handlebars with unrivaled quality.
R-Works®
The R-Works® badge represents uncompromising performance. It means we have selected the ultimate materials and manufacturing processes at our disposal to bring you the very best performance product we can.
A fraction of a second. A few grams. A couple of millimetres. It all counts.
Pricing and Availability
Fatbar36 and 36Tech Bar Mounts will be available at launch from our worldwide distribution network, who will be working with dealers and online retailers to have the bars in stock as soon as possible.
Alternatively, Renthal.com will have the Fatbar36 and 36Tech Bar Mounts available while stock last in select regions. Check https://renthal.com/moto for availability.
Fatbar36
| | | |
| --- | --- | --- |
| Bend | Description | USD |
| 930 | RC / Honda CRF | $179.95 |
| 931 | Reed / Windham | $179.95 |
| 933 | Villopoto / Stewart | $179.95 |
| 934 | KTM SX/SX-F 09-12 SUZI RM/RMZ 06-13 | $179.95 |
36Tech Bar Mounts
| | | |
| --- | --- | --- |
| Part Number | Description | USD |
| CL051 | Hon 2k-17/Yam 2014-17, 5mm Offset | $79.95 |
| CL052 | Hon 2k-17/Yam 2014-17, Zero Offset | $79.95 |
| CL053 | Suzuki 2008-18 | $79.95 |
| CL059 | Kawasaki 2009-18 | $79.95 |
| CL060 | KTM SX&F 2016-18 | $79.95 |
| CL061 | KTM SX&F 2012-15 & EXC/XC 2012-18 | $79.95 |