Anaheim, CA
Anaheim 1 (A1)
Monster Energy AMA Supercross Championship
Two years ago on the Saturday morning of January 6, 2018 to be exact this writer was walking through the pit area for the season-opening round of the Monster Energy Supercross at Angel Stadium. It was there that I came across rookie rider named Justin Cooper. Poised to make his professional supercross debut under the klieg lights that evening, the New York native was wide-eyed and, well, a bit shook by the glittery new reality of his surroundings.
"This is my first professional supercross," he said to me shortly before practice was set to fire off. "I'm excited to finally be here. I want to get some experience tonight and see where I stand. I've been blessed with this opportunity with this Monster Energy/Yamalube/Star Racing team and this is what I've been dreaming of since I was a little kid. It's crazy to finally be here. I'm excited to get out there and leave the nerves behind."
Some 14 hours later he did just that, recovering from a yard sale of a first turn to race back to a hard fought ninth. "It was awesome, to say the least," said Cooper afterwards way back in the darkened pits. "It didn't go the best or as smooth as I thought it would, but I definitely got a lot of experience. It was the experience of a lifetime."
Cooper would crash out of his second supercross race just a week later at Houston, but he was back on track for a full-rookie campaign in Lucas Oil Pro Motocross, opening eyes weekly with strong performances, and taking third in points. He was even better as a sophomore in 2019. A resounding second overall in the 250SX East Region title brawl, Cooper didn't win a main event, but he sure as hell got as close as one can get. A winner in the '19 Lucas Oil Pro Motocross Championship and third overall when the season points were added up, Cooper established himself as one of the best riders in this nation – if not the world.
Which brings us all to the weekend immediately after Christmas where Justin Cooper was set up in the home he has purchased in Southern California.
"What did I get for Christmas?" he answered when I asked him. "Not much. Just a couple little things here and there. As you get older, things get smaller and you don't want as much. I didn't go back to New York either. I stayed out here. I just stayed in my house that I bought out here. It totally feels like home to me. Anaheim 1 is right around the corner, so I want to make sure that I'm ready for that.
"It's my second winter here," he furthered. "It's good. I like it out here. It's more like a rainy season. I wouldn't even call it a winter. I wouldn't call it a winter without snow. It's definitely different than where I'm from, but I'm getting used to it."
That's when this here writer posed a key question to Cooper in the form of, "Are you doing the West?"
"It's looking like it, but nothing is for sure until it's time to go racing," he replied.
Many individuals involved in the racing industry that is American supercross have been a bit perplexed with the absolute lack of information and detail pertaining to the 2020 250SX Regions come A1 and beyond. Which racers on which teams will be racing in which stadiums located East and West of the Mississippi River?
"With every team, it feels like it is up in the air," mused Cooper of the state of the East/West nation. "All the teams wait to the last minute to say who is going to go where, which is probably frustrating for us riders. It's going to be what it's going to be. I'm not really intimidated by anyone in the 250 class. There is definitely a lot of competition. It's definitely stacked and it's only getting more stacked. It's just exciting to go racing with all of the guys again.
As with virtually every Monster Energy Supercross Series race team set to line up in a week's time, Cooper and the entire Monster Energy/Star Racing Yamaha outfit has been up in the hills directly off the side of the 91 freeway (north and south) bashing out the laps and getting both bike and body dialed-in.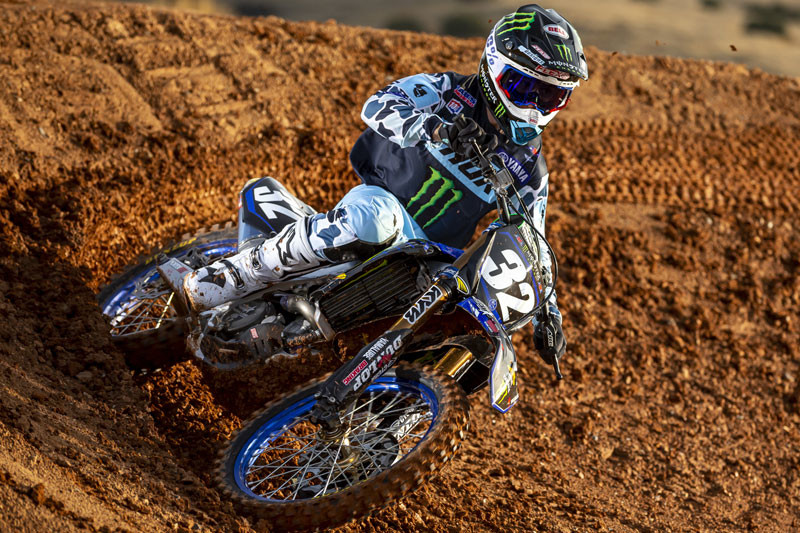 "We just went through the basic boot camp stuff the past few months," he offered. "December is pretty tough and we put a lot of time in. Testing is now pretty much over and we're just trying to get comfortable and get ready to race.
"We're really happy with the bike and everything," Cooper went on. "Everything has been going good. We're smooth and steady into the new season. We're where we want to be and really getting ready to go racing at this point. Once you practice for so long, you miss being at the races. I'm definitely looking forward to that. It's nice to have some time off, but then it gets boring. You want to get back to where you're comfortable and where you want to be."
Looking over his shoulder to see where he had been and to see where he is going, Cooper reflected back on the 2019 season.
"It was good. It actually went better than I anticipated. For what was basically my rookie supercross season, I can't complain. It was good and consistent. I lacked a little bit of experience and all that good stuff. But it's more learning, you know? You learn from your mistakes and that's what I'm bringing into this new season. I've learned and that's why I'm coming into this year a new man with new confidence and new motivation. It's a new season. Bring it on. I feel more confident. I feel more confident on the bike. I'm more confident with the team. It's just all around better this year. I can't wait to get out there and see what I can do."
Cooper hit the podium five times in the 250SX East Region title fight, and each time he did, he gleaned something from it. "Every time I got on the podium, it was almost like a newfound confidence," he said of his 2019 campaign. "You don't know where you stand at times, but getting up on that podium, or to even win, it's crazy what it will do for your confidence. It's just experience. The more you do it, the more natural it feels and the more confident you are in those types of surroundings.
"Basically, my goal is to be a title contender," he pointed out of his 2020 masterplan. "I want to be fighting for the title and I want to be there to grab the number one late if I can. That's definitely the goal. I was second last year, so I am definitely shooting for the number one plate. So are a lot of other people. For myself, that's what I go out there to do. I go out there to win championships. That's the top priority at this point. You have to believe that you can win and that's all there is to it. You have to trust what you do and when it comes time to race, you've got to perform. I mean the season is here and it has kind of hit me all of a sudden. I was pretty content with just doing my motos and everything this winter, but I feel really good now and I feel like I'm ready to race. Once you're ready to race, practice doesn't really excite you that much. That's the best way that I can put it. I'm ready to race and I'm ready to win."