(Note: Some questions have been lightly edited for clarity.)
Hi Ping,
I'll make it short and direct and let you do the writing:
Why can't a team/rider drop the worst moto or even the race of the year? In this format riders can avoid riding sick or just drop a bad day. They do it in the MXoN so it's not a new idea, what am I missing here? It seems very logical and will also keep the intensity high since riders know one mistake is allowed. AC92, who deserved to win the SX title, would have won. Also, more tactics for points management can be cool to see.
Thanks for reading and hope to get an answer
Boaz, Germany
Boaz,
It's an interesting concept and one that I've honestly never heard floated before. I've been taken out of several different championship chases due to one bad race, so I'd vote for this format all day long, and twice on Sunday. But you'll get some pushback from traditionalists who'll yell about 40-minute motos, dual shocks, and how Bob Hannah would never have thrown a moto out. There is something to be said for consistency; it's a huge part of winning a title and honestly the most difficult to produce. Lots of guys can be fast here and there, but to show up every single weekend and run up front, avoid injury, and avoid mechanical failures is unimaginably tough. That's why the list of champions is significantly shorter than the list of race winners. I hear what you're saying about riders pushing harder knowing that they have a cushion, but that's what the Triple Crown rounds are for in Monster Energy AMA Supercross and in the Lucas Oil AMA Pro Motocross Championship there are 24 motos, so you have more time to make up for a crash or mechanical issue. I like your idea, but I think it might be better suited for events like the MEC or one-off events that have multiple motos. Or maybe I'm wrong and I should throw this answer out for a better overall Ask Ping column?
PING
---
Hello Sir,
I enjoy most of your comments, can't please everyone all the time so cheers for the effort. The question at hand.... With Eli Tomac wrapping up his third outdoor championship, when does he set his gaze on Europe. Seriously, when do we get out of our bubble and challenge these guys? I can't help but think European riders have it much easier scheduling wise being they don't have to race supercross which has become more an obstacle course. Seeing dudes fall onto concrete-like dirt, I'm over it. Maybe it's my American pride kicking in but I think it's time we go over there to race. He's made his money already, now's the time. RV can't be the only guy willing to explore, can he?
Please tell me when I can quit my job, sell my house, and plan my European vacation upon the great American invasion to Europe.
Thanks, brah.
Brandon
Brandon,
I hate to burst your bubble but you might want to hold off on buying your international tickets for now. Like it or not, supercross has become the primary focus in the United States. There is more money to be made here and, while GP riders have probably become more well-rounded motocross riders than their American counterparts, their best don't dare set foot in a stadium over here. Three-time FIM Motocross World Champion Tim Gasjer smeared himself all over the floor of Sam Boyd stadium at the Monster Energy Cup, and that is a watered-down version of a supercross track [Editor's note: But he's giving it another attempt this year!] Get used to this: American riders will only venture to Europe when they have exhausted all of their options here in the States. Period. The sad truth is that we're becoming more and more focused on supercross and our polish outdoors is waning. I'd like to believe that we will get back to doing some winning at the Monster Energy FIM Motocross of Nations, but it won't happen until the promoters move the event date closer to the end of our series. If the MXoN were two to three weeks after the conclusion of our series, you'd see more of our top-level guys committing to it. If they don't, expect more riders to decline the offer.
PING
---
Pinger,
Two things: First, props to you guys on The Whiskey Throttle Show. The Marty Tripes episode was phenomenal… I almost died when GL's chair broke for the second time, too! Truly, all of the guests have been great and I feel like I've gotten to know each of them personally just by watching/listening. So, thanks to you and GL… keep up the great work. Please get Doug Henry and Bob Hannah on!
Second, I want to mention Greg Schnell and his cancer fight. I just found out that he has cancer at the base of his tongue and I felt like the moto community needs to know so they can help one of their own. Anything you can do would be appreciated. I know you raced with Greg so hopefully you already know about this.
Thanks for all that you do in the sport, Ping. We appreciate it.
Charles
Charles,
Thank you for supporting the show! We have some amazing guests coming up, including Doug Henry. If you don't already, subscribe to the podcast. And if you really want to support us, go to www.whiskeythrottlemerch.com and grab some swag!
Regarding Greg, I heard about his issues earlier this week and I was really bummed for him. I know he used to chew tobacco, so I'm hoping he'll speak out about the dangers of that habit and make something positive out of his fight. And I'm sure he'll fight: one thing I know about Schnell is that he isn't afraid of a challenge. Road 2 Recovery has a donation page set up right now where you can make a donation that goes directly to Greg. Go to www.road2recovery.com and click on the donate link. Stay strong, Greg, the moto community is pulling for you.
PING
Have a question for Ping? Hit him up at ping@racerxonline.com.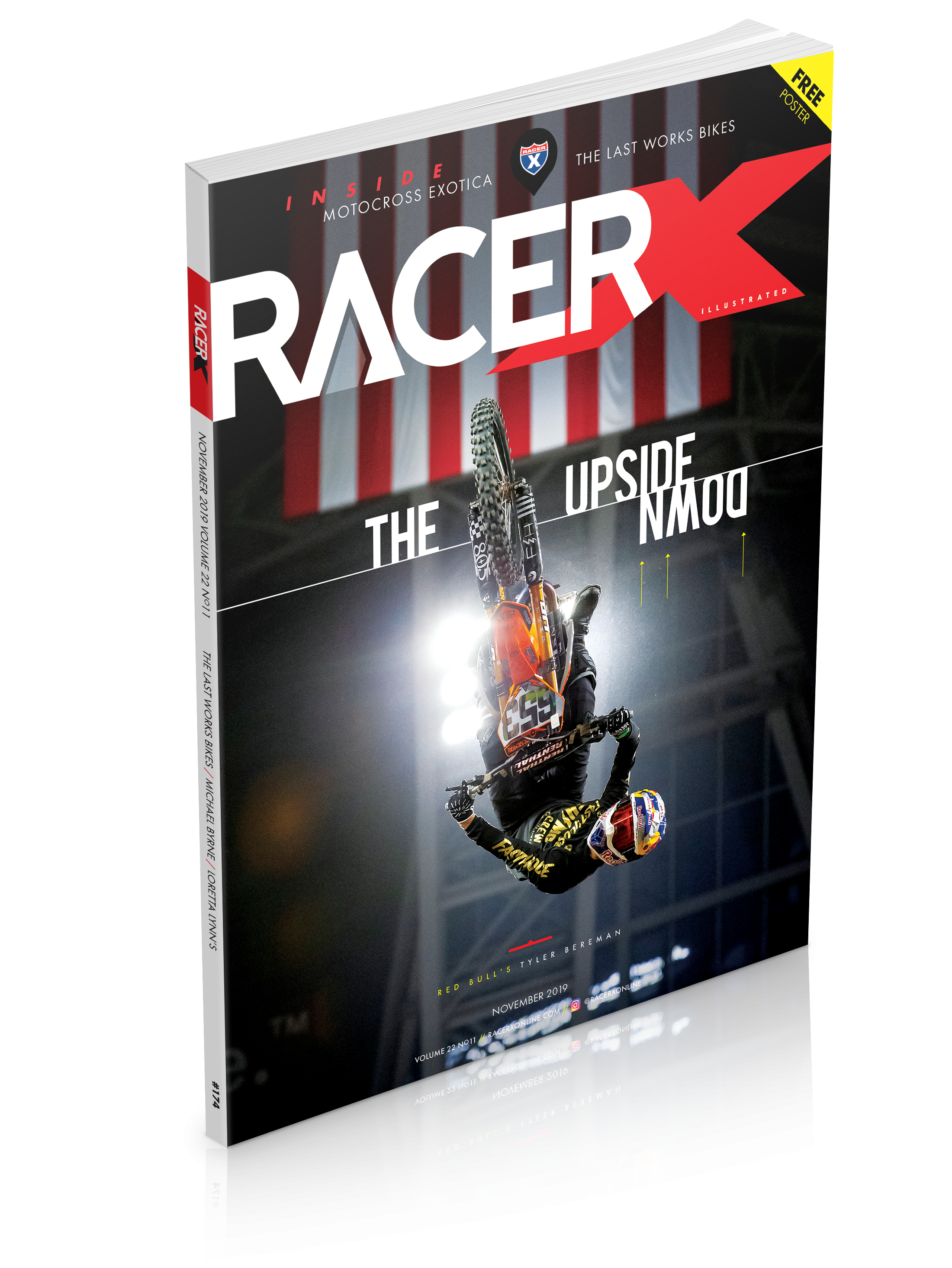 Racer X Illustrated Motocross Magazine
The November 2019 Issue
Inside the November issue of Racer X magazine: See who stood out and what our takeaways are from Loretta Lynn's and all of its future moto talent. GEICO Honda had a packed house at the last three nationals, but who's sticking around? Former factory rider Michael Byrne has made a successful jump to team management, and we find out how and why. When the AMA's 1986 Production Rule went into effect, it ended a glorious run of exotic, hand-built—and wildly expensive—bikes in AMA racing. We dig into the story of those final years. All these features and much more inside the November issue.
Read the Issue Now
Preview the Issue Now