2019 Unadilla Amateur Days Report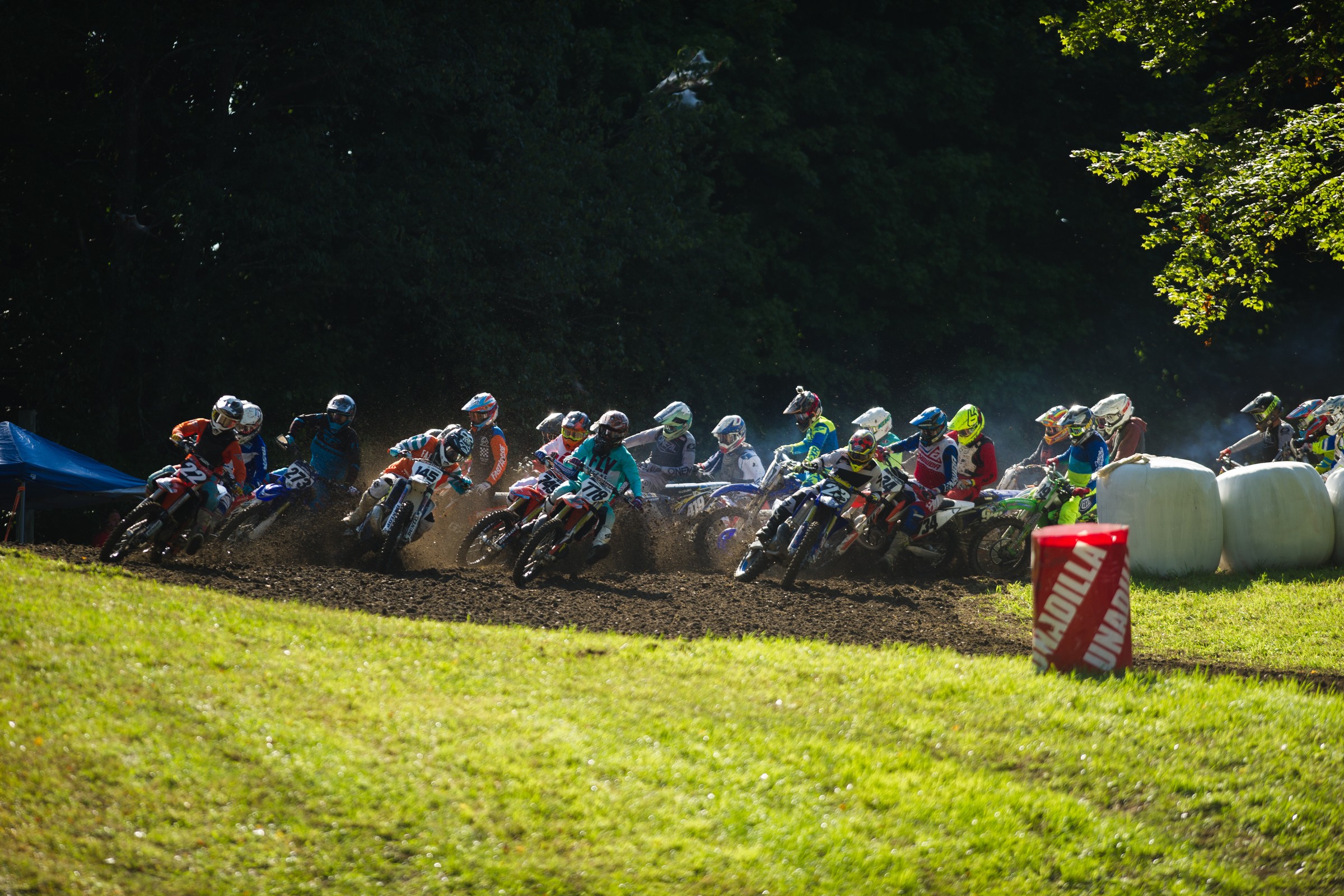 New Berlin, NY
Unadilla
Lucas Oil AMA Pro Motocross Championship
NEW BERLIN, NY—The 2019 100% Amateur Classic, held in conjunction with the Unadilla National Motocross, took place on Unadilla's dedicated amateur track on August 9-11 at Unadilla MX in New Berlin, New York, as 942 entries making up 37 classes did battle for prizes and contingency, thanks to race sponsors 100%, Lucas Oil, Massey Ferguson, Anderson Equipment, Eklund Farm Machinery, Yamaha Generators, Olivers RVs, Rentals to Go, Laughlin Landscaping. Moto one for each class was held on Friday, with the event concluding on Sunday with the second moto of each division.
MX Sports Pro Racing's expanded amateur racing program for the 2019 Lucas Oil AMA Pro Motocross Championship allows competitors from all over the country to race during the national weekend at all 12 rounds on the schedule, which will undoubtedly help the continued growth of the amateur racing component of the world's most prestigious off-road motorcycle racing series.
In addition to amateur racing, every Pro National Motocross in 2019 will feature the special 125 All Star race, which was created to provide an opportunity for the manufacturers that still make 125 two-strokes to showcase these bikes. The 125 All Star series fills a huge gap between 85's and 250's, so MX Sports is helping to fill the void by making 125 two-strokes as part of the pro afternoons.
The 125 All-Star race at Unadilla was won by KTM rider Chase Yentzer. The Pennsylvania native, who also won the 125 All Star race during the High Point National in June, beat out Trevor Schmidt (KTM) from Rochester, New York; and Justin Cokinos (KTM) from Hanover, Massachusetts to take the win. The 125 All Star race has become a big part of Saturday's lineup on national weekends and has been consistently filling the 40-rider gates.
Among the amateur winners, 14-year-old Jake Owens stood out as one of the more dominate winners after posting a pair of moto wins to top the 85cc (12-15) class. Owens' consistency easily beat out the 2-5 moto score of runner-up Anthony Hill (KTM) of New York, and the 4-4 tally of third place finisher Jack Neronha (KTM) of Exeter, Rhode Island.
Owens got off the line in fourth at the start of moto one, but quickly moved into the lead by the end of the opening lap. Owens made good time in the rollers at the back of the track, allowing him to extended his lead to the finish.
After grabbing the holeshot to start the second moto, Owens pulled a quick gap on the field and never looked back, completing the 1-1 sweep.
"It felt good to get the win here," said Owens. "It's a confidence booster, for sure."
Connecticut's Josh Clark (Yam) was a multi-class winner at Unadilla, taking victories in the 122-250cc Expert A class and in the 25+ Expert division. He also finished second in the 122-Open EX Div 2 class.
In the 122-250cc Expert A class, Clark finished second in the first moto behind Trevor Schmidt (KTM), with Darnell Lantigua (Yam) in third. Clark came back strong to win the second moto ahead of Schmidt and Braden Castellaneta (KTM) to finish with a 2-1 moto performance and the overall win.
Josh Clark swept the 25+ Expert A division, going 1-1 in the two motos for the overall win. Jay Weller (Kaw) of Montgomery, New York went 2-2 for second overall, while fellow New Yorker Michael Lang (KTM) ended up 3-4 for third overall.
In the 122-Open Ex Division 2, Clark's 1-2 lost out to Trevor Schmidt's 2-1 performance, while Jay Weller finished third overall after turning in a score of 4-3.
Christian Merman was dominate in the 85cc (9-11) class, going 1-1 to top fellow KTM rider Cooper Allen's 2-2. Spencer Burly (Kaw) went 3-3 for third overall.
In the 30+ Expert A class, Jay Weller won both motos for the overall, with Jeremy Tiffany (Kaw) finishing with a 2-2 score for second overall. Honda-mounted Michael Lawlor was 3-3 for third.
The competition in the 51cc Pee Wee divisions was hot and heavy, with KTM-mounted Sebastian Witherell (1-1) winning the 51cc Pee Wee JR (4-6) class ahead of Cobra-mounted Chase Dill (2-2) and Austin Boltz (3-3) on a Honda.
In the 51cc Pee Wee SR (7-8) class, Xzavier Halse (2-1) to get the win ahead of Preston Waite (1-2) and Calogero Gizzi (3-3). All three were riding Cobra.
Cooper Allen (KTM) dominated the Junior Mini (9-11) class, with a pair of moto wins. Spencer Burley (Kaw) went 2-2 for second with Christian Garrison (KTM) going 5-3 for third.
Other class winners include Spencer Burley (65cc 7-11); Jesse Bond Jr. (125cc Vintage); Alex Miller (500cc Vintage); Josh McGinnis (Collegeboy Div 1) and Liam Langer (Collegeboy Div 2).
For information about the Lucas Oil AMA Pro Motocross Championship, please visit www.ProMotocross.com.