Washougal, WA
Washougal
Lucas Oil AMA Pro Motocross Championship
BY THE NUMBERS
Monster Energy Kawasaki's Eli Tomac earned his 21st overall win in the premier class, moving himself into fourth on the all-time overall win list. Tomac finished 1-1 on Saturday. He now has 42 career moto wins in the premier class, surpassing James Stewart's 41, to take over fifth on the all-time moto win list in the class. Rick Johnson's 44 is fourth all-time. Will Tomac surpass RJ by the end of 2019?
This was the 14th time in Tomac's career in the premier class that he has swept both motos for the overall win. Eli Tomac earned his 42nd overall podium of his career in the premier class, taking over sixth on the all-time list. He now has 392 points—a 50-point lead over Red Bull KTM's Marvin Musquin. Musquin has 342 points and Honda HRC's Ken Roczen has 335 points.
Roczen, who led 13 laps in the first moto, leads the class with 100 total laps led on the season, followed by Tomac's 64 laps led and Musquin's 53 laps led.
Rockstar Energy Husqvarna's Zach Osborne has only finished outside of the top-five in one moto in the Lucas Oil AMA Pro Motocross Championship. In the 16 motos Osborne has competed in (he missed both motos at RedBud due to an injury), he has recorded a total of four fifth-place finishes, five fourth-place finishes, three third-place finishes, two second-place finishes, one moto win, and he scored a ninth in the first moto at Washougal. Coming into Washougal, he was the only rider in the 450 Class to score in the top-five every moto of the championship.
A week ago, Monster Energy Kawasaki's Joey Savatgy told us this in an interview: "Not getting the greatest starts also hasn't helped my cause." Well? At Washougal he took two holeshots before finished 6-6 to finish to seventh overall—a season-best for the premier class rookie. Way better starts, way better finishes.
Monster Energy/Yamalube/Star Racing Yamaha's Dylan Ferrandis won his second overall of the 2019 championship, finishing 1-1 in both of his wins. In the first moto, Ferrandis, Justin Cooper and Adam Ciancairulo all finished within 3.783 seconds of one another. In the second moto, Ciancairulo finished 0.548 seconds behind Ferrandis.
Because Ferrandis finished 1-1 and Monster Energy/Pro Circuit Kawasaki's Adam Cianciarulo finished 3-2, Ferrandis gained eight points on Cianciarulo, the 250 Class points leader. Cianciarulo now has a 28-point lead over Ferrandis.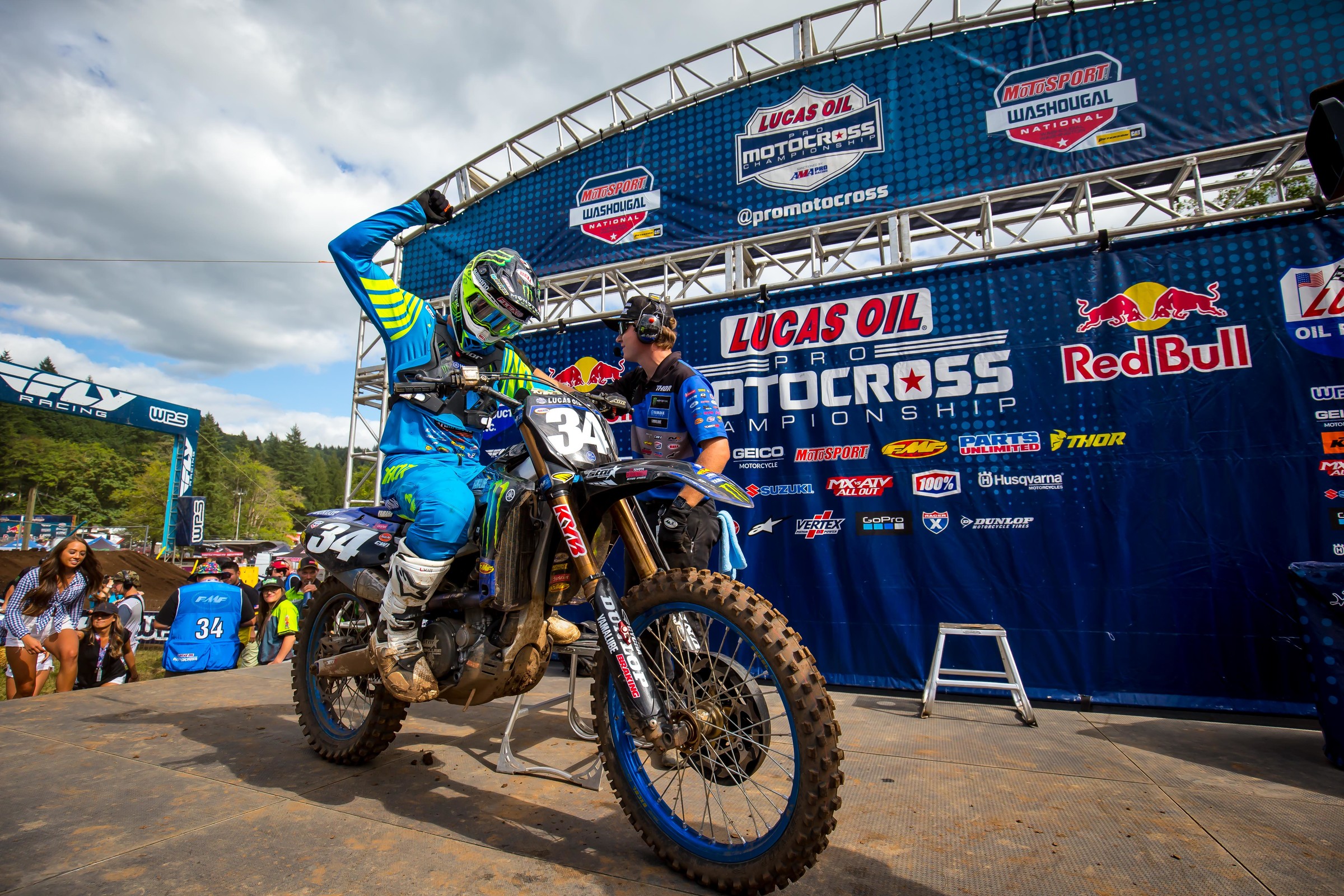 Cianciarulo is the only rider in either class to finish every moto inside the top five. Oddly enough, he has just as many moto wins as he has finishes of fifth, fourth, and third. Through nine rounds (18 motos), he has recorded a total of two fifth-place finishes, zero fourth-place finishes (weird), four third-place finishes, six second-place finishes, and six moto wins.
GEICO Honda's Chase Sexton finishes a moto inside the top five for the first time since winning the first moto at the Florida National on June 22. Following that moto, Sexton finished 39th in Florida's second moto, went 13-DNS at Southwick moto, did not compete at RedBud, went 27-7 at Spring Creek (he was running fourth in moto one before his bike let go) and then went 4-6 at Washougal.
Troy Lee Designs/Red Bull KTM's Cameron McAdoo tied his season-best moto finish with a sixth-place finish in the first moto and finished with an eighth-place in the second moto to tie his career-best overall finish—a seventh place.
QUOTES FROM AROUND THE PADDOCK
Ken Roczen | 2-3 for second overall in 450 Class
"I can't really complain today. If you've seen my last few weekends, today was actually really good for me. I'm pretty happy to be back on the podium and to have an overall better day than in past weeks. In both races my starts weren't that great, but I was able to make passes and find the front of the pack pretty quick, which was nice. I was trying to be aggressive until the end and give it my all but Eli [Tomac] was on it all day and I just wasn't able to hold him off. I'm looking forward to this weekend off and to getting back to racing at Unadilla."
Said Honda HRC team manager, Erik Kehoe:
"To see Kenny get back on the podium today with a second overall was awesome. It's been a tough up-and-down few weeks so today's speed and consistency was nice to see. His end-of-race pace was still a bit tough, but he did a great job salvaging his energy and positions. We've got one weekend off to then finish out the season strong."
Jason Anderson | 4-7 for fifth overall in 450 Class
"My day went pretty decent. In the first moto, I got up to third and then I fell and ended up fourth. In the second moto, I got up to fourth and tried to make a charge and ended up getting passed for fifth. I went 4-5 for the day but I got docked two positions, so I ended up fifth overall, which isn't too bad."
Zach Osborne | 9-4 for sixth overall in 450 Class
"It was just a really 'off' day until the second moto, where I was able to turn things around. I think I've just been a little bit off the normal regimen with my shoulder but going into an off-weekend, I feel like I can make a lot of improvement with it and keep moving forward."
Joey Savatgy | 6-6 for seventh overall in 450 Class
"Today was a big step in the right direction. We have had some frustrating weekends the past few weeks so to get two holeshots and finish with two sixth-place finishes for seventh overall, I am pretty pumped. The goal is to be on the podium but today we showed we have the speed. Just need to clean up a few minor things and get adjusted to running the front runners pace and we will be good. I can't wait to get to Unadilla in two weeks."
Fredrik Noren | 8-8 for eighth in 450 Class
"I was really looking forward to Washougal. It was nice to ride press day and get a flow with the track. I cannot believe how comfortable I am on the Suzuki RM-Z450 after not much time at all. I expect my results to continue improving. Washougal was a race I can build off of."
Dean wilson | 7-1o for ninth overall in 450 Class
"Today was definitely an improvement but I'm still trying to catch up on my fitness. The second moto, I had a really good start and those guys passed me but to be honest I was really struggling with cramping in my legs. It's a little disappointing as a 7-8 was looking doable but we'll just keep working at it."
Justin bogle | 12-11 for 11th overall in 450 class
"It was a good day out there. I didn't get the best start in the first moto, but I found my rhythm in the second moto and rode well I'll take this break to recharge and come back strong at Unadilla."
Michael Mosiman | 7-3 for fourth overall in 250 Class
"It's good to be here, I'm really fond of this track and this area. And I think this track suits my style – I'm really able to get into a flow. I'm stoked to get on the podium. I love the fans up here!"
Chase Sexton | 4-6 for fifth overall in 250 Class
"Not an ideal day yesterday at Washougal, between bad starts and tip overs it just made the day super difficult. Not complaining and I'm the only person to blame for it! I just need to be better, plain and simple. Fifth overall but that's not what I show up to do. Going to figure it out these next two weeks and come out swinging for the last three!"
RJ Hampshire | 8-5 for sixth overall in 250 Class
"Starts weren't great on a track that was hard to pass on. Felt pretty good first moto till a crash. Second moto just battled with [Justin] Cooper pretty much the whole moto. Couldn't find a way around. Starts were important and I didn't have them."
Colt Nichols | 5-9 for eighth overall in 250 Class
"My YZ250F was awesome today. The track was technical, but honestly really good. I got an awesome start in the second moto, I just didn't ride smart and ended up on the ground in both races. That was disappointing, but we have a few rounds left to put it all together and get the result we are looking for."
Alex Martin | 13-7 for ninth overall in 250 Class
"Washougal is a tricky track for me, so I'm happy to just be moving on from this race healthy. In the first moto I had a good pace going while running in seventh position. Then I swapped out coming into a left-hand corner and went over the bars. I spun badly out of the gate in the second moto and was buried in the pack, but I made aggressive passes right away to finish seventh. My riding was decent. I just need better starts."
Christian Craig | 11-13 for 12th overall in 250 Class
"Although I'm not happy with how I rode, I'm happy to finally finish the day consistently. I had terrible starts both motos so had to work my way up which isn't fun. This year had been nothing short of terrible so to even finish the day with a 12th overall is a positive."
[Note: Craig has since learned he will be suspended from competition until March of 2020. Click here for the details.]
Ty Masterpool | 12-15 for 13th overall in 250 Class
"It was tough conditions out there. It felt like I was on a concrete road with dirt on it and potholes everywhere, but it was a new track for me and I learned a lot. The bike was great like always. I'm ready to get back to work and I'm looking forward to the last few rounds."
Mitchell Oldenburg | 37-11 for 16th in 250 Class
"It was a bit of a rough day, but not terrible. Practice went really well. I was really feeling good, loving the track. In the first moto, I was running I think fifth or sixth and just got together with a lapper. I think he looked back to get out of the way and actually when he looked back, turned right into me and T-boned me. I went down off the track and twisted my ankle a bit. So overall, a decent rebound for the second moto in 11th. We're still building. I'm looking forward to Unadilla and getting next weekend off to get stronger and fitter for the last three rounds."
Kyle Peters | 19-14 for 17th overall in 250 Class
"I felt like I had the speed, but I couldn't stay off the ground in the first moto. I crashed a few times and was dead last at the beginning. I'm happy that I was able to charge up into the top 20, but I know that I have a lot more in me. I had a great week of practice leading up to Washougal. My plan is to take that practice speed and translate it to the motos."
Garrett Marchbanks | 40-19 for 22nd overall in 250 Class
"This was definitely not the way I wanted to back up my comeback last weekend, but there are sometimes things that are out of your control and just happen. It was rough getting that last gate pick and had my work cut out for me in the second moto. I've been feeling good on the bike since returning, so I'm looking forward to getting another shot at it at Unadilla."
LAP TIMES
450 CLASS — MOTO 1
| | | | | | |
| --- | --- | --- | --- | --- | --- |
| Lap Rank | Finish | Best Lap | On Lap | Avg Lap Time | Rider |
| 1 | 2 | 2:17.608 | 2 | 2:21.166 | Ken Roczen |
| 2 | 6 | 2:18.367 | 3 | 2:22.511 | Joey Savatgy |
| 3 | 4 | 2:18.634 | 4 | 2:21.887 | Jason Anderson |
| 4 | 5 | 2:18.691 | 4 | 2:22.102 | Marvin Musquin |
| 5 | 1 | 2:19.026 | 4 | 2:20.300 | Eli Tomac |
| 6 | 3 | 2:19.519 | 5 | 2:21.793 | Cooper Webb |
| 7 | 9 | 2:20.841 | 4 | 2:25.767 | Zach Osborne |
| 8 | 8 | 2:22.293 | 12 | 2:23.826 | Fredrik Noren |
| 9 | 7 | 2:22.362 | 7 | 2:23.894 | Dean Wilson |
| 10 | 10 | 2:22.709 | 7 | 2:25.677 | Justin Barcia |
450 CLASS — MOTO 2
| | | | | | |
| --- | --- | --- | --- | --- | --- |
| Lap Rank | Finish | Best Lap | On Lap | Avg Lap Time | Rider |
| 1 | 1 | 2:18.377 | 7 | 2:20.896 | Eli Tomac |
| 2 | 7 | 2:20.115 | 3 | 2:23.731 | Jason Anderson |
| 3 | 3 | 2:20.267 | 2 | 2:22.561 | Ken Roczen |
| 4 | 2 | 2:20.301 | 11 | 2:22.289 | Marvin Musquin |
| 5 | 4 | 2:20.855 | 7 | 2:23.109 | Zach Osborne |
| 6 | 6 | 2:21.250 | 7 | 2:24.691 | Joey Savatgy |
| 7 | 5 | 2:22.425 | 6 | 2:24.063 | Cooper Webb |
| 8 | 11 | 2:22.765 | 10 | 2:26.424 | Justin Bogle |
| 9 | 8 | 2:23.091 | 11 | 2:24.913 | Fredrik Noren |
| 10 | 9 | 2:23.370 | 7 | 2:24.935 | Justin Barcia |
250 CLASS — MOTO 1
| | | | | | |
| --- | --- | --- | --- | --- | --- |
| Lap Rank | Finish | Best Lap | On Lap | Avg Lap Time | Rider |
| 1 | 3 | 2:19.971 | 11 | 2:21.802 | Adam Cianciarulo |
| 2 | 1 | 2:20.111 | 3 | 2:21.562 | Dylan Ferrandis |
| 3 | 5 | 2:20.150 | 10 | 2:23.107 | Colt Nichols |
| 4 | 3 | 2:20.438 | 2 | 2:21.799 | Justin Cooper |
| 5 | 7 | 2:21.126 | 4 | 2:23.540 | Michael Mosiman |
| 6 | 4 | 2:21.481 | 13 | 2:22.681 | Chase Sexton |
| 7 | 11 | 2:23.068 | 9 | 2:24.414 | Christian Craig |
| 8 | 6 | 2:22.056 | 2 | 2:23.932 | Cameron McAdoo |
| 9 | 37 | 2:22.101 | 4 | 2:24.671 | Mitchell Oldenburg |
| 10 | 13 | 2:22.157 | 4 | 2:25.787 | Alex Martin |
250 CLASS — MOTO 2
| | | | | | |
| --- | --- | --- | --- | --- | --- |
| Lap Rank | Finish | Best Lap | On Lap | Avg Lap Time | Rider |
| 1 | 2 | 2:19.959 | 5 | 2:21.223 | Adam Cianciarulo |
| 2 | 1 | 2:20.254 | 4 | 2:21.248 | Dylan Ferrandis |
| 3 | 6 | 2:20.550 | 5 | 2:24.032 | Chase Sexton |
| 4 | 3 | 2:20.611 | 5 | 2:22.682 | Michael Mosiman |
| 5 | 9 | 2:20.618 | 5 | 2:25.100 | Colt Nichols |
| 6 | 5 | 2:20.795 | 7 | 2:23.076 | RJ Hampshire |
| 7 | 7 | 2:21.557 | 7 | 2:24.074 | Alex Martin |
| 8 | 4 | 2:21.659 | 8 | 2:22.872 | Justin Cooper |
| 9 | 8 | 2:22.110 | 5 | 2:24.685 | Cameron McAdoo |
| 10 | 11 | 2:22.784 | 7 | 2:22.338 | Mitchell Oldenburg |
GIF OF THE WEEKEND
GIF OF THE WEEKEND, pt ii
GIF OF THE WEEKEND, pt iii