Washougal, WA
Washougal
Lucas Oil AMA Pro Motocross Championship
Critical. Pivotal. Must win. Do or die. Crucial. You hear these terms thrown around a lot in racing. So much so that at times they seem to lose their value. But in Washougal, these words applied in full force, especially for Marvin Musquin and Dylan Ferrandis, who came into Washougal trailing by large margins in their respective classes (Musquin by 38, Ferrandis by 36) with opportunities to score points becoming rarer by the weekend. So were the Frechmen able to make any progress? Let's dive into Saturday Night Live to find out!
In the 450 Class the answer is no, Musquin wasn't able to make up some much needed ground on Tomac. It would have been a tall order to fill though, as Tomac is always extremely good at Washougal. In fact, the worst he's ever finished here on a 450 is second place, and he's won three of the five 450 races he's been in here. So making up points on Tomac at Washougal? Not so easy. Especially when he's as dialed as he was today. The Monster Energy Kawasaki rider was nothing short of amazing, and aside from not-so-great starts, could do almost no wrong. And when he did make a mistake, he was able to quickly undo the damage. Late in the first moto, after he'd devoured the massive lead once held by Ken Roczen, Tomac tried to throw it up the inside on Roczen. He leaned so far that he caught a rut with his clutch lever, which momentarily cut drive to the rear wheel, causing Tomac to go down. It seemed his run at first was over, but after quickly remounting Tomac somehow found himself right on Roczen just one lap later. A few turns later he got by Roczen, bumping him off the track in the process, and checked out for the moto win. He came from even farther back in the second moto to displace Musquin to log a perfect 1-1 day. Afterward Tomac said he wasn't quite sure what it is about this track that suits him so well.
"To be honest I don't know," Tomac responded when asked why Washougal is so good for him. "My track at home is more sand based, while this is one of our full clay tracks. There's not really a relationship there, when I'm practicing at home. It seems like my motorcycle works really well here and I'm able to make passes. It seems like it's just been a good track for me in the 450 Class."
He went on to explain that, while he's got the comfort of a much larger points lead at this point than he had in his previous two championships, it doesn't necessarily change the way he approaches the remaining races.
"I'm still trying to be aggressive and not think about the end," Tomac said. "We've still got three left. It's usually best if you stay aggressive and try not to do anything too dumb. Going into protection mode too early is never a good situation."
Ken Roczen had a great day. He took over the lead early in the first moto, and if not for a superhuman performance from Tomac, would have won the moto handily. Afterward Roczen didn't seem upset in the least about the bump he'd received from Tomac that sent him off the track.
"The way that part of the track is set up, it's made for a collision," Roczen said. "We're jumping and landing, and our lines were pointed in the same direction. We started going and I got bumped a little bit. The reason I went so far is because there was a big rut and I basically split it. I was on top with both my wheels and my front wheel started falling to the right and my rear wheel to the left. I had to give her the berries just to keep from crashing. There was a fence and just straight dust, and I was stuck there for a little bit trying to get back going. It was just a thing where both of our lines came together and obviously I was outside and pulled the shorter stick."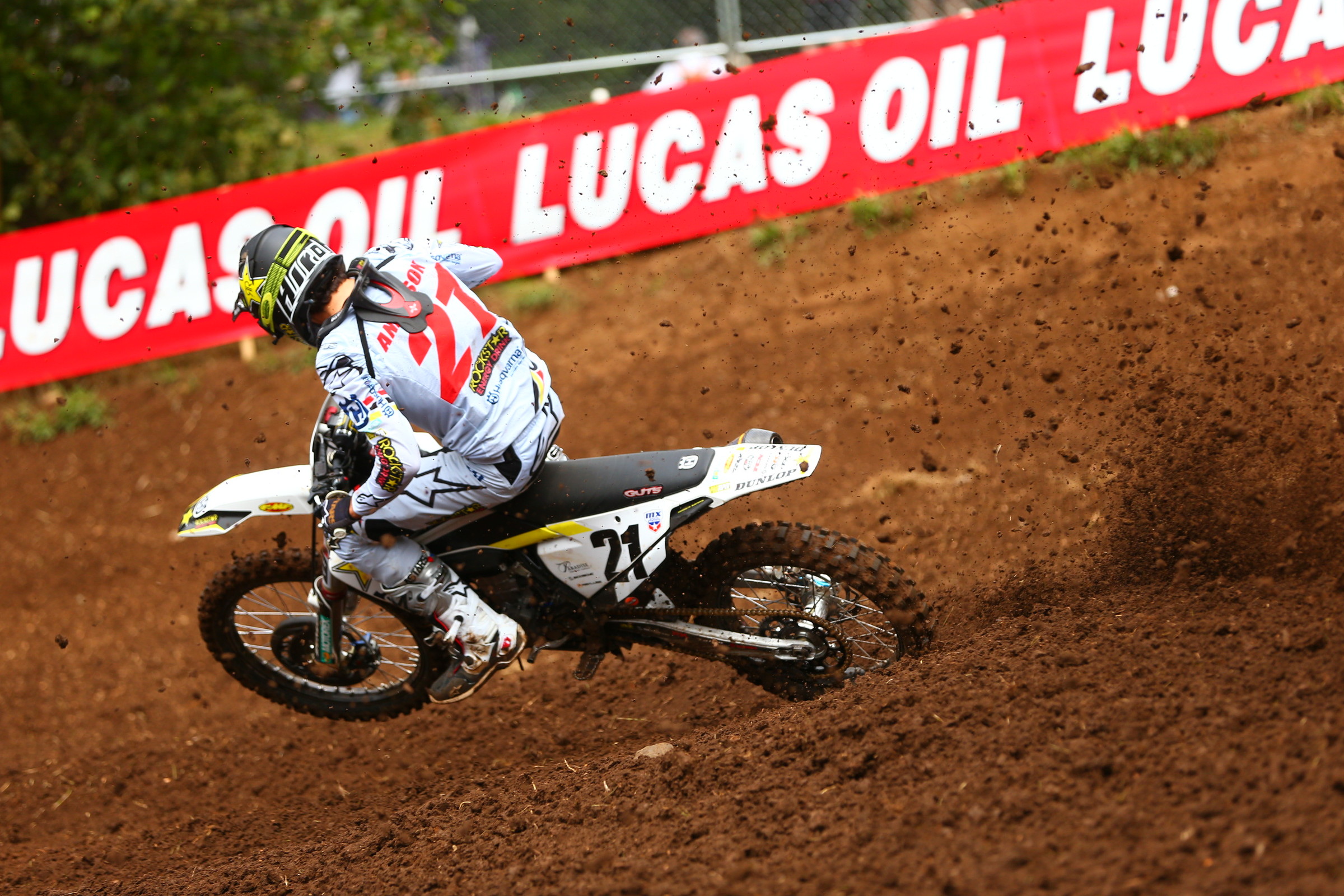 Roczen acknowledged that it's nice to be second overall, but made it no that he's been struggling this season.
"The team and I are fighting through it. Needless to say, I can't wait for the season to be over," Roczen said. "I'll get some rest, recover, and get into next season. Right now I'm riding hard every weekend. My goal is to go out and ride as hard as I can for as long as I can, and whatever it's going to be, it's going to be. Overall though, it hasn't been the greatest year for me. The racing on the weekend has been super tough."
Another rider who wasn't happy was Musquin, and he shouldn't be. He was fifth in the first moto (a result he called "unacceptable" afterward), a place he simply cannot be if he wants to get back in this championship, and he surrendered the lead to Tomac late in the second moto, allowing Tomac to pad his lead even more. He now faces a fifty-point deficit to Tomac with only six motos remaining in the 2020 season.
"I was very disappointed [in moto one]," Musquin said. "I tried to make some passes and I couldn't do it and lost my rhythm. It was a terrible first moto, a fifth. It's unacceptable. I'm glad I turned it around in the second moto. I got a better start, rode better, and the bike felt better. To salvage a podium at the end of the day is good, because it didn't start out very well."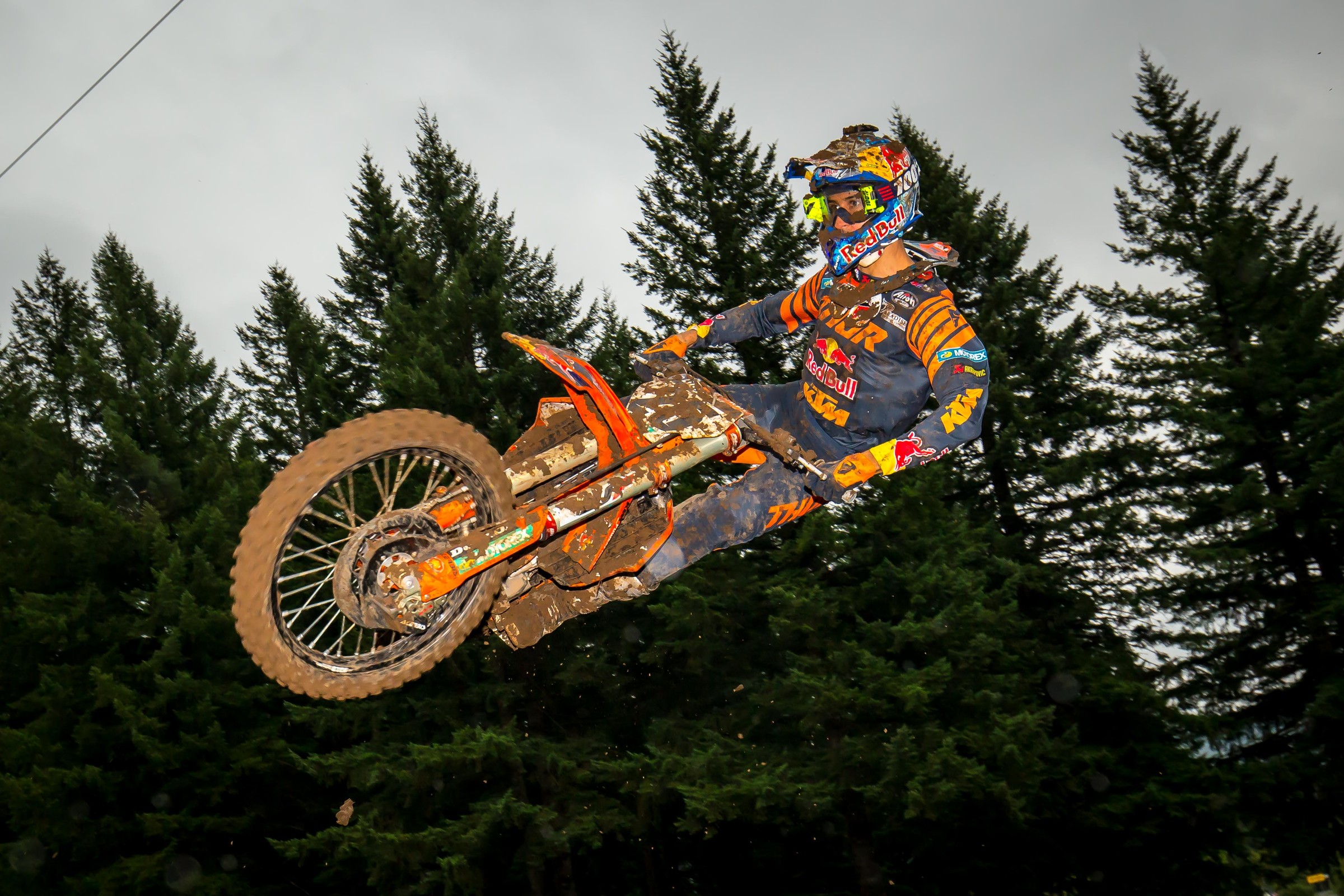 After going 1-1 last week at Spring Creek, Cooper Webb went 3-5 for fourth overall at Washougal. Probably not the day he wanted after winning at the last round, but it's still better than his results from the first half of the season. He got a gift in the first moto too when, after crashing and giving up third to Jason Anderson, Webb got the spot back when Anderson crashed on the last lap.
Speaking of Anderson, the Rockstar Energy/Husqvarna Factory Racing rider made a pass on Joey Savatgy in the second moto that cost him two spots. After Savatgy went wide and took the line away from Anderson, Anderson went a few feet off the track, held it pinned, and made the pass on Savatgy. Officials deemed it a violation of the rules and docked Anderson two spots.
If you're wondering where Aaron Plessinger was in the first moto, well, he wasn't. When the gate dropped and the pack roared off, Plessinger was left sitting stationary on the line. We checked in with the team later and were told they'd experienced a problem with the hydraulic clutch, although they hadn't pinpointed the issue just yet.
Motocross
Rider
Hometown
Motos
Bike
1
Eli Tomac
Cortez, CO

United States

1 - 1
Kawasaki KX450
2
Ken Roczen
Mattstedt

Germany

2 - 3
Honda CRF450R
3
Marvin Musquin
La Reole

France

5 - 2
KTM 450 SX-F
4
Cooper Webb
Newport, NC

United States

3 - 5
KTM 450 SX-F
5

Jason Anderson
Edgewood, NM

United States

4 - 7
Husqvarna FC 450
Full Results
In the 250 Class Ferrandis did what he needed to do to keep his championship hopes alive by going 1-1 and picking up eight points on points leader Adam Cianciarulo, who went 2-3 for second overall. Cianciarulo didn't make it easy on him though, that's for sure. In the second moto Cianciarulo tried over and over to get around Ferrandis, and each time Ferrandis was able to withstand the pressure and stretch a lead back out. The final lap was especially thrilling. Not far behind, Cianciarulo absolutely launched a jump most riders were scrubbing as a single and soared into some rollers. He made up ground but it didn't result in a pass being made for the lead, and Ferrandis won the moto by half a second. About an hour later Cianciarulo said his back was still hurting from the tremendous leap. As for Ferrandis, he now trails Cianciarulo by 28 points, and while he acknowledged the need to beat Cianciarulo in every remaining moto, didn't make much of the pressure.
"It's not really pressure. I just want to win the championship. I have to beat Adam, but the pressure is to not have a weekend like last weekend [Spring Creek], make mistakes, and give up points. It's not pressure. I just always try to do my best, beat AC every time, and get points, as many as I can. That's all."
Cianciarulo said he was bummed he didn't win, but said losing is a lot easier to take when he knows he did everything he could to make it happen.
"It sucks losing, it's awful and I hate it. But I had a good time out there and I feel like I left it all out there. I was emptying the tank on the last lap," Cianciarulo said. "When I pull back into the tent, as long as I know I left it all out there, that's when I can go back and have a few solid weeks. The ones where I kind of let them get away, those are the ones that suck. I'm going to leave it all out there and look for everything, always. Every moto, from here on out."
Justin Cooper was third overall, a big improvement from going 7-10 at Spring Creek, and for the most part, seemed happy with his ride at Washougal.
"Everything was kind of going to plan, but I made a little mistake in the whoops. If you're going to make a mistake, that's not the place to do it," Cooper said. "Once you lose your momentum there it's hard to get it back. I lost time there and was just kind of shaking my head. In the second moto I got a good start, I think I was second, and just ran wide. That left side of Horsepower Hill was pretty muddy. I ended up over there and went from second to like eighth. I couldn't see, I was getting roosted all the way up. I was trying to make passes but it was pretty hard to pass out there. I did my best and was able to get close to Mike [Mosiman] at the end for third but didn't make the pass. Overall I think it turned out pretty good."
Another great ride from Michael Mosiman. The Rockstar Energy Husqvarna Factory Racing rider battled hard in the first moto to take seventh, and rode to third in the second to take fourth overall. Afterward he said he'd gotten some good advice from his teammate, Zach Osborne, who told him he was putting too much pressure on himself, which was leading to mistakes. Judging by Mosiman's results, it looks like Osborne was right!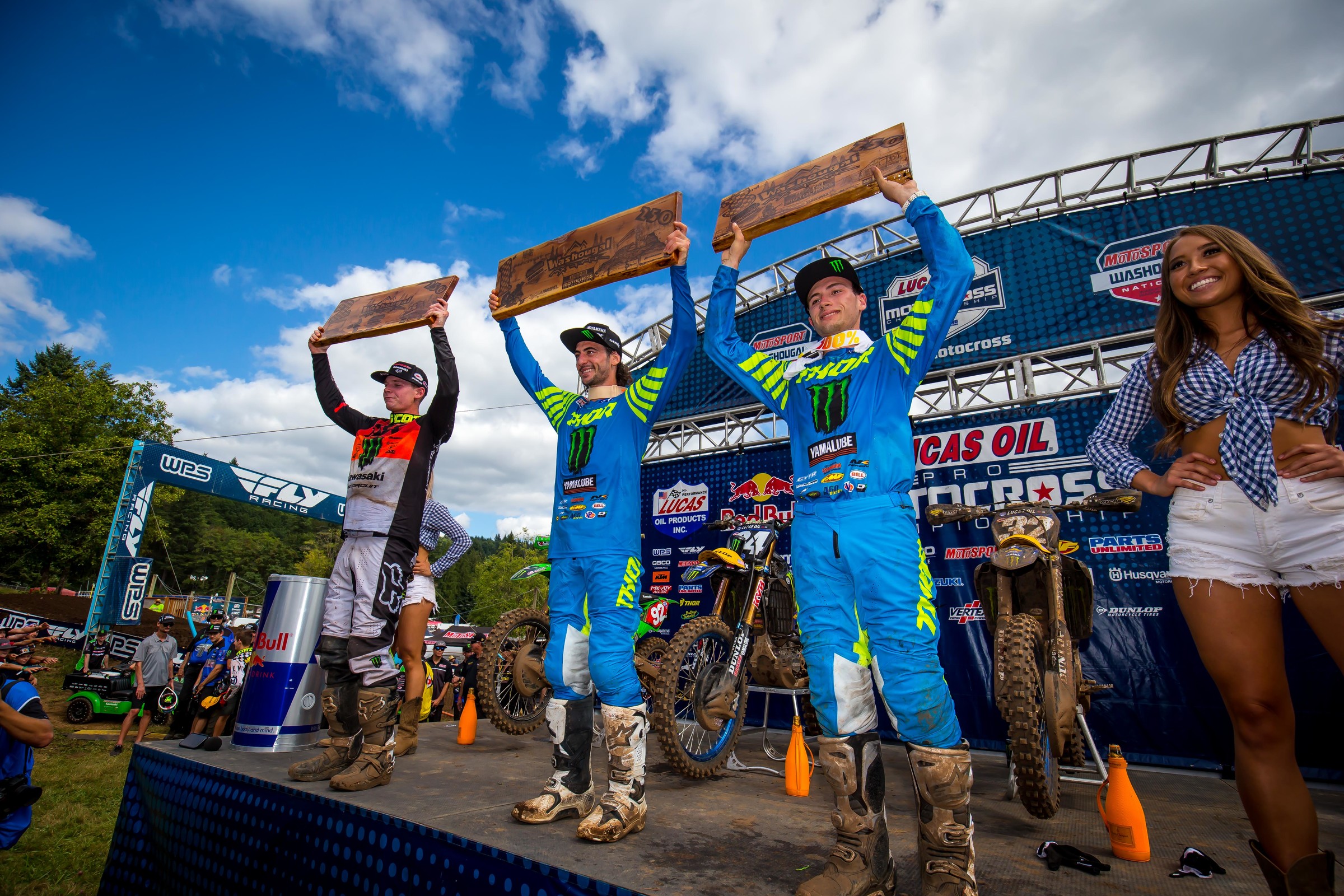 Motocross
Rider
Hometown
Motos
Bike
1
Dylan Ferrandis
Avignon

France

1 - 1
Yamaha YZ250F
2
Adam Cianciarulo
Port Orange, FL

United States

3 - 2
Kawasaki KX250F
3
Justin Cooper
Cold Spring Harbor, NY

United States

2 - 4
Yamaha YZ250F
4
Michael Mosiman
Sebastopol, CA

United States

7 - 3
Husqvarna FC 250
5
Chase Sexton
La Moille, IL

United States

4 - 6
Honda CRF250R
Full Results
Motocross
| Position | Rider | Hometown | Points |
| --- | --- | --- | --- |
| 1 | Adam Cianciarulo | Port Orange, FL | 519 |
| 2 | Dylan Ferrandis | Avignon | 499 |
| 3 | Justin Cooper | Cold Spring Harbor, NY | 461 |
| 4 | R.J. Hampshire | Hudson, FL | 337 |
| 5 | Chase Sexton | La Moille, IL | 316 |
Full Standings
Motocross
Rider
Hometown
Bike
1
Ryan Villopoto
Seattle, WA

United States

Yamaha
2
Chris Johnson
San Diego, CA

United States

KTM
3
Tevin Tapia
Federal Way, WA

United States

Yamaha
4
Broc Shoemaker
Agua Dulce, CA

United States

Yamaha
5
Zachary Rebholz
Yacolt, WA

United States

Husqvarna
Full Results