The 2019 season has been the best of times and the worst of times for Monster Energy Kawasaki 450cc racer Joey Savatgy. Graduating up to the 450SX class, Savatgy put his name up in lights by posting five top five finishes and earning the 2019 Monster Energy AMA Supercross Championship Rookie of The Year accolade.
However, then came the curtain closing round at Las Vegas in May, and with it, a nasty crash and a gnarly hematoma, which left the 25-year-old on the sidelines and out of action for first two rounds of the Lucas Oil AMA Pro Motocross Championship. Savatgy returned for the Thunder Valley National on June 1, and while stoked to be in elevated Colorado (a track where he has done well before on a 250) not much went right as Joey motored to off-song 40-37 moto results. The High Point National a week later brought 8-6 moto scores for eighth overall, but ever since, Savatgy has struggled with poor starts, bad luck and inconsistency. He is frustrated but determined to get things straight before the Ironman National in late August.
We talked with the Savatgy earlier this week, who is convinced things will soon come around.
Racer X: Okay Joey, so what do you have going today?
Joey Savatgy: I'm just getting ready to head to the movies with the wife and waiting for her to get ready.
What movie are you guys going to go see?
I think we're going to go see that new Lion King movie.
Right on. When are you packing it all up and heading towards Washougal and this Saturday's race?
I'll be leaving on Friday morning.
Broad stroke question to drop the gate on this thing: How are you and what's your take on your performance in the 2019 Lucas Oil AMA Pro Motocross Championship?
Oh man…. It's a tough world, for sure. I've been good, but it has sort of been a bit of a struggle lately. It hasn't been smooth sailing by any means, but we're still able to show up and go racing every weekend, so it's not all bad. It might not be what we want result-wise, it's just been tough but we've still been able to show up and go racing and I'll take that all day over not being able to go racing. Man, it's tough because we started behind the eight ball. I got hurt in supercross with my shoulder and I had to take time off. I then crashed in Vegas and that obviously and had to take a couple weeks off. We didn't really didn't get to ride any outdoors at all. We kind of jut went straight at it. We showed up in Colorado to just get our feet wet and see what we needed to do and fix and it's just kind of been one of those things, man. It's been ongoing. Unfortunately, the results don't show that we made improvements. It's been tough with some fluke things happening. Not getting the greatest starts also hasn't helped my cause. We're making the best of it and trying to keep our head up.
Bad starts and bad luck have set you back this summer?
Yeah, I mean it's both. At the end of the day it's always going to be my fault, you know? If I got good starts every weekend, it would take me out of harm's way. Especially like the first moto this past weekend at Millville. A lot of guys didn't get good starts at all and there were a few guys that got really good starts and it just showed the track was wet and definitely one-lined and it was hard to pass. Coming around on the first lap I was way in the back, like around 30th or something, and we made it up to eighth. But man, there are too many good guys right now to put yourself that far back and expect to be a contender. You always want to put yourself up front and when you don't do that, it just makes your job even harder.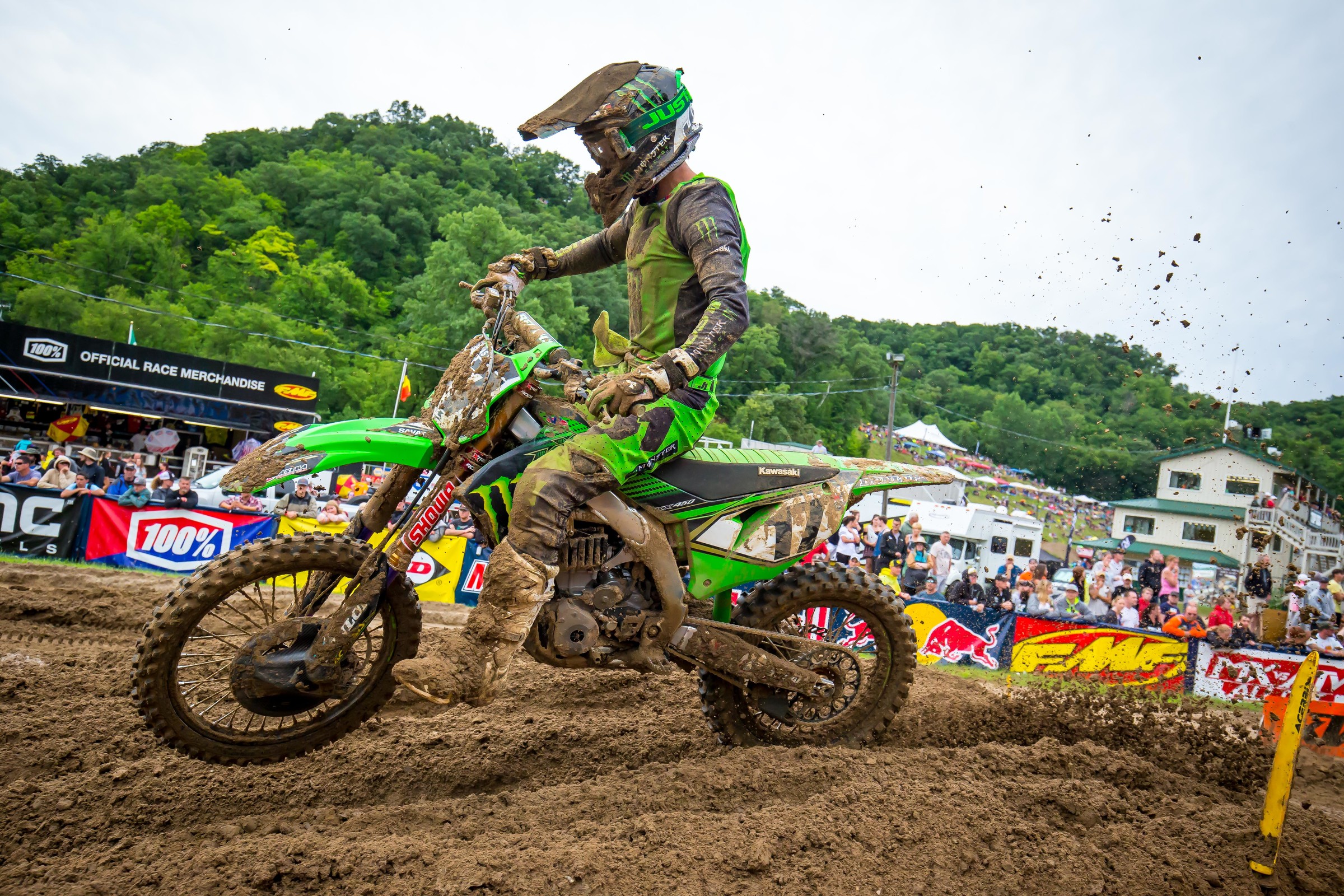 Washougal this Saturday. You've run very well there in the past: finishing third on the 250 in 2018 and winning there in 2017. A good place to post up some strong results for you?
Yeah, we've done well there; we've won there. I have a lot of good memories from the past there. Obviously, it's a whole different ballgame this year with me being in the 450 Class, but I think a lot of it will be the same. If you can get off to a good start and put yourself in a good spot it goes a very long way.
How are things between you and the team? When the results don't come, things can get frustrating for all involved, huh?
[Pause] It's not fun for anyone, but we're trying to make steady improvements and we're trying to keep going forward. It gets monotonous when you keep doing it over and over and it feels like things aren't getting better. It's tough. You just have to take the small positives from weekend to weekend, which is not always an easy thing to do, but we've made progress.
What have you and the team and even your coach Johnny O'Mara been working on to bump up the results?
Honestly, we've had to work on everything. It's a new bike and there wasn't really any testing on it. Eli [Tomac] and I are basically on two different bikes it seems like with the suspension-side of things. Honestly, we've had to work on everything from chassis to suspension to literally anything and everything there is. We've gone through and tried to go one direction and back to other to see what is better and what is not working.
How has the competition looked to you throughout the nationals thus far?
Man, I think it is one of the toughest premier class title fights that there have been in a while—if not ever. A lot of times by the time the outdoors come around, a lot of guys are hurt but no one is really hurt right now. Man, it's not two to three guys who are pretty always up front; it's six, seven, eight guys that can run up front! Maybe they can't win the motos, but they can be up there and be on the podium if they get a good start. That's just another reason why getting bad starts doesn't help my situation.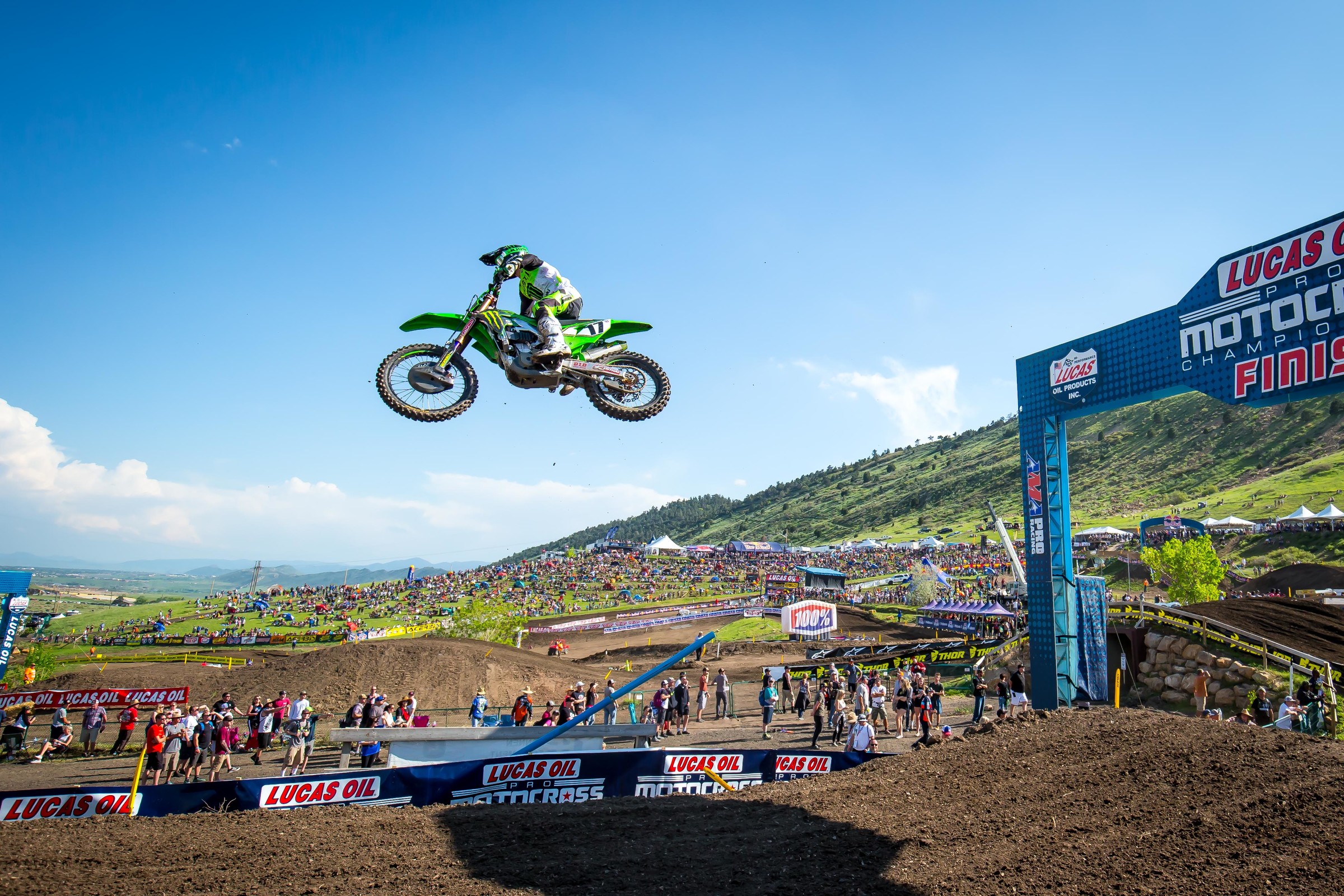 If you can get the starts down, do you feel like you have the speed up to be a podium guy or even win a moto?
Man, I think it's one of those things where it is very similar to Cooper Webb. I think we saw in supercross he started off decent, not great, and then he got that first win and then all of a sudden that confidence is there and you see a totally different person. I think you're going to see him do that in the outdoors again because he won this [past] weekend and he's been making improvements and the team has made changes from what I have heard and he went 1-1 this past weekend. You can see the confidence in him is growing. The only way to get the confidence up is to be up there. If we can put ourselves in a good spot I think we can run up there near the box and shoot for top fives as a building point.
Unadilla, Budds Creek, and Ironman will finish the 2019 race season off. Do you like these three circuits?
Yeah, I was thinking about it the other day. I've been on the podium at one point in time at every round, so I definitely get vibes there from these tracks. It should be good. We're just trying to keep our heads down and moving forward. Don't quit. It's been a long summer and it hasn't been easy by any means and we're trying to keep it going. It's all about keeping a positive attitude. It's very easy to want to throw the towel in and just throw your arms up in the air and be over it, but at the end of the day I have a job to do. They know I'm trying and I'm doing everything I can do. I just need to keep improving, man. I know what it takes and I do the work, it's just a matter of getting it all in order just one time—just so I can feel it and a little bit of self-confidence never hurt anybody. That's the name of the game, the confidence. I just need to get myself up there and to run a little bit with those guys and just try to remind myself that I belong there.
Right on, Joey. Last question before you head out to the movies, do you have anything lined-up for 2020 yet?
No, I don't, unfortunately. It's tough because you have a supercross season like we had and it was good. We were showing consistent speed and qualifying good and had some heat race wins and led some laps. Now, how quickly that can change. I obviously don't forget about it, but I think a lot of the industry is very quick to forget what I was capable of doing. It's a little bit frustrating at times, but like I said, I look back and I know what I'm capable of when I'm prepared and I'm ready. Even this late in the season, we're still trying to get better and make improvements because I'm not really satisfied until I get back to where I feel I belong.