Rockstar Energy Triple Crown Calgary Results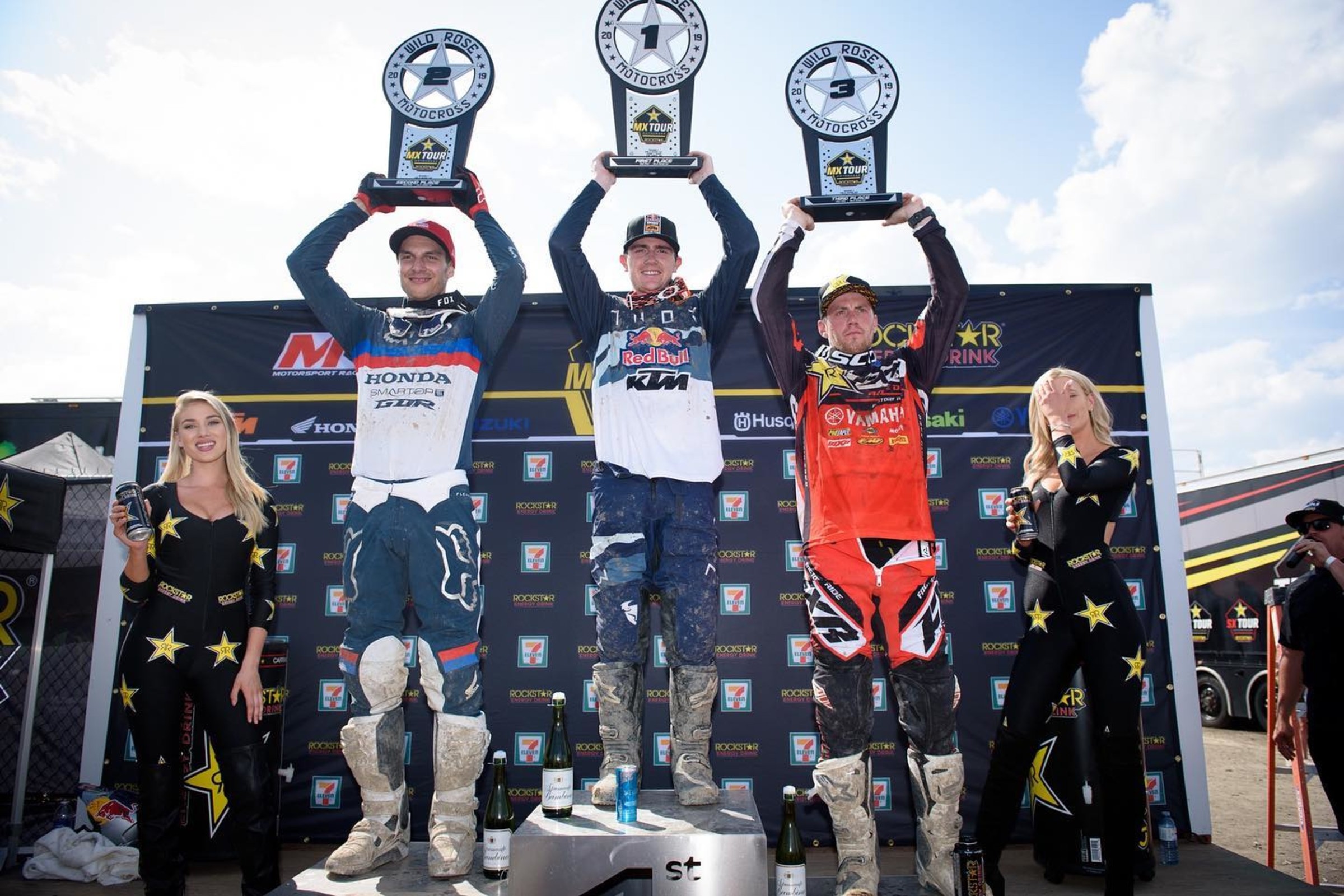 Round one of the Rockstar Energy Triple Crown Motocross Championship took place in Calgary on Saturday.
In the 250 Class, American Josh Osby took the overall via 2-2 motos. Fellow American Luke Renzland finished second with Dylan Wright in third.
In the 450 Class, Cole Thompson went 3-1 for the overall over Colton Facciotti and Phil Nicoletti.
250 Class
21 Josh Osby YAM 2-2
94 Luke Renzland YAM 6-1
19 Dylan Wright HON 1-6
121 Marshal Weltin HSK 4-4
14 Tanner Ward KTM 3-5
5 Tyler Medaglia KAW 7-3
1 Jess Pettis KTM 5-7
52 Brad Nauditt HSK 8-10
46 Marco Cannella YAM 10-9
324 Dylan Kaelin KTM 9-11
48 Westen Wrozyna KAW 11-13
64 William Crete HSK 15-12
296 Ryder Floyd YAM 39-8
60 Quinn Amyotte KTM 14-15
36 Teren Gerber KTM 12-17
571 Danny Mathe YAM 18-14
22 Jared Petruska HON 13-DNF
146 Tyler Gibbs KAW 34-16
27 Hayden Halstead YAM 16-27
71 Duncan McLeod KTM17-21
450 Class
16 Cole Thompson KTM 3-1
1 Colton Facciotti HON 1-3
54 Phil Nicoletti YAM 2-2
800 Mike Alessi HON 4-4
3 Shawn Maffenbeier YAM 6-5
2 Matt Goerke KAW 5-6
10 Keylan Meston YAM 8-7
164 Dakota Alix KTM 7-8
38 Mike Brown YAM 10-9
12 Cade Clason HSK 9-10
544 Morgan Burger KTM 12-11
39 Ryan Dowd SUZ 11-13
711 Nick Collins YAM 14-14
80 Sam Gaynor YAM 13-15
170 Josh Gedak YAM 27-12
234 McCoy Brough KTM 18-16
25 Casey Keast YAM 15-19
476 Collin Jurin KAW 17-18
482 Riley Brough HON 20-17
17 Cheyenne Harmon YAM 16-25