Thunder Valley Pre-Entry Lists: 450, 250, 125 All Star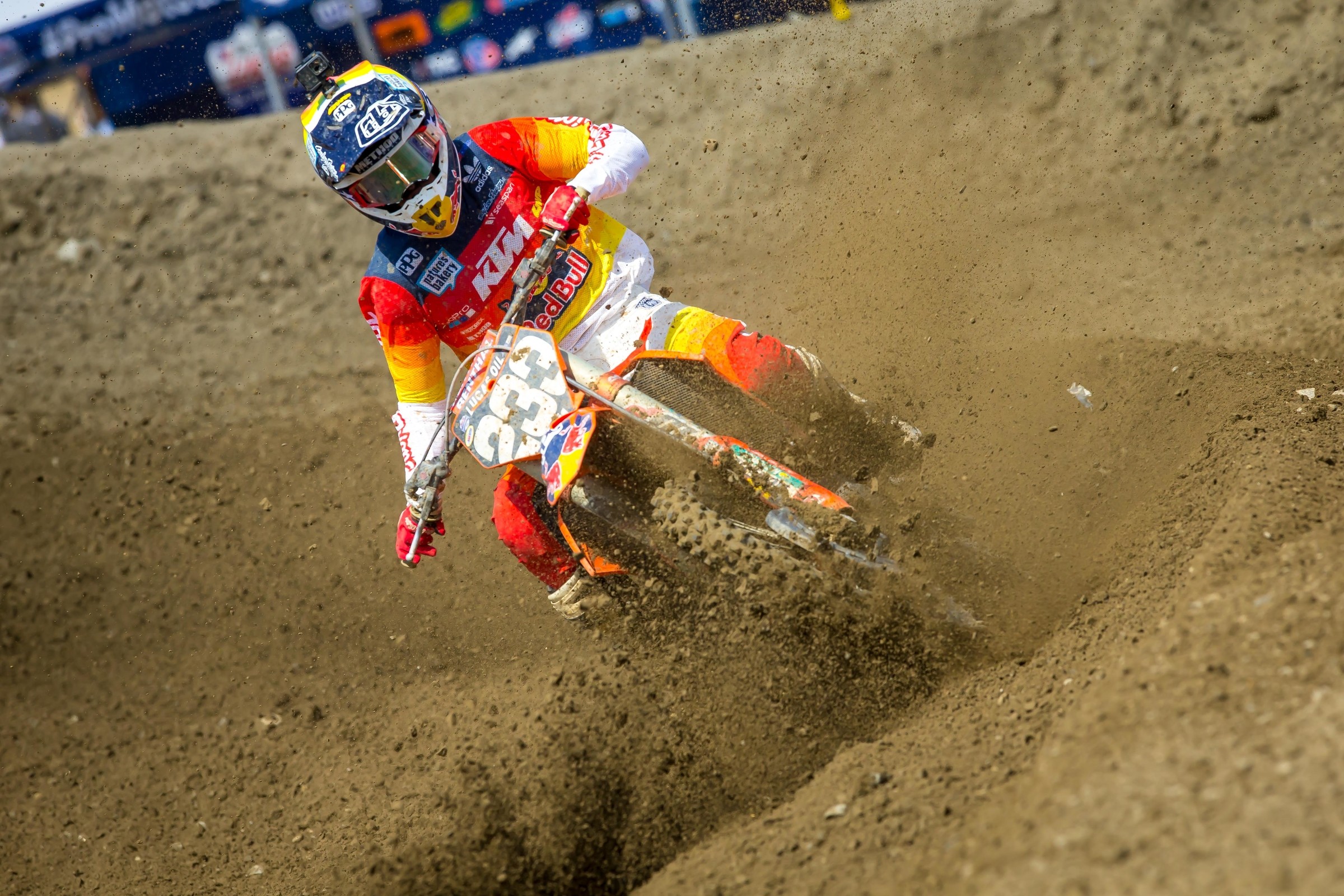 Lakewood, CO
Thunder Valley
Lucas Oil AMA Pro Motocross Championship
The 2019 Lucas Oil AMA Pro Motocross Championship heads to Thunder Valley in Lakewood, Colorado, this weekend for round three of the championship.
Looking for entry lists? We have you covered.
Check out the pre-entry lists for the 450 and 250 Class, as well as the 125 All Star Series.
450 Class
| | | | | | |
| --- | --- | --- | --- | --- | --- |
| Racing Nbr | First Name | Last Name | Hometown | Brand | Team Name |
| 1 | Eli | Tomac | Cortez, CO | KAW | MONSTER ENERGY KAWASAKI |
| 2 | Cooper | Webb | Newport, NC | KTM | RED BULL KTM |
| 4 | Blake | Baggett | Grand Terrace, CA | KTM | Rocky Mountain ATV/MC - KTM - WPS |
| 14 | Cole | Seely | Newbury Park, CA | HON | Team Honda HRC |
| 15 | Dean | Wilson | United Kingdom | HQV | Rockstar Energy Husqvarna Factory Racing |
| 16 | Zachary | Osborne | Abingdon, VA | HQV | Rockstar Energy Husqvarna Factory Racing |
| 17 | Joseph | Savatgy | Tallahassee, FL | KAW | MONSTER ENERGY KAWASAKI |
| 19 | Justin | Bogle | Cushing, OK | KTM | Rocky Mountain ATV/MC - KTM - WPS |
| 21 | Jason | Anderson | Rio Rancho, NM | HQV | Rockstar Energy Husqvarna Factory Racing |
| 25 | Marvin | Musquin | France | KTM | RED BULL KTM |
| 41 | Ben | LaMay | Wasilla, AK | HON | TPJ | FLY Racin | HONDA |
| 43 | Tyler | Bowers | Danville, KY | KAW | Triggr | Tyler Bowers Racing |
| 46 | Justin | Hill | Yoncalla, OR | SUZ | JGR | Yoshimura | Suzuki Factory Racing |
| 48 | Cody | Cooper | New Zealand | HON | Enviro Dynamics | Crownkiwi |
| 49 | Henry | Miller | Rochester, MN | KTM | Henry Miller Racing |
| 51 | Justin | Barcia | Greenville, FL | YAM | Monster Energy-Factory Yamaha Racing |
| 54 | Dylan | Merriam | Corona, CA | HQV | RJC Racing |
| 56 | Lorenzo | Locurcio | Venezuela | KAW | |
| 63 | John | Short | Pilot Point, TX | HON | TPJ Racing |
| 68 | Brandan | Leith | Eagle Mountain, UT | KAW | Stewarts Heating Racing |
| 69 | Jake | Masterpool | Paradise, TX | HON | His 956 Facility |
| 85 | Dare | DeMartile | Lincoln, CA | HON | Nemesis Performance |
| 94 | Ken | Roczen | Germany | HON | Team Honda HRC |
| 101 | Fredrik | Noren | Sweden | HON | Sustainable Oil Field Services | Honda |
| 103 | Dean | Ferris | Australia | YAM | Monster Energy Yamaha Factory Racing |
| 120 | Todd | Bannister | Colorado Springs, CO | KAW | MotoAdventure Kawasaki |
| 124 | Robert | Fitch, Jr. | Littleton, CO | HON | Absolute Race Technology |
| 140 | Austin | Kouba | Boise, ID | KAW | RMXSeries.com |
| 152 | Ryder | Hanninen | Hibbing, MN | KAW | Han's Motosports & Suspensions | Triumph Twist Drill | Bougalis and Sons Construction |
| 182 | Mason | Olson | Sparks, NV | KTM | |
| 214 | Vann | Martin | Houston, TX | HON | Ti Lube Honda Racing | Team AllSouth |
| 218 | Erki | Kahro | Estonia | KTM | MX Vacation |
| 221 | Mathias | Jørgensen | Denmark | HON | |
| 227 | Derek | Kelley | Riverside, CA | HON | SLR Honda | Fly Racing | Flow Vision |
| 229 | Francisco | Martini | Escondido, CA | YAM | Martini Racing |
| 246 | Chance | Blackburn | Spokane, WA | HON | Fusion Graphix | Devol | Epcon |
| 254 | Cody | Briner | Sierra Vista, AZ | KAW | Team KRT |
| 292 | Kolton | Dean | West Jordan, UT | YAM | South Valley Motorsports | Fly Racing | Pro Taper |
| 311 | Mitchell | Gifford | Colorado Springs, CO | YAM | Vickery Motosports | Advance Concrete |
| 314 | Tyler | Stepek | Mount Airy, MD | YAM | Tomahawk MX |
| 321 | Bradley | Lionnet | Zambia | YAM | |
| 322 | Trey | Moore | Center Point, IA | SUZ | Moore Floors |
| 332 | Dustin | Winter | Clearwater, KS | YAM | EBR Performance |
| 341 | Derek | Anderson | Wheat Ridge, CO | HON | Sun Honda |
| 383 | Casey | Brennan | Albuquerque, NM | KTM | Brennan Racing |
| 402 | Samuel | Greenawalt | Jacksonville, FL | YAM | Greenawalt Racing |
| 447 | Deven | Raper | Mesa, AZ | KAW | RJC Racing | Kelly's Kawasaki |
| 456 | Ryan | Grantom | Austin, TX | KTM | Burnin' Dirt Mx |
| 477 | Todd | Waters | Australia | HQV | Todd Waters Racing |
| 499 | Dawson | Chesnut | Sorento, IL | SUZ | TPJ Racing |
| 514 | Anthony | Roth | Cedar Run, NJ | HON | Pepsi | JETTY | Traction MX |
| 526 | Colton | Aeck | Simi Valley, CA | HON | TREMX.com | Tri-County Powersports | Honda |
| 553 | Brent | Rouse | Torrance, CA | HON | Patch Master Racing | Mid Cities Honda |
| 565 | Dominic | DeSimone | Las Vegas, NV | HON | we1 Racing | Pasha Racing | Mobius Braces |
| 591 | Tanner | Myers | Oklahoma City, OK | YAM | TPJ Fly Racing Team |
| 623 | Joshua | Hernandez | Andrews, TX | YAM | EVO | Fly Racing | Defy MX |
| 647 | Matthew | Hubert | Riverside, CA | HQV | TPJ Fly Racing Team |
| 661 | Noah | Chambers | Oxford, PA | KAW | SCCMX |
| 694 | Nicholas | Inman | Chillicothe, IL | HON | |
| 700 | James | Weeks | Punta Gorda, FL | YAM | TPJ Racing |
| 718 | Toshiki | Tomita | Japan | HON | Team Honda HRC |
| 721 | Zachary | Harris | Lincoln, NE | HON | |
| 745 | Kevin | Rookstool | Medford, OR | HON | Rookstool Racing |
| 768 | Cole | Shondeck | Colorado Springs, CO | HON | Shondeck Racing |
| 788 | Josh | Heintz | Pittsburgh, PA | KAW | Podium Works | Mosites Motorsports | SocialWebMedia Racing |
| 794 | Bryce | Backaus | Neillsville, WI | YAM | All Motor Performance | FMF | Hinson |
| 841 | Jeff | Walker | Sylvania, OH | HQV | Walker Motorsports |
| 875 | Johnny | Hopper | Colorado Springs, CO | HQV | Rocky Mountain Cycle Plaza |
| 876 | Chris | Alldredge | Redmond, OR | KTM | |
| 917 | Drew | Thomas | Ione, CA | YAM | Roseville Yamaha | Haeseker Racing |
| 929 | Taiki | Koga | Japan | KAW | TPJ Racing |ADA | SoCal MXTF |
| 959 | Josef | DeBower | Audubon, IA | HQV | Munn Racing |
| 981 | Curren | Thurman | Alvin, TX | HQV | Team Allsouth | Munn Racing |
---
250 Class
| | | | | | |
| --- | --- | --- | --- | --- | --- |
| Racing Nbr | First Name | Last Name | Hometown | Brand | Team Name |
| 12 | Shane | McElrath | Canton, NC | KTM | Troy Lee Designs Red Bull KTM |
| 23 | Chase | Sexton | La Moille, IL | HON | GEICO Honda AMSOIL Factory Connection |
| 26 | Alex | Martin | Millville, MN | SUZ | JGR | Yoshimura | Suzuki Factory Racing |
| 28 | Jordon | Smith | Belmont, NC | KTM | Troy Lee Designs Red Bull KTM |
| 31 | RJ | Hampshire | Hudson, FL | HON | GEICO Honda AMSOIL Factory Connection |
| 32 | Justin | Cooper | Cold Spring Harbor, NY | YAM | Monster Energy | Star Racing | Yamaha |
| 34 | Dylan | Ferrandis | France | YAM | Monster Energy | Star Racing | Yamaha |
| 36 | Michael | Mosiman | Sebastopol, CA | HQV | Rockstar Energy Husqvarna Factory Racing |
| 38 | Christian | Craig | Corona, CA | HON | GEICO Honda AMSOIL Factory Connection |
| 39 | Colt | Nichols | Muskogee, OK | YAM | Monster Energy | Star Racing | Yamaha |
| 45 | Brandon | Hartranft | Brick, NJ | YAM | Cycle Trader Rock River YAMAHA |
| 52 | Jordan | Bailey | Orlando, FL | HQV | Rockstar Energy Husqvarna Factory Racing |
| 55 | Kyle | Peters | Greensboro, NC | SUZ | JGR | Yoshimura | Suzuki Factory Racing |
| 59 | Nick | Gaines | Ringgold, GA | YAM | 3D Racing Yamaha |
| 61 | Garrett | Marchbanks | Coalville, UT | KAW | MONSTER ENERGY | PRO CIRCUIT | KAWASAKI |
| 66 | Mitchell | Oldenburg | Staples, MN | YAM | Monster Energy | Star Racing | Yamaha |
| 72 | Martin | Castelo | Ecuador | HQV | JMC Motorsports Racing | Fly Racing | WPS |
| 73 | Martin | Davalos | Ecuador | KAW | MONSTER ENERGY | PRO CIRCUIT | KAWASAKI |
| 77 | Challen | Tennant | Willis, TX | KTM | 3D Racing |
| 83 | Killian | Auberson | Switzerland | KTM | |
| 91 | Zack | Williams | Elko, MN | KTM | Fusion Motorsports |
| 92 | Adam | Cianciarulo | Clermont FL | KAW | MONSTER ENERGY | PRO CIRCUIT | KAWASAKI |
| 110 | Yusuke | Watanabe | Japan | YAM | Cycle Trader Rock River YAMAHA |
| 112 | Thomas | Covington | Vernon, AL | HQV | Rockstar Energy Husqvarna Factory Racing |
| 122 | Chris | Howell | Spokane, WA | HQV | JMC Motorsports | Integrity Electric |
| 123 | Mitchell | Falk | Costa Mesa, CA | KTM | Troy Lee Designs Red Bull KTM |
| 127 | Jacob | Bork | Fort Collins, CO | YAM | BC Granite and Marble | Motor Medic Racing | FXR |
| 136 | Joshua | Philbrick | Oconomowoc, WI | KAW | Sportland 2 |
| 139 | Nathen | LaPorte | Rothschild, WI | HON | Sportland 2 | Precision Floors & Decor | LaPorte Racing |
| 154 | Chase | Felong | Oceanside, CA | YAM | North County Yamaha | XPR Motorsports | Fox Racing |
| 156 | Jacob | Hayes | Greensboro,NC | YAM | Cycle Trader Rock River YAMAHA |
| 162 | Maxwell | Sanford | Pasadena, MD | YAM | Concrete Plants Inc |
| 167 | Cody | Williams | Barneveld, WI | HQV | Latitude Graphics Racing |
| 168 | Cale | Kuchnicki | Alanson, MI | KTM | Highland Trails Racing |
| 173 | Grant | Wall | Lodi, CA | YAM | Fly Racing | DT1 | Pirelli |
| 186 | Tyler | Monks | Colorado Springs, CO | HQV | Monks Construction Racing |
| 194 | Jerry | Robin | Hamel, MN | KTM | FCC Motosports | Signation |
| 196 | Hunter | Lawrence | Corona, CA | HON | GEICO Honda AMSOIL Factory Connection |
| 212 | Tyler | McCoy | Australia | YAM | MX University | The Collective Family | McCoy's Gardening |
| 232 | Dylan | Bolinger | Corona, CA | HQV | AEO Powersports | MotoCutz | Fly Racing |
| 233 | Derek | Drake | San Luis Obispo, CA | KTM | Troy Lee Designs Red Bull KTM |
| 259 | Corbin | Hayes | Folsom, CA | YAM | TPJ Racing |
| 268 | Mitchel | Suire | New Iberia, LA | HON | Suire Racing |
| 269 | Dalton | Dyer | Benton, AR | KAW | Motographix | Pro Circuit | Greg Dyer Plumbing |
| 286 | Brandon | Sussman | Mission Viejo, CA | YAM | |
| 291 | Zane | Merrett | Crowley, TX | KTM | TPJ |
| 310 | Kai | Aiello | Temecula, CA | KTM | Pinnacle Nutrition Group - PNG |
| 340 | Blake | Taylor | Woodlawn, TN | KTM | Next Gear Race Programs | Stripes and More | Backyard Design |
| 345 | Joshua | Prior | Hebron, CT | HQV | Custom MX Supply | American Ladders and Scaffolds | 6D |
| 407 | Benjamin | Nelko | Aliquippa, PA | YAM | 3D Racing | Yamaha |
| 410 | Tyler | Lowe | Menomonee Falls, WI | KTM | Southeast Sales | Reynard Training Complex | Acerbis |
| 464 | Branden | Brill | Pekin, IL | YAM | FXR | Precision Worx | Brill Racing |
| 510 | Travis | Prier | Elkader, IA | HON | |
| 520 | Dennis | Ponton III | Lakewood, WI | KTM | dP3 Apparel & Designs |
| 529 | Taylor | Strauss | Helenville, WI | HQV | Robs Performance Motorsports |
| 546 | Tylor | Skodras | Sussex, WI | HQV | Rob's Performance |
| 554 | Wade | Brommel | Indianola, IA | KAW | Real Ink Graphics | Cox Concrete | MX Tech |
| 583 | Corey | Ridel | East Hartland, CT | HQV | RS Racing |
| 622 | Zac | Maley | Laotto, IN | YAM | Tom Zont Racing | Mika Metals | Maxima |
| 657 | Justin | Wolf | Franklin, WI | KAW | Sportland 2 Powersports |
| 747 | Cody | Gray | Dacono, CO | YAM | Tri City Cycle | Performance Equipment | Pro Action Suspension |
| 753 | Derik | Brewster | Northglenn, CO | HON | Moto-Fresh |
| 898 | Jack | Fowler | Dallas, OR | HON | Motosport Hillsboro | Fly Racing | Twisted Development |
| 916 | Jorge | Rubalcava | Paradise, TX | HON | JR Racing |
| 931 | Stephen | Vuckson | New Salem, IN | HON | |
| 936 | Ty | Masterpool | Paradise, TX | YAM | Monster Energy Yamalube Star Yamaha Racing |
| 964 | Mitchell | Goheen | Canada | YAM | Blackstock Motorsports | Motozilli |
---
125 All Star
| | | | | | | |
| --- | --- | --- | --- | --- | --- | --- |
| | Racing Nbr | First Name | Last Name | Bike Brand | City, ST | Sponsors |
| 1 | 112 | Tyler | Aldor | YAM | Arvada, CO | PRS | LSE | Fox |
| 2 | 32 | Kaeden | Amerine | YAM | Great Bend, KS | EBR Performance | Yamaha | Monster Army |
| 3 | 333 | John | Ayers | HSQ | Port Orange, FL | Gear Racewear |
| 4 | 946 | John | Burfeind | KTM | Greeley, CO | Fox | FMF | Factory Connection |
| 5 | 895 | Taylor | Burley | KTM | Elizabeth, CO | Serial Cables | Ryburn Racing |
| 6 | 225 | Cody | Buyas | HQV | Beavercreek, OR | Legacy Racewear| M9 Suspension| Beaverton Motorcycle |
| 7 | 243 | Joseph | Dalzell | YAM | Dekalb, IL | SSi Decals | TZR | Novik Gloves |
| 8 | 15 | Carter | Dubach | YAM | Tustin, CA | Dubach Racing | Oneal | 6D |
| 9 | 112 | DJ | Gritzmacher | KTM | Sussex, WI | Southeast Sales | Fly Racing | Spy |
| 10 | 95 | Brad | Haskell | KTM | Northglenn, CO | Fullfactoryoffroad |
| 11 | 206 | Tyler | Kautzman | YAM | Post Falls, ID | CDA Powersports | Jeske MX Customs | Dynamic Designs |
| 12 | 726 | Hayden | Kelly | HQV | Denver, CO | Scott Goggles |
| 13 | 52 | Robin | Kniss | HQV | Denver, CO | Mxfactory | Munn Racing | 812 Suspension| FXR| 100% |
| 14 | 885 | Andrew | McNulty | SUZ | Brighton, CO | Motoadventure Kawasaki Beta | 100%| Ryno Power |
| 15 | 210 | Scotty | Miller | HQV | Denver, CO | Fasthouse | Elite Motorsports | Applied Technology Suspension |
| 16 | 644 | Brennan | Myers | KTM | Woolstock, IA | SSB Motosports | Black Diamond Graphics | Wagner Trucking |
| 17 | 45 | Samantha | Peters | KTM | Wheat Ridge, CO | Sun Enterprises | Absolute Race Technology | Spy Optic |
| 18 | 916 | Kyle | Poole | HQV | Golden, CO | Rawdog Racing |
| 19 | 11 | Scott | See | SUZ | Morrison, CO | Team Party Racing | Gforce Powersports | Z&M Ball |
| 20 | 15 | Wesley | Selby | YAM | Thief River Falls, MN | Vickery Motorsports | Lunstra Motorsports | Ericco MFG |
| 21 | 448 | Broc | Shoemaker | YAM | Menifee, CA | DSC | Pasha Racing | Fly Racing |
| 22 | 98 | Bryce | Shondeck | YAM | Colorado Springs, CO | Apex Sports | Pro-Cycling Warehouse | Dunlop |
| 23 | 746 | Chase | Stevenson | KTM | Cedar Rapids, IA | FXR | Wiseco | Motoseat |
| 24 | 41 | Michael | Sweney | KTM | Johnstown, CO | Sun Racing | Fox | Spy |
| 25 | 100 | Jet | Underwood | YAM | Lakewood, CO | J.S. ProFormance | JGR | G ForcePowersports |
| 26 | 616 | Dylan | Vanderlaan | YAM | Rapid City, SD | Gateway Autoplex | Olson Towing | CSI Construction |
| 27 | 167 | Christopher | Wasil | KTM | Pinecliffe, CO | Airyte Coatings & Sealants | G Force Powersports |
| 28 | 196 | Trevor | Whitmarsh | KAW | Sedalia, CO | Johns Collision | Vickery Motorsports| Fox |
| 29 | 237 | Nick | Whiton | YAM | Polvadera, NM | Bobby J's Yamaha | FMF | Whiton MX Schools |