Thad Duvall Seeks Second Straight Victory at Camp Coker Bullet GNCC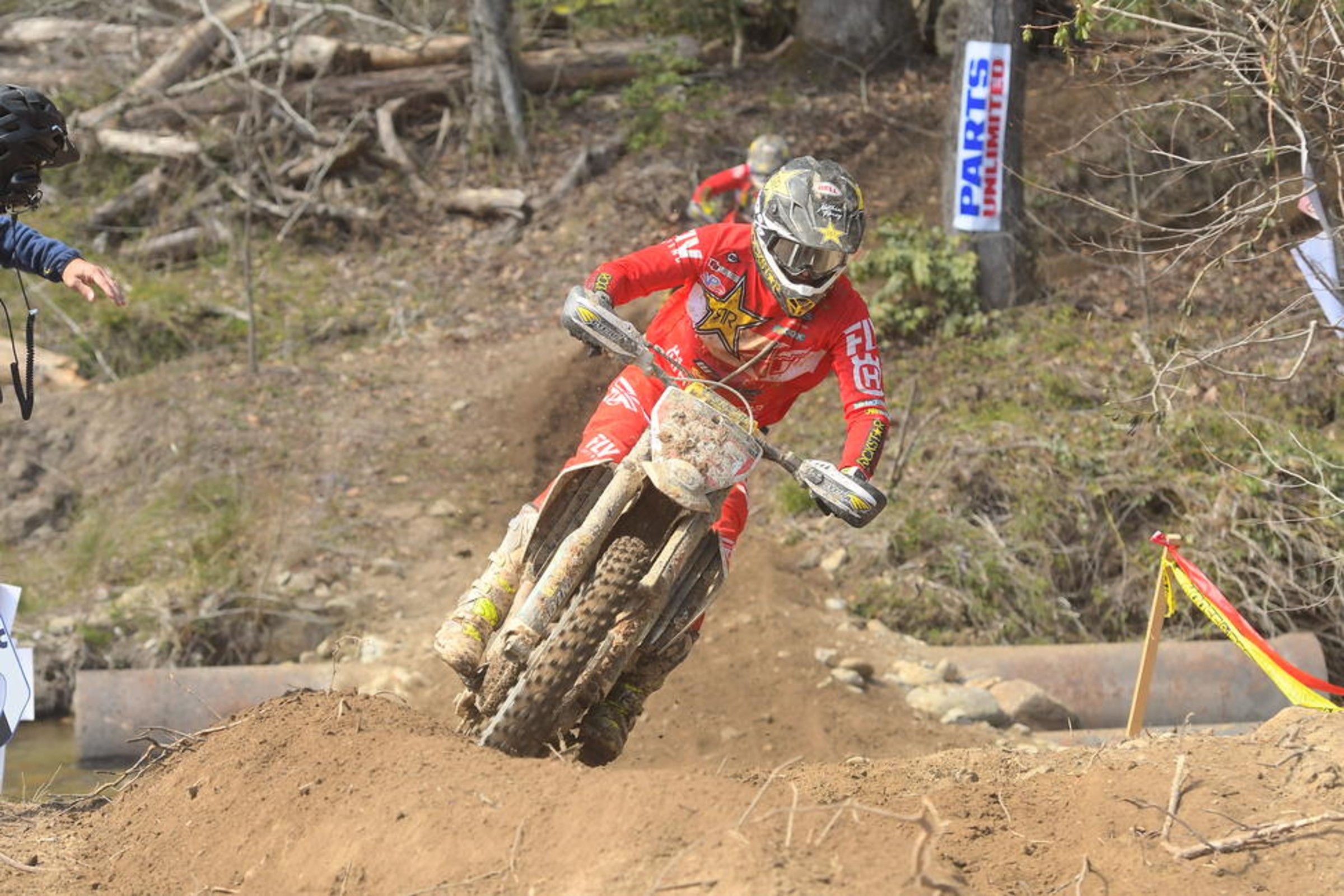 Society Hill, SC
Camp Coker Bullet (Camp Coker)
GNCC Racing
MORGANTOWN, W.Va.—The 2019 AMSOIL Grand National Cross Country (GNCC) Series presented by Specialized, an AMA National Championship, continues in South Carolina for the fourth Annual CST Tires Camp Coker Bullet GNCC at Moree's Sportsman's Preserve on Sunday, April 14.
Rockstar Energy/Factory Husqvarna Racing's Thad Duvall comes into this weekend after earning his first overall win of the season in North Carolina two weeks ago. Duvall currently sits second in the points standings, just eight points behind FMF/KTM Factory Racing's Kailub Russell.
Russell continues to lead the points after earning a pair of second overall finishes, along with his victory at round two in Georgia. Russell is aiming for that top spot during this Sunday's afternoon pro race, and he knows what it takes to win in the Camp Coker sand as he has earned the overall win here for the past three years.
After finishing on the overall podium for two consecutive races, Rockstar Energy/Factory Husqvarna Racing's Trevor Bollinger is looking to battle for his first career overall win. Bollinger will definitely one to keep an eye on this weekend as he previously led multiple laps at round two, and has shown improvements each time the green flag flies.
This weekend Tely Energy Racing/KTM's Steward Baylor Jr. is hoping to earn his second overall win of the season. Baylor Jr., who hails from South Carolina, earned the season opener win in the Florida sand, and with this race being sandy he is aiming for the top spot on the podium.
As the series continues, FMF/KTM Factory Racing's Josh Toth has been showing progression in his first year of racing XC1 Open Pro. Toth broke into the top five overall at the previous round and is aiming to improve each weekend from there.
Trail Jesters KTM's Ben Kelley continues to lead the way in the XC2 250 Pro class. Kelley has earned the three-straight wins, and this weekend he will be looking to keep that streak alive. Kelley is also looking to break into overall podium contention, and after finishing third overall at two rounds last year he has the confidence to do so.
Babbitt's Online/Monster Energy/Kawasaki Jordan Ashburn and teammate, Josh Strang, finished seventh and eighth overall two weeks ago at the Steele Creek GNCC in North Carolina. The Kawasaki duo is hoping to battle at the front of the pack this Sunday, and hopefully contest for finishes inside the top five overall.
Trail Jesters KTM/MCS Racing/SSR Rider Development Johnathan Girrior and Beta USA Factory Racing's Michael Witkowski rounded out the top 10 overall, but both are looking to put Kelley's XC2 250 Pro class success to a stop.
The FMF XC3 125 Pro-Am class is currently being led by Beta USA Factory Racing's Cody Barnes. Following Barnes in second is Trail Jesters KTM's Jesse Ansley and Highland Temp Works/Offroad Riding Schools/Maxxis' Jason Thomas in third. Barnes has earned the win at the past two races, however Ansley and Thomas are hungry for the win as the series heads into its fourth round.
The event will also treat fans to a live concert, as Monster Energy proudly presents AJ Sanders at the Camp Coker Bullet GNCC on Saturday, April 13th at 8 p.m. Admission to the concert is included with your gate admission purchase. Gate Admission for Adults (12 and over) is only $20, Kids (6-11) is $10, and 5 and under get in free! Come watch the fastest off-road racers in the world battle at Moree's Sportsman's Preserve and listen to some old school southern charm country music from AJ Sanders.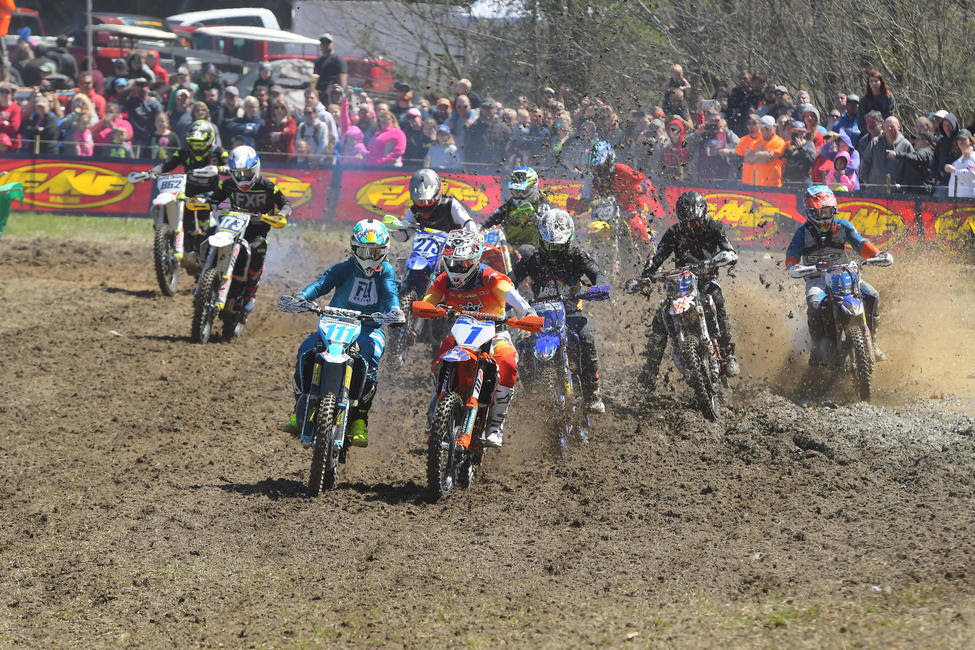 Not only will there be a live concert, but plenty of other activities for children and adults. On Saturday and Sunday from 11am - 11:30 a.m. the Pro ATV (Saturday) and Pro Bike (Sunday) athletes will host an autograph signing session on Pro Row. Fans will be able to meet their favorite pro rider, and get their picture taken with them. Then Saturday evening from 6 p.m. - 7 p.m., the annual Camp Coker Fishing Tournament will take place, along with Team Faith Youth activities including an Easter Egg Hunt at 6pm. For the latest event information, click HERE.
Local racers expected to compete this weekend on motorcycles will be Zack Hayes (XC2 250 Pro), Chase Hayes (250 A), Steward Baylor Jr. (XC1 Open Pro), Grant Baylor (XC1 Open Pro), David Graham (Silver Masters B), Jacob Kintz (250 A), Johnlee Campbell (250 A), Hudson Harris (65cc 10-11), Cameron Holloway (Open C College 16-24), Terrell Holloway (Masters B 50+), Nolan Osteen (200 B), Andrew Segars (85cc 7-11), Raymie Segars (200 C 16+), Hector Snethen (Super Senior B 45+), James Will (4-Stroke C Lites), Devin Pomianowski (Open A), Andrew Post (YXC1 Super Mini Sr. 14-15), Kennie Webb (Super Vet C 35+), Nicholas Marlowe (125 B/C), Todd Vess (Super Senior A 45+), Ben Thomason (250 C Schoolboy 14-17), Ben Sherboneau (Vet C 30+) and Austin Sentell (4-Stroke C Lites).
Sunday, April 14, the motorcycles will take to the woods of South Carolina with youth racing action starting the day off at 8 a.m., followed by women and amateur riders' race at 10 a.m. and then the pros and top amateurs will begin at 1 p.m.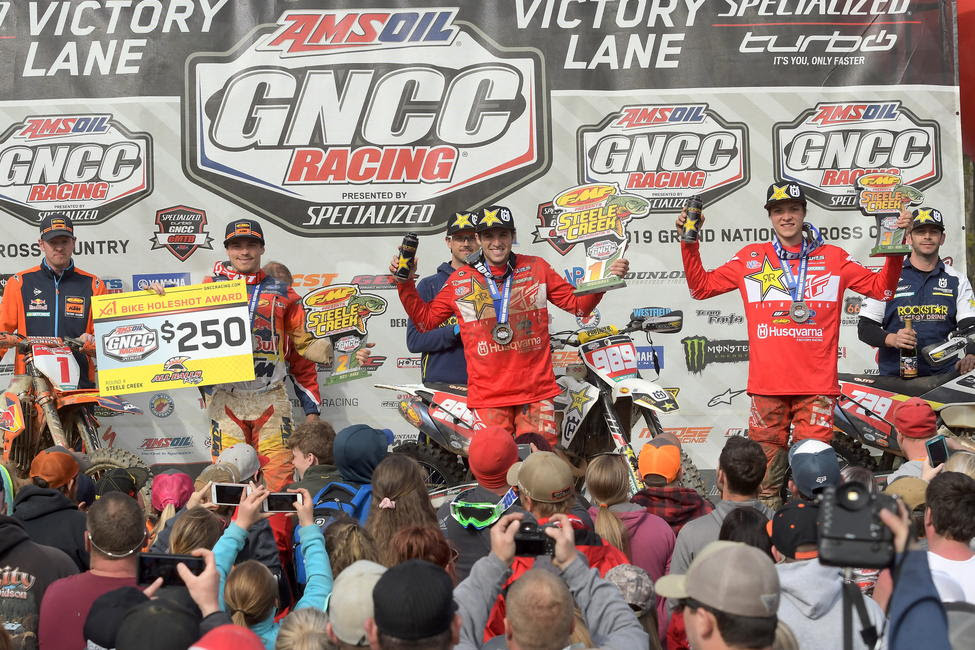 Spectator passes run $20 for adults and $10 for children (6-11), and kids 5 and under are free for the full weekend (Saturday through Sunday), with pro pit access and pro autographs at no additional charge.
The 2 p.m. and 1 p.m. pro races will be broadcast LIVE on the Internet via Racer TV on www.racertv.com both days. A highlight show featuring the event will air on NBC Sports Network on Saturday, June 23 at 2:00 p.m.
For more information on the GNCC series, visit the official website at www.gnccracing.com or call (304) 284-0084. Join the conversation on the series Facebook page, follow us on Twitter and Instagram, and be sure to always hashtag #GNCC.