Indianapolis, IN
Indianapolis
Monster Energy AMA Supercross Championship
Yeah, Indianapolis! Round 11 of Monster Energy AMA Supercross took place at Lucas Oil Stadium and it's always a good round. The dirt is usually pretty soft and the floor isn't huge but the vibe from the fans is always good and it seems like we get good racing here. I have zero facts to back this up, it's just a feeling, man.
The less said about the track the better? I don't know, it wasn't very imaginative and the whoops, while challenging early on, weren't going to hold up with the softness of the dirt. We've had a good run of great tracks here so let's just move on, yeah?
What the hell is going on with the KTM guys? Over the years we've seen the factory Hondas and the JGR Yamahas all excel at starts no matter what rider is on them. But the last few years it's been a sea of orange up front every single time. Marvin Musquin and Cooper Webb absolutely have the start dialed in and Webb didn't even used to be a good starter. He got on KTM and he's now Mike Alessi Jr. And it seems to be just the KTMs and not the white ones that Zach Osborne and Dean Wilson ride. Not sure what that's all about, maybe they're the same and it's all rider, but, man, think about the Red Bull KTM guys the last few years and how good they are at starts. The other factory KTM, ridden by Blake Baggett, is also no slouch at the starts and when has Baggett ever been a great starter?
That takes me to my next thing and maybe it's the grates. Those came in last year and provide ultimate traction for the guys. They have front fork lock down devices, rear lock down (some guys) devices, starting maps, RPM indicators, grates… maybe we need to back this stuff down a bit and put some of the skill back into starts?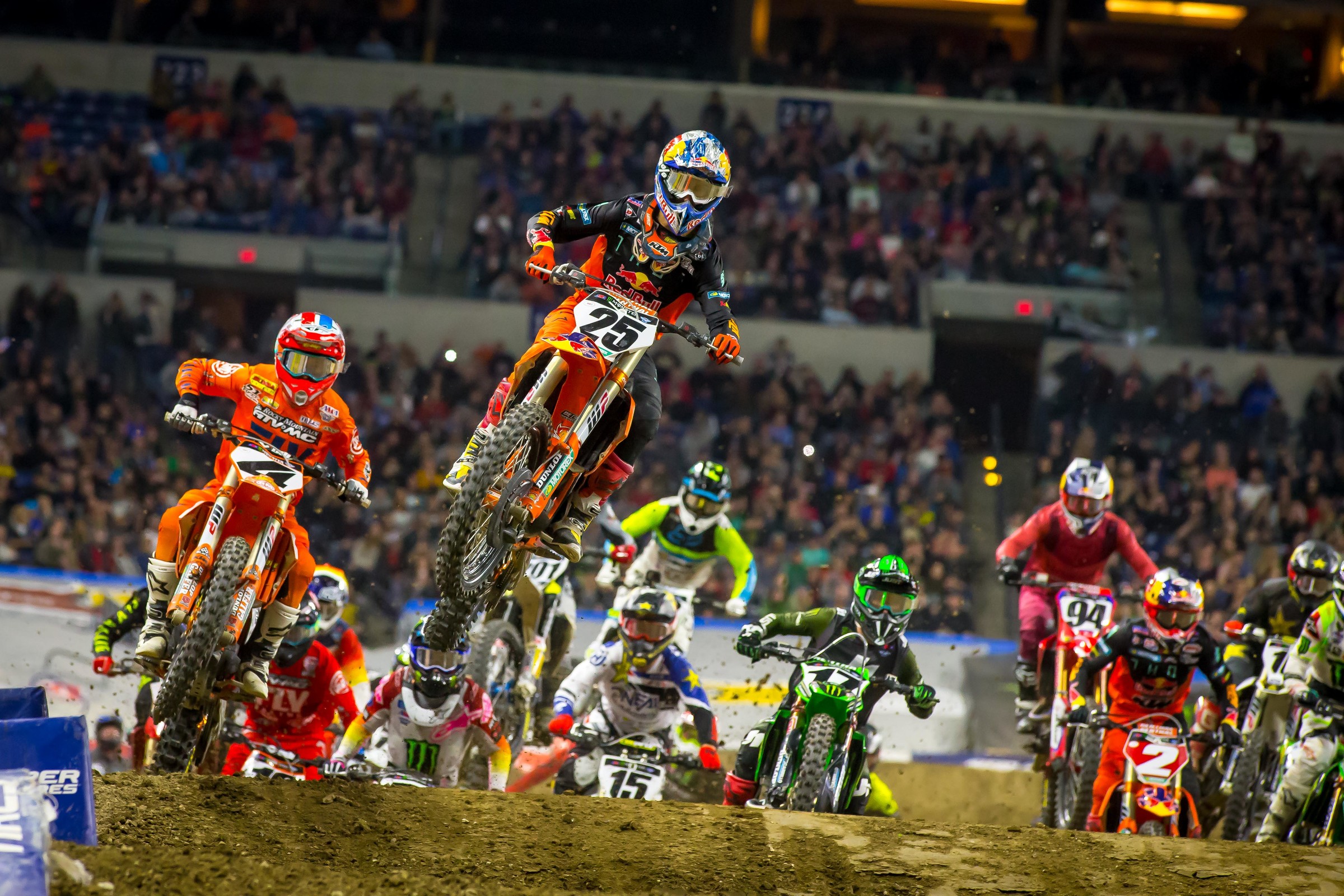 Another team has taken control of the 250 class. One thing I think to take into account for Monster Energy/Pro Circuit Kawasaki's success this year is something that owner Mitch Payton touched on with me. The team has been using Ivan Tedesco to work out some settings for the guys and apparently, it's helped out. "The other thing is our bike," Payton told me about Forkner's improvement this year. "Ivan helped us a lot in the off-season. We ran through a lot of stuff with Ivan to just see what he thought, where we were at. It was kind of funny because a lot of the stuff was real small things, but added together it seemed like it was a pretty big deal when they rode it, and then they really liked it. I think the bike's better than it was last year."
Hot Sauce, who was the man who gave the team its first win in the 250F era way back in 2004, continues to give back to the guys at Pro Circuit.
Let's take a look at the results, shall we?
250SX Results
1st | #24 Austin Forkner | Richards, MO Kawasaki | KX250
Well, he did it again. He's led every lap but three in 250SX East-only races and he's undefeated in said races. This weekend he got accidently t-boned by Chase Sexton in practice and went down so the streak of hitting the ground in practice is the same as his main event win streak—flawless. Not even a crash in the heat could hold him back nor the gate pick that wasn't ideal. Look up confidence in the dictionary and you'll see a smiling Austin Forkner.
2nd | #23 Chase Sexton | Clermont, FL | Honda CRF250R
Check out the podium photo from the race to see just how "excited" Chase is to get beat by Forkner and get second—again. He's ecstatic. I thought that earlier in the season he just needed a start and he could run with Austin, but he's gotten good starts lately and the #24 has pulled away. Hey, Chase, don't be sad about a second, a certain rider from Florida podiumed his way to a title so it could happen.
3rd | #32 Justin Cooper | Huntington, NY | Yamaha YZ250F
Cooper got his teammate late in the race for the final podium spot. He was a long ways back of Mitchell Oldenburg early in the race but never quit, just grinded away on a deteriorating track to make it happen.
4th | #66 Mitchell Oldenburg | Godley, TX | Yamaha YZ250F
Did you hear that Oldenburg became a father? Yeah, guess so. Anyway, Freckle is just a hair off of the top guys. He's very fast.
5th | #73 Martin Davalos | Tallahassee, FL | Kawasaki KX250
Marty ran second for a while and that was good. The old Marty would've secured that and maybe made a run at Forkner. Unfortunately, Marty's not the old Marty now, he's just… old? I don't know, man, he's still uber-talented but he's missing something this year.
6th | #55 Kyle Peters | Greensboro, NC | Suzuki RM-Z250
Peters is gonna Peters. He'll get a good start and fade back a bit but in the end, he'll give you what he's got and get a respectable finish.
7th | #37 Kyle Cunningham | Willow Park, TX | Honda CRF250R
Cunningham is, for the most part, pretty solid. He does seem to have outgrown his tendency to self-implode back in the day and now he's in shape, he's fast, and he'll, like Peters, give you an honest effort out there. He's Chiz of the 250 class.
8th | #70 JOSHUA OSBY | VALPARAISO, IN | YAMAHA YZ250F
I'm Team Osby. The dude is good, it's easy to see, he jumps big stuff, he's got skills, he's in shape, and I would seriously take a look at him if I was a factory team. He worked up from getting bumped off the track early in the main and passed a lot of guys to get this spot. But of course he won't get a look because all the teams have their rosters signed up through 2024 with 14-year-old kids. (INSERT EYE ROLL HERE.)
9th | #26 ALEX MARTIN | CLERMONT, FL | SUZUKI RM-Z250
"We" had a tough race after qualifying second fastest. The speed is there (weird to be typing that about Alex Martin) but crashing in the first turn is not the way to go. "We" lost some points to Davalos and are only three up with three races to go. Things are tense but "we" have to keep believing in our speed. Yes, I said "we."
10th | #52 JORDAN BAILEY | ORLANDO, FL |HUSQVARNA FC 250
Bailey rode very well last week in Daytona as he came from way back. This week was more of the same thing as he fought hard to work his way up but you'd like for him to not be passed by Osby late in the race if you're Bobby Hewitt.
11th | #49 HENRY MILLER | ROCHESTER, MN | KTM 250 SX-F
Miller didn't make the main last week which was bizarre. Daytona should've been very good for him. This week, he's the top scoring guy out of a van so he'll take that and move on.
12th | #45 BRANDON HARTRANFT | BRICK, NJ | YAMAHA YZ250F
Oh man, Brandon was fifth in the main and looking good. Then he crashed in the whoops, lost some spots, and then a few laps later I saw him laying there again. What could have been?
13th | #101 Fredrik Noren | West Farmington, OH | Honda CRF250R
FAST FREDDIE! Noren made his first main of the year and then, because he's in shape, is an actual racer and stuff, he got 13th. He hasn't had the speed to make mains yet but if he can get in, he can use all his experience to get a good result. Make sense?
14th | # 96 CHASE MARQUIER | NEWCASTLE, OK | HUSQVARNA FC 250
Marquier seems to be better than he was last year so that part is good.
15th | #123 Mitchell Falk | Costa Mesa, CA | KTM 250 SX-F
Falk came back to the races after a bad concussion and now his pro career really begins after just one start. Was he as good as I think he should be? Probably not but let's not rush to judgement here, mmmmk?
16th | #74 Cade Autenrieth | Hemet, CA | Honda CRF250R
I had Cade on my PulpMX Fantasy team after a very good qualifying session. He completely fell apart in the heat race to drop out of qualifying. He crashed once, just about ate it again (but was still in qualifying spot), and then finally did himself in the next lap. I had his chances at 5 percent to make it through the LCQ to the main after that heat, but hey, he pulled it through.
17th | #367 Hunter Sayles | Merrill, WI | KTM 250 SX-F
Sayles has raced two SX's this year. He qualified 20th and made the main in Minny and qualified 13th (?!!?) in Indy and made the main easy. I think Hunter Sayles should go to more races but that's just me.
18th | #161 Justin Thompson | Concord, South Africa | Yamaha YZ250F
Thompson's from South Africa, he got a fill-in ride with CTR Yamaha, and he's made two mains. That's about all I know about the dude.
19th | #986 Lane Shaw |Alvin, TX | KTM 250 SX-F
Lane's first main of the year as he won the LCQ and that was awesome to see. Shaw's a good dude, I hope he can get into the main every week. Do you know he trains with Tim Ferry? Did you know it was Tim Ferry's birthday this week? Did you know Tim Ferry is that certain rider from Florida who podiumed his way to this title once?
20th | #346 Kevin Moranz | Topeka, KS | Kawasaki KX250
Moranz joined the series late from injury and led the LCQ before settling in for second. He trains down at Ricky Carmichael's place and so you know he's doing some serious work out there. Like all riders, Kevin's got to A.) Work on getting into the actual mains and then B.) Put 15 minutes pus 1 lap together.
21st | #119 Isaac Teasdale | Robbinsville, NC | Honda CRF250R
Teasdale has really hurt me in PulpMX Fantasy over the last year or so. I hope he understands this.
22nd | #57 Bradley Taft | Nixa, MO | Yamaha YZ250F
Taft, who hasn't ridden since November and then jumped on a bike before Daytona and rode twice, made his first main for the CTR team in Indy. Once there, it didn't go well but hey, baby steps as he probably has five rides since November. There was once a lot of "Taft" hype out there and I wonder, after working a real job, if he'll come back to racing and understand how much better he's got it racing dirt bikes for a living.
450SX Results
1st | #25 MARVIN MUSQUIN | CORONA, CA | KTM 450 SX-F
Can't believe it's taken this long for Marv to get a win but in the last two years, the majority of his wins have come after round ten so methinks that maybe he'll catch fire here. He's been riding very well with eight podiums in the last nine races and creeping up the standings. He's now broken away from the Roczen/Tomac group in points and in riding the last month or so.
2nd | #4 BLAKE BAGGETT | GRAND TERRACE, CA | KTM 450 SX-F
I'll be honest, I thought BB4 was gonna get Marv and win the race. It just seemed Glendale-ish to me and I think he could've made it work had he been a bit more of a dick. Yeah, I said it. But he played nice and Musquin made some smart counter-attacks. Baggett's skimming the beat-up whoops was better than just following the crooked-ass groove that was down the middle. We had Michael Byrne on the PulpMX/Fly Racing Pit Show on Saturday and he was very confident that Blake has overcome some back issues he had early on (even when he won Glendale) and was happy with the way things are going.
3rd | #2 Cooper Webb | Newport, NC | KTM 450 SX-F
The points leader did nothing to make me think that my declaration a few weeks ago that he's got this isn't going to work out. He's just on one of those rolls where things are working his way, even with a stall and a crazy-ass cross rut, almost die, almost t-bone Tomac, jump over Tuff Blox move that he somehow grabbed enough brake to survive and even make a pass. That's living right and it's a reason why Webb is gonna win this thing.
4th | #3 Eli Tomac Cortez, CO | Kawasaki KX450
I don't know. I got nothing. I don't know how ET3, coming off a dominant performance in Daytona, goes from second place and putting some heat on Musquin to fourth and 20 seconds back of #25. If you know anything or can help, please contact Kawasaki in Irvine, California. Now having said all that, remember how fast Eli was in the mud in Seattle last year? Yeah, so he's probably gonna crush it this weekend and we'll all be back to square one.
5th | #51 Justin Barcia | Greenville, FL | Yamaha YZ450F
Barcia misses two races and comes back to his best finish since his win at Anaheim 1? Yeah, that makes sense, right? He rode well. I can't figure this sport out sometimes.
6th | #17 Joey Savatgy | Tallahassee, FL | Kawasaki KX450
Savatgy's riding well, man. He qualified fastest and was running second in the main before a spill. A podium is coming any race now and so is a multi-year contract from a factory team for 2020 and beyond. If AC92 wants to go to 450s, I think Joey will be out but there will be a line for him from other OEMs. A real cool story and he's been impressive. If you gave Joey a podium here, in Oakland when his bike broke, give him some decent points from the race he missed with injury, it would be an amazing season for him. I guess that's the ifs and buts of life though.
7th | #16 Zach Osborne | Abingdon, VA | Husqvarna FC 450
Zach was terrible in practice and in the heat race. He told us on the PulpMX Show that he got "spun out" when the live timing wasn't working in the first practice and he was tenth or something but had felt like he put down some heaters. I don't know how a professional athlete can get freaked out by a glitch in some electronics but Osborne said he did. If you had told me the #16 would've gotten a seventh after that heat race, I wouldn't have believed you. But he did and he was stoked.
8th | #94 Ken Roczen | Clermont, FL | Honda CRF450R
Another so-so race for Roczen and the Honda PR gave us some ominous warnings with this quote by the #94: "There isn't much to say about Indianapolis. It just wasn't a good weekend for us. I had some struggles during the week and over the past couple of weeks that have really held me back and have made it so I can't ride and train to my full potential. I'm trying to figure out what's going on and hopefully get some answers soon. I've just been getting tired and I'm not sure why. Right now I'm just trying to focus on getting my body and everything aligned so that I can fight back and ride like I was during the beginning of the season. I'm obviously not where I want to be at eighth, but if there's a good thing to take away it's that we're physically healthy and heading to Seattle." Hey, that's Epstein-Barr on line four!
9th | #15 Dean Wilson | Clermont, FL | Husqvarna FC 450
Dean won the heat! And like Seely earlier this year, that's a cool deal for those riders. It's got to give them confidence out there, right? Unfortunately, insert "good rider doesn't get good start on easy track" cliché here for how his main event went. What's Wilson gonna do outdoors? Anyone know?
10th | #10 JUSTIN BRAYTON | MINT HILL, NC | HONDA CRF450R
Brayton was very fast in press day I guess—I heard that from multiple people. And it was his "hometown" race a bit and good dirt for him, all that equaled a good finish. But he needed the start and didn't get it, twisted an already bad ankle that has him not practicing during the week, and afterward he was in pain. He thought he had gotten some improvement on it but it's now probably back to square one for JB10.
11th | #22 CHAD REED | DADE CITY, FL | SUZUKI RM-Z450
Reed's race was done early on with a crash and the two JGR Suzuki riders were 21st and 22nd for a few laps. Catch the fever! Reedy did give me some of his CBD products to try for a troublesome knee I have so that part was cool. I'll let you people know how it goes.
12th | #14 Cole Seely | Sherman Oaks, CA | Honda CRF450R
I don't know what to say about Seely. To be honest I didn't really notice him much out there. Started seventh, crashed back to 14th, and worked his way to this spot.
13th | #43 Tyler Bowers | Lake Elsinore, CA | Kawasaki KX450
Last week in OBS, I got an "insider" to write his takes on the riders but because it's 2019 and no one actually reads everything, I had more than a few people think the "insider" was me. Even though I explained it at the top of the story and I used quotations. The Bear was one of those guys, BTW. Anyway, he's been sick lately and just now been feeling better. It showed in qualifying in Indy as he rode well and although the main wasn't ideal, it was one of his best finishes this season. The Bear is stuck in this netherworld where he's better than the other privateers in the main but can mostly only beat Hill and Bogle among the "factory bikes" guys.
14th | #46 Justin Hill | Yoncalla, OR | Suzuki RM-Z450
I don't know what to say about Hill anymore. He was blazing fast in practice in Indy, coming off his best race of the year at Daytona, then he blows the start badly, crashes early on, and his race is ruined. He's eating these gummy bears during race day and his manager, Jeremy Albrecht, was trying to sell me on how they're good for Justin.
15th | #19 Justin Bogle | Cushing, OK | KTM 450 SX-F
I loved this quote from Bogle to me after the race: "I know to a lot of people think I look like an idiot because I make rap music and I dress cool. So, understanding that I do bust my ass and I do want this badly, and being around him and just trying to be a sponge and soak up everything's he's doing, and even being around Blake—we had a great time down there." It's not been going that great for the #19 lately but don't worry everyone, Michael Byrne has the keys!
16th | #11 Kyle Chisholm | Valrico, FL | Suzuki RM-Z450
Chiz had to go to the LCQ again and said on social media he didn't feel that good all day. And seeing Soubs punk him out for the last spot into the main event in the heat race was an indicator of that. Kyle knows better than that, he wasn't on his A game there, that's for sure. Still got a decent finish in the main though. #Triple
17th | #800 Mike Alessi | Hilliard, FL | Honda CRF450R
Alessi is probably going to the LCQ more than he wanted to but the "old" Mike came back this weekend with a holeshot in the heat race. Which he was then promptly pushed rudely aside by Dean Wilson. Mike's last SX race for the team is this weekend then he's got to get ready for the Canadian series but overall, I think the 800's return to SX has been cool. By the way, Mike's got a kid now. He's old now. Believe the Hype was a LOOOOOONGGG time ago, everyone.
18th | #111 Chris Blose | Phoenix, AZ | Husqvarna FC 450
Blose is the working man's privateer these days. Since AX folded he got a ride for 250SX West with the Gas Monkey team and has been moonlighting on the East Coast in 450 class. This weekend he was pitted out of a rental car and put it in the main event yet again.
19th | #201 Cedric Soubeyras | Venasque, France | Husqvarna FC 450
We found out on the PulpMX Show that Cedric's mom is dating David Vuillemin's dad, so… if things work out, Soubs will be DV's step-brother! Insert 600 jokes here please.
20th | #97 Adam Enticknap | Lompoc, CA | Suzuki RM-Z450
He did it! The 722 made his first main event of the year in a good ride. He's been close all year long but in my opinion hasn't looked as good on the Suzuki as he did on his beloved Honda. He does like his bike though, he's said that many times. Nice work for #97, now he's just got to keep it rolling.
21th | #41 Ben LaMay | Anchorage, AK | Honda CRF450R
LaMay had an off weekend in Indy but did you know he's made every main event but one this year? That's pretty damn impressive if you ask me.
22nd | #86 Ryan Breece | Athol, ID | Yamaha YZ450F
Breece qualified 32nd for some reason so making it into the main is an impressive feat. Not sure what went wrong in qualifying but he did make a last lap and a half pass in the heat to get into the main.
Thanks for reading, good times await this weekend in Seattle, yeah? The 250SX West Region picks back up so that will be something and please don't let it rain. I bet it does. Email me at matthes@racerxonline.com if you want to chat about this or anything else.