Jeffrey Herlings Out For 2019 MXGP Opener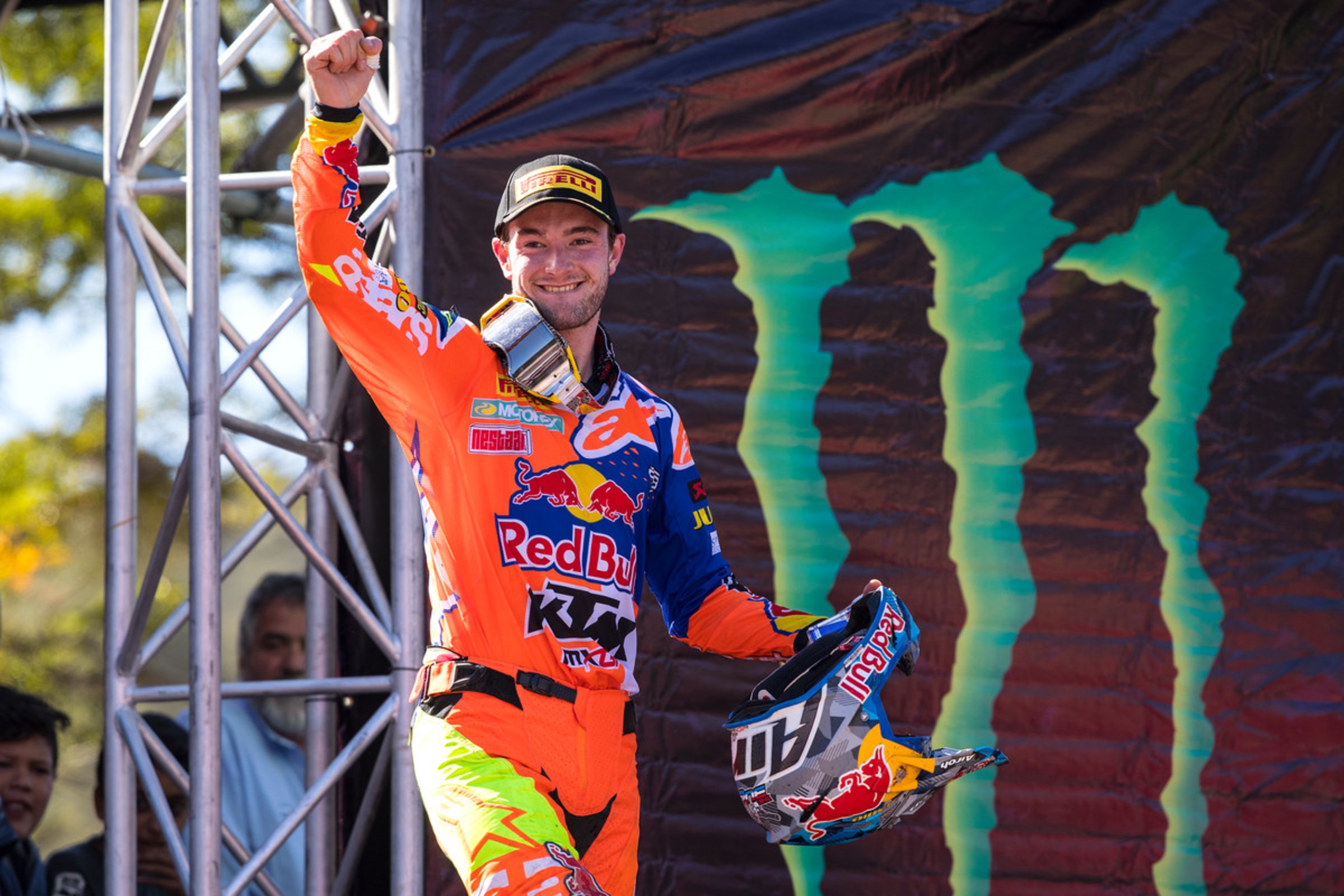 Neuquén, Argentina
MXGP of Argentina
FIM Motocross World Championship
Red Bull KTM announced today that defending MXGP World Champion Jeffrey Herlings will miss the opening round of the 2019 FIM Motocross World Championship this weekend in Argentina due to a foot injury sustained in a training accident in Spain in January.
Herlings underwent surgery on his right foot in January in Belgium to repair the damage. KTM said today that Herlings will undergo a check-up on March 11 to change from a full cast to a lighter support and doctors will then evaluate his recovery process.
"I cannot really feel too much with my foot because of the cast but it seems to be progressing well after the operation and I'm looking forward to having some of the pins removed in a couple of weeks when I can also change the cast," Herlings said in a statement. "It's a pity to miss Argentina. I think last year was one of the best races of the season. It's also one of my favourite tracks: wide, fast and sandy. It's a big shame that we won't be there but it is what it is."
Last year Herlings missed a race due to a broken collarbone, but still went on to win the MXGP World Championship with room to spare.
"Jeffrey's injury is not as 'simple' as a collarbone or another part of the body," said KTM motocross sport director, Joel Smets. "It's quite tricky actually and it is something that we will have to monitor and look at the rehabilitation. Obviously a rider's foot comes under a lot of punishment in motocross with the many jumps and bumps. So we are being careful and will hopefully have a better idea in the coming weeks of how his recovery is going. Of course we will miss him in Argentina but the rest of the crew with Tony, Jorge and Tom means Red Bull KTM will still be ready to go for the kind of results Jeffrey would be shooting for."
Herlings claimed his first career MXGP World Championship last year in dominating fashion, winning 17 times in 19 races entered and 33 of 38 motos (both records). Entering this season, Herlings has 84 career wins, 17 shy of the all-time mark held by ten-time World Champion Stefan Everts.
The second round of the series is set for March 24 at Matterley Basin in Great Britain.