Welcome to Racerhead. It's been a busy off-season week, as lots of things are happening in preparation for 2019, as well as the holidays. But the real big news came out of Belgium, where Europe's version of the greatest of all time, Stefan Everts, is dealing with a life-threatening situation. The ten-time FIM Motocross World Champion and all-time Grand Prix winner is in a coma in his home country after coming down with what appears to be malaria. Everts had been in the Democratic Republic of Congo for a charity ride and returned with symptoms. He was taken to the hospital and is in intensive care. On behalf of everyone at Racer X and Racer X Online, as well as next door at MX Sports Pro Racing, here's wishing Stefan and his family well. We are all fans of #72 and truly hope and pray he gets well soon.
It's been a week on the road for me, with varying points and people. First, Tim Cotter and I were invited to Stamford, Connecticut, to meet with the NBC Sports people and all the top motorsports folks from the disciplines on the NBC Network—everyone from the president of NASCAR and IMSA to old friends like Michael Lock of American Flat Track and Joie Chitwood III, the president of International Speedway Corporation, and many more. It was an epic and organized bench-racing session for all of the various NBC properties, and the network brought in some big guns and heavy brass to talk about ways all the various series could help one another in messaging, promotions, organization, and just bringing more people into motorsports.
NBC has become a huge player in motor racing in America, and Tim and I were thrilled to get to sit there among some of the biggest motorsports people in the industry and trade ideas and experiences. The whole thing took place inside the same studio where they film Football Night in America every Sunday. It was hosted by Krista Voda and Rutledge Wood, and I was blown away by how much both know about motorsports in general and also in specific—they had experiences and stories about everything from Ken Block's Gymkhana efforts to getting passed by pee-wees while enrolled at Ricky Carmichael University at Daytona. We learned a lot from these other series, and I think we had some good ideas to share as well.
The really cool thing was that the moment it was over, we went to our main contact's office there, Chris Stiepock, and he showed us the contract renewal for Lucas Oil Pro Motocross that had just been signed by the lawyers. Yes, Lucas Oil Pro Motocross will be back with NBC and NBC Sports and NBC Gold for three more years.
Cotter and I flew home last night, and this morning he hit the road to Columbus, Ohio, where AMA Congress is taking place. There was also a meeting of all the promoters on the schedule for the 2019 Lucas Oil Pro Motocross Championship that my sister, Carrie Russell, and Roy Janson and the rest of the MX Sports Pro Racing gang worked on. And then tonight is the AMA Motorcycle Hall of Fame Induction ceremony, so I'm in the car with the Big Boss (my mom, Rita) as we drive over for what's become an annual little road trip for the two of us. It's always a fun night, and we get to see lots of old friends.
Unfortunately, there will be no one from motocross or supercross inducted tonight. Of all the Class of 2018 inductees—the late road racer Nicky Hayden, off-roader Terry Cunningham, female pioneer Mary McGee, famed tuner Skip Eaken, Hollywood stuntman Gary Davis, flat track racer Corky Keener—it's crazy that no one from the two biggest disciplines in all of AMA racing right now, supercross and motocross, were left out.
In my mind, Steve Lamson's 20-plus AMA National wins, two AMA 125 National Motocross Championships, and first 125cc overall win in the Motocross des Nations (1996 in Spain), not to mention all the titles he helped win as the manager of Star Racing Yamaha when Jeremy Martin and Cooper Webb were there, is more than deserving. Same goes for Ron Lechien's 20-plus wins, '85 125cc title, and undefeated time with Team USA. Or Greg Albertyn's three FIM world titles and AMA 250 Motocross Championship. Hell, even Gary Denton, the 8-time ATVA Grand National Champion, is long overdue in the AMA Motorcycle Hall of Fame (yes, the ATVA was part of the AMA until they were combined).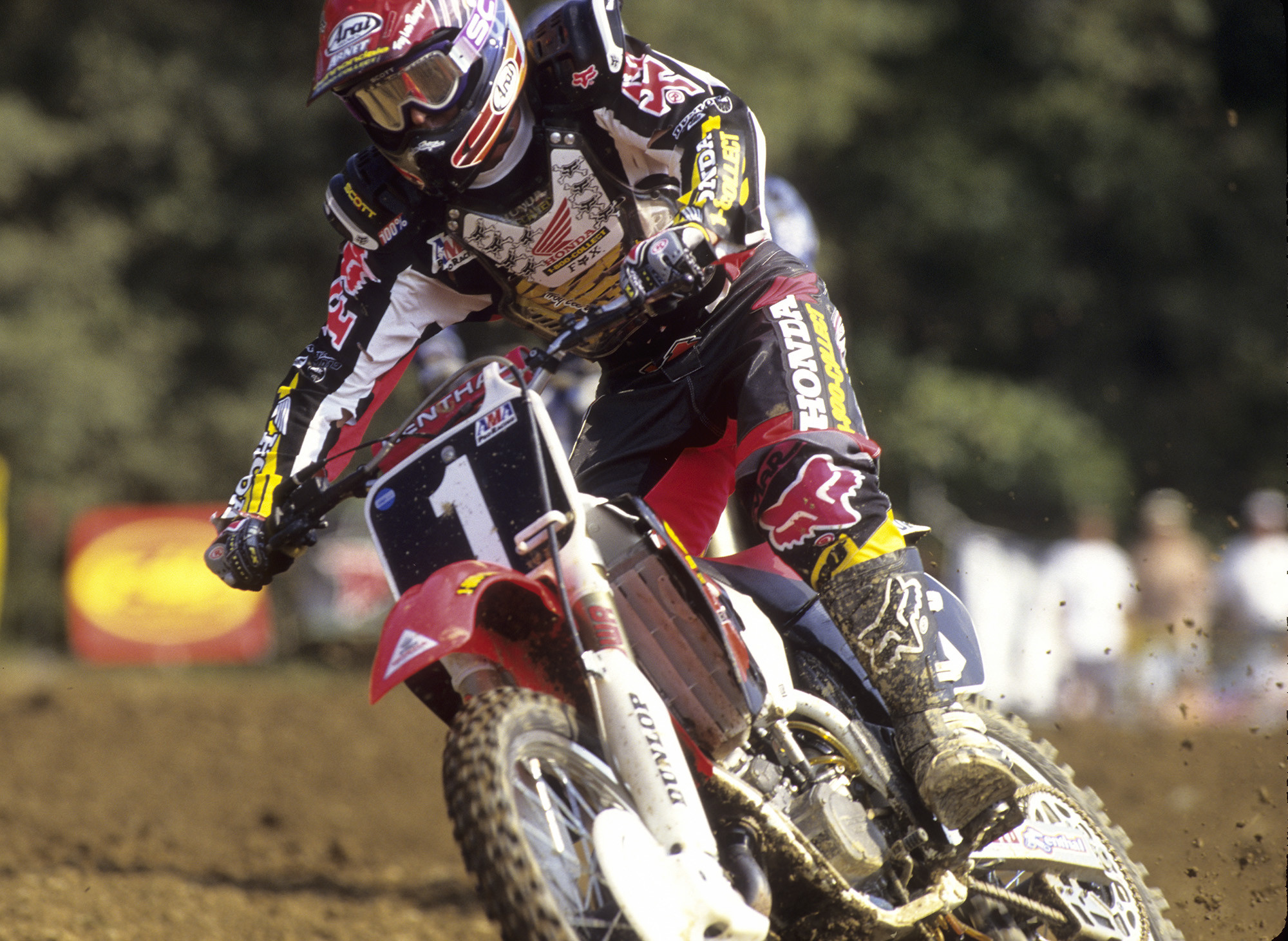 I know that names like Ryan Villopoto and Ryan Dungey and James Stewart will be coming up soon—the window opens after five years of retirement—and that's going to make it crowded on the ballot for anyone else. And that's why it's unfortunate that none of the above names made the cut in 2018. Nor did any SX/MX riders make it in 2016. And last year, Bob Moore only got in from the "specialized" category as a result of what he did as both a racer (125cc world title) and off the track (cofounder of Road 2 Recovery).
And that's just the racers. What about the other people who have introduced so many countless new fans and potential riders to the sport? People like Alan Becker of PACE Motorsports, his son Gary, or longtime professional and amateur race organizers like Bill West and Paul Shlegel, who has probably organized more professional, national competitions (dirt track, flat track, motocross, and even the Pontiac Supercross) then anyone. All of these people, as well as the racers, have been incredibly beneficial to the growth and very existence of motorcycling in America. Something's got to change here.
2019 Preview Shows Launch Next Week (Jason Weigandt)
I'll admit that I stole this idea. In 2013, ESPN released innovative NBA preview videos starring columnist Bill Simmons and former player Jalen Rose, with a studio inside a mancave and a funny, loose vibe that was much different from the standard stuffed-shirt studio shows. A few months later, we created the first-ever Racer X Monster Energy Supercross Season Preview Shows, with myself and Steve Matthes in a makeshift studio inside a basement (at my buddy Jason Hooper's house). We also told Jason Thomas to find a camera man and shoot some stuff at his place in Boise, Idaho. We had no idea if these shows would work, so we just whipped it together in the simplest form possible. It was the first time the underground style developed on our Racer X podcasts translated to video. Fans seemed to like them, so the next year we got organized and moved the shows to the Racer X HQ in Morgantown, West Virginia. We have a studio for RacerTV set up in the back, which allowed us to refine the process quite a bit. One year, we flew Ping into Morgantown and let him analyze the sport with some very well-rounded drawings on a dry erase board. If you've seen them, you'll never forget.
The shows keep growing in popularity, so we've stepped up in scope. This week, we shot the Racer X Monster Energy 2019 Supercross Preview shows in California, because SoCal is the center of this industry, especially at this time of year. To drill down further, we shot the shows at Pro Circuit, because, well, can you get more insider than hanging in that shop? The general gossip and vibe we picked up inside PC will make this year's shows that much better. Big thanks to Mitch Payton for having us.
The first episode will launch next week. As usual, myself, Matthes, and JT are at the desk, and we dispatched Ping throughout the Pro Circuit building for further analysis.
We shot five episodes, and we'll roll them all out as we lead to Anaheim 1. The goal, as always, is to not only tell you everything you need to know before Anaheim, but present it with some personality and perspective so you're not only informed, but also salivating in anticipation of the new season. The deeper we dig, the more intriguing the new year becomes.
Episode 1 launches next week, and thanks to our sponsors Monster Energy, Pro Taper, New Ray Toys, 100%, and LS2 helmets for the assistance. I never thought this show would evolve from my buddy's basement to Mitch Payton's shop, but thanks to all of you folks who watched and enjoyed, things are getting better all the time.
CALLING IT A CAREER (DC)
This morning we got the press release that FMF KTM Factory Racing Team rider Kacy Martinez (Coy) officially announced her retirement from professional racing. The 28-year-old Martinez is one of the fastest women in the history of off-road racing, with 12 titles from a multitude of major racing series. Martinez most recently wrapped up a stellar 2018 season, claiming the AMA EnduroCross and AMA Big 6 Grand Prix Championships, and she notched a couple of GNCC titles before that.
"This has been one of the hardest decisions of my life, but after sitting down with my mom, dad and husband multiple times and talking with my boss, Antti Kallonen, a couple times, I have made the decision to retire from racing," Martinez said. "I turned pro in 2008 and now 10 years later I feel there's no better time to end my career than while on top. I have accomplished everything I set out to do with very minimal injuries, which looking back now I am amazed and so beyond happy with my career. With my long-term goal of winning a championship in every major off-road series in the United States now accomplished, I feel that I have fulfilled my work out on the race course."
Congratulations on reaching this finish line, Kacy, and good luck to you and your family with whatever comes next.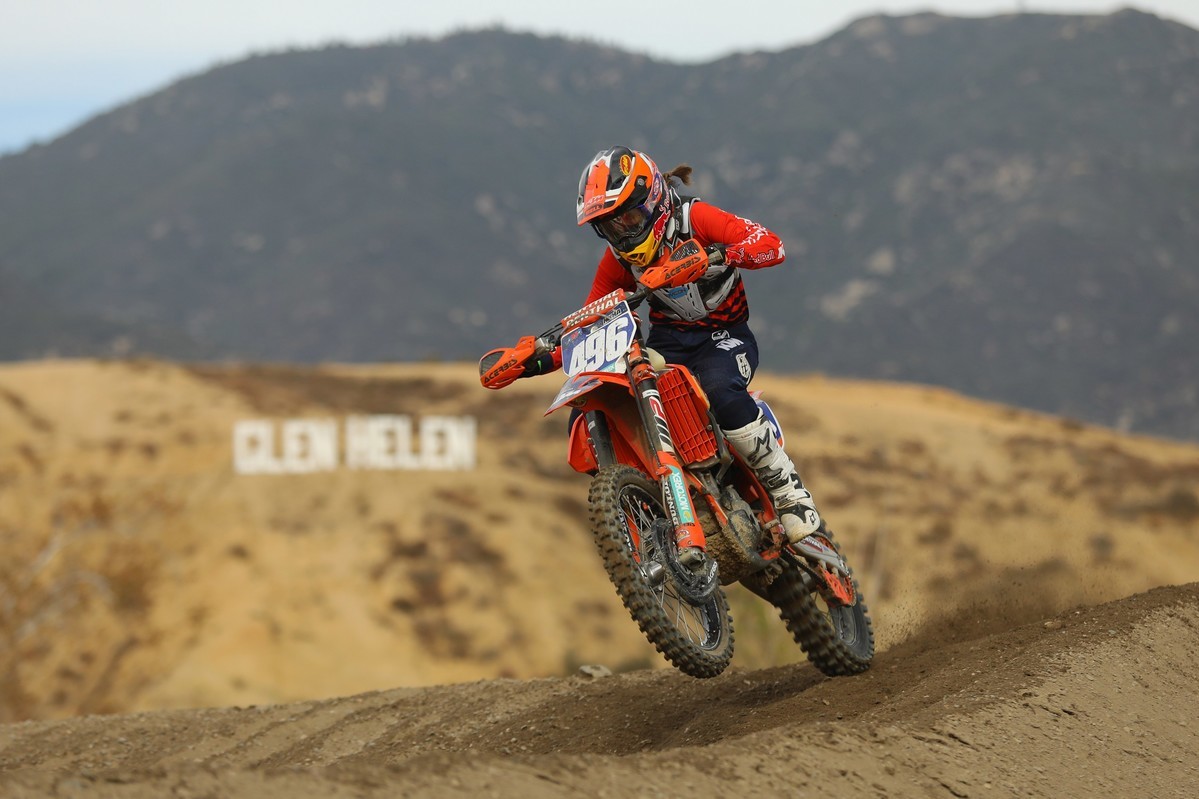 NOT NEUTRAL (Steve Matthes)
This past weekend I was in Geneva, Switzerland, for the annual race there. You can read about what I thought in OBS, but I did want to touch on a few things. It's incredibly hard to make rock-solid judgements on a 32-second track where the start is everything, but I can say that Zach Osborne looks really good, Justin Barcia and Cole Seely look as good as one would think they would, and Malcolm Stewart looked skinnier, and, despite barely getting any laps in, still very fast. Mookie and Cooper Webb are the two most interesting riders for SX 2019, in my opinion. I'm interested in seeing which way they go.
One thing about the international races is all the downtime you get to just hang out. The riders socialize with each other, talking about the sport, the media, the purse money, and whatever else comes up. Even Christian Craig remarked on the different atmosphere there. He joked that, come A1, none of us will see each other or want to talk to each other! Which is somewhat true. The pressures of the job make it difficult to be relaxed. If you're a fan at these Euro SXs, hanging out and interacting with the riders is a real treat.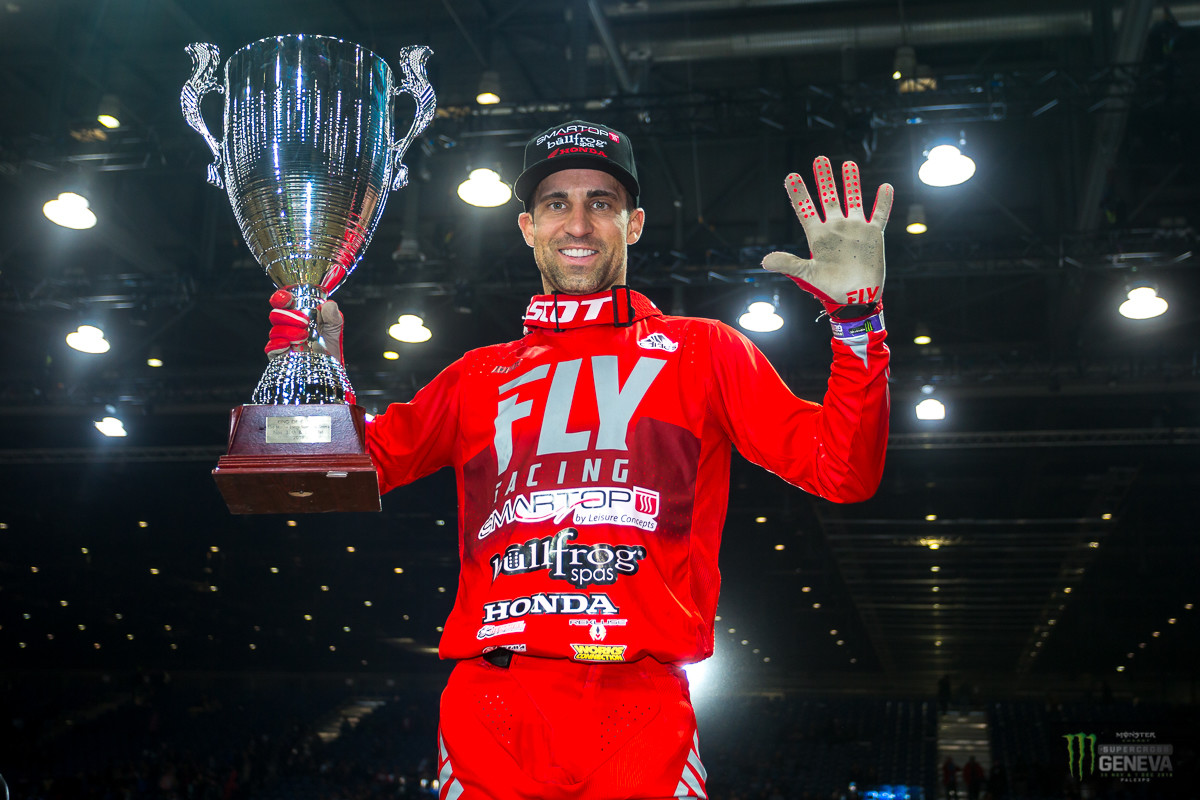 The Smartop/Bullfrog Spas/MotoConcepts Honda team will have Mookie, Justin Brayton, and Vince Friese on it, and really, could there be any three riders that are more different from each other? Brayton is the respected veteran enjoying a career rebirth, Stewart is the popular kid still looking to break through in 450s (and an African-American in a majority white sport), and Friese the sometimes-villain of the sport who's quiet and just trying to let his (very good) riding speak for itself. Quite a mix of personalities under one roof, aand they're all managed by Tony Alessi, who's the quintessential minibike dad, so much so that he's become an expression, as in "Calm down, Tony" when a parent is talking about their kid's racing career. To a man, though, the riders all praise Alessi for going to the wall for them in trying to help them get better and doing whatever it takes.
The most interesting team in motocross? Yes, I think they are.
Go read everything there is on www.Pulpmx.com. Also, go order an "I Party in Temecula" shirt. Please and thank you.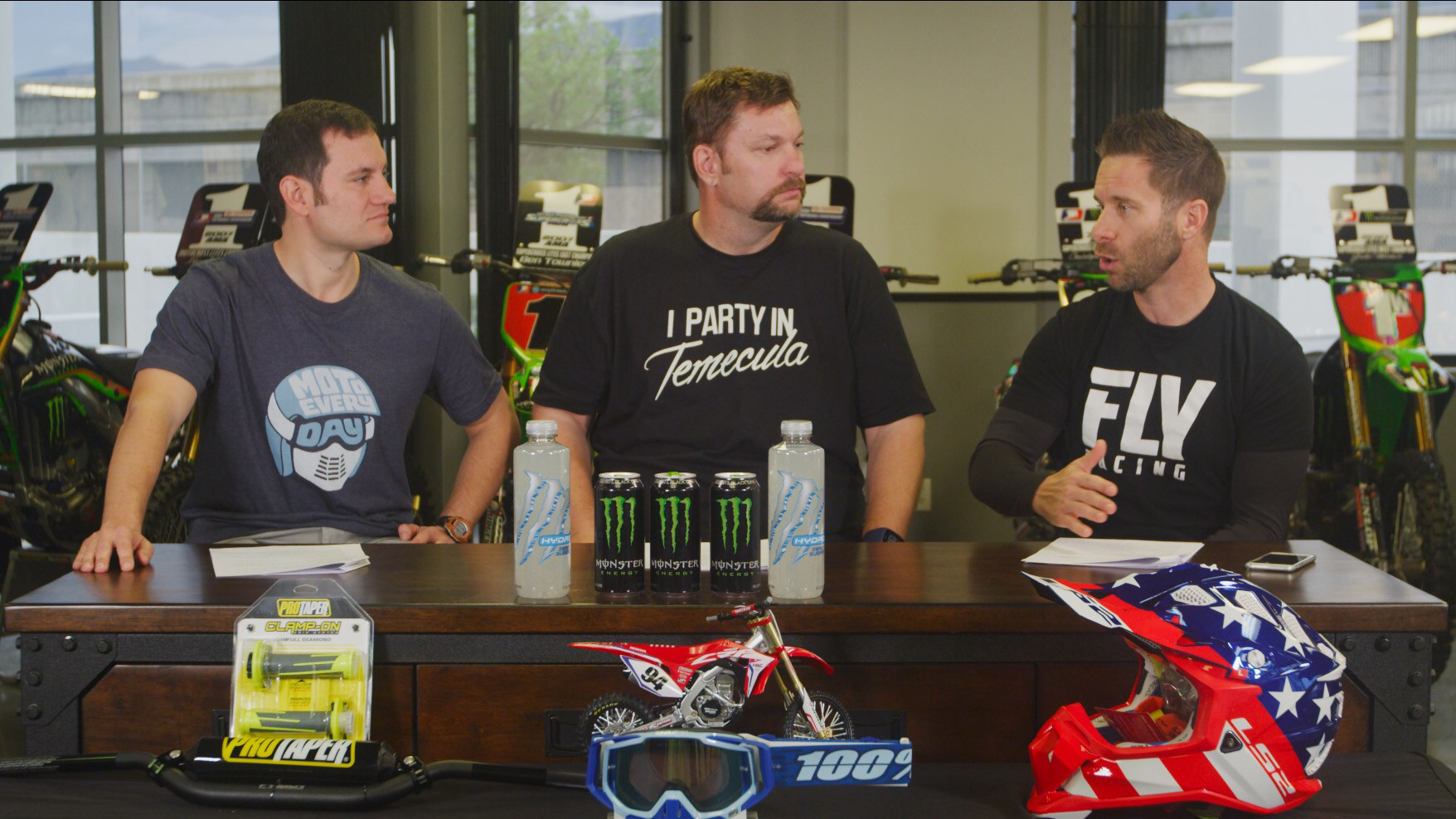 REED RALLIES (Andras Hegyi)
Two-time AMA Supercross Champion Chad Reed is debuting in something new this weekend. The most successful Australian motocrosser ever is taking part in his maiden rally car race, the world-famous Monza Rally Show in Italy, which was founded in 1978.
Italy's number-one off-season rally event has always attracted motorcycle racers. Some MotoGP stars have competed here, like five-time world champion Jorge Lorenzo from Spain, Ducati's Andrea Dovizioso, Alex De Angelis, Mattia Pasini, Simone Corsi, Luca Marini, Andrea Locatelli, and two nine-time world champions, motocross legend Antonio Cairoli and MotoGP great Valentino Rossi. The Monza Rally is an asphalt rally at the national racetrack of Monza, a city near Milan, and home of the Formula One Italian GP. In addition, "The Doctor," 39-year-old Rossi, is the most successful racer at Monza, earning six victories. Reed will be racing as Antonio Cairoli's teammate in a field that contains 126 teams in all.
For the 36-year-old Reed, car racing is not a novelty at all. He's done tests in some significant car racing championships, like the Australian V8 Supercars and NASCAR. Reed is taking part at Monza thanks to his Italian friend Stefano Avandero, the president of the A Sport Group company and the organizer of the GP of Lombardi at Ottobiano in the FIM Motocross World Championship. This past summer, Reed was one of the special guests of the GP of Lombardi. Both Reed and Cairoli are driving Hyundai i20 cars. Reed's co-driver is the Italian Nicola Arena, and Reed's car will be recognizable by his well-known #22.
The 39th Monza Rally Show features 19 special stages over 156 kilometers total, of which the special stages' distance is 144 kilometers.
THE FEBRUARY 2019 ISSUE
The print edition of Racer X Illustrated features content you won't find here on the website, and the February issue is shipping out to subscribers and newsstands soon. Here's a look at the exclusive features we've got in store for you:
BEST OF BOTH WORLDS: Jeffrey Herlings is the 2018 Racer X Rider of the Year.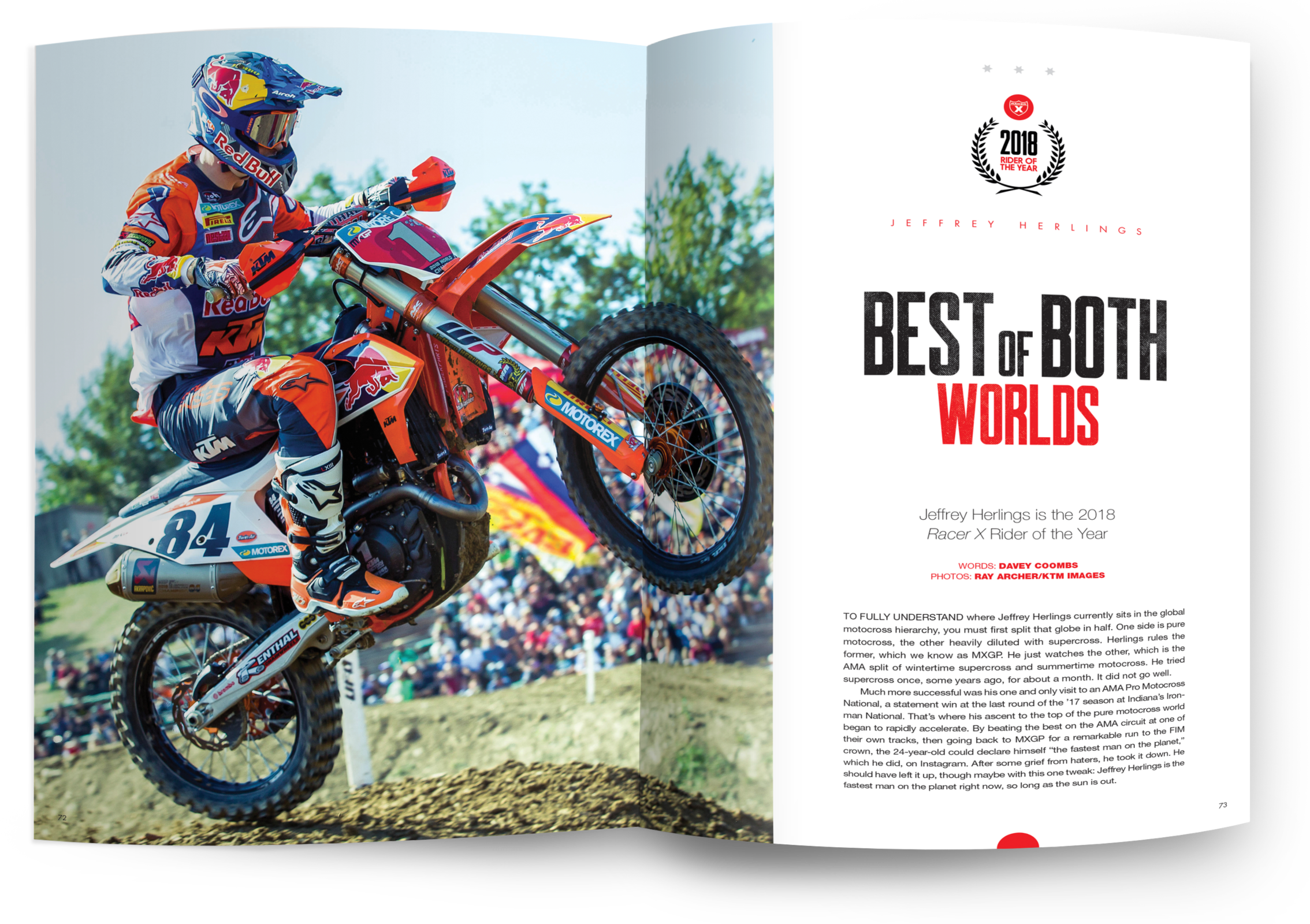 2019 SUPERCROSS PREDICTIONS: Davey Coombs, Jason Weigandt, Jason Thomas, and Steve Matthes put it all on the line and tell us what the racing future holds.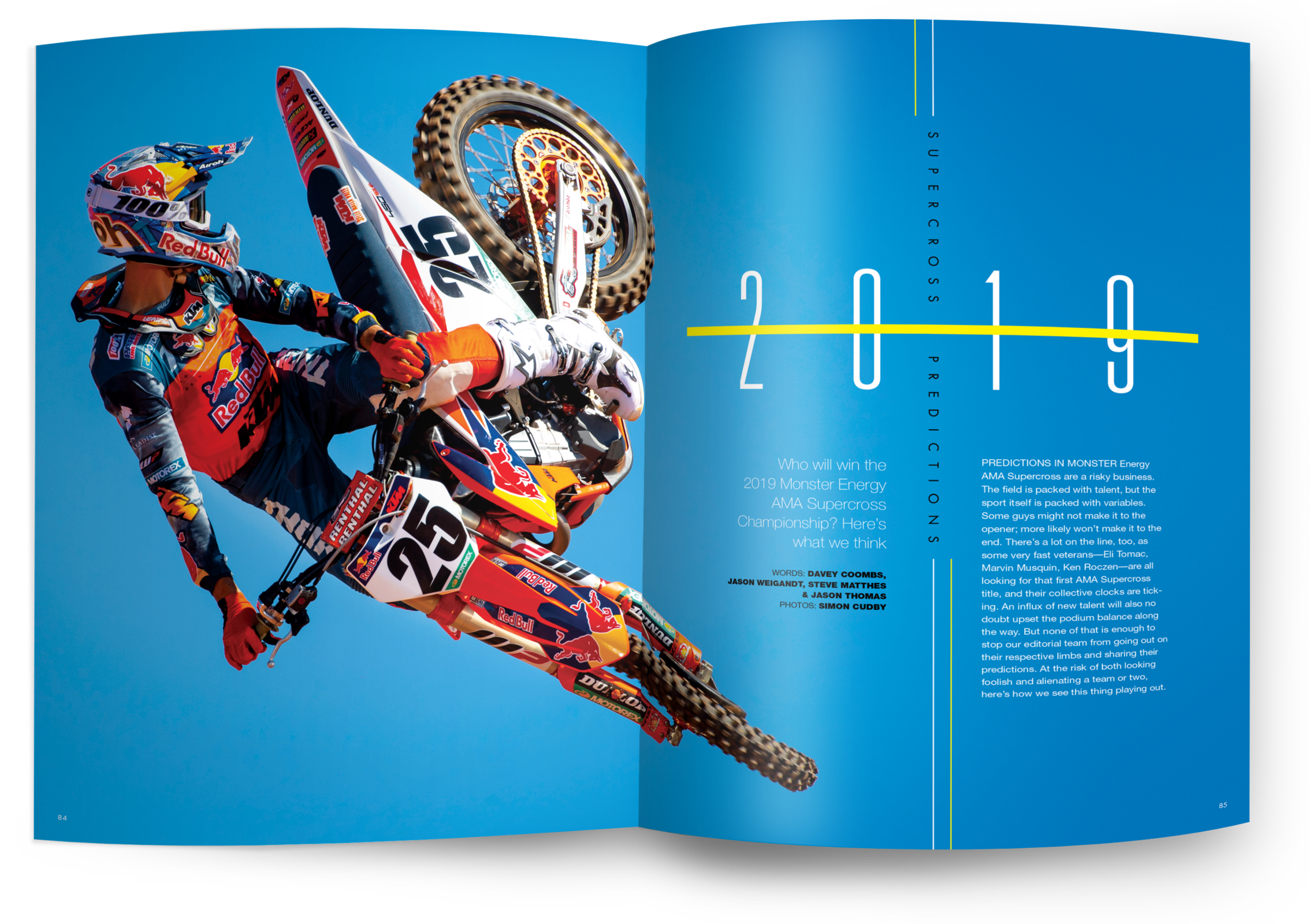 GUESS AGAIN: Not many people gave Jason Anderson a fighting chance of winning the Monster Energy AMA Supercross Championship last year—and that includes us. We won't get fooled again.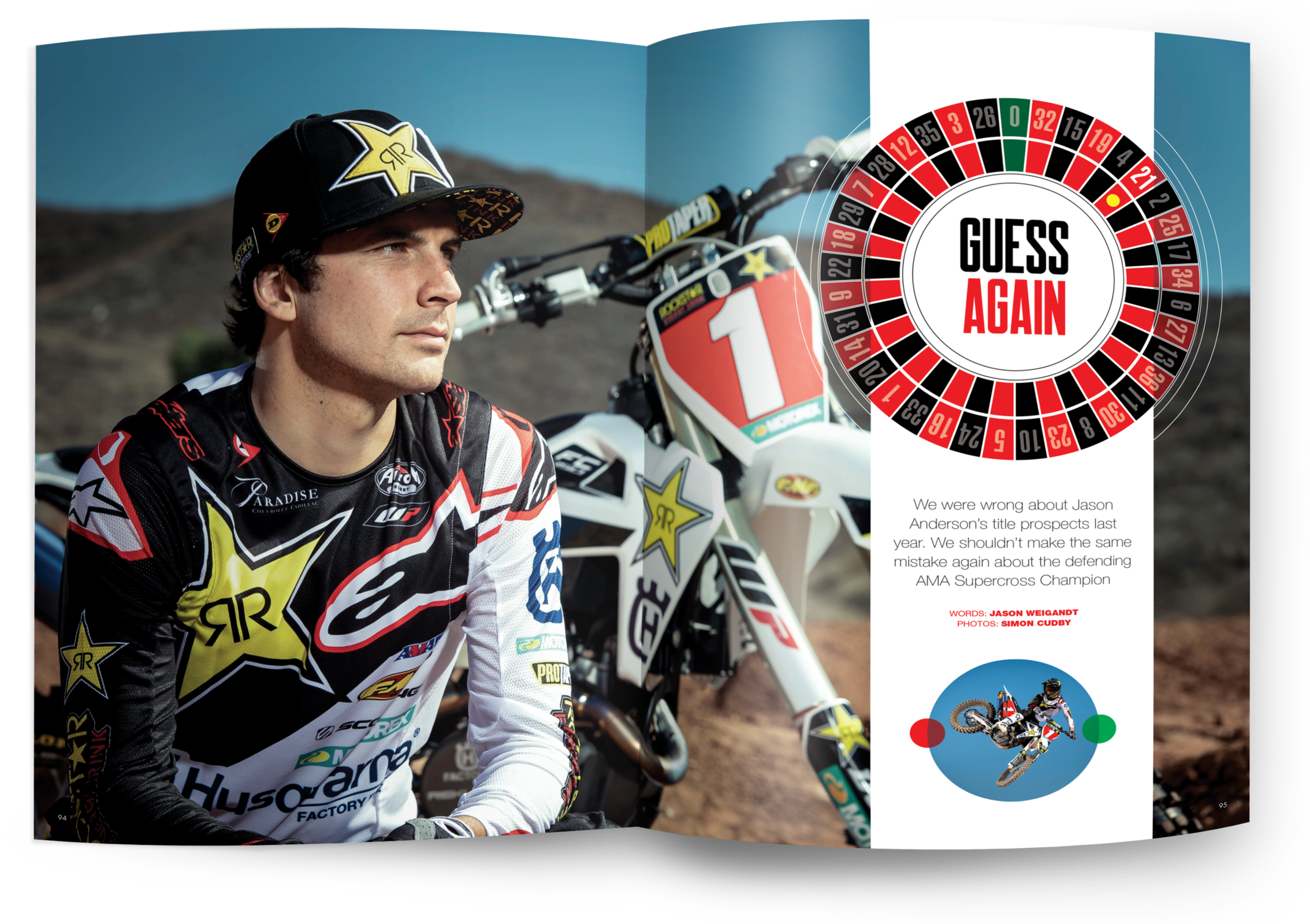 IN THE GREEN ROOM: Joey Savatgy finally hopes to lock down a championship as he moves to the 450 class with Monster Energy Kawasaki.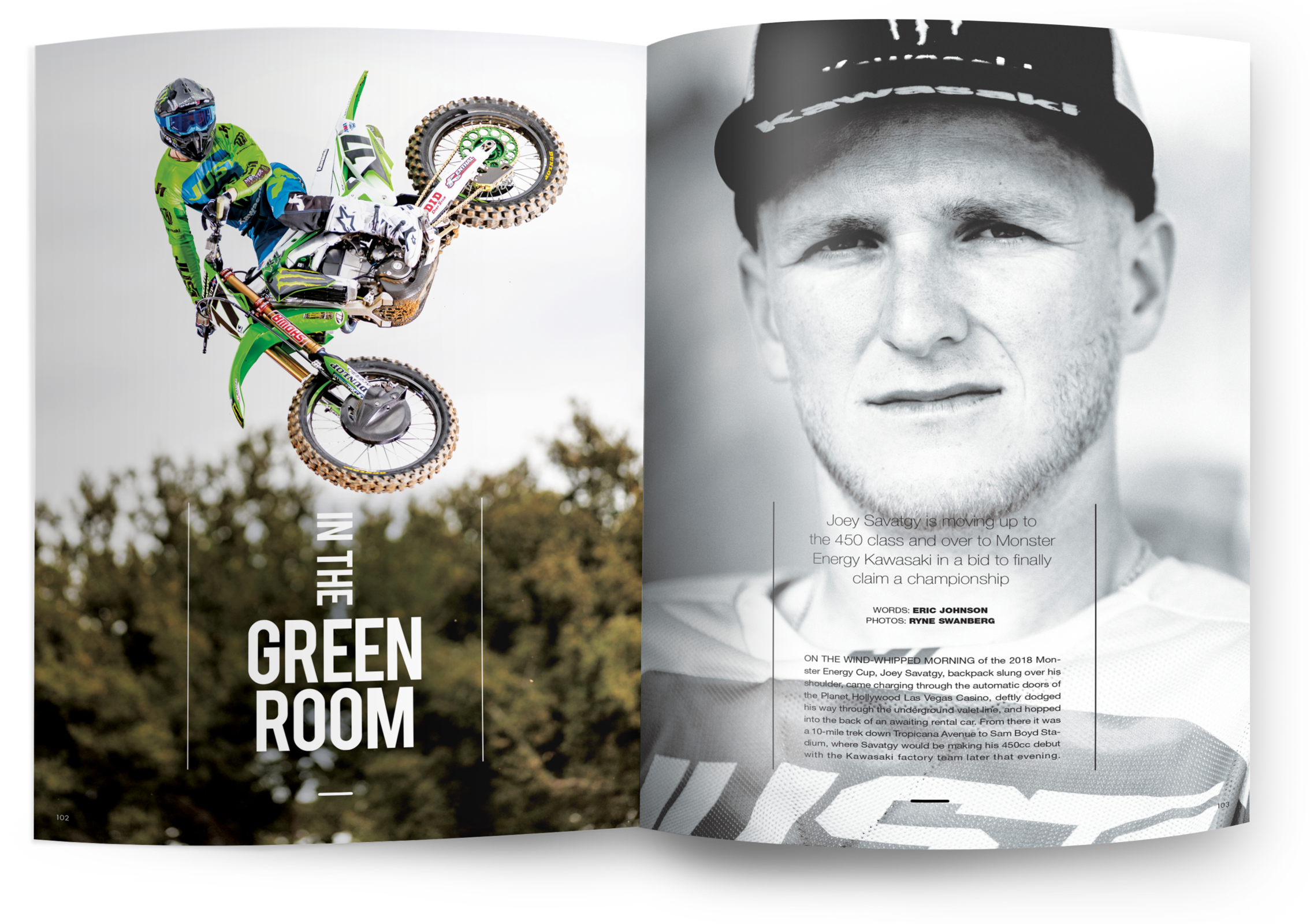 THE 25 MOST DRAMATIC MOMENTS IN SUPERCROSS HISTORY: Since 1972, "stadium motocross" has given us countless exciting moments. Here are some of the most memorable ones.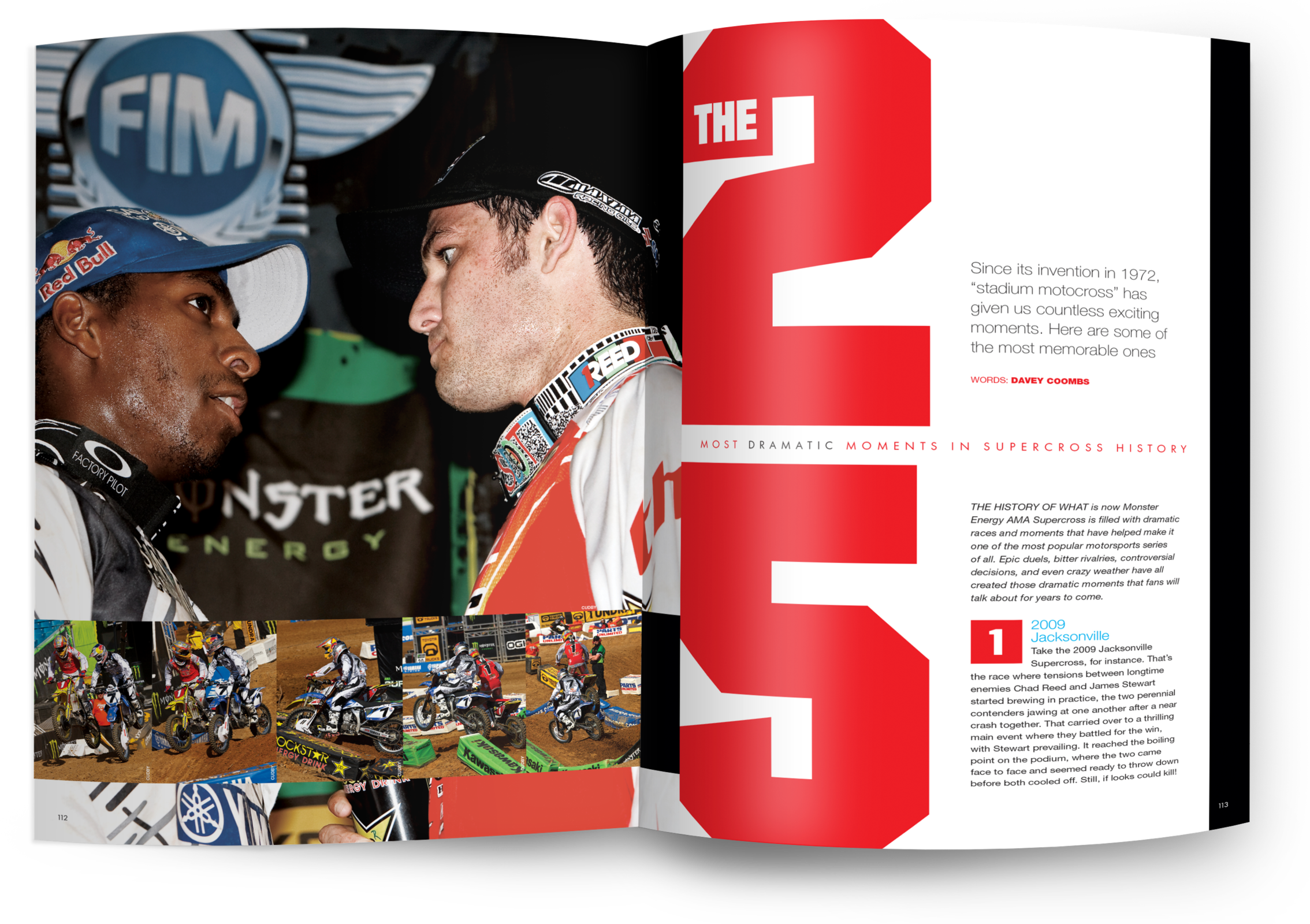 Hey, Watch It!
Yesterday in On This Day in Motocross, we mentioned the horrifically muddy Seville World Supercross round in Spain, which took place on December 6, 2003, and the fact that we could not find any online footage of this all-but-forgotten mess. This morning we got this email from Racer X reader Joseph Wertzberger with a great find:
Davey posted on today's 'On This Day' feature stating that he was looking for race footage from Seville, Spain back in 2003. The first race on Bar to Bar 2004 has about five minutes of the highlights of this race.
Thanks, Joseph!
Random Notes
The FirePoliceMX GP will be held on Tuesday. Here is more information:
When: Tuesday, December 11 - Glen Helen Raceway.
Gates: Open at 6:00am

Registration: 7:00am Throughout event.
Riders Meeting: 8:15am
Parade lap: 8:30am
Race 1: 9am 45 min + 1 lap Expert & Intermediate. 60+, 70+
Race 2: 10am 45 min + 1 lap Novice, Beginner, 65cc & 85cc Advanced riders
Race 3: 11am 30 min + 1 lap * FREE Race for Kids * 
50cc, 65cc/110cc, 85cc/150cc, 50cc quad & 90cc Quad
Race 4: Noon 1 hour & 55 minutes - Team Race & Ironman
Race 5: 2:15pm 45 min + 1 lap - Quads & Side x Side (UTV)
Pre-registration ends tomorrow. More information.
For the latest from Canada, check out DMX Frid'Eh Update #49.
SUBSCRIBE OR RENEW NOW AND GET A FREE 2019 RACER X CALENDAR
Subscribe now for as low as $9.98 and receive a FREE 2019 13 Greatest AMA Motocrossers of All Time Racer X Calendar!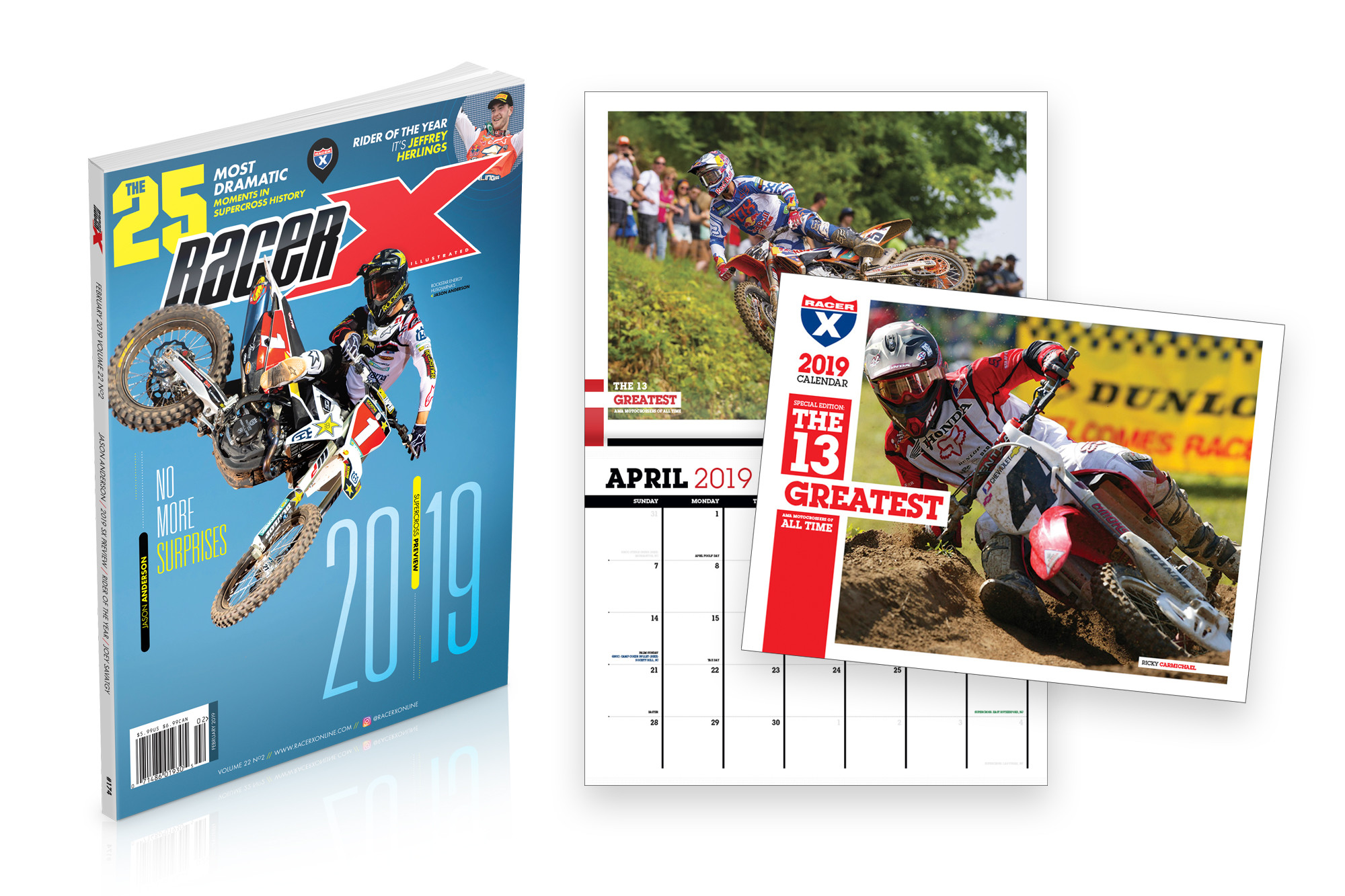 Racer X Christmas Stockings Available on Racer X Brand
Looking for the ultimate prepackaged "stocking stuffer" for your moto-loving family and friends this Christmas? Look no further—we've got you covered. Perfect for: grandparents, dads, moms, siblings, friends, non-friends, kids, infants, babies, babies-on-the-way, babies-in-consideration, and pets. Buy now!
Stocking includes:
- Special-edition April 2018 cover poster
- Trailer sticker
- Koozie (red or blue)
- 2018 Lucas Oil Pro Motocross event sticker pack
- Racer X Brand 20% off discount code
- Issue of Racer X Illustrated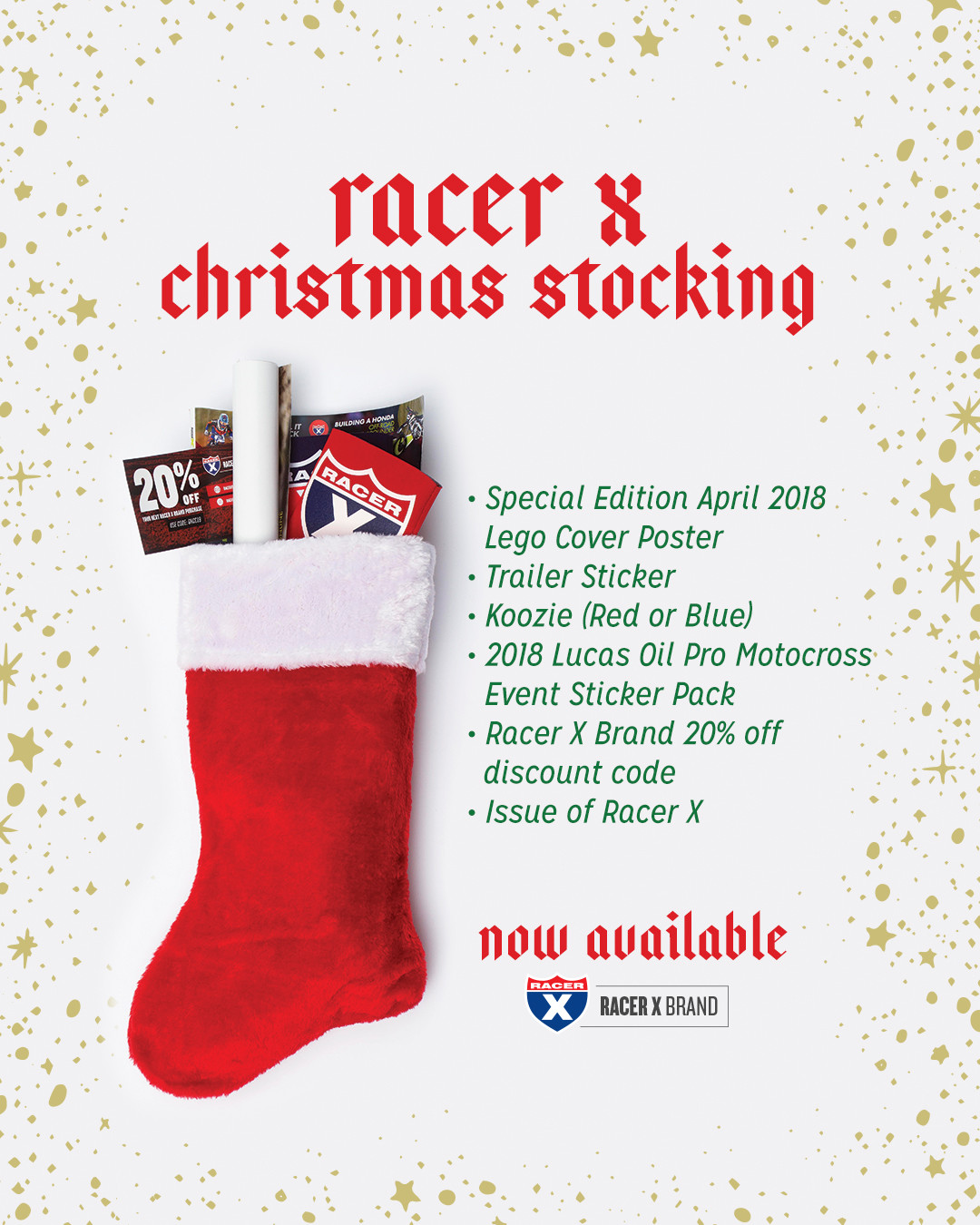 And don't forget to think about our soldiers on this 77th anniversary of the bombing of Pearl Harbor. (Among the ships that went down? The USS West Virginia.) Thanks for reading Racerhead. See you at the races.