ISDE Update Day 5: Australia Continues To Lead Team USA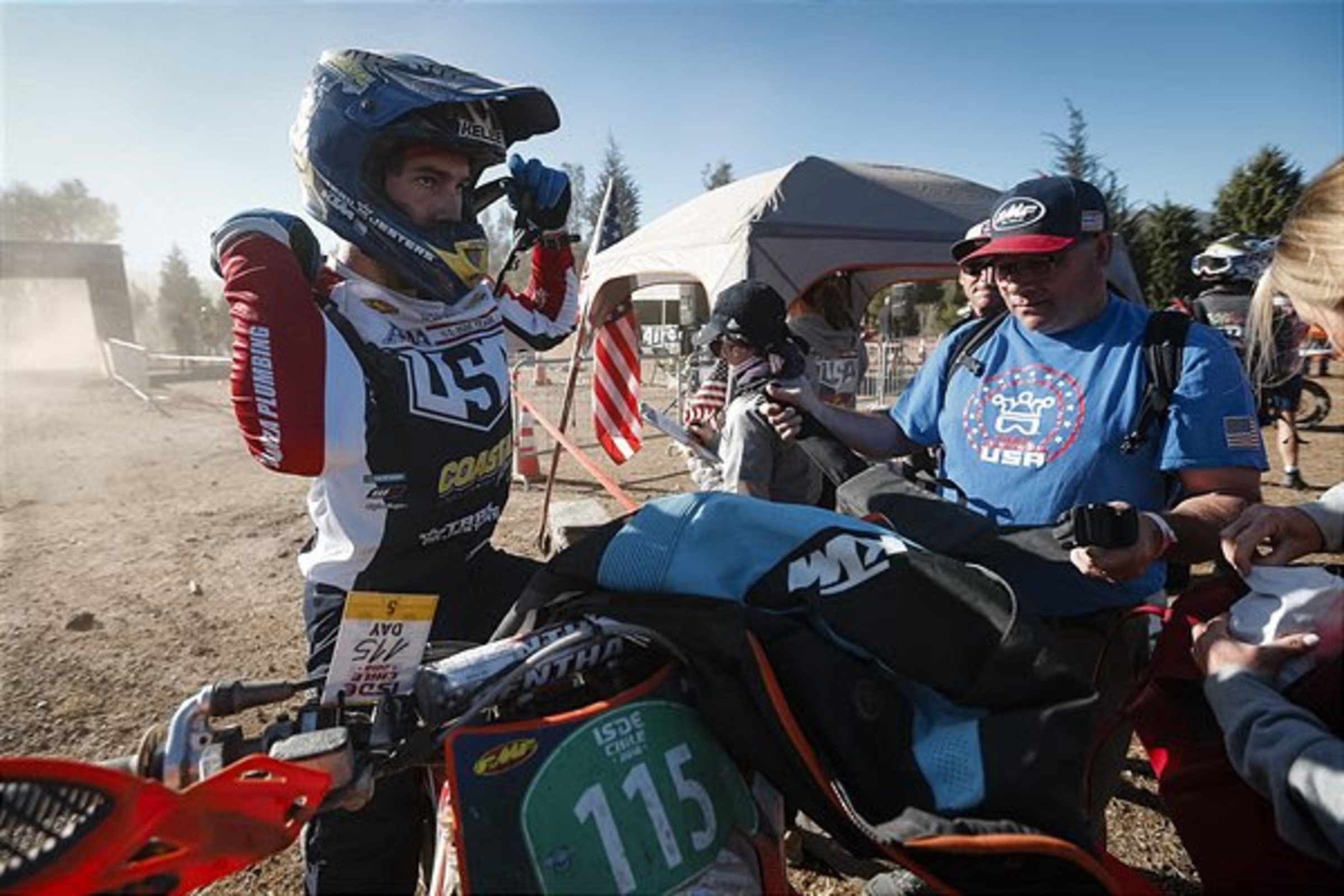 The following is a KTM press release with coverage from Day 5 of the 93rd running of the International Six-Days Enduro.
VINA DEL MAR, Chile – Day five of the 2018 FIM International Six Days Enduro (ISDE) wrapped things up on Friday with the last full-day of special tests from Vina del Mar, Chile. With one 15-minute moto remaining, the U.S. is currently the only country to have a team on the podium in all three World Trophy Team categories after five brutal days of racing and they look to solidify silver at the conclusion of day six tomorrow.
Highlighting day five's individual efforts, FMF KTM Factory Racing's Taylor Robert continues to hold strong at the top of the E2 classification, with teammate Steward Baylor Jr. in second as the duo once again finished 1-2 in E2 on Friday. KTM-support rider Brandy Richards posted her best day yet, powering through the rough and dusty terrain to claim all but one of the special test wins, and top EW honors for the day.
WORLD TROPHY TEAM (WT)
The U.S. World Trophy Team came into day five with a nearly six-minute deficit to the Australian leaders but that didn't stop them from giving it their all in hopes of progressing through the individual ranks. Robert, who holds a five-minute lead over U.S. teammate Steward Baylor in the E2 class, also sits second in the overall classification about a minute and a half behind Australia's Daniel Milner. All week, Robert has been the most consistent rider on the U.S. squad and day five was no different as he finished 2-4-2-4 in the first four tests, before sweeping the final two of the day to bring his test-win total to six for the week.
Tely Energy Racing KTM's Steward Baylor Jr. continues to climb upward and onward after battling through a crash that set him back earlier in the week. Although it was a rocky start to the day for Baylor, he bounced right back to finish second in test two before grabbing a pair of top-ten finishes, a fifth and a third to round out the day. Baylor's consistent performance on day five moved him up another notch in the overall running, where he now sits fourth heading into the final moto tomorrow.
JUNIOR WORLD TROPHY TEAM (JWT)
The U.S. Junior World Trophy Team made up almost a minute on the leaders of Team Italy today, while extending their lead to over 16 minutes on third-place's Team France. FMF KTM Factory Racing's Josh Toth had a solid ride to finish fourth in E1 for the day after capturing three top-ten finishes in tests one, three and four.
Tely Energy Racing KTM's Grant Baylor continues to fight through the pain of a shoulder injury, finishing 12th overall on day five. Baylor hovered around the top-ten for most of the day but he wasn't able to put himself on the competitive edge as he did before injuring his shoulder on day four.
It was an uneventful day for Trail Jesters/KTM Racing's Ben Kelley, who maintained a comfortable pace throughout each of the six tests. Kelley broke into the top-20 in the final test of the day after bouncing around inside the top-30 for the first five tests.
WOMEN'S WORLD TROPHY TEAM
KTM-support rider Brandy Richards won the first five tests, missing the sixth test-win by only three tenths of a second behind Australian leader Tayla Jones. Richards now moves into second overall behind Jones with one last moto remaining.
KTM-support rider Becca Sheets maintains ninth overall following another solid performance on day five. Sheets finishes inside the top-ten in five of the day's six tests, giving her eighth overall on the day.
"Obviously our goals were to win and it seems like we're falling a little short. It's not over until the checkered flag but the margins are too large now to really have any major changes unless the countries ahead of us have some major disaster, but we don't hope that to anyone in racing," said U.S. Trophy Team Manager, Antti Kallonen. "Tomorrow is the final day, just a 15-minute moto and I don't expect any major result changes. There are a few riders that are going for individual goals and ranking – those riders will give it their all – but other riders will play it safe for the team so that we finish second in each category. I must give hats off to the riders, they've battled through some tough days throughout these five days and hopefully tomorrow the final moto goes well and we get to leave this place healthy and in one piece."
The 2018 International Six Days Enduro will conclude on Saturday, November 17 with the final moto from Vina del Mar, Chile. For a list of complete results, please visit www.fim-isde-live.info.
World Trophy Classification (After Day 5 of 6)
1. Australia, 12:59:53.52
2. USA, +7:29.09
3. Italy, +11:35.02
4. France, +17:11.08
5. Spain, +20:18.79
Junior World Trophy Classification (After Day 5 of 6)
1.Italy, 13:17:40.99
2. USA, +3:35.46
3. France, +16:32.15
4. Chile, +18:01.65
5. Australia, +29:24.69
Women's World Trophy Classification (After Day 5 of 6)
1. Australia, 10:05:08.87
2. USA, +8:54.93
3. Spain, +19:04.32
4. Sweden, +1:00:03.09
5. Portugal, +1:14:37.86