ISDE Update Day 4: Team USA Holding Second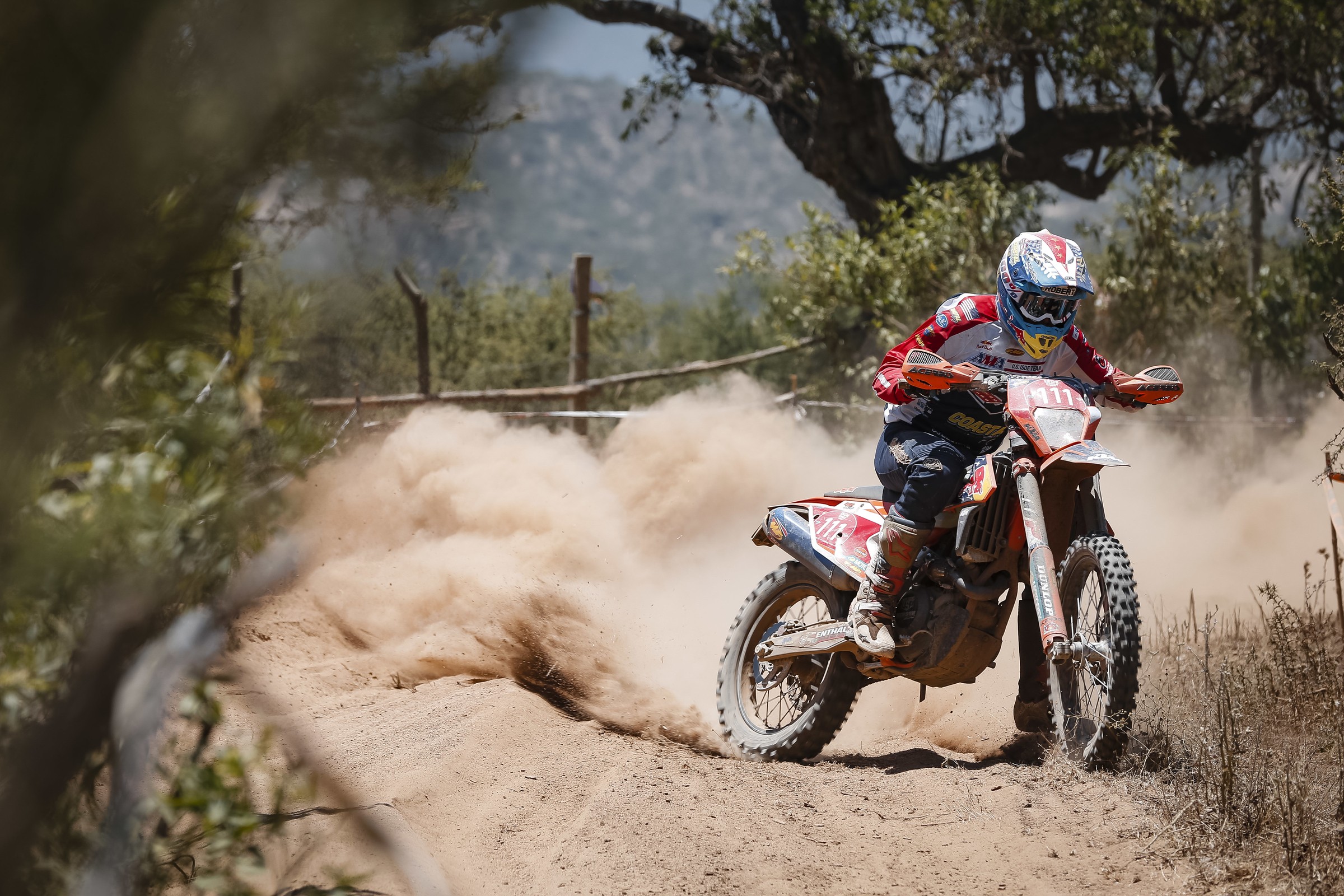 The following is a KTM press release with coverage from Day 4 of the 93rd running of the International Six-Days Enduro.
VINA DEL MAR, Chile – It was another tough day in Vina del Mar, Chile for the 2018 FIM International Six Days Enduro (ISDE) as warm temperatures, brutally-rough and dusty terrain, and reasonable fatigue have set in after four days of racing. The U.S. World, Junior World and Women's World trophy teams continue to sustain safe second-place positions in their respective divisions with Teams Australia and Italy putting up a hard fight in team competition. On the individual side, FMF KTM Factory Racing's Taylor Robert continues to carry the American flag high as the top rider in E2 and second overall in the cumulative running, while his KTM-supported teammate, Steward Baylor Jr. upped his performance to jump behind Robert for second-place in E2 and fifth overall thus far.
Day four saw a carbon copy of the previous day's special tests, with another schedule modification due to extremely dusty conditions and no wind in sight. As a result, they skipped test one and added the section back later in the day when the wind picked up, giving a total of five special tests for the day. The U.S. World Trophy Team ran into a setback first thing after the start when a traffic jam clogged up the transfer from the start to the first time-check.
"The day started off pretty chaotic with bumper-to-bumper traffic on the freeway and riders having to weave in and out of cars to get to the first check on time. Unfortunately, Ryan Sipes didn't make it in time and received a one-minute penalty to start the day. It was a tough one to swallow but we're just going to put it behind us and hopefully rebound back on day five," said U.S. Trophy Team Manager, Antti Kallonen.
WORLD TROPHY TEAM (WT)
Robert once again had a solid and consistent day but Australian rider Daniel Milner proved hard to beat on day four as he took all five of the test-wins of the day. With test scores of 2-2-5-3-3, Robert was able to keep himself in title fight but Milner's perfect score extended his overall lead to 59 seconds in the battle for individual gold.
It was an outstanding day for Tely Energy Racing KTM's Steward Baylor Jr., who propelled himself from tenth to fifth in the overall classification after finishing a solid fourth in the day's overall running. Baylor rode to four top-four finishes in today's special tests, while also salvaging a 25th overall in test four due to a crash.
It was a tough day for Ryan Sipes (HQV), who suffered a one-minute penalty on the first transfer after getting held up in the big traffic jam. As a result, ISDE newcomer Zach Bell (HQV) contributed to the World Trophy Team's score on day four, where he continues to improve with a top-20 overall finish in the final test of the day.
JUNIOR WORLD TROPHY TEAM (JWT)
The U.S. Junior World Trophy Team sits safely in second-place after four days as they continue to pull away from the third-place team of France. FMF KTM Factory Racing's Josh Toth had another good performance on day four, finishing top-five overall in two of the special tests and ninth overall for the day.
Tely Energy Racing KTM's Grant Baylor got off to a good start today, finishing sixth overall in the opening test. However, Baylor had a crash on test three and sustained an injury to his shoulder giving him a 64th place finish in that test. From there, he powered through the pain to grab one more top-six finish and rounded the day outside the top 20 overall. Despite not being 100 percent, Baylor plans to continue fighting alongside his teammates to finish the final two days.
Trail Jesters/KTM Racing's Ben Kelley continues to improve as the week goes on, finishing consistently inside the top-20 in each of the day's special tests.
WOMEN'S WORLD TROPHY TEAM
KTM-support rider Brandy Richards made a valiant push on day four, claiming two special-test wins and a trio of top-three finishes for the day. Richards continues to make a positive strides as the week goes on, where she now sits within one minute of the second-place rider in the overall running.
Additionally, KTM-support rider Becca Sheets finished inside the top-ten in four out of five special tests, giving her a solid contribution for the day.
Day five will wrap-up the final 'full' day of racing with three special tests, including two new tests and one test from days three and four.
Kallonen added, "All teams are safe and firm in second-place for all categories but as seen many times at Six Days, it's never over until the final moto's checkered flag. We have one full day left and we'll treat it as a new race day. We're going to go 100% again tomorrow – not giving up any seconds pushing it all the way to the end."
Racing from the 2018 International Six Days Enduro will resume on Friday, November 16 with day five of six from Vina del Mar, Chile. For a list of complete results, please visit www.fim-isde-live.info.
World Trophy Classification (After Day 4 of 6)
1. Australia, 9:57:20.63
2. USA, +5:50.25
3. Italy, +9:09.14
4. France, +11:58.18
5. Spain, +13:56.03
Junior World Trophy Classification (After Day 4 of 6)
1. Italy, 10:09:46.78
2. USA, +4:24.22
3. France, +13:49.56
4. Chile, +14:44.04
5. Australia, +23:28.21
Women's World Trophy Classification (After Day 4 of 6)
1. Australia, 7:43:20.9
2. USA, +8:02.29
3. Spain, +15:32.85
4. France, +24:28.43
5. Sweden, +46:47.42