Ironman GNCC Raises Over $10,980 For Breast Cancer Awareness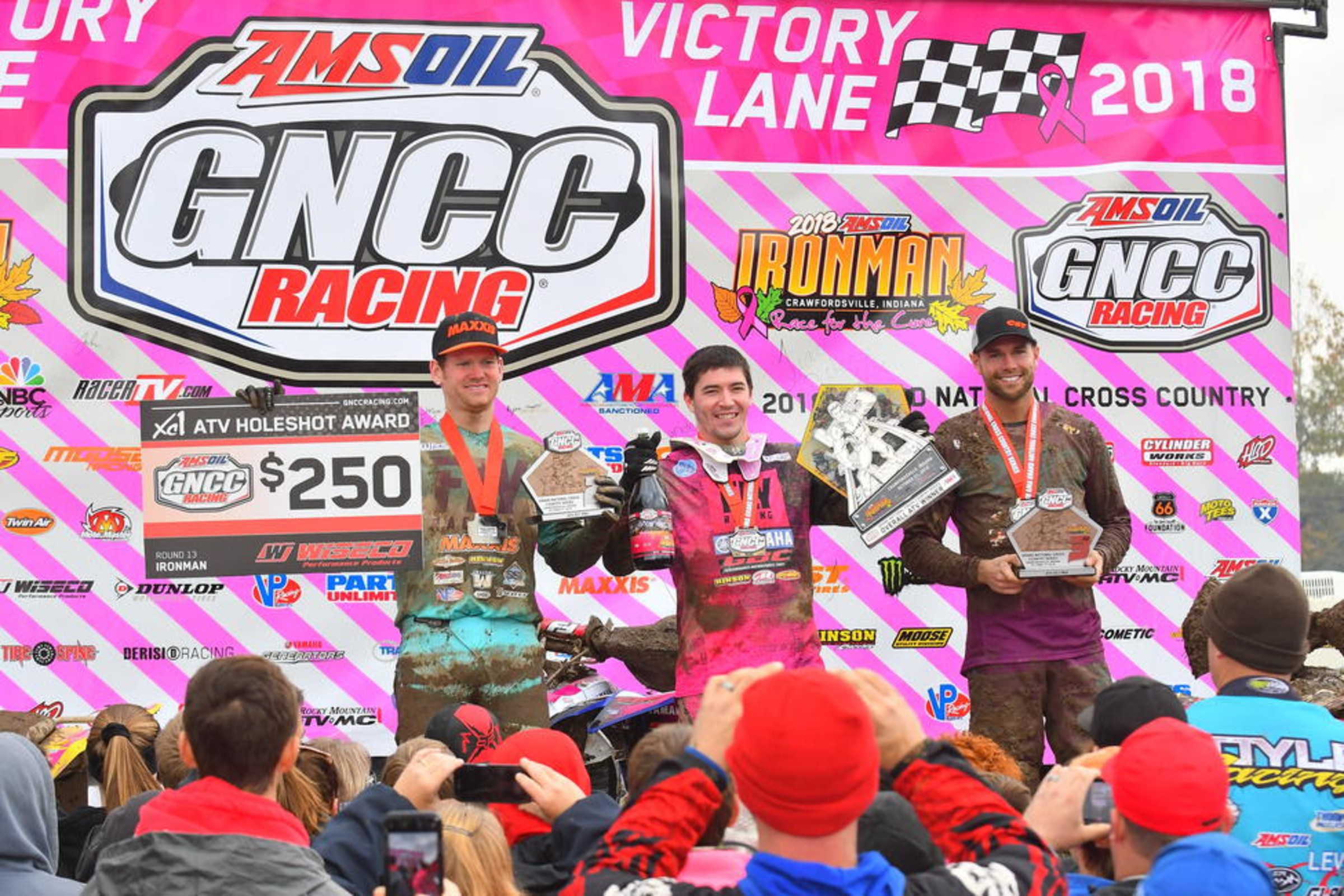 MORGANTOWN, W.Va. - The 2018 AMSOIL Grand National Cross Country (GNCC) Series, an AMA National Championship, concluded, October 27 and 28, with the AMSOIL Ironman GNCC in Crawfordsville, Indiana. Since 2010, this event has been deemed a "pink race" in honor of October's Breast Cancer Awareness Month, with several partners participating to raise money for the cause.
This year GNCC and its partners raised a grand total of $10,981, however this amount is looking to increase with the online auctioning of the 2018 AMSOIL Ironman Pink podium backdrop. The Ironman GNCC Backdrop will be available for silent auction bids over the next three weeks leading up to and ending at the Awards Banquet in Morgantown on Nov. 30 and Dec. 1. The pink backdrop is an annual tradition and special piece that is signed by class winners and top podium finishers throughout the weekend with proceeds included for the final donation to the Faith Alliance Fund at the Montgomery County Community Foundation. To place your bids, email your silent bid, full name and phone number to auction@gnccracing.com by Nov. 30 and look for the pink backdrop set up at the Awards Banquet for final bids.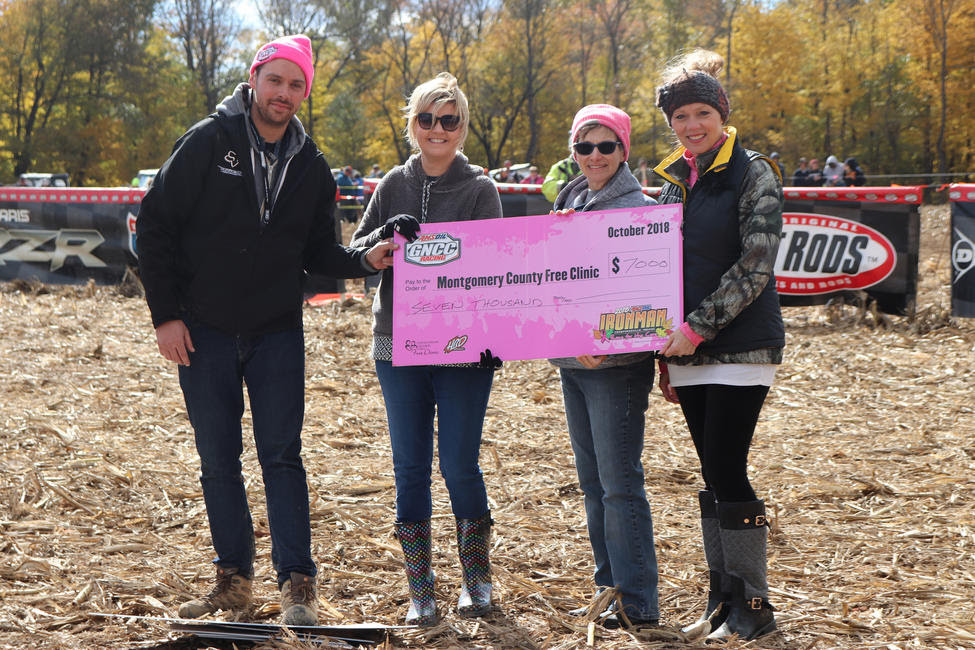 The proceeds raised will be donated to the Faith Alliance Fund at the Montgomery County Community Foundation. The fund provides support to the Montgomery County Free Clinic, which offers free mammogram examinations, wigs, transportation and guidance to those affected across the Crawfordsville and Montgomery County region. The local community is full of moto-crazed enthusiasts that support Ironman Raceway, which has been a favorite stop for the GNCC circuit for the past 24 years.
Yamaha celebrated a successful 2018 season in the GNCC Series as Walker Fowler, Traci Pickens and 23 other racers officially claimed their championships while an additional 39 topped their classes in Indiana at the season finale. Donations were made by Yamaha per National Championship and race wins at the Ironman GNCC. With 25 National Championships and 39 race-day wins being captured in Indiana, $3,200 was donated by Yamaha to support local breast cancer care in Montgomery County.
"The Ironman GNCC finale is always a great event, and to see the racing community come together in support of the local community's breast cancer awareness efforts is amazing," said Steve Nessl, Yamaha ATV/SxS Marketing Manager. "We are proud to support those efforts again this year through contributions made on behalf of the Yamaha racers who competed in Crawfordsville and all year long in GNCC to earn class wins at Ironman and overall series championships."
Zakowski Motorsports returned to Ironman with their own fundraiser which included t-shirts, hats, gloves and other special pink gear resulting in a final total of $13,145. In an attempt to reach their goal, orders are still being taken on their website www.zakowskimotorsports.com, all you have to do is click the pink ribbon to shop. Zakowski Motorsports will be splitting the amount between MCFC, Pink Ribbon Riders, Spiering Cancer Foundation, Pink Tractor Foundation and the American Cancer Society.
"We were short this year on our $21,000 goal, but every dollar given makes a difference in someone's life. Since starting this fundraiser, we have met families that benefited from our donations," said Linda Zakowski. "Having gone through the same experience, we know how much help it is. I want to thank Spider Graphix for donating their shirt sales of $777.00 to our fundraiser. Also, a huge thanks to everyone who supports our cause and special thanks to GNCC for allowing us to come and do it again!"
HBD Moto Grafx, the official graphic sponsor of GNCC, provided specialty graphics for both ATVs and bikes. Front number plates resulted in a $5 donation, while a full set of front and side backgrounds included a $10 donation. Background sales steamed a $200 donation. In addition, HBD Moto Grafx created exclusive GNCC breast cancer awareness stickers, which were sold at the event for a minimum donation of $1 that raised over $580 dollars.
With all 13 rounds of the 2018 AMSOIL Grand National Cross Country Series in the history books, the series moves to Morgantown, West Virginia on November 30 and December 1 for the season ending award banquets.
For more information on the GNCC series, visit the official website at www.gnccracing.com or call (304) 284-0084. Join the conversation on the series Facebook page, follow us on Twitter and Instagram, and be sure to always hashtag #GNCC.