Jed Beaton, Rockstar Energy Husqvarna Agree To Two-Year Deal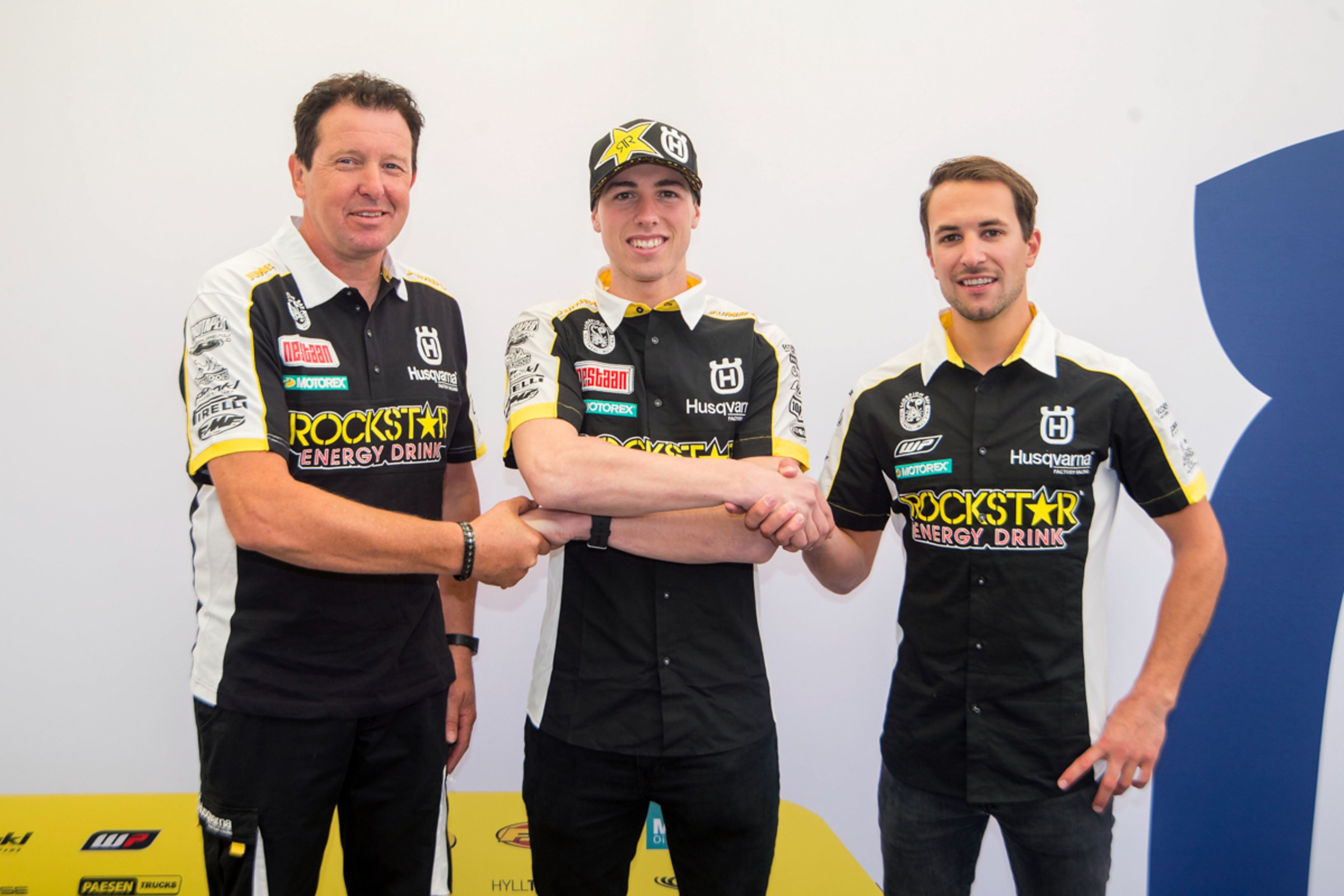 Husqvarna Motorcycles are pleased to announce the signing of up-and-coming motocross racers Jed Beaton and Kay de Wolf, who will compete on Husqvarna machinery throughout the 2019 and 2020 seasons. With 20-year-old Beaton entering the MX2 World Championship aboard the FC 250, fourteen-year-old de Wolf will make the switch to EMX125 competition on the TC 125.
One of the revelations of the 2018 FIM MX2 World Championship, Jed Beaton will race with the Rockstar Energy Husqvarna Factory Racing MX2 team throughout the 2019 and 2020 seasons. Beaton took the international motocross community by surprise in 2017 by securing a podium result in the MX2 category at the season finale in France.
Enjoying a stellar start to his first full season of international 250cc class competition in 2018, the young Australian secured a podium result at the GP of Portugal and was placed fifth in the provisional MX2 World Championship standings before injury at the GP of Great Britain in June.
A welcome addition to the Rockstar Energy Husqvarna Factory Racing squad, Beaton will join Thomas Kjer-Olsen in a strong two-rider MX2 team that will remain under the guidance of former FIM 500cc Motocross World Champion Jacky Martens.
Runner-up in both the 2018 EMX85 European Championship and the 2018 Junior 85cc World Championship, Kay de Wolf is a highly promising young racer. Demonstrating his potential at the EMX85 and Junior World Championship finals, he was a force to be reckoned with at both events in the Czech Republic and Australia. Kay is also the reigning 2018 Dutch 85cc Champion.
Making the switch to the 125cc class, the young rider from The Netherlands is set to enter the 2019 EMX125 European Championship aboard Husqvarna's TC 125 machine.
Jed Beaton (Rockstar Energy Husqvarna Factory Racing): "It's a great honour for me to join the Rockstar Energy Husqvarna MX2 team. Growing up in Australia, it's been a lifelong dream of mine to be able to race the Motocross World Championship. As a member of the Rockstar Energy Husqvarna MX2 team I believe I am in the best possible position to fight for the ultimate goal of becoming world champion. The team never cease to impress me with their professionalism and I am really looking forward to starting the new chapter of my career with them."
Kay de Wolf (Husqvarna Motorcycles' EMX 125 rider): "I am excited to turn a new page in my career with Husqvarna Motorcycles' official team. I have always looked up to their achievements and to be part of this team now feels like a dream has come true. I've had a great season in 2018, with two titles in The Netherlands and two second place results in the European and Junior World 85cc Championships and I am prepared to step it up now. This is an exciting time in my career as a motocross racer and I am extra motivated to continue getting better."
Diego Clement (Head of Motorsport at Husqvarna Motorcycles): "We are pleased to have Jed Beaton and Kay de Wolf join our team for the next two years. It is a major part of our philosophy to invest in up-and-coming talent and we strongly believe Jed and Kay have a lot to give to our team. Despite his young age Jed has proven he's strong both physically and mentally and we believe this is a great asset going into the long and demanding twenty-round-long MX2 World Championship. Alongside Thomas Kjer-Olsen, they will form a solid two-rider team that will represent Husqvarna Motorcycles in MX2 class competition. For Kay de Wolf, we've been following his progress for some time and we are excited to have him onboard. Our team will do their best so that both Jed and Kay will be able to demonstrate their true potential and grow, as racers, with us."
Jacky Martens (Rockstar Energy Husqvarna Factory Racing MX2 team manager): "I am confident that signing Jed Beaton and Kay de Wolf will help us continue our positive development in international motocross racing. As a team, we're always setting the bar high and with Jed joining TKO in our Rockstar Energy Husqvarna MX2 team I believe we have two very strong riders who can battle for the 2019 MX2 World Championship. As for Kay, he is one of the most talented young riders and our job now is to take him to the next level. Our long-term agreement gives us the opportunity to prepare Kay for MX2 class competition in the future. Investing in young talents and allowing them to grow to championship contenders has always been our major objective. We are all excited to start working with Jed and Kay."