Haaker Outduels Webb In Everett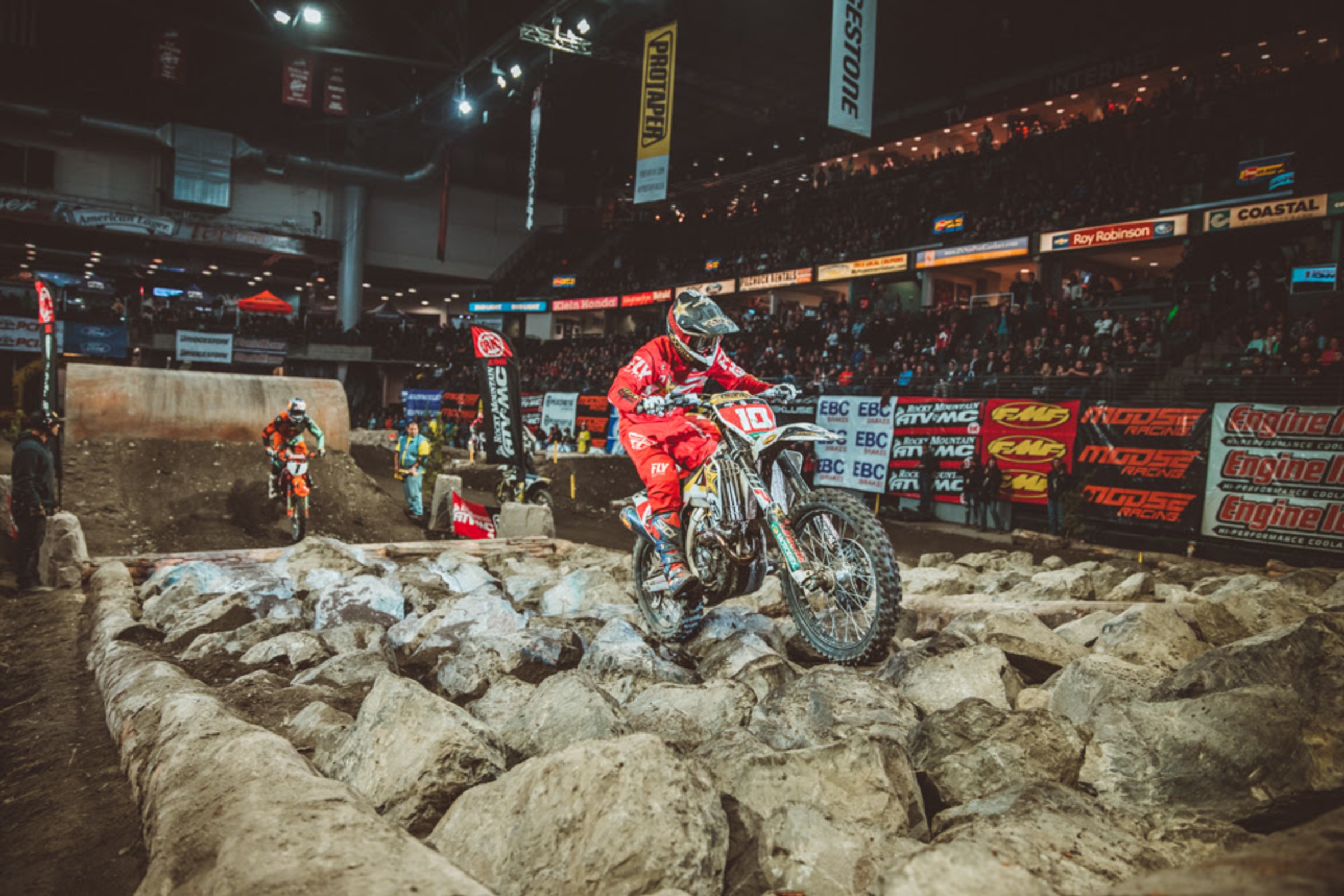 EVERETT, WA. – Rockstar Husqvarna's Colton Haaker battled back and forth with FMF KTM's Cody Webb for the entire main event and made a pass on the second to last lap to take the win. Webb tried to retaliate but crashed in the rocks on the final lap and had to settle for second. SRT-Husqvarna's Kyle Redmond rode a strong race to take the final podium spot.
Webb edged out Haaker to set the fastest lap during the afternoon hot laps and Beta's Ty Tremaine set the third fastest time. Redmond and GasGas backed Geoff Aaron rounded out the top five.
Webb won the first of the two pro class heat races ahead of Tremaine and Ty Cullins. Aaron, Cory Graffunder and Kevin Dupuis earned the other direct transfers to the main event.
Haaker dominated the second of the two heat races over Redmond and Beta's Max Gerston. GasGas backed Noah Kepple, Quinn Wentzel and Beta's Mason Ottersberg also earned spots in the main event. Haaker's heat was the faster of the two, which can be critical for the head-to-head bracket races.
The top four riders from each of the above heat races faced off in head-to-head bracket races. The winner earns a bonus point and first gate pick for the main event. Haaker and Webb both worked their way through the brackets and Haaker had the first gate pick. He left one inside gate open, so Webb lined up on the inside and took the lead out of the first turn. Haaker made several pass attempts but Webb took the win.
Cullins came out of the first turn with the lead, followed closely by Haaker and Webb who both moved past Cullins in the second turn. Haaker led the first four laps and then entered the No Joke Lane. Webb entered it right behind him and made a pass for the lead in the difficult section.
Webb's lead hovered between 1 and 3 seconds from lap 5 through lap 13 of what ended up being a fifteen-lap race. Haaker and Webb were the only two riders jumping a huge log double after the rock section and, when Webb lost momentum on lap 14, Haaker pulled alongside and still jumped the double as Webb checked up. This put Haaker in the lead with just over a lap remaining. Webb pushed hard and made a huge leap into the rock pile on the last lap but crashed. Haaker went on for the huge win and Webb quickly got up to finish second.
The battle for third included Cullins, Abbott, Redmond and Kepple in the early laps. Tremaine worked his way to the front of this group despite a seventh-place start and then he and Redmond battled for the final podium spot for several laps. Haaker collided with Tremaine as he came through to lap him and it, unfortunately, injured Tremaine's wrist and ended his main event. This allowed Redmond to take third.
Cullins rode another great race to take fourth, just five seconds ahead of Kepple.
Aaron finished sixth, Abbott finished seventh, Gerston finished eighth in his first race back from injury, Oregon rider Keith Sweeten finished ninth and Mason Ottersberg rounded out the top ten.
Graffunder, Dupuis, Wentzel and Tremaine finished eleventh through fourteenth respectively.
With just the Boise, Idaho race next weekend remaining, Haaker holds a six-point advantage over Webb. Redmond holds third with Tremaine fourth and Aaron fifth. Ty Cullins is sixth and leading the Junior Championship for riders twenty-one and under.
Colton Haaker
"I finally won Everett. I have never won here, and I felt that tonight was critical for the championship because I didn't want next week to be a game seven win or lose in Boise. The championship is not done but it is a little easier now. I knew it was getting close to the finish and Cody made a mistake coming out of the rocks. It was now or never so I committed to the double and he came over on me a little, but he backed out and, from there, I just needed one more clean lap. I am bummed about Ty (Tremaine) getting hurt but, as we came to lap them, our lines just came together."
Cody Webb
"That was tough for me to battle back and forth with Colton like that and this EnduroCross is tough. It was a great race and a great show for the crowd. We got really close when he passed me on that double. I had to pull out of that and I pushed to the end but ended up crashing in the rocks. I am happy that I rode better than I did in Denver but, of course, I am not happy about giving up the win."
Kyle Redmond
"It was a great race. The track was super technical and tough, which suited my style. Me and Ty were battling for third in the championship and the race. Unfortunately, I think he got landed on. We were in a tight battle and they (Haaker and Webb) were in a tight battle and there was not enough room. I have worked really hard this year and I'm happy to get a good result."
Main event results
Colton Haaker, Husqvarna
Cody Webb, KTM
Kyle Redmond, Husqvarna
Ty Cullins, Beta
Noah Kepple, GasGas
Geoff Aaron, GasGas
Cooper Abbott, KTM
Max Gerston, Beta
Keith Sweeten, KTM
Mason Ottersberg, Beta
Cory Graffunder, Husqvarna
Kevin Dupuis, Husqvarna
Quinn Wentzel, Husqvarna
Ty Tremaine, Beta
FMF KTM's Kacy Martinez came from way back in the pack of the women's race to pass her title rival, Shelby Turner, and take the win. Turner held on for second place. Maria Forsberg, the former women's EnduroCross class champion that took a few years off to become a mother, put in a good ride to finish third.
Destry Abbott faced his toughest challenge yet in the Vet class. Washington native Jon Seehorn took the lead, but a mistake allowed Abbott to get back by to take the win. Canada's Ryan Middleton rounded out the Vet podium.
The Amateur Open class included several lead changes up to the end. Canada's Josh Bridge ended up getting the win ahead of David Kamo. Branden Petrie rounded out the podium.
In the Amateur B class, Reece Honea took the win ahead of Jeremy Mercier and Cole Wilton.
Kyle Larsen won the TrialsCross class over Ron Ringuette and Coleman Johnson.
The championship-deciding round will be next Saturday, November 3 inside the Ford Idaho Center in Nampa, Idaho.