Las Vegas, NV
Monster Energy Cup
Monster Energy Cup
Ryan Villopoto is back! Well, kind of. RV decided to line up at the Monster Energy Cup on Saturday and did well. Although he retired from professional racing in 2015, RV finished 12-11-13 in the three main events and took 13th overall. Not bad for a retired guy!
Steve Matthes spoke to RV about his comeback after the race.
Racer X: Ryan Villopoto, the story of the weekend. Came back. How was it?
Ryan Villopoto: It was all right. It was good. Practice was okay. I don't really know what my expectations were. I think speed was… Everything was pretty good, just really struggled off the [starting] grate. That's the first three gate drops I've ever had off the grate. I was just struggling with the bike to leave the gate. My reaction seemed okay, but the RPM's would fall down. It's a stock bike with a PC piston in it. So the RPM's would fall and then it would automatically end up wheelying because I couldn't keep the R's up and maybe spin it off the deal. But nonetheless, it was a good time. I think I did my job on the side of everybody was pumped to see me back out there regardless of the finish.
Harder than you thought?
It was hard, but I couldn't say I would have done any better if the track would have been a little more technical. There was one rhythm section.
You get a bad start. What do you do to make up time?
Nothing. I don't really know. Ultimately, I didn't come here to say I'm going to get top five. I would have loved to do that, but it is what it is. I had a great time. I think everybody's expectations, I achieved that with just the media and the fans and everybody just loving seeing me behind the gate again.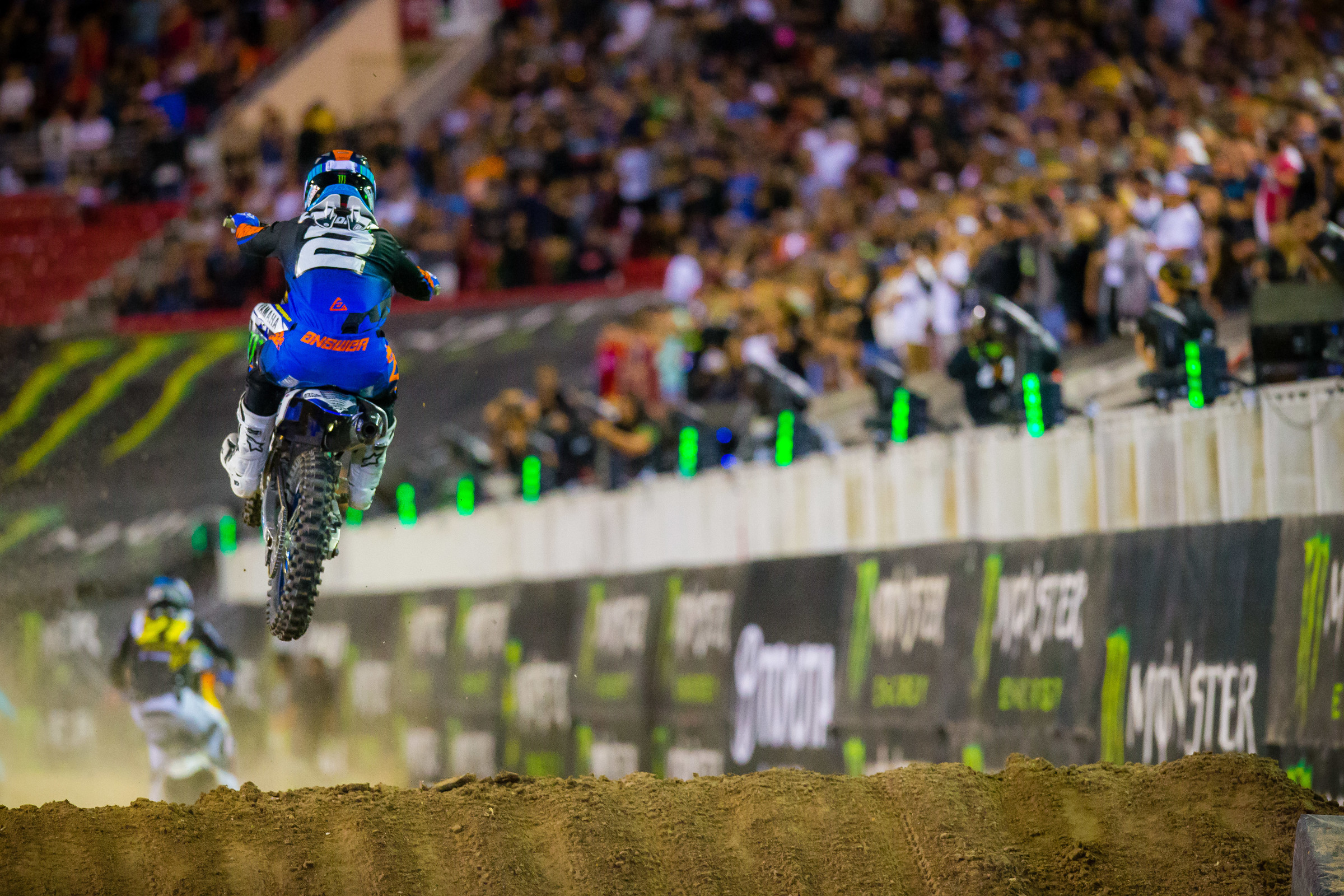 Were you nervous? You raced last year, or the year before?
Two years ago in August.
Were you nervous though?
Not necessarily nervous. I mean, nervous, but I didn't have anything riding on it. I was here out of my van. It was cool.
It was cool to see you back. It was definitely a highlight I think for a lot of people to see how you would do and how you would ride. Eighth fastest in practice and ninth overall on the night.
Yeah. I think I missed the Joker Lane.
What?
Maybe the last one. I don't know if they're going to catch that.
What about bump starting your bike?
I don't really know. We had a little thing going on, but we made it.
I don't think anybody will care about that Joker Lane.
They shouldn't care about [it]. From what I heard at the last lap [Savatgy and Tomac], they should care about that more than me.
[Note: Vilolpoto did actually get penalized for skipping the Joke Lane. That pushed him from ninth overall to 13th.]
I agree. Thanks again for coming to the live show [the Pulp MX/Racer X live podcast on Friday night]. It was a lot of fun. Did you like it? Fans seemed to really dig it.
I think it was awesome. That was a pretty cool deal.
The fans were into it, man. They really liked you being there.
I just think it was cool. It was almost like a talk show, comedy show type thing. Everybody was up there. You can get drinks and hang out and have a good time. It was good. Next time I'll have a beer.
Nice to see you back. We'll see you at Anaheim 1.
Yeah, maybe. You'll see me for sure, actually.