Monster Energy, KRT Renew Partnership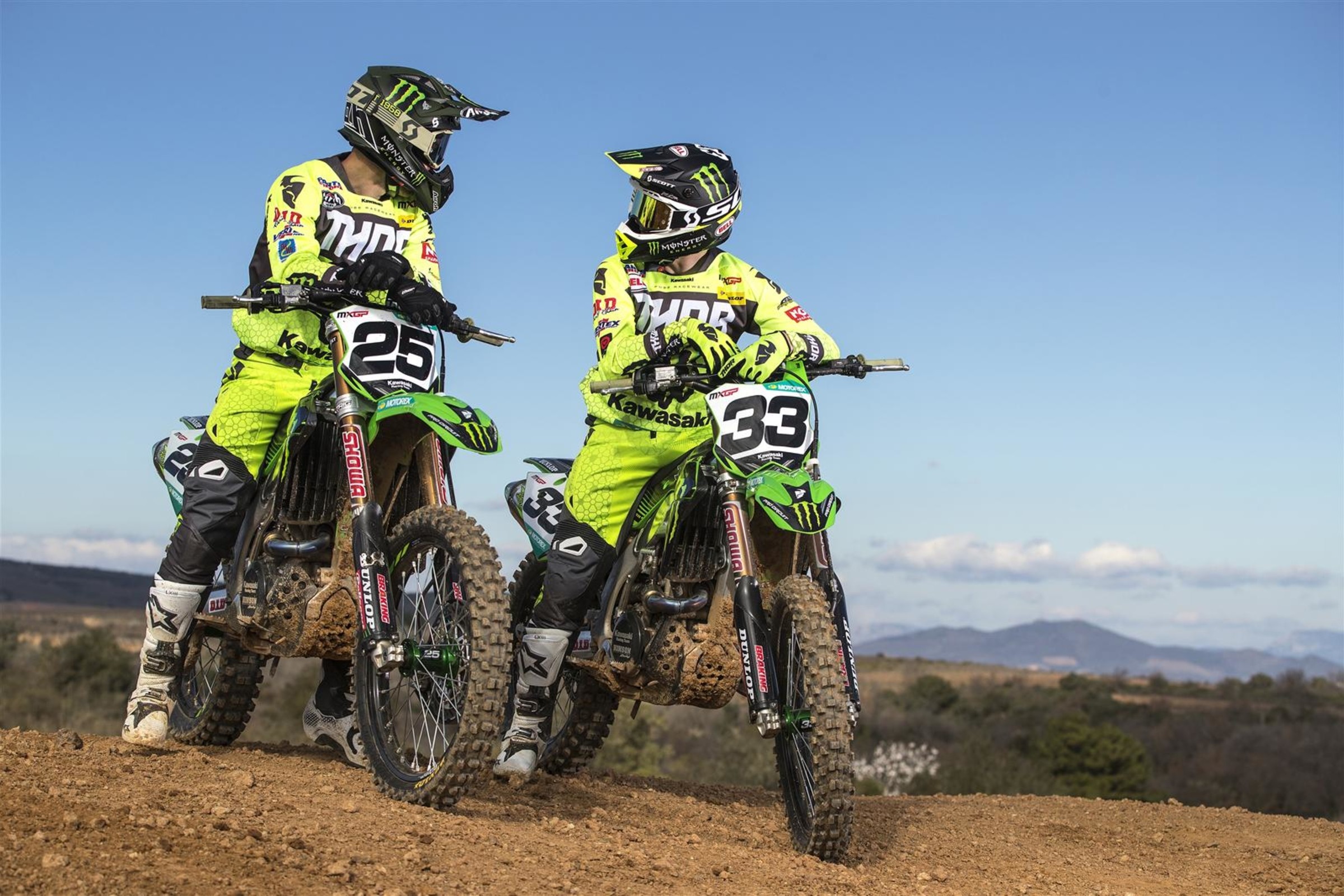 The 2018 MXGP season ends this weekend at Imola and the Kawasaki Racing Team and Monster Energy are pleased to announce the renewal of their partnership to challenge for the title next year.The Kawasaki Racing Team and Monster Energy joined forces five years ago in the FIM MXGP Motocross World Championship, and they have already achieved impressive results including a leading role in the French team victory at the 2014 Motocross of Nations, seven MXGP wins and more than twenty podiums. Clement Desalle, holding third in the 2018 series entering the final round, has delivered his best results since joining the team with eight podiums and an overall GP victory in Russia this season.
Long-time partners in the US series with KHI and Pro Circuit, Kawasaki and Monster Energy have claimed many titles in the Supercross and Motocross series, and joining KRT five years ago was the logical step to build an even stronger worldwide partnership between the 'black and green' companies which also share the same winning spirit in World Superbike. Next season Belgian riders Clement Desalle and Julien Lieber will again be working closely with the team to develop the new KX450, and put the bike on the podium as often as possible during the twenty rounds of the highly competitive MXGP series.
Mitch Covington (Monster Energy): "Monster is proud to continue with the Kawasaki Racing Team; Thierry has been a solid partner with Monster for a long time and we appreciate his passion for the sport and excellent team to represent Monster Energy."
Steve Guttridge (Kawasaki Motors Europe): "The news that we will be continuing the great partnership and relationship with Monster Energy and our Factory MXGP team is very much appreciated by all at Kawasaki. The hard work that the team and KHI have put into this season again on the KX450F-SR means that Clement remains the only rider in the class to have won a GP by beating both the defending and new world champions! The level of competition in MXGP is incredibly high but, with Monster Energy's support confirmed, we will continue to build the strongest possible foundations with the factory and, now utilising the all-new KX450, that will give our KRT riders the best chance to challenge for the MXGP title again in 2019."
Thierry Chizat Suzzoni (KRT): "We are of course very happy to continue our partnership with Monster Energy; we have been working together for five years now and we have shared some great moments together, especially this year as Clement Desalle got top results with eight podiums and a GP win. We have a strong relationship with Monster; they see every year our investment with partners such as KHI or Pro Circuit to get even better results in the MXGP class and I would like to thank Mitch and the Monster staff for their commitment with us."