RedBud, Youthstream Donate 100 MXoN Tickets to U.S. Service Members/Veterans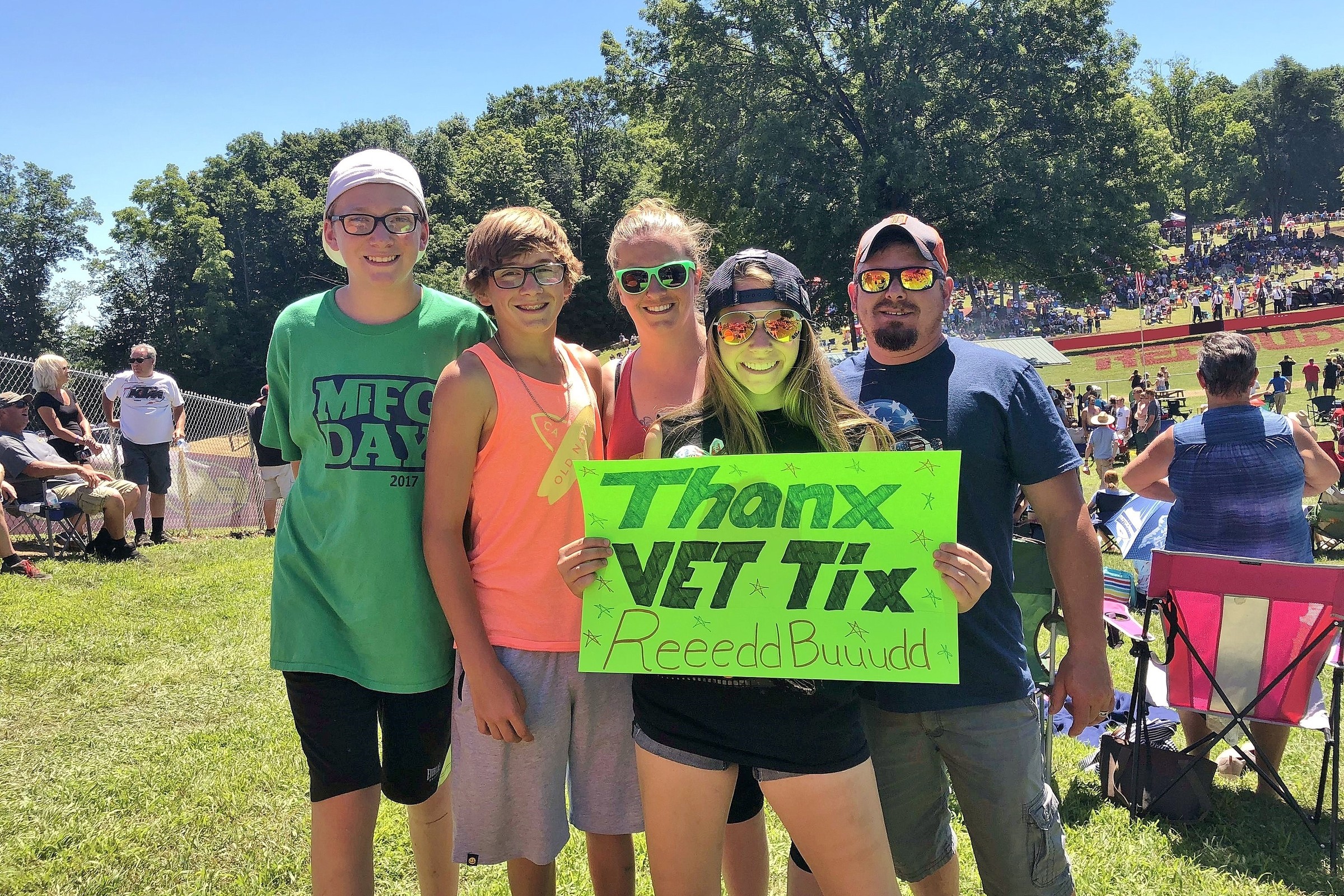 BUCHANAN, Mich. – Officials with RedBud MX were proud to announce today the charity partnership with Veteran Tickets Foundation (vettix.org). Event Promoter – Youthstream (a Monaco company) – and RedBud are providing 100 tickets to current serving members of the U.S. military and veterans and their families for the Oct. 6-7 running of the famed Monster Energy Motocross of Nations.
With a retail price just under $12,000, the MXoN ticket donation to the Veteran Tickets Foundation will no doubt provide some incredible entertainment and memories for those involved. MXoN showcases the world's top professional motocross racers, converging on RedBud to battle for the coveted Chamberlain Cup, awarded to the country with the top-scoring 3-racer team from the over thirty nations entered in the race.
"Such an amazing charity, with roots that run deep with motocross athletes and fans," said RedBud's Amy Ritchie. "It's said that the Motocross of Nations started as a friendly competition to bring countries together after WWII. What better event to offer to the men and women who've been stationed all over the world to keep us safe back here in the States?"
"We and Youthstream feel very fortunate to be in a position to partner with Veteran Tickets Foundation and really look forward to giving so many service men and women a weekend to remember!"
To receive tickets, past and present military members can sign up at vettix.org, verify their eligibility and request tickets to events that interest them. All requests are filtered through the site's lottery system, and those who win will pay a small delivery fee to claim their tickets.
Pertinent information for fans attending the RedBud MXoN:
Event web site: www.redbudmxon.com.
General Admission tickets are discounted online through September 23: $10 off a weekend ticket and $5 off a Sunday ticket.
General Admission tickets will be available online at regular price after September 23, and will also be available at the event.
Pit Passes will be available at the track, and are not sold online. Cost is $35 and provides access to the pits during posted times Friday, Saturday and Sunday.
Daily parking is available at the track, U.S. currency only, for $30/day Saturday and Sunday.
What's not available at the track? Camping (sold out), RV parking in daily lots, and overnight parking in daily lots. However, all of these are available at the nearby Berrien County Youth Fairgrounds, with free shuttles to and from the track. Visit www.redbudmxon.com and click Camping or Parking for details.
More on the Monster Energy Motocross of Nations at RedBud…
The first time ever held in the Midwestern United States, the Monster Energy Motocross of Nations (MXoN), founded in 1947, features upwards of 30 countries, each comprised of three-man teams, each representing one of three classes (MXGP, MX2 and Open). Points are assigned in the order of finish (one point for 1st, two points for 2nd, etc.) in the three-moto (race) format over two days. The worst score of three races is dropped, and the lowest combined score for a nation wins the Chamberlain Trophy. Team USA has a record 22 MXoN wins since 1981 (Team USA's first MXoN victory). At RedBud, the 72nd MXoN, Team USA will look to snap Team France's four-year winning streak.
What: 2018 Monster Energy Motocross of Nations
Where: RedBud MX, Buchanan, Mich.
When: Oct. 6-7, 2018
Who: Top three motocross racers, each representing his nation (nearly 40 nations total)
Tickets: Tickets are available online (www.redbudmxon.com).
More information to come at www.redbudmx.com and www.redbudmxon.com