Leatt Introduces 2019 Off-Road Collection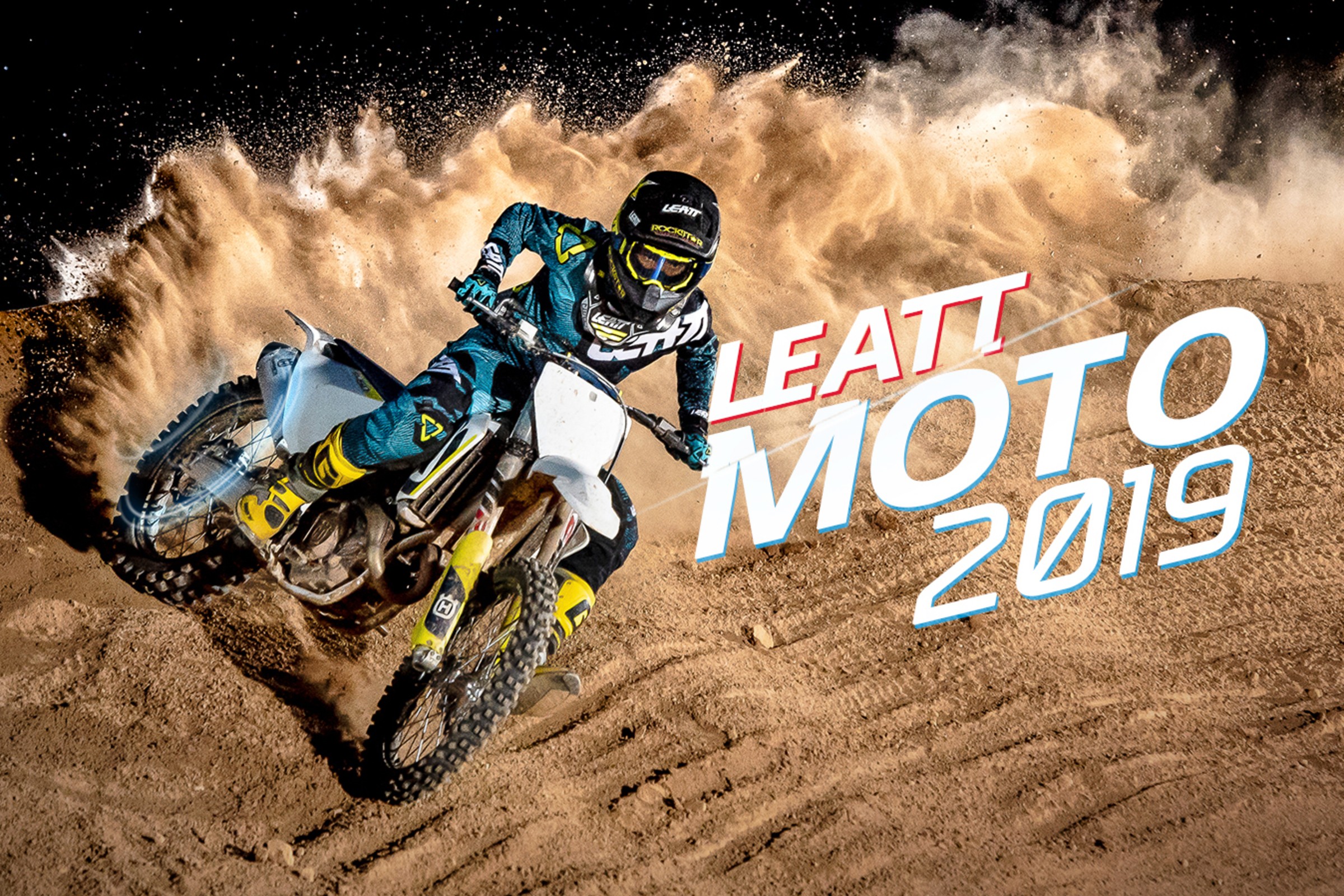 CAPE TOWN, South Africa — Leatt just unveiled its all-new 2019 off-road gear collection. The inventors of the Leatt-Brace® and creators of technologically advanced protective gear now offer head-to-knee protection and a full apparel range of products for all off-road moto disciplines.
The new 2019 gear line is packed with new styles and cutting-edge colorways, including new and refined pant, jacket, jersey and glove designs, as well as a range of helmets equipped with Leatt's 360° Turbine Technology and an extended junior collection. The GPX 5.5 and 6.5 helmets now have a new look with a redesigned mouthpiece and visor.
Jerseys
All the jerseys are compatible with a neck brace and body armor, with welded/overlocked seams for comfort and rear silicone grip that ensures it stays put. There are three styles, namely GPX 5.5 Ultraweld, a super lightweight and ventilated, race-fit jersey made of a MoistureCool stretch mesh; the GPX 4.5 Lite, which offers a more classic fit; and the 4.5 X-Flow for those super-hot days.
Pants
The GPX 5.5 and 4.5 pants feature a 3D-molded, fully floating knee cap reinforcement with a pre-curved fit. The 5.5 pants feature Leatt's IKS (internal knee brace) system, which helps to reduce knee brace wear and tear.
Enduro gear Leatt's brand-new GPX Enduro jacket now has a 39% lighter construction compared to previous designs and pairs with the off-road, over-the-boot 5.5 Enduro pants. This gear set's durable construction is made for those truly tough conditions with features such as a bladder suspension system within the dedicated hydration pocket and the pants' Internal Knee Brace System (I.K.S) that prevents knee brace wear and tear.
Jackets
Other than the 5.5 Enduro jacket, Leatt's line also includes two other jackets—the GPX 4.5 X-Flow and 4.5 Lite. The 4.5 Lite is a lightweight, water-resistant jacket whereas the X-Flow is also lightweight, but with X-Flow mesh and Spandura stretch panels with an internal hydration pocket and bladder system for up to three liters. Both jackets have storage pockets on the back and removable sleeves for additional ventilation on those hot days.
Leatt's adult jersey prices are from $34.99, pants $119.99, and jackets $189.99.
Helmets
Leatt's 6.5 Carbon and 5.5 Composite helmets not only have updated graphics, but also feature an all-new look with a redesigned mouthpiece and visor. These helmets, as well as the GPX 4.5, feature Leatt's category-defining 360º Turbine Technology and are available in both ECE and DOT shell certification. The helmets are lined with turbines that can move in all directions, constructed from an energy-absorbing material. This technology has two key advantages, namely the reduction of rotational acceleration to the head and brain (up to 40 percent less) and the absorption of energy upon impact at concussion level (up to 30 percent less).
All three helmet models feature a reduced outer shell volume and use a dual-density V-Foam EPS, which results in a significant decrease of rotational acceleration to the head and brain at impact level, proving that a smaller shell is a safer shell. Regardless of the speed, Leatt helmets facilitate great all-round ventilation.
The 6.5 is available in Carbon/Black, the 5.5 in four different colorways, and the 4.5 in five colorways. The 6.5 retails for $499.99, the 5.5 for $399.99, and the 4.5 for $229.99.
Gloves
Leatt's new glove line features five models. The GPX 4.5 Lite offers the highest level of protection, with all-new certified impact technology for the knuckles, third and fourth fingers. This low-profile, impact-absorbing material absorbs more energy than anything else of its kind.
The GPX 3.5 Lite has knuckle impact protection which is preformed under the material, giving a stealth look. Also featured is a Brush Guard on the little finger. Both the 4.5 and 3.5 gloves feature Leatt's NanoGrip palm, with each fiber being 7,500 times thinner than a human hair. This makes it durable, breathable, and super comfortable with superior wet and dry grip, great handlebar feel, touchscreen compatibility.
The GPX 2.5 X-Flow is the most ventilated glove for warmer weather, with an upper X-Flow mesh and Brush Guard on the little finger and knuckles. The palm is made of MicronGrip, a material that is setting a new standard for gloves in this price range.
The GPX 1.5 GripR gloves also use the MicronGrip palm and are the lightest gloves in the range with a vented, featherlight upper that feels like a second skin.
Lastly, for those chilly days, the GPX 2.5 Windblock is available, a windproof and water-resistant glove that features a four-way stretch material with MicronGrip palm and Brush Guard on the little finger and knuckles.
Priced from $24.99, the entire GPX glove range consists of 20 different colorway designs.
Junior Collection
Leatt's new junior gear collection features two styles of jerseys, pants, and gloves, a 4.5 helmet, and a new-look 5.5 helmet.
The GPX 3.5 junior jersey offers a race fit and is made from MoistureCool 3D stretch mesh with air channels and X-Flow mesh side panels, whereas the 2.5 is made of MoistureCool wicking fabric.
Both the GPX 3.5 and 2.5 junior pants are lightweight and breathable, with 600D seat materials and laminated Amara knee grip. Te 3.5 is made from stretch Ripstop panels and a waist with +/- 2.5" adjustability for an optimal fit.
The two junior gloves both feature a vented lite Upper and Leatt's MicronGrip palm, making it slim and durable with good dry and wet grip, and further enhanced with silicone grip print. The GPX 2.5 junior glove has certified impact protection for the knuckles.
The GPX 5.5 junior helmet is priced at $349.99, the 4.5 junior helmet at $179.99, the jerseys from $22.99, pants $59.99, and gloves $14.99.