Bid on VIP Gold Skybox Weekend Passes to the MXoN at RedBud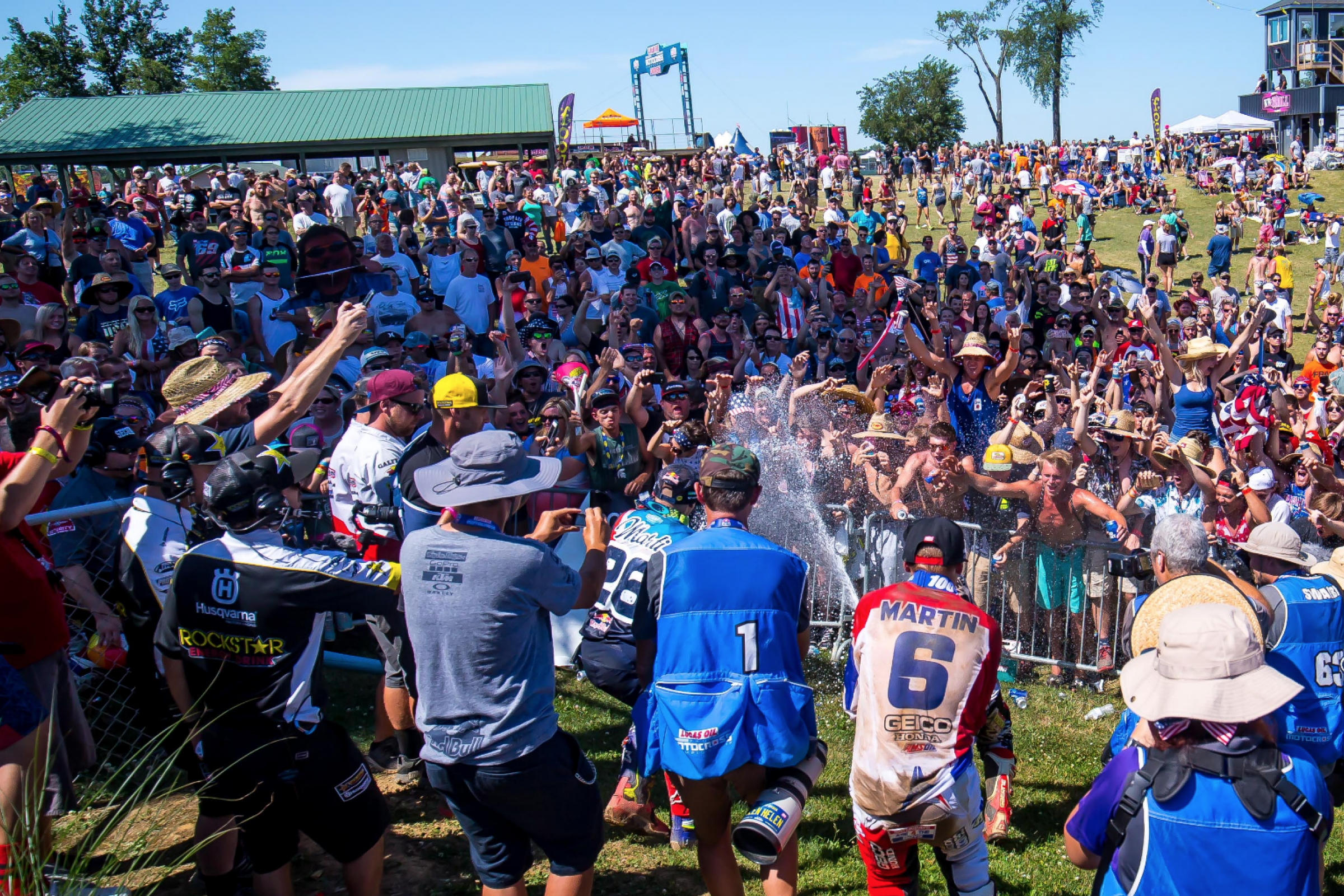 This is your chance to bid on the sold-out Monster Energy FIM MXoN at RedBud! The package includes two VIP Gold Skybox weekend passes that includes access to:
MXoN Venue Event admission (5 p.m. Thursday through Sunday; Monday morning if camping)
MXoN Paddock, where all the riders are during the weekend (valid Friday afternoon, Saturday and Sunday) *Camping spot not included.
VIP Gold Trackside tent, with a live race broadcast and results.
SkyBox Terrace exclusive place located behind the start gate for the best view of the Waiting Zone, Starting Grid, and podium, where our staff will offer you beverages and snacks.
VIP Gold SkyBox Car Parking Pass.
VIP Gold Skybox is the only package that gives you access to Skybox Terrace. An appetizing breakfast will await you at the VIP Gold Tent Saturday and Sunday morning, which will be followed by a freshly prepared lunch. A fine selection of gourmet afternoon snacks will also be readily available for our VIP Gold Skybox guests. Open-bar services will treat you throughout the day to coffee, tea and soft drinks. Furthermore, you'll receive a free goodie bag, a copy of the official program, and an MXoN souvenir!
Click here to start bidding.
This is a five-day auction starting August 8 at 5 p.m. PDT and ending August 12 at 5 p.m. PDT.
Don't miss the opportunity to go behind the scenes for a memorable experience while helping injured riders. All proceeds benefit the Road 2 Recovery Injured Rider Fund. We would like to thank Youthstream, Monster Energy, the FIM, and RedBud for their donations to this auction.
Your hosts for the evening will be none other than Davey Coombs, Jason Weigandt, and Rob Buydos, who will narrate the evening with stories from these moto greats. Your ticket for the evening will guarantee you a seat at one of the 28 past USA Team riders tables, where you will have unprecedented access to all 28 riders.
For dinner, you will have an opportunity to choose from two delicious main courses: prime rib and roasted chicken. Both will come with fire-roasted potatoes, mixed farm-to-table seasonal vegetables, or locally sourced corn with two delightful dessert options. While you dine and during the autograph signing, you will be entertained with anecdotes from the past and have an opportunity to ask those burning questions from your favorite legends. Your ticket will grant you access to not just a historical night, but you will also receive a special edition event shirt, poster, custom-designed Team USA MXoN limited edition coffee table book, and tons of cool swag by industry-leading companies like Fox, THOR, and Monster Energy.
All proceeded from this evening will go to support three amazing causes: Road 2 Recovery, the Alpinestars Mobile Medical Unit, and IRP (International Foundation for Research in Paraplegia).
The banquet will be held at the world-renowned RedBud MX Park:
13638 Red Bud Trail
North Buchanan, MI 49107
If you haven't purchased your tickets for the race, you can do so here.