Welcome to Racerhead, coming to you from the epicenter of the amateur motocross world—for this one week, anyway. I am in the bottom of the announcer's tower next to the finish line at Loretta Lynn Ranch, where the 37th Annual Rocky Mountain ATV/MC AMA Amateur National Motocross Championship is taking place right outside the window. The Masters 50+ class is out there right now, and it's yet another epic battle between the forever-fast Barry Carsten of New Jersey and Michigan Mafia man John Grewe. These two first lined up at the Ranch the very first year, 1982, and they collectively have dozens of starts here over the years, both before and after their time as professionals. Now they battle much younger guys in both their classes (40+ and 50+) but always seem to find each other out there. Carsten and Grewe are amateur legends still in the making, and still very fast!
Since the checkered flag dropped last Saturday on Washougal (and until the starting gate drops on the Lommel MXGP this coming Sunday in Belgium), Loretta Lynn Ranch, in tiny Hurricane Mills, Tennessee, really is the center of the motocross world. There are thousands of people here from every fast corner of the country and a few other nations, including Canada, Italy, Japan, New Zealand, and South Africa. Seemingly the whole U.S. amateur motorcycle industry is here, with all seven OEMs (for the purpose of this race, we must include minibike maker Cobra) with huge setups—especially Kawasaki Team Green, which has, like Carsten and Grewe, been here since day one. They are here to race one another, scout out potential new talent, and just celebrate the summer's end. I've said it before: Loretta Lynn's is a competition, a vacation, a convention, a reunion, a combine, and everyone's homecoming race.
I mention the homecoming because of all the alumni who find their way back here. Ryan Villopoto was here for three days hanging out with the Yamaha Blu Cru. Jeremy McGrath was here hanging with the Team Green kids; Jeff Emig with Husqvarna and Shift. Ricky Carmichael was spotted at Suzuki, Fox Racing, Oakley, and Wiseco. The GOAT ended up doing some RacerTV commentating with Mike Alessi, the 11-time Loretta Lynn's champ who was here for the first time as a dad. Alessi then got together with Villopoto for an unlikely but good pairing. Adam Cianciarulo was vlogging for Kawasaki and Pro Circuit. Wil Hahn was managing some of Star Racing Yamaha's fast young talent. Mike Brown were here kicking ass in the Vet classes (though he got surprised by a solid Ricky Renner—the same Renner who beat Sebastien Tortelli here a few years ago!). Robbie Reynard was here with some riders he's training. Malcolm Stewart helped lead the sighting laps before each practice on Monday. Tim Ferry is here watching his kids compete, and so are Nick Wey and Brian Deegan.
And, of course, every fast amateur in the country is here, so we might as well start remembering some of these names, although most are probably already familiar (and I will surely leave a bunch of deserving kids out; forgive me in advance): Derek Drake, Seth Hammaker, Jalek Swoll, Hardy Munoz, Dilan Schwartz, Ty Masterpool, Ethan Mann, Gage Linville, Nate Thrasher, Max Vohland, Ryder DiFrancesco, Nick Romano, Daxton Bennick, Hayden Deegan, Casey Cochran, and many, many more.…
There are 37 classes, all 42 gates full in all of them. The races are streaming live all day long on www.racertv.com, and you can also catch the reruns there soon, so you can watch and see what Loretta Lynn's is all about for yourself.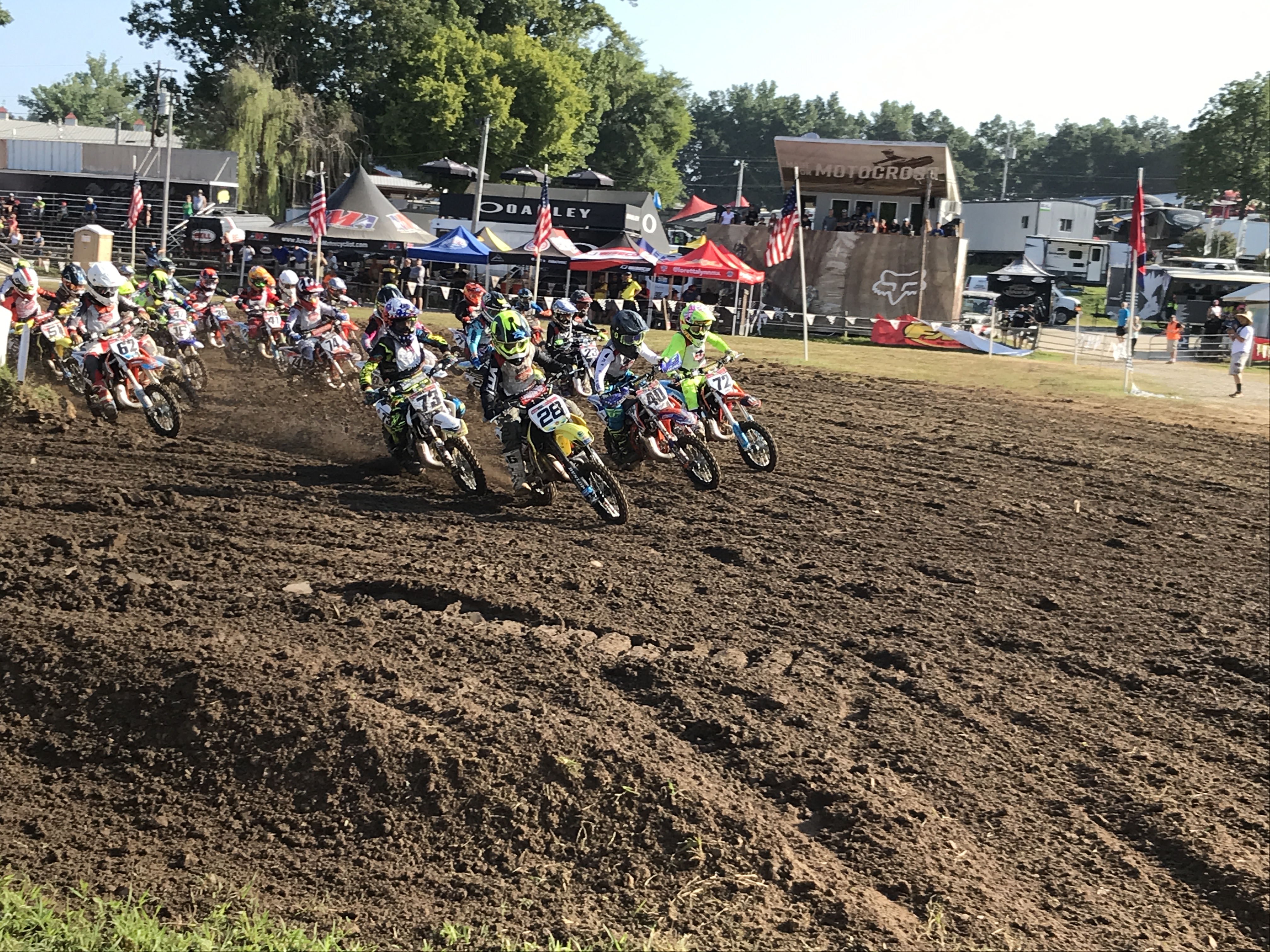 But it's also a bittersweet day for me and my family. Vance is on the RacerTV camera crew, Sloane is helping run Camp Loretta's and hand out medals and water in impound, and, of course, my mom, brother, sister and their families are all here working on either the infield, registration, scoring, or just putting out fires. All good. (And Kailub Russell, my sister's stepson, is not here because the multi-time GNCC #1 is getting ready to ride the last three Lucas Oil Pro Motocross rounds for Red Bull KTM.) We all know that today—August 3, 2018—is the twentieth anniversary of the passing of the man who got this whole thing started in the first place: my dad, Big Dave Coombs. It's hard to believe it's been two decades since that sad morning, and even harder to believe there have been more Loretta's without him than with him. And I imagine there will be many, many more.
On a related note, Brett Smith recently wrote about Big Dave for his website We Went Fast. If you want to know him, or you want to know more, you might enjoy that feature.
Oh—Carsten won that moto, but Grewe got the title, and the Schoolboy 2 (12-17) B/C class is out there now, three motos past a full course re-groom during intermission, and Troy Lee Designs KTM rider Pierce Brown just turned the fastest lap of the week so far, a 1:51.138. Of course, I left him off that list above—there's so many fast guys here it's hard to keep track!
Time to get back out on the infield. Here's Racerhead.
Motocross City (Jason Weigandt)
The racing is going to get the coverage from here at Loretta Lynn's, but this event is about so much more than racing. This is a week-long motocross lockdown, with all the industry heavy-hitters here with idle time and zero cell-phone service. The best of the best in bench racing convos happen down here, and that's what helps you keep your sanity after long, hot days at the Ranch.
I'll give you an example. On Monday night, I shook a thousand hands and had five hundred quality convos (approximately) during opening ceremonies. Everything from talking concussions with Dr. Paul Reiman of the Alpinestars Mobile Medical Unit to checking in with Mike "Goose" Gosselaar, who is now back working for Team Honda. Dr. Reiman told me that recent concussion research indicates that head trauma between ages 9-12 poses a much greater risk for problems later in life compared to concussions suffered from age 13 and beyond. Goose told me he's been working with Honda since just last week and will be helping the amateur riders. Goose was a longtime Honda wrench for Steve Lamson, Ezra Lusk, and Ricky Carmichael, then became Chad Reed's right-hand man. Good to see him back in his old colors.
Then it was off to the MTF/Red Bull truck with my buddy Kevin Kelly. We talked smack with security chief Big John Knox, who told us stories about guarding Team USA at the Motocross of Nations. Later, it was off to Loretta's famous beer tent, where I chatted with industry insiders like Donnie Emler Jr., Dan Truman, and Bryan Johnson, then Malcolm Stewart and some others, but honestly, things started getting blurry and fuzzy and I have no idea how I even got back to my cabin here at the Ranch.
On Tuesday, Kevin and I hung out at Greenville (Team Green's pit), bench raced about the amateur scene, and then ended up … well, it got blurry and fuzzy and I have no idea how I even got back to my cabin here at the Ranch.
On Wednesday I was back in Greenville again, and I got to talk to Jeremy McGrath and Adam Cianciarulo (check out the podcast I posted yesterday) and my old friend Ryan Holliday, who now runs Team Green. Then I swung next door to Pro Circuit to soak up knowledge from Mitch Payton and Jeff Emig. Last night, Kevin and I hosted the Moto Playground Sidewinder, which, in my opinion, is the best thing for dirt biking to come along in quite some time. Riders line up for a shot on a turn track on stock Yamaha TT-R110s and have at it. It's bar-banging at 5 mph, so there's lots of action but zero injuries, and tons of fun. That's what motorcycle racing needs. Meanwhile, across the street, the MX Sports crew hosted Fright Night, attempting to create bad dreams for children while playing the movie The Conjuring at a movie screen set up in a desolate section of the woods. Later came a huge fireworks display from Moto Playground and Ponca City. Through all of this, I talked to tons of friends new and old and we solved all the world's problems at least 100 times. Loretta's becomes Motocross City for one week of the year. I don't want to live anywhere else.
OFF WEEK? (Steve Matthes)
I don't know about anyone else, but it's been a relaxing off-week for me. Wait, there's not an off-week for 85 percent of the industry? Huh? They're in Tennessee? Wow … who knew? Anyway, been great kicking back and enjoying it on my end! Every year I get asked if I'm going to the Ranch, and although I think I'll go back at some point, I'm not in any rush. I qualified to race there way back in 1988 but didn't go—Canada to Tennessee was pretty far—but I did go in '98 to work for FMF and Honda doing rider support. Only thing was, Honda didn't pay amateur contingency much or at all, so there were barely any Hondas there. So my week consisted of sitting on a box-van bumper sweating. I did get to race the industry race (it's no longer run because it got too serious), and Honda of Houston gave me a CR250 that had a 330 kit on it. Come to find out all these years later it was Thomas Fichter of N-Fab's bike. We would later become and remain friends to this day. Weird, right? Anyway, Jeff Dement and Robbie Reynard lined up in the industry race and blew all our doors off. Good times indeed.
Silly-season stuff is going on behind the scenes. I texted with an agent this week who told me he thinks that Yamaha is going to move Aaron Plessinger up to 450s full-time to be teammates with Justin Barcia. That's a bit of shocking news, I think. Aaron had been telling people that he was going to defend his #1 plate in 250SX and then wanted to ride the 450 in Lucas Oil Pro Motocross. Stay tuned on that.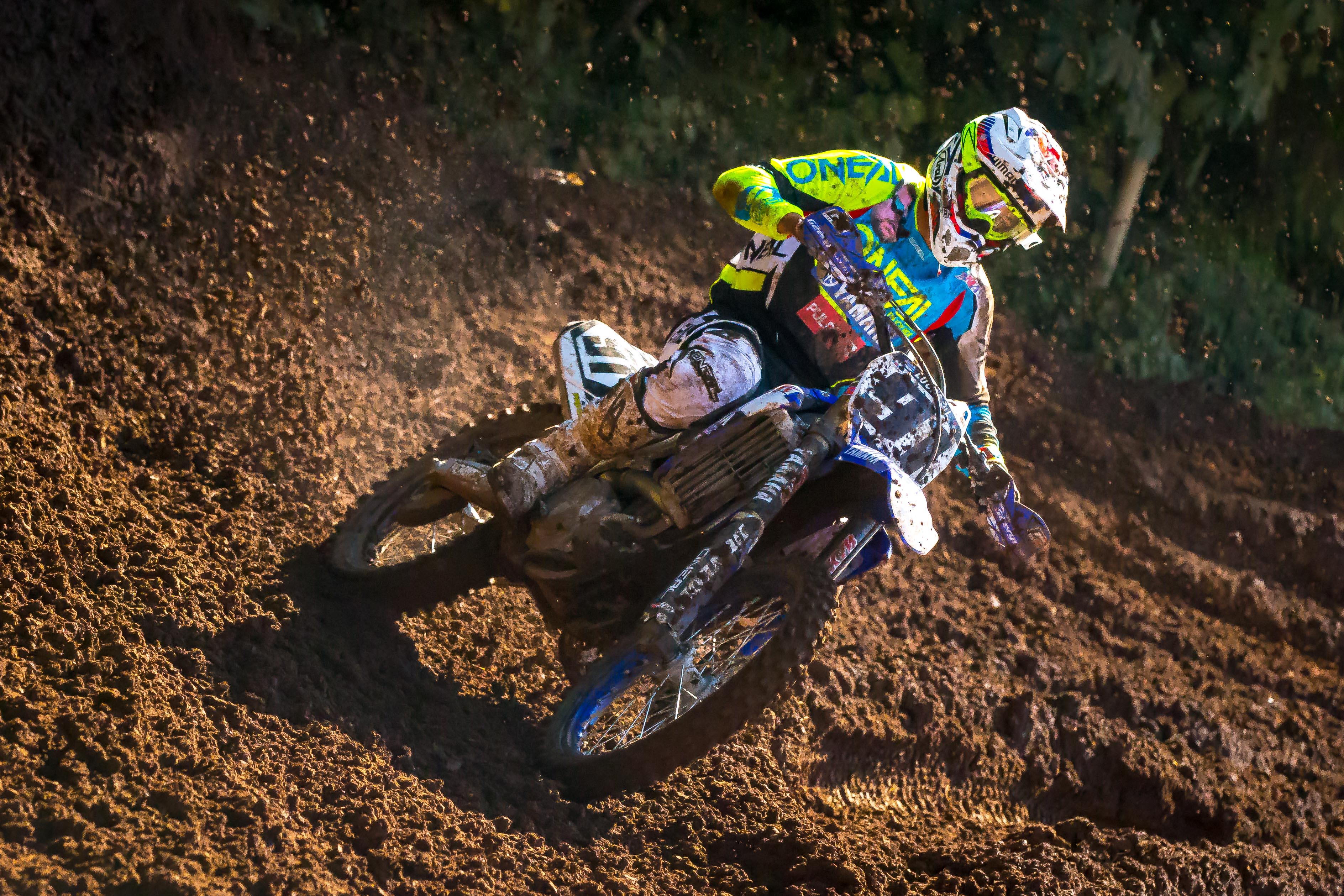 We did a cool deal with Alex Ray last week where PulpMX sponsored him for Washougal. Thanks to O'Neal for doing some jerseys up with my face on them, which was part of the deal for my sponsorship. I just thought it would be awesome to have me on the podium at a 450 Class national, but it didn't quite work out that way.
Anyway, we're auctioning two of the jerseys off, with the money going to a privateer. This is your chance to own a piece of moto history. And I promise you that no one else will probably want my face on their jersey again.
Here are the links to Jersey 1 and Jersey 2.
Loudshougal (Weigandt)
Yes, it does feel like a month since we were racing Lucas Oil Pro Motocross at Washougal MX Park, but that's not a problem because no one who witnessed the race will ever forget it. These Eli Tomac charges are reaching legendary status. This is beyond numbers—this is pure shock and awe. Eli pulled out the win last time at Millville with a lap four seconds quicker than leader Marvin Musquin. Washougal's slicker surface requires careful technique, and with lap times in qualifying staying close, it would seem even harder for someone to wick it up and gain tons of time. When Tomac went down while running third in the second moto, it seemed over. But then he did it again—reached down for speed that doesn't even seem possible. He picked off Musquin, which would have given him the overall, but kept it on blast and passed Ken Roczen for the moto lead with two laps to go.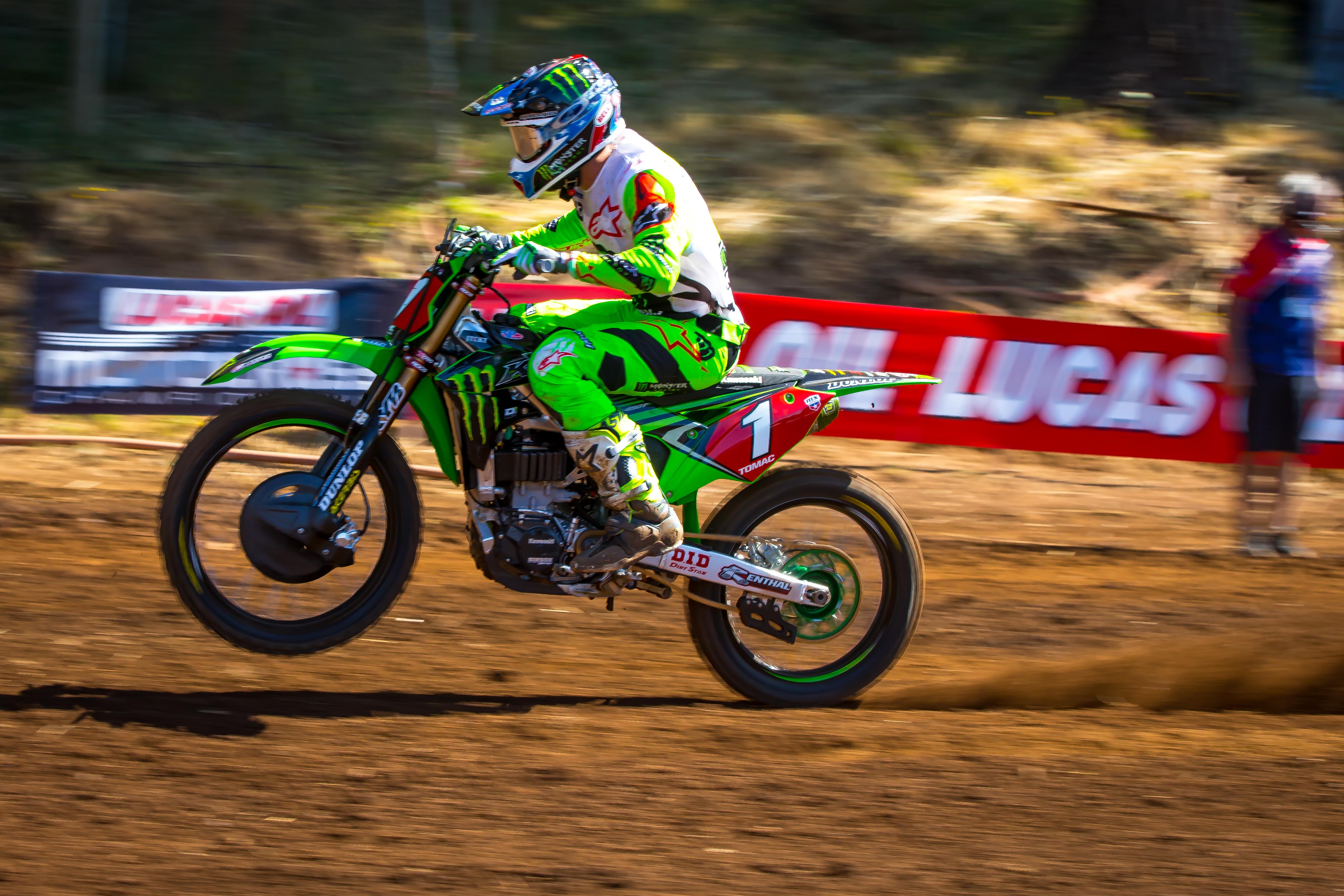 Eli is just next—level when he gets rolling. What I notice is how he's able to make passes wherever he wants. He doesn't need a certain part of the track or a special line to make it happen. He just goes wherever the other rider isn't, and hits that section faster so he can blow by. He smashes the turns harder. He smashes the jumps harder. He got alongside Roczen in the Washougal whoops, but completed the pass by leaping out of that whoop section and onto the flat harder than anyone else. Then, he completely and totally obliterated a berm two corners later. Grant Langston and I were basically left to screaming and yelling while he launched a ten-foot roost all the way through that corner.
One other thing to note is the crowd. Washougal is unique in that the riders disappear from view quite often, and then leap back down into the valley. As the Washougal crowd began to sense that Tomac was launching another charge, they started going nuts. It's just something special to witness this in person—the type of rides people will talk about forever. Seriously. In the year 2028, someone is going to do something special, and someone else will say "Yeah, it was kind of like when Tomac would get rolling."
The crowd was so loud. They were loud when it seemed like Roczen might win the overall, but then even louder when Tomac started dropping bombs. It was awesome.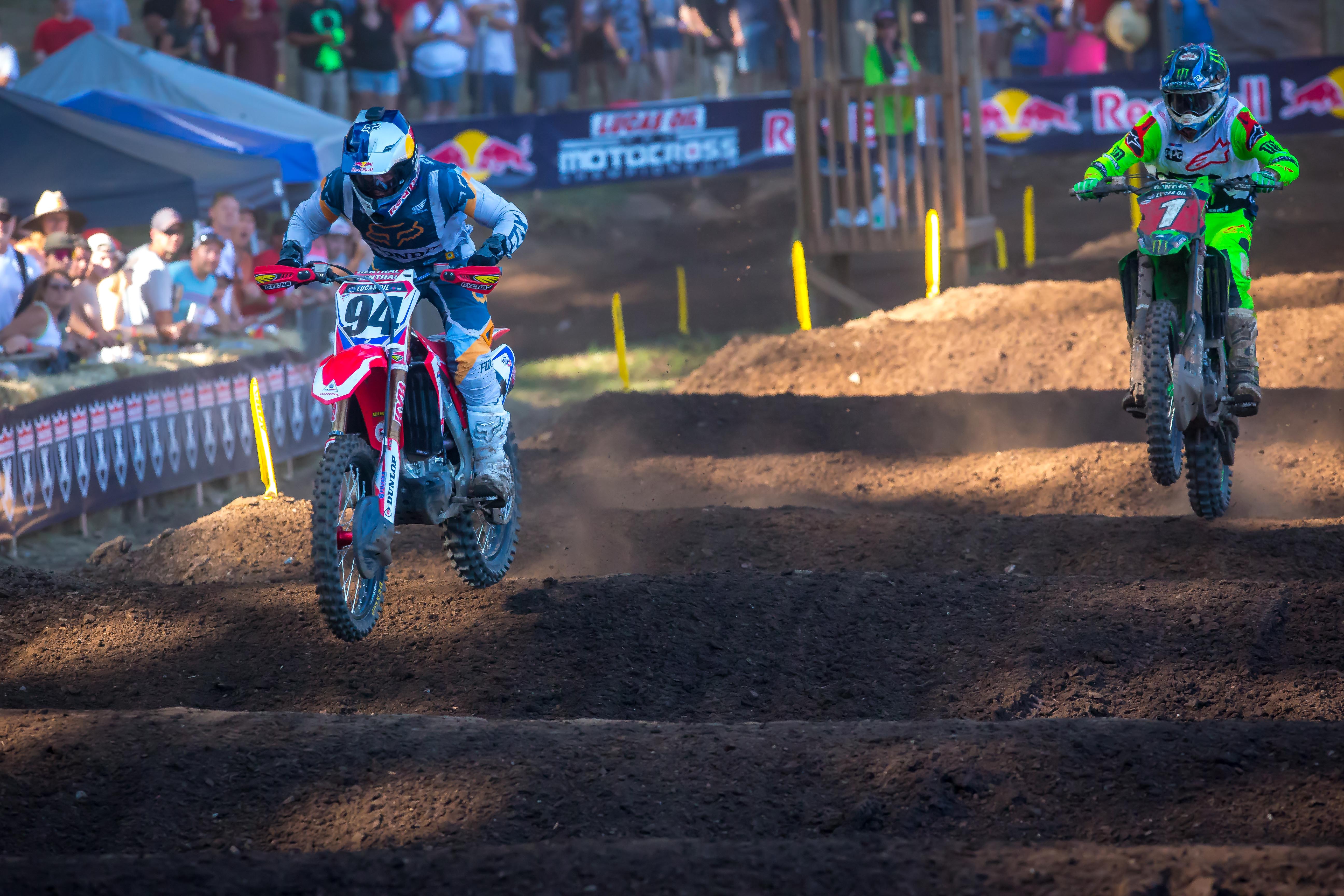 As for the 250s, when Monster Energy/Pro Circuit Kawasaki men Joey Savatgy and Austin Forkner went 1-2 in the first moto, it seemed like the team's recent hard-luck run was over. But I joked to Langston in the TV truck, "Imagine if they both went down off the start in moto two?" Well, that didn't quite happen, but it wasn't far off. Savatgy went down in the second turn and Forkner crashed out a few laps later in while running third. Forkner would have had the overall with ease. Savatgy needed to get to seventh to salvage the overall win, but could only get ninth. Savatgy won last year's Washougal race with 7-1 scores. A 1-7 would have gotten in this year. Instead, Aaron Plessinger, who admitted everyone else was on the gas, won with a 4-3. Overall, the 250 nuttiness and the Tomac charge made for an unforgettable day of racing, even though it feels like it took place a month ago to anyone hanging out down here at Loretta's.
AP23 = 5 (Andras Hegyi)
Star Racing Yamaha's Aaron Plessinger is having a great year. He won the 250SX West Region (four wins) and on Saturday at Washougal, Plessinger bettered that amount, getting his fifth 250 Class motocross victory. With his personal record of wins in a season, Plessinger, who has raced as a pro since 2015, joined two elite Yamaha clubs. He is the fifth Yamaha rider to get at least five wins in a 125/250 national season, and he has become the sixth Yamaha rider to take at least three consecutive wins in a 125/250 National season.
Yamaha riders to get at least five wins in a 125/250 National season
| | | | |
| --- | --- | --- | --- |
| Rider | Wins | Year | Championship Status |
| Broc Glover | 6 | 1978 | Champion |
| Jeff Emig | 6 | 1992 | Champion |
| Jeff Emig | 5 | 1993 | Not Champion |
| Bob Hannah | 5 | 1976 | Champion |
| Jeremy Martin | 5 | 2014 | Champion |
| Jeremy Martin | 5 | 2015 | Champion |
| Aaron Plessinger | 5 | 2018 | TBD |
Yamaha riders to get at least three consecutive wins in a 125/250 season
| | | | |
| --- | --- | --- | --- |
| Rider | Consecutive Wins | Year | Championship Status |
| Broc Glover | 4 | 1979 | Champion |
| Bob Hannah3 | 3 | 1976 | Champion |
| Jeff Emig | 3 | 1992 | Champion |
| Stephane Roncada | 3 | 2000 | Not Champion |
| Cooper Webb | 3 | 2016 | Champion |
| Aaron Plessinger | 3 | 2018 | TBD |
MXGP of Belgium Preview (Adam Wheeler)
MXGP comes around to Lommel again for the fifth year as the stage for the Grand Prix of Belgium. The punishing sand—a litany of bumps and vast lumps in a sea of unsettling topography—invites trepidation, but also expectation. There is arguably the racetrack best known by most of the MXGP elite, thanks to its status as a northern European hub for training and testing: the definitive sandy challenge in which the actual layout of the course can be molded and morphed at will, thanks to the abundance of terrain.
Some athletes fear Lommel—not because of the demands that make it stand alone on the MXGP calendar, but because the technical and physical level make it such a barometer. A large proportion of racers accumulate enough laps around the facility to know that the chances of a decent result can suddenly become more obtainable.
This is where Lommel is something of a paradox. It is the hardest Grand Prix of the year, and there are some truly remarkable sand riders in the MXGP pack that should romp this 15th date of 20… but the Belgian fixture also has a propensity toward surprises: Shaun Simpson's privateer win in 2015, Max Anstie's back-to-back MX2 triple on different bikes 14-16 (one a spluttering Yamaha), Kevin Strijbos' shock victory in 2016 (and probably the last of a long and decorated career), Gert Krestinov's sole triumph in MX2 in 2008, and KTM's utter sweep of both MXGP and MX2 podiums 12th months ago are just some of the occurrences to immediately come to mind.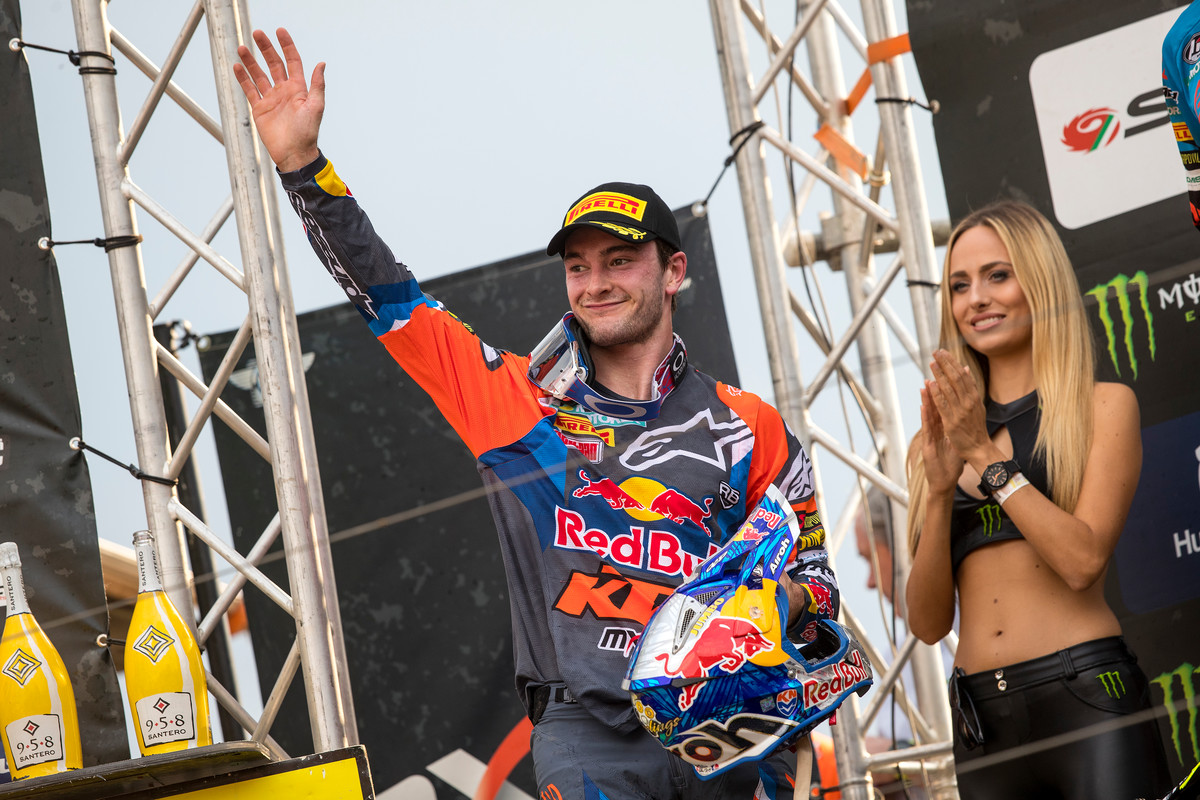 While the romanticism of the sand (and its indiscriminate ability to level the playing field) means that a left-field "superman" could enjoy his day in the sun (temperatures are forecasted for a suffocating 90 degrees over the weekend as most of the Europe continues to roast), it is still hard to look beyond Red Bull KTM.
Not only have the Austrians ruled the season so far in both classes (only allowing three other riders a view from the top steps in 30 contests), but they also bossed Lommel in 2017. Expect a renewal of drawn swords between Jeffrey Herlings and Tony Cairoli, as well as Jorge Prado and Pauls Jonass in MX2. Herlings won last summer but was charging in his second-half-of-the-year lease of life on the 450 SX-F, while Cairoli was riding smart and protecting a championship points lead. Now the positions have switched slightly and it is Cairoli who needs to attack, while knowing that defeating Herlings in the sand could be a crushing scalp at this time of the campaign with just 30 points between the teammates who have won 13 Grands Prix between them.
Prado will have an MX2 red background to that #61 for the very first time (and for his country in the history of the FIM Motocross World Championship, no less) and muscle memory of his 2017 spoils, but World Champion Pauls Jonass has had two weeks to zero in on revenge and turn the tables of an inconsistent streak that has delivered just three podium finishes in the last six rounds. Jonass crashed on the first corner at Lommel in '17 but displayed his sand acumen by rushing back to fifth place. This encounter could be tastier than the MXGP fare.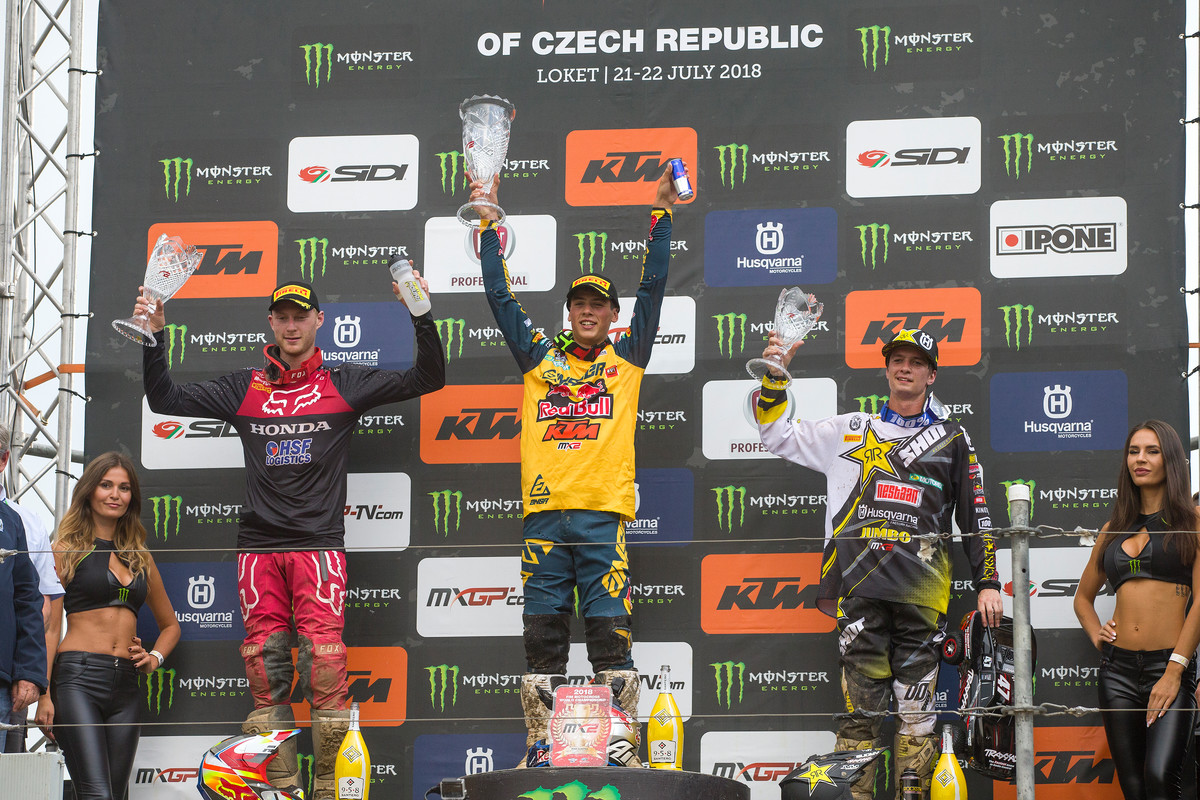 Who else could threaten? Watch for Tim Gajser, Jeremy Van Horebeek, and some of the older guard in MXGP, while MX2 is more prolific for contenders with Thomas Kjer Olsen, Ben Watson and teammate Jago Geerts (the next great Belgium hope), Calvin Vlaanderen, and Thomas Covington (the American hunting a first MX2 win of the year and would love to sign off at Lommel—a track that bamboozled the Alabamian when he arrived in Europe in 2013—in style). Lommel is not the richest spectating experience; it's flat and featureless, but watching and deducing who has the best feeling on the day means it can be gripping and entertaining. Some strategic watering under the sun might also be necessary to create an even more vehement test.
Lastly, the Grand Prix will be another apt moment to remember the late Eric Geboers. It was the Belgian who lobbied, fought, and drove for Lommel to reenter the world championship picture at the start of the decade and who delivered the Motocross of Nations in 2012. Team Suzuki were based a ten-minute drive from the facility where the Geboers brothers—Sylvain and Eric—believed that there was no better place to develop and rubber-stamp a motorcycle than through the dark climes of Lommel in the depths of a European winter. Using the Limburg region's fascination and support for the sport, Geboers instigated a new Belgian home for MXGP at a time when motocross tracks and opportunities in the country were—and still are—wilting. It is a tragedy that Eric won't be attending or playing some sort of organizational or ambassador role at the circuit this weekend. It is also sad that Suzuki are still not present in Grand Prix racing, a situation that doesn't look as though it will be reversed any time soon.
Hopefully a busy attendance and some unpredictable scenes will make The Kid enjoy his view from somewhere higher.
This Week on Exhaust (Chase Stallo)
We're sure you all are loyal readers by now, but if you didn't know, we have a new site. It's called Exhaust. It's fun. And stupid. And interesting. Check it out. Here is a recap of the week for the few who are not die-hard fans!
Harley-Davidson is getting into the adventure-bike market. Yes, you read that right. The brand made some huge announcements this week about their "More Roads to Harley-Davidson" growth plan through 2020. Read more.
MotoClimb Super Series is pretty incredible.
Roger Hayden, the youngest of the world-famous Hayden brothers, announced his intentions to retire from professional racing at the end of the 2018 season.
Nine-time FIM Motocross World Champion Antonio Cairoli recently had the chance to drive a Scuderia Torros Rosso—one of the two Formula One teams owned by Red Bull, a longtime sponsor of Cairoli and KTM—F1 car at the famous Red Bull Ring course in Austria. Watch AC in action.
Are we ready for flying motorcycles?
Repsol Honda MotoGP rider Dani Pedrosa recently gave a unique interview with the person who knows him best: himself. Watch it!
Hey, Watch It!
Racer X Films: 125 All Star Race | Washougal 2018
Racer X Films Washougal 125 All Star Race Helmet Cams
Mike Brown | 2nd Overall
Robbie Wageman | 5th Overall
David Pingree | 9th Overall
Anthony DiBrino | 23rd Overall
Devin Watson | 38th Overall DNF
Racer X Films: Best Post-Race Show Ever | Washougal 2018
Subscribe or Renew Now for Your Chance to Win an All-New Electric Bike from STACYC
Subscribe or renew now for your chance to win an all-new electric bike from Stacyc! Two winners will be chosen and given their choice of the 12" and 16" models. The winners will be announced on Racer X Online on September 19, 2018 and will also be contacted directly.
Every person that enters will also receive a FREE pack of all twelve official 2018 Lucas Oil Pro Motocross event stickers.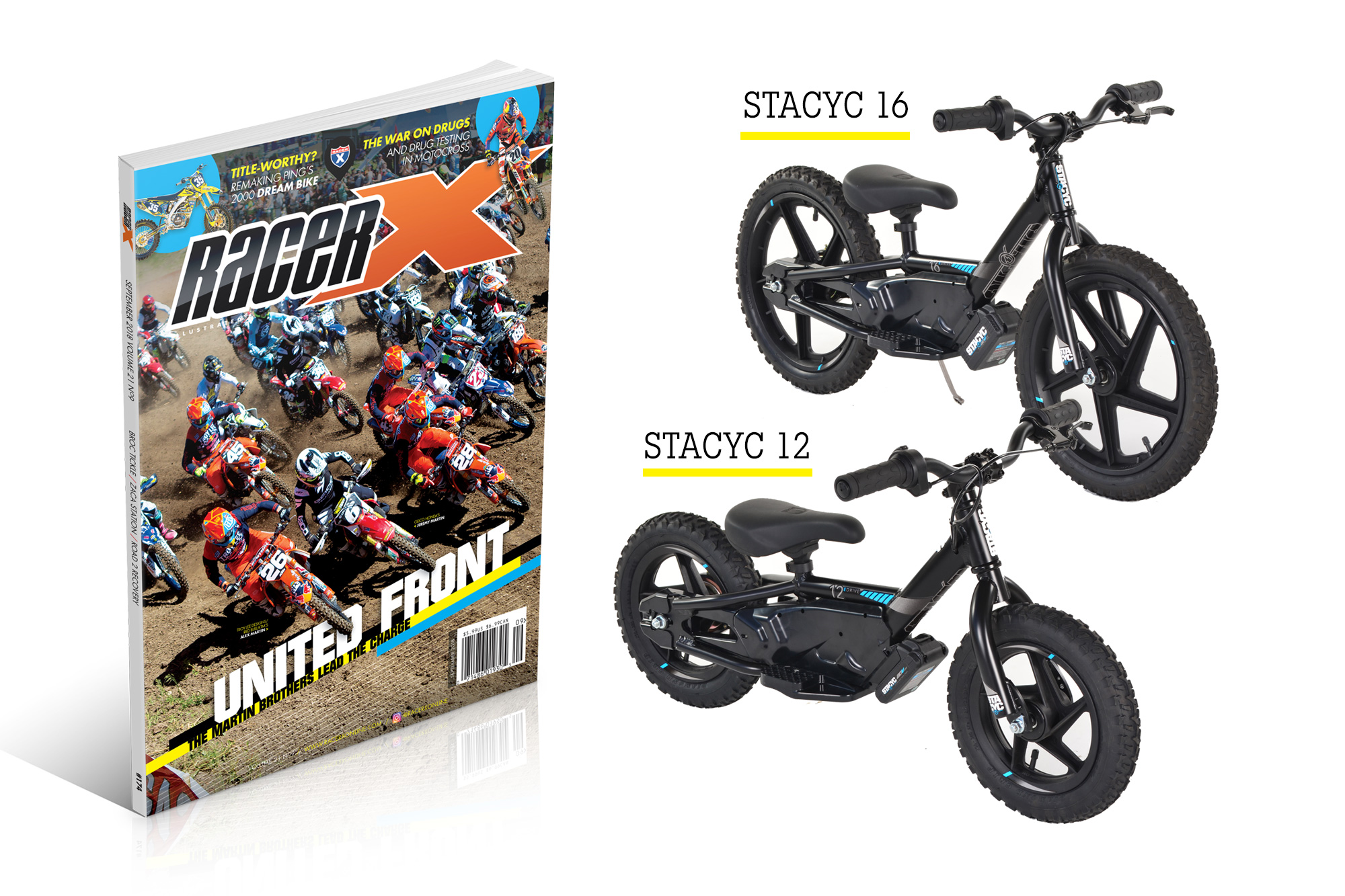 Thanks for reading Racerhead. See you at the races.