Washougal MX Park
Washougal

,

WA
Washougal
Lucas Oil AMA Pro Motocross Championship
By The Numbers
5
1-1 performances this year by Eli Tomac in the 450 Class.
7
Overall wins through nine rounds in the 450 Class by Tomac.
4
Straight moto wins by Tomac.
2.3
Average moto finish for Ken Roczen and Marvin Musquin over the last six motos—best in the class.
14
Laps led of 16 in the second 450 moto by Roczen.
6
Holeshots in eight 450 motos for Justin Bogle since returning from injury at Southwick. Bogle took both holeshots at Washougal on Saturday.
4-3
Moto scores by Aaron Plessinger in the 250 Class on Saturday, which was good enough for the overall. Shane McElrath won the 250 overall at Muddy Creek with 3-2 moto scores.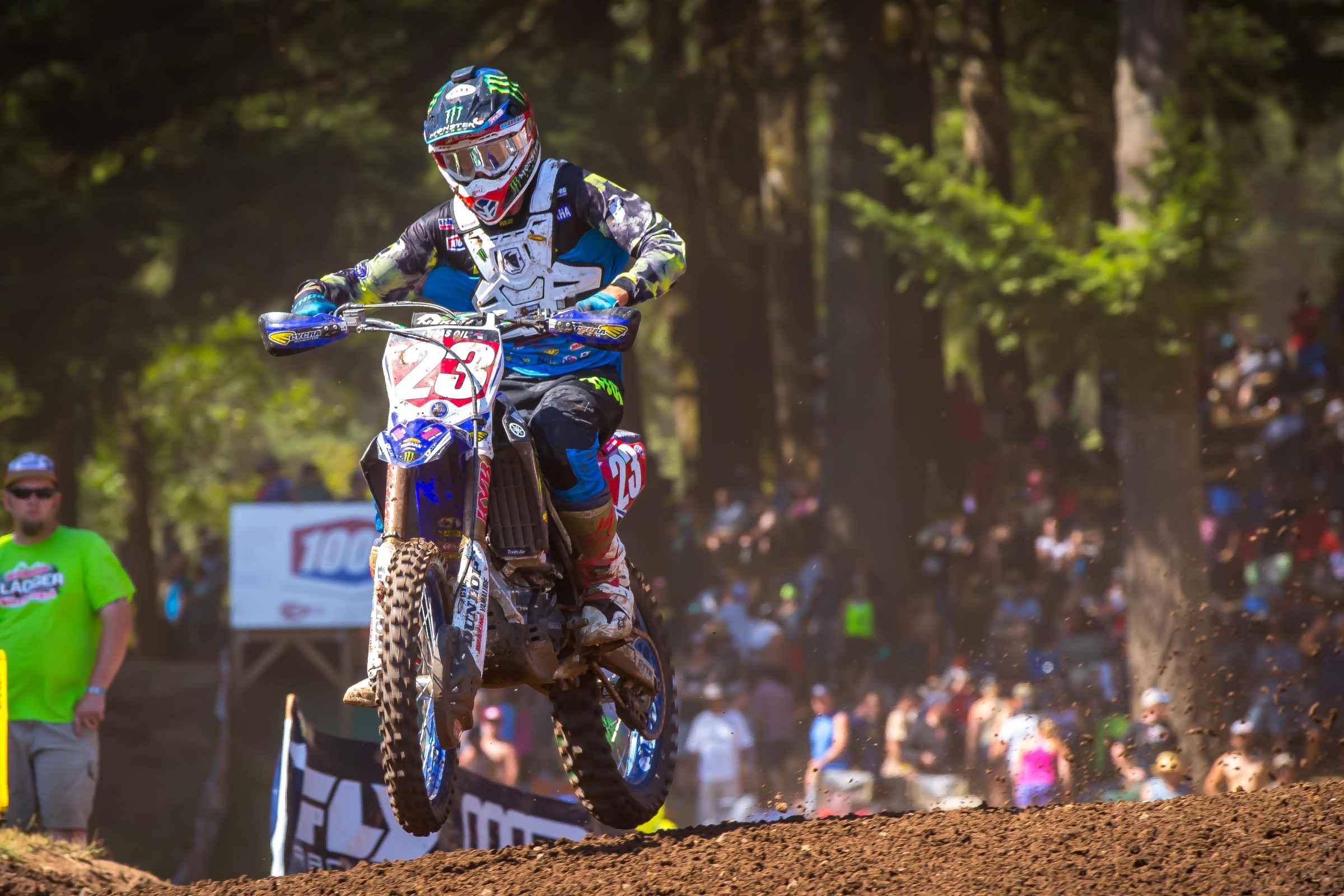 3
Straight overall wins for Plessinger, which has helped him extend his points lead to 59 over Alex Martin.
0
Laps led at Washougal by Plessinger.
2.2
Average qualifying position for rookie Justin Cooper, who was fastest in the 250 qualifier at Washougal. His average qualifying position is best in the 250 Class.
Quotes from Around the Paddock
Erik Kehoe | Honda HRC team manager
"I know I probably sound like a broken record every week, but this was another step forward for Ken. I think this might be the best and strongest Kenny's ridden in a long time. His plan for this season has been perfectly executed so far. He's chipping away at it each week, building confidence, staying patient, and letting it come to him."
Justin Barcia | 5-4 for fourth overall in 450 Class
"Washougal for me definitely didn't go as planned. All in all on the day, I'm obviously not pleased with not being on the podium because that's where I know I belong, but I've just been working really hard to get more comfortable on the bike and all the little things I know I need to work on with my riding. I definitely miss being on the podium. It's frustrating when you're not there because I've been up there quite a bit this year. But I'm riding really well; I just need to put everything together. I'm staying positive for sure. I've got a week off so I need to train hard, work on the things I need to work on, and show up at Unadilla and get back on that podium."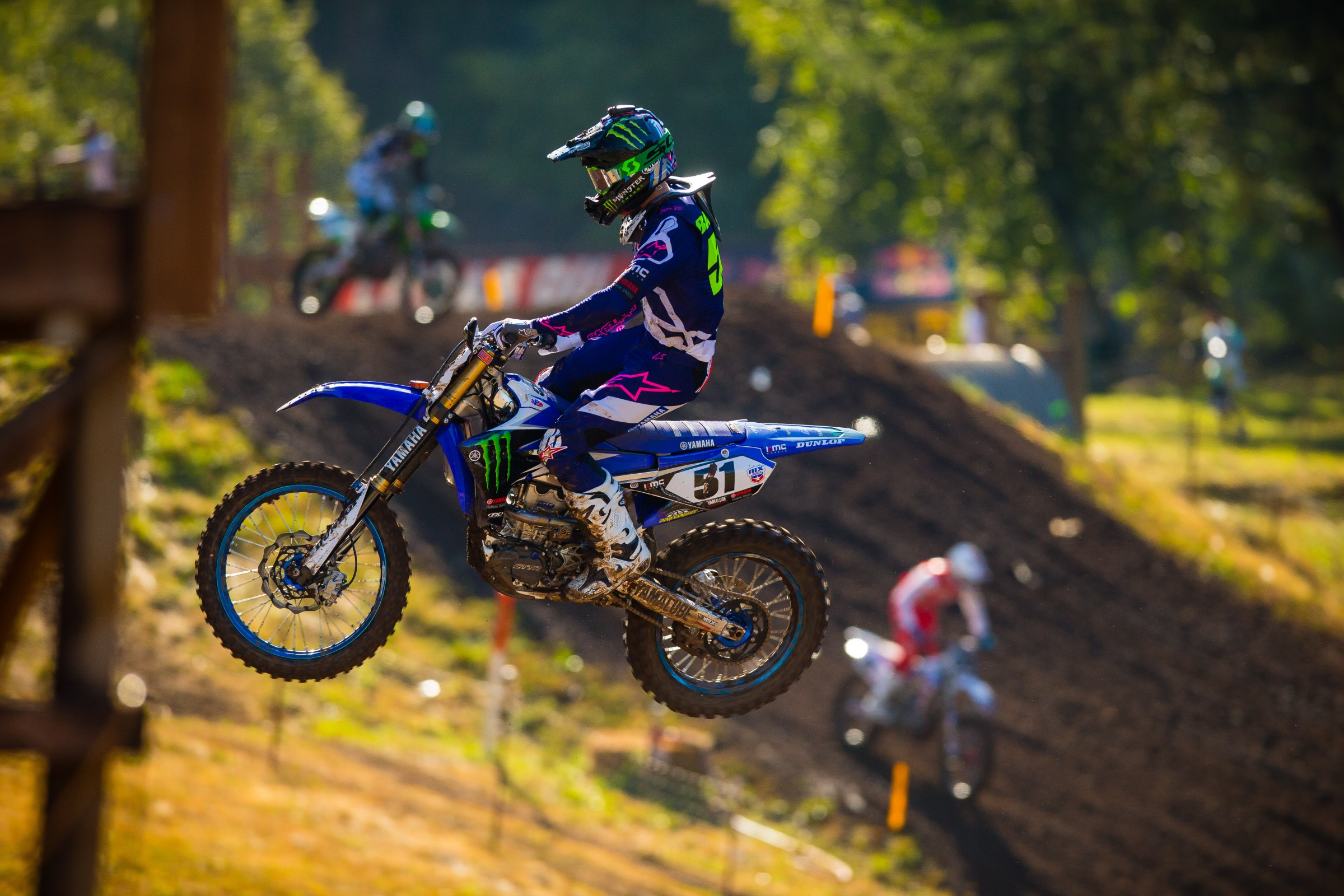 Cooper Webb | 8-7 for sixth overall in 450 Class
"Washougal was good to me; I had my best race so far. We tested some suspension this past week and it seemed to be in the right direction. I was able to qualify fourth, which is the best I've qualified all year. First moto, I didn't get a very good start and I had to make a lot of passes on a track that was really hard to pass on and I came back to eighth. In the second moto, I was really far back on the start and I just put my head down and kept charging the whole moto and almost had sixth on the last lap—I was going for the pass and I actually crashed, but I still managed seventh in the second moto. The second moto was by far the best I've ridden so far, so I was happy with that. I just need to work on my starts and I think I'll have a top-five for Unadilla, that's the goal."
Weston Peick | 12-6 for eighth overall in 450 Class
"I had some issues with my hand because the track was hard pack and choppy. There wasn't much forgiveness on that track, so I had to back my speed down quite a bit in order to survive. We made a few changes in between motos, and I ended up sixth in the second moto. I still struggled with my hand. Fortunately, I had a gap in the middle of the moto and was able to relax for a few laps before charging hard at the end. I'm counting down the days until I can get surgery on my hand."
Phil Nicoletti | 9-12 for tenth overall in 450 Class
"Today was up and down. The first moto was decent and I had a hard-fought race. I went down in the first lap of the second moto. I got up, made some quick passes, and started coming back. Then I crashed before the whoops. I literally picked myself back up and tried to take off, but then went down again. It took the wind out of my sails, but I'm going to keep plugging away."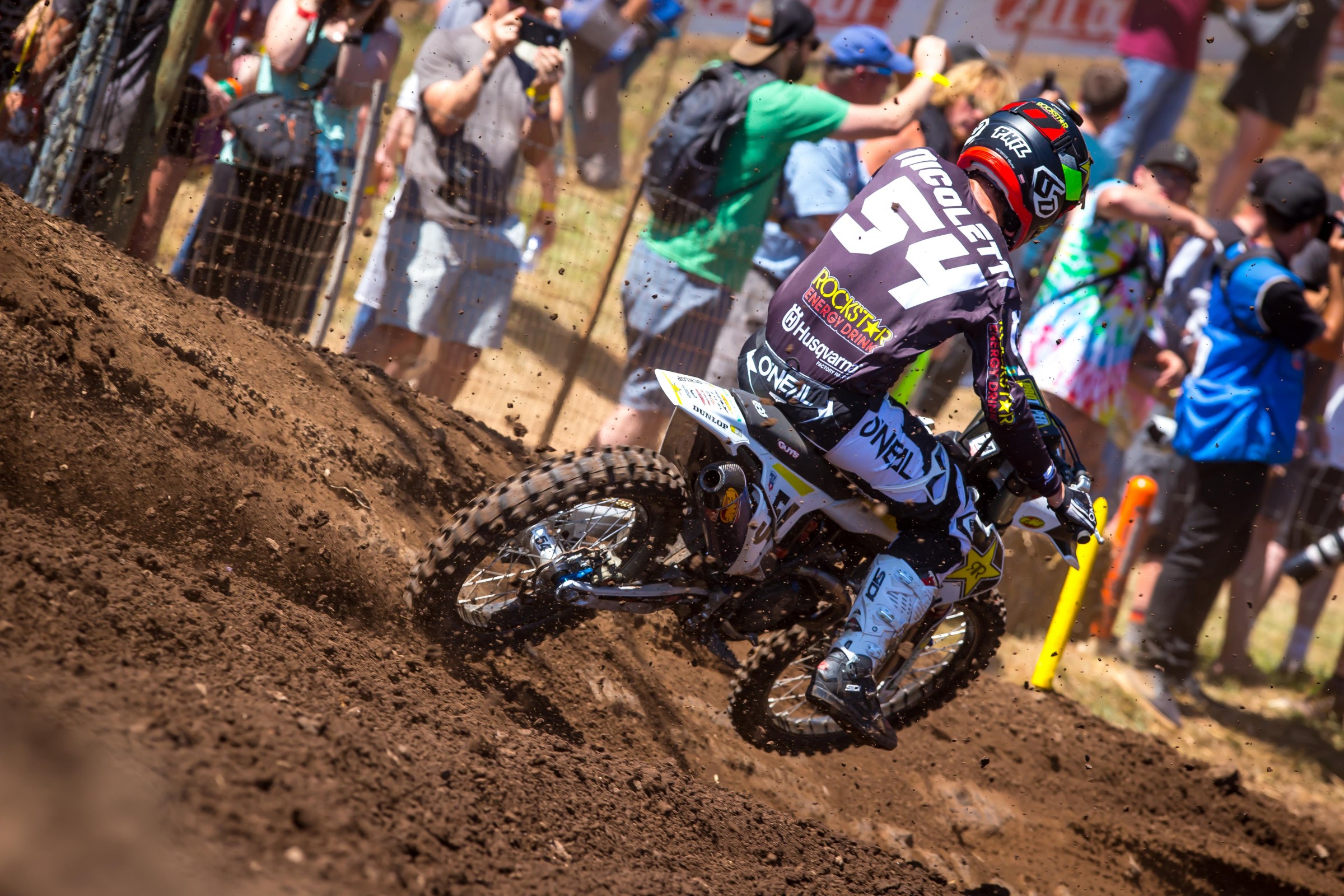 Justin Bogle | 13-34 for 18th overall in 450 Class
"I got the holeshot in the first moto and held the lead for the first few laps. I'm having issues with my arm and being able to hang on after five laps. I'm struggling with that right now. I have to slow down and ride a pace that I can maintain without crashing. That pace is around 13th place right now. It's a bummer, because when instincts kick in, I'm very capable of doing well. I holeshot the second moto, and I landed hard off a wall jump. My arm got hot and tingly, which didn't feel right. I'm going to get my arm checked out this week and make sure everything is good."
Injury Updates
Austin Forkner
As we reported over the weekend, Monster Energy/Pro Circuit Kawasaki told Jason Weigandt that Austin Forkner was sore but not seriously injured in his crash in the second 250 moto on Saturday. Forkner was trying to scrub Horsepower Hill when his front tire clipped the jump. He was on the ground for a while before standing under his own power and exiting the track.
Forkner said the following on Instagram: "Everything happens for a reason and I'm not entirely sure what that reason is but just gotta keep believing. See u at Unadilla"
Justin Hill
According to the team, Justin Hill will undergo further evaluation this week on a left knee injury sustained in the second 450 moto on Saturday. Hill injured his knee when, according to the team, he "cross-rutted upon landing from a jump, which sent him into a tree."
"It was a strange deal where I landed sideways in some ruts," Hill said. "I tried to blast out of it and straighten up the bike. By doing that I swapped even harder and flew straight into a tree. I've definitely felt better than I do right now. My left knee is swollen up almost as big as a volleyball right now. It seems that I'm just tough enough to not get broken, but I'm wimpy enough to get hurt every time I hit the ground [laughter]."
Josh Grant
Monster Energy Kawasaki got Josh Grant back for the first time since Arlington Supercross. Grant has been out with a leg injury that require multiple surgeries. But after finishing tenth in the first 450 moto, Grant was unable to lineup in the second moto due to pain in his ankle. With Lucas Oil Pro Motocross off this weekend, Grant said he expects to be ready for Unadilla.
"I was really excited to come back for Washougal, and felt great in that first moto," said Grant. "Unfortunately, my ankle was hurting and couldn't start the second moto, but we'll take advantage of the weekend off and let the ankle rest a little more and be ready to go for Unadilla. I'm just happy to be back to racing."
Gif of the Week
Video of the Week
RV is just awesome!