Alpinestars Presents Limited-Edition Liberty Tech 10 Boot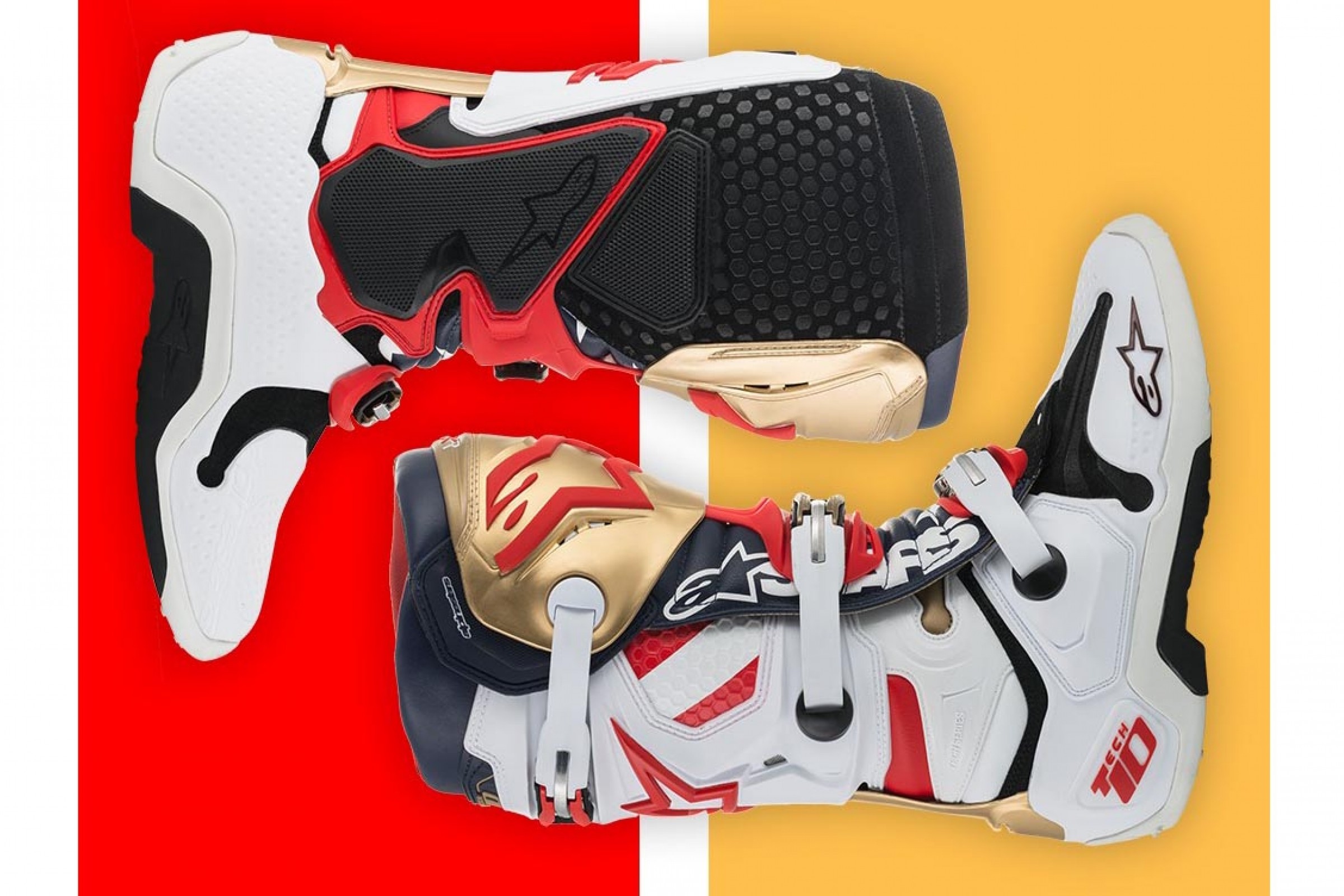 Buchanan, Michigan — Many believe that RedBud's original name, Red Bud TNT, was chosen as a homage to the explosive, on- and off-track fireworks displayed every Independence Day weekend. However, the classic title actually stands for Track N' Trail. Named at the track's conception in 1972, this particular track n' trail has become a staple of motocross history. Since hosting its first AMA race in 1974, Red Bud is the destination for American motocross culture. Hamburgers, camping and the most famous 120' in motocross all set the stage for some of the best racing of the outdoor season. And nothing navigates the "best dirt in the world" better than a pair of stars and stripes strewn Tech 10 boots.
Combining the color of champions with the graphics of Old Glory, the "Liberty" blends Alpinestars' prodigious innovation with a dash of patriotism. Befitting the weekend, the classic white boot is strongly accented with gold and the Stars and Stripes. So whether you are cruising your favorite spots or wide open headed towards LaRocco's Leap, Alpinestars keeps you protected in style.
The world's most technologically advanced and protective motocross boot, the Tech 10 offers unrivaled race-winning performance to moto riders who demand nothing less than the best. The Limited Edition 'Liberty' Tech 10 fuses all the performance innovations of the iconic Tech 10 with a unique color combination.
The result is a boot that not only knows its history, but isn't afraid to make some.
TECH 10
CONSTRUCTION
The one-piece co-injected foot chassis incorporates five different advanced polymer compounds in a single streamlined and lightweight piece to offer strength and flexibility throughout the structure while maintaining its robust structural integrity with no joints or weak points.
Innovative, lightweight upper combines full-grain leather with advanced lightweight microfiber and an impact and abrasion resistant TPU shell.
Medial-facing panel is constructed from a one-piece, specifically formulated polymer for improved structural stability and integrity and incorporates a rubber insert panel for maximum grip contact with bike and improved abrasion resistance.
PROTECTION
The Tech 10 boot is CE certified.
Frontal protection features a dual closure system with an internal microfiber flap, plus Velcro for a precise-fit closure attached securely with a micro-adjustable, easy-to-operate, lightweight buckle. Shin incorporates a unique TPU blade system engineered to prevent frontal hyperextension and offer greater flex control.
Contoured TPU calf protector plate offers impact resistance and incorporates Alpinestars' innovative rear blade system, formed with hard shock resistant polymer to protect the heel and features a rear hyperextension guard.
Innovative, ergonomic design for lateral and medial flex zones to provide superb front and rear flexion support which helps prevent damaging torsional forces around the ankle area.
Multi-density foot shell incorporating heel and toe protection is highly resistant to abrasion and impact and adds to the boot's overall durability.
KEY FEATURES
Exclusive dual compound sole is seamlessly integrated to the multi-density foot base structure with built-in support. The sole offers superior durability, grip and feel while riding.
The central sole insert is easily replaceable, and Alpinestars offers a full sole replacement and boot repair service.
New buckle closure system includes high-impact aluminum bridge closures with memory and a quick release/locking system with self-aligning design for easy, precise closure and improved riding performance and security. All buckles are easily replaceable.
Soft microfiber gaiter helps seal out excessive water and dirt entry.
Poly-fabric lining with 3D open cell foam incorporates anti-slip suede on heel area to keep foot located inside the boot.
INNER ANKLE BRACE
Innovative biomechanical inner ankle brace features medial and lateral "C" torsion bars to control ankle and leg rotation, while allowing freedom of movement. Wide fit torsion bar replacements are included. These dual connection torsion bars offer the rider natural ankle movement with progressive damping of torsional forces during an accident.
TPU protection and shock absorbing padding on the heel and ankles and an ultra-thin and flexible forefoot area for increased sensitivity and control.
New, dual compound, removable anatomic foot-bed includes EVA for comfort and support and aids even weight distribution.