Muddy Creek Raceway
Blountville

,

TN
Tennessee (Muddy Creek)
Lucas Oil AMA Pro Motocross Championship
Round five of the Lucas Oil Pro Motocross Championship took place at Muddy Creek Raceway in Blountville, Tennessee, this past weekend, and breaking news: I didn't go. I stayed home. My mom was in town and we did, like, mom/son stuff like golfing and listening to her tell me how hot Vegas is compared to her native Canada. It was a good time, but I have to admit, I just had one eye on the race on Saturday and had to do a bit of a deep dive the day after she left.
We all know what happened at Muddy Creek and we're almost at the halfway point of the series, so I thought that in lieu of me being there, we could run down a list of riders and what were the expectations going into the series and how things are going now.
Should be fun, yeah?
450 Class
Eli Tomac | Monster Energy Kawasaki

Expectations: He'll defend his title. But we've had three title chases now (2017 450SX and MX, 2018 SX) where Eli Tomac is fast as balls but makes some mistakes here and there that prevent him from winning the title or make it closer than it should be. But yeah, he'll win his title again. We think.
How's it going? Well, better than we thought, right? He's been the dominant rider. He's lost just two motos and won every overall. He's been very fast and showed some patience as well. And through ten motos, no real mistakes. Has "it" finally clicked for ET3? Cue Tina Turner singing "Simply the Best…"
Marvin Musquin | Red Bull KTM
Expectations: Marv almost won this thing last year, don't forget that. In fact, he had more "bad" motos than Tomac! Who would've thought? "Musquin will win races and he'll be there the whole way" is what we all thought.
How's it going? Eh, not bad, but not at the level where anyone is going to throw a parade for Marv, either. Don't get me wrong, High Point was great, but that's been about it for Marv. Although he won the second moto at Muddy Creek, he didn't beat ET in a straight-up race because Eli was, like, 39th or something on lap one.
Hangtown and Thunder Valley didn't go well—in fact, they went so poorly that I started hearing he was hurt. Still, it's been decent for Marv, and I still think he gets some overall wins before it's all said and done. By the way, if you're at the podium booing Marv or chanting "USA, USA" while he's trying to talk, you're an idiot.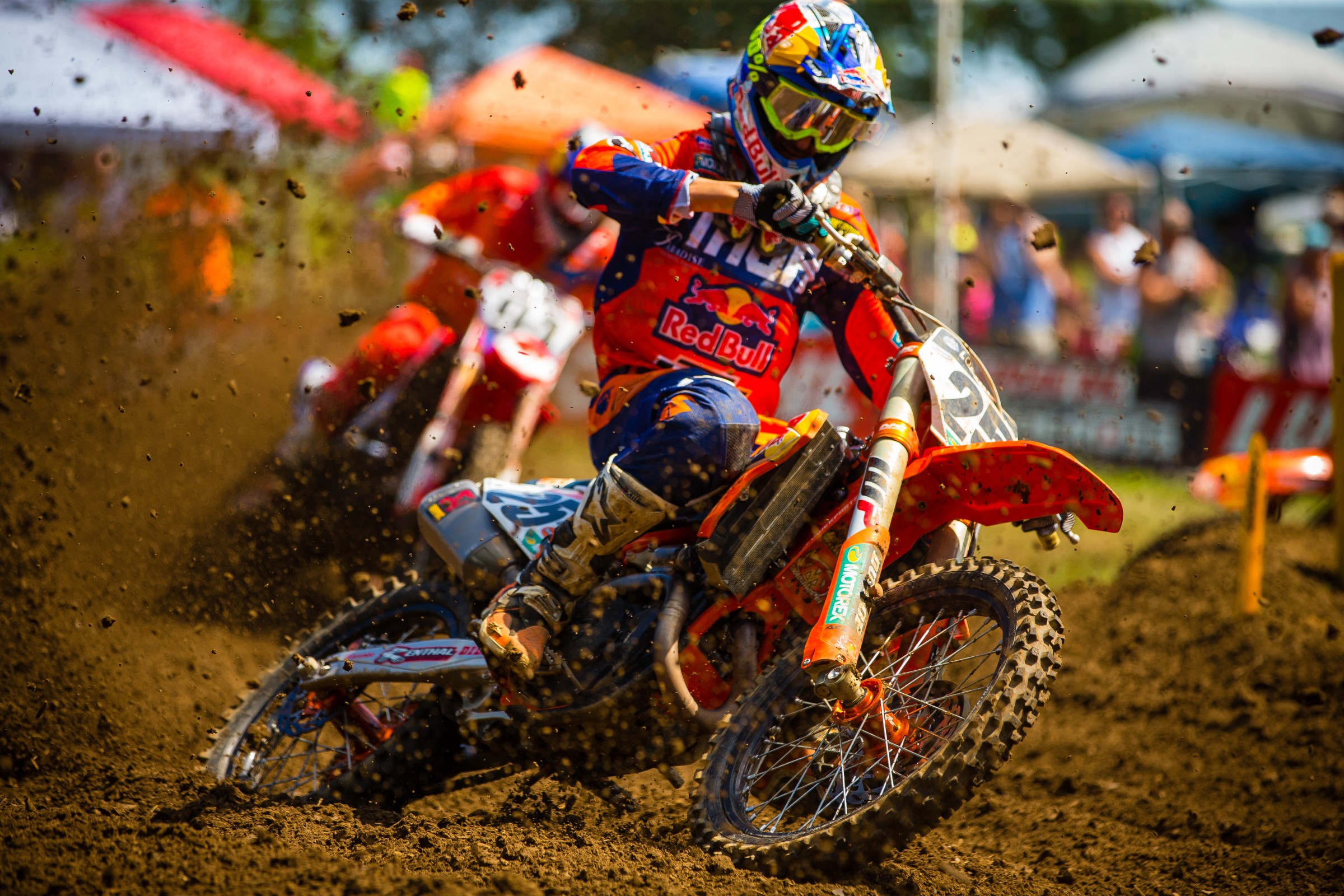 Justin Barcia | Monster Energy Factory Yamaha
Expectations: Yeah, I mean, he was great early in SX, got hurt, then rode well in his return. And people who are close to Barcia will tell you that he's better at MX than SX, so why couldn't he be a podium guy and potential race winner?
How's it going? He came back from injury and got back to his old level (meaning early 2018 form), which was a test for him based on the last couple of years at JGR. Shit, Jeff Stanton wanted to strangle me when I went with Blake Baggett over Barcia for Team USA for the Motocross of Nations. And now that I think about it, Six-Time is right. I think the comeback for Barcia has carried on through the outdoors, it's not always been as impressive as Muddy Creek (oh, that pass on Peick!), but more times than not, he has been good.
Blake Baggett | Rocky Mountain ATV/MC-KTM-WPS
Expectations: We all know Baggett's a better guy in moto than SX, and he ended SX very well. Plus, he and Marv were the only guys able to beat ET last year in motocross, so why couldn't Baggett, with some help from ET self-destructing, actually win this title? Seriously, I could see this happening.
How's it going? To be blunt: not so good. Baggett had some bike issues at round one, sorted them out, and has been just okay at the rest of the races. Well, he was great at High Point, as he passed 847 riders in both motos, but crashes ruined his day and the bottom line is that his results were just okay. The other races, he's been good, but one podium through five races isn't where he or the team thought they'd be. El Chupacabra has been tamed—for now.
Ken Roczen | Honda HRC
Expectations: I, for one, was stoked that Roczen was back racing. The sport needs Kenny Roczen. What other star of our sport is going to tell his haters on Instagram to go perform perverse acts on themselves? Anyway, Roczen's coming back from serious injuries so expectations were, for me, pretty low. Like, get some top-fives, some podiums and build for 2019.
How's it going? Um, I think good, right? I mean he's led laps, pulled holeshots, went 2-2 at one race, and has been handling his defeats with class and humor. He knows where he's at, and that's refreshing. I am scratching my head at changing suspension components after his best race of the season, but I'm not on the inside so I don't really know the decision behind that. Muddy Creek didn't go great, but overall, I think Ken, Honda, and his fans have to be happy with his rides.
Benny Bloss | Rocky Mountain ATV/MC-KTM-WPS
Expectations: Top ten? Bloss is kind of forgotten when it comes to the big names in the class, and I guarantee you we spent under two minutes discussing his potential results in our pre-season pod.
How's it going? Good! Very good! Yeah, I know the class isn't that deep due to injuries and Muddy Creek was just so-so for Benji, but he's been great. He's ridin past guys like Weston Peick and Phil Nicoletti and into top-fives. No one thought he'd be that good. Great work for Benji!
Weston Peick | Autotrader/Yoshimura Suzuki
Expectations: A lot of top-fives with some podiums here and there for Peick. And tons of concrete eaten for breakfast.
How's it going? Probably not as good as he would've liked, but he's been dealing with a hand and/or thumb injury that's held him back. It hasn't been bad, but it also hasn't been great. I think the JGR guys appreciate him riding with this injury and putting in the effort.
Phil Nicoletti | Rockstar Energy Husqvarna
Expectations: Well, his old manager at JGR said if he won a national, he could stay on the team all year. Breaking news: He didn't. And he eventually left the team, too. Phil's solid, man. He's going to give you his all, he'll die trying out there, and he's underrated.
How's it going? Phil's got a factory Husqvarna under him, which, in my humble opinion is probably better than the JGR Suzuki he's been on, but through two races he's been about the same. Starts are good, he can give anyone but three guys in the class fits at any time, but he's settled into where he was before. Plus, only Filthy could crash on a bike with E-start and take longer to get going than he would if he had to kick the bike.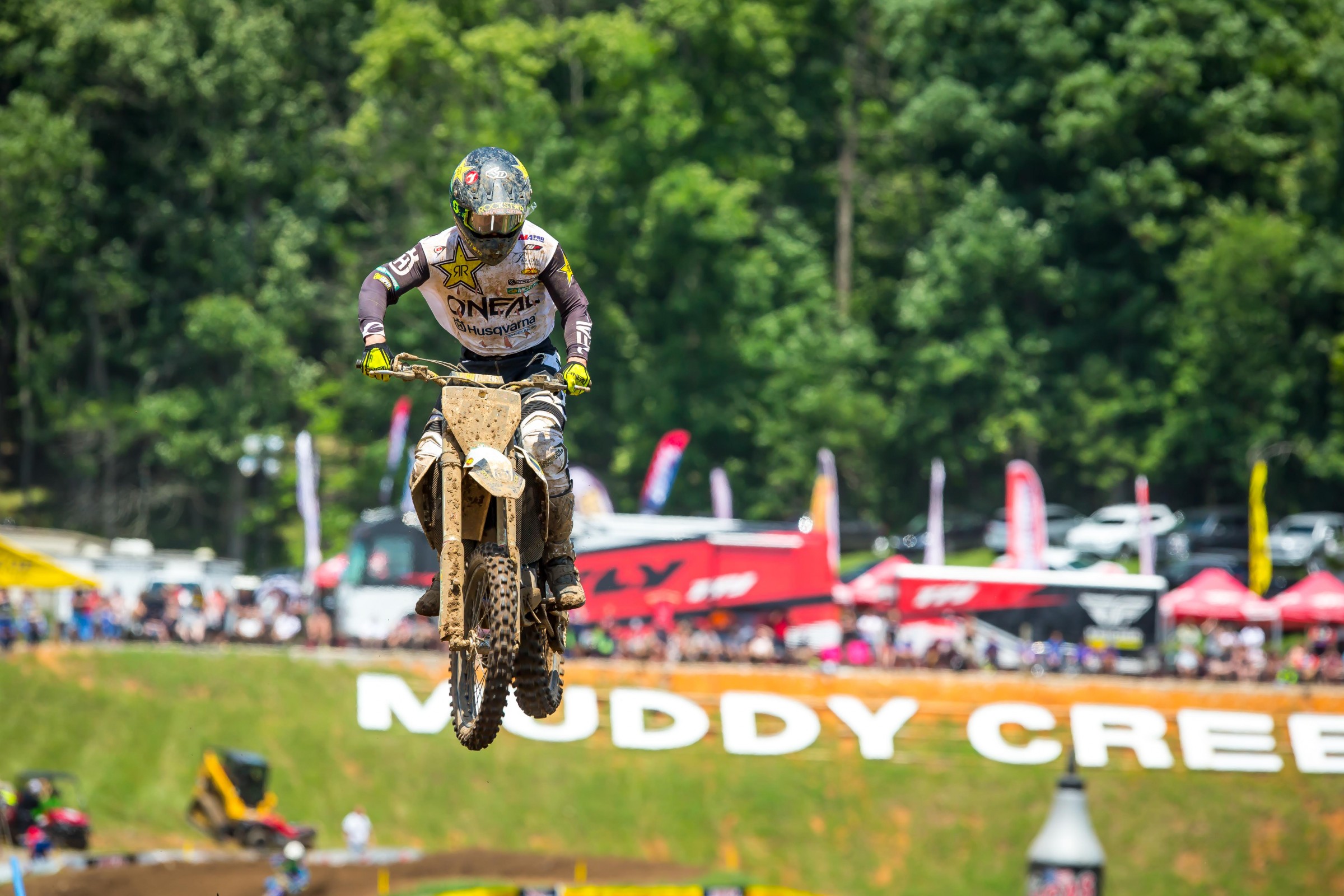 Justin Hill | Autotrader/Yoshimura Suzuki
Expectations: For the 250 Class? Yeah, not good. Hill's told anyone and everyone that he wanted to race a 450, and granted, his bike wasn't on par with the other factories, but he didn't break the top ten in a moto. And that seemed about right to me.
How's it going? That 250 stuff is gone, bro. Hill's on the 450 now, and through four motos, I'd say it's gone pretty well. Four-six at High Point? I mean, you can't expect much more, and Muddy Creek was solid also. He said he wanted a 450 and would do better, and dog-gammit, he did it. I'll never forget the Justin Hill Suzuki 250 Lucas Oil Pro Motocross era, it was glorious.
250 Class
Aaron Plessinger | Monster Energy/Yamalube/Star Racing Yamaha
Expectations: I've long been saying that if AP can ever figure it out, he can be a double champion. He's that good. He's got the ability to turn laps multiple seconds better than his competition, and that's not something you can teach. Some guys figure it out. Some guys, like Kevin Windham, never do.
How's it going? He's got the red plate and almost a moto lead in the points, so that's good, right? Odd that he's had two 1-1 days and been the dominant rider (outside of moto two at High Point), but his other finishes are just so-so. Consistency is an issue for the #23, but I think he's got this figured out. My head picks Plessinger for the title; my heart would like A-Mart.
Alex Martin | Troy Lee Designs/Red Bull KTM
Expectations: That's two years at TLD for Alex and he's crashed out of two SX series, and last year in MX, he was second in the points before, well, crashing out. Martin will be solid all year, win some motos, and rack up podiums. Troll Train will just keep trucking along.
How's it going? Tyler Keefer, TLD manager, must yearn for the days of consistent "triple" Alex Martin, right? A-Mart's been very good, but he continues to crash. Over and over. He should've went 2-1 at Muddy Creek, but… he crashed. When did A-Mart turn into Travis Pastrana? With injuries to little brother Jeremy and defending champion Zach Osborne, A-Mart now finds himself second in the points (with Jeremy out for the year), and we could be typing "Alex Martin, 2018 250 National Champion," as unbelievable as that sounds. But he's got to stop crashing. I think he'll end up on JGR Suzuki in 2019, so he needs to relish this horsepower now.
Justin Cooper | Monster Energy/Yamalube/Star Racing Yamaha
Expectations: He rode well in Lucas Oil Pro Motocross last year after graduating from Loretta's, but he didn't show much in SX before he got hurt, so I mean, he's still a rookie. He'll be good here and there, right? Maybe he gets a podium, even!
How's it going? In the words of Mr. Burns, "Excellent." Cooper's won one moto (with some luck), but he's gotten two other podiums. He's gotten holeshots, his fitness seems great, his speed is obviously there, and man, it's awesome to see. My only gripe is having Justin on the PulpMX Show the other week and him not knowing anything about the New York Islanders despite growing up on Long Island. Other than that, it's all gravy for Justin Cooper.
Austin Forkner | Monster Energy/Pro Circuit Kawasaki
Expectations: Coming off an injury in supercross, I was told he was 100 percent, but you never know. Maybe it would take a bit for him to get into the swing of things, but Forkner can win races and rack up podiums.
How's it going? Better than his teammate, but with one overall podium, Forkner's got to be a bit let down by his year so far. Early on, it seems his starts have definitely hurt him a bit, but to me, I haven't seen that raw speed he had when he debuted. Injuries will do that to you. His future is still bright and he might catch fire, so hold this thought.
Joey Savatgy | Monster Energy/Pro Circuit Kawasaki
Expectations: There's no other way to put it: With his experience, on that team, he should win races, get podiums, and challenge for the title.
How's it going? Like Forkner, not good. There was the blown-up bike while leading on the last lap at Thunder Valley and you wonder, had he won, what that would have done for his confidence. But other than that, Joey's just sort of been there. One fourth-place finish through ten motos is shocking to me for Savatgy. Of course, he had that win taken from him with the bike issue, but with these injuries, the "old" Joey Savatgy would be the favorite for this title. Some starts would also help.
Shane McElrath | Troy Lee Designs/Red Bull KTM
Expectations: You know, I think it was Weege who said Sugar Shane's MX results aren't what you would think compared to his SX ones. McElrath has gotten third and two seconds in 250SX three out of the last four years, but his best MX finish is a couple of tenths in the series. So with that knowledge, maybe a podium for Shane and a bunch of top-fives could be expected?
How's it going? Slow start for McElrath, which he attributed to being a bit about bike setup on the West Coast tracks (it was weird to see Shane go backward at Glen Helen, I'll tell you that much), but as you all know, there's this win at Muddy Creek. BOOM, season-saver. Doesn't matter what in the hell happens from here on out. McElrath rode great at Muddy Creek and got a win. It's just like Justin Hill always has Tampa SX—Shane's got the Creek.
Thanks for reading—good times this weekend at The 'Wick are ahead. Email me at matthes@racerxonline.com if you want to chat about this or anything else.