Russell and Duvall Set to Battle at Amsoil Snowshoe GNCC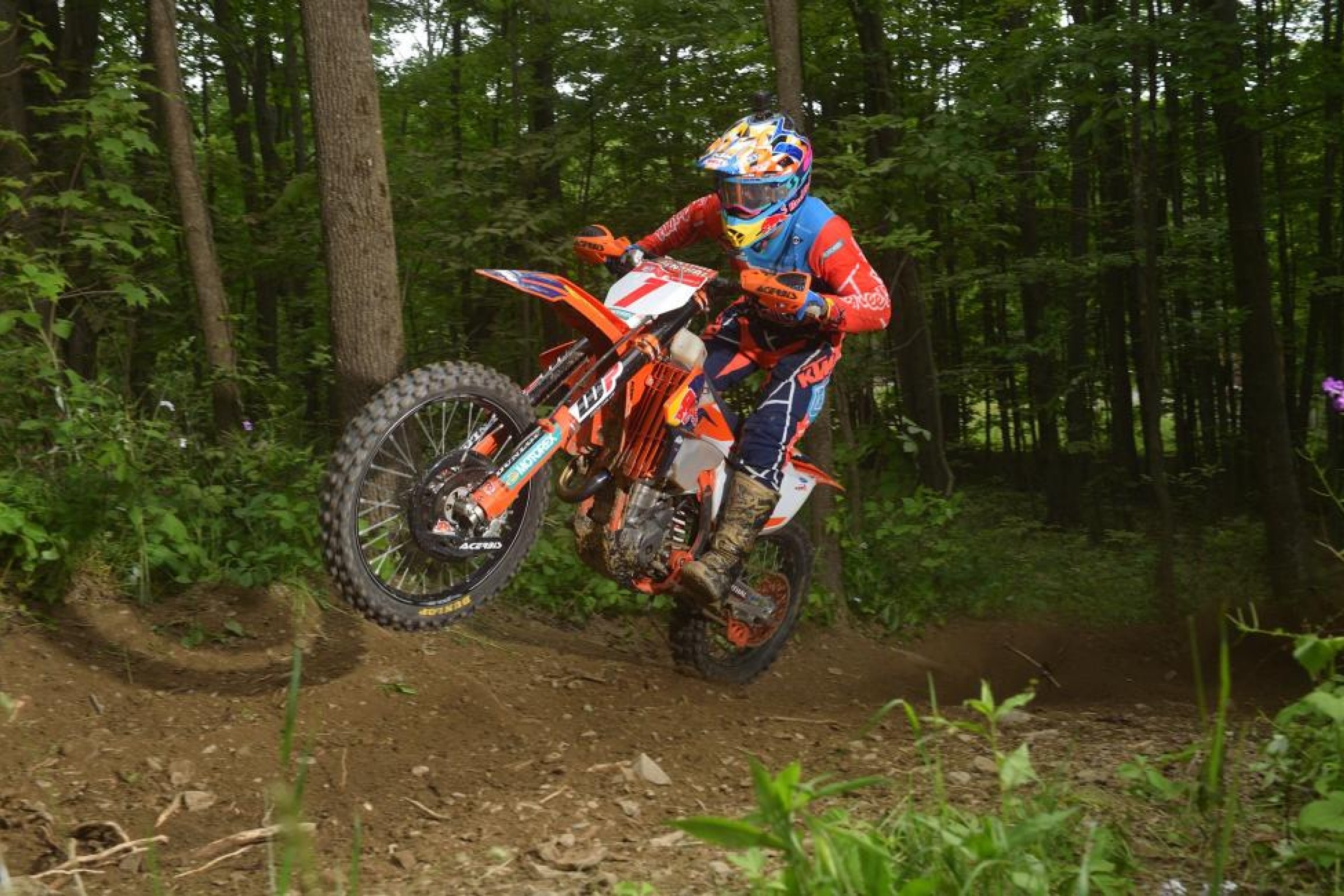 Snowshoe, WV
Snowshoe
GNCC Racing
MORGANTOWN, W.Va. — The 2018 Amsoil Grand National Cross Country (GNCC) Series, an AMA National Championship, heads to the scenic Snowshoe Mountain this weekend, June 23 and 24, for the 12th annual Amsoil Snowshoe GNCC. The Snowshoe GNCC is known for being "America's toughest race," and the world's most talented motorcycle off-road racers will tackle the rough and rugged terrain this Sunday for round nine of the GNCC circuit.
FMF/KTM Factory Racing's Kailub Russell remains in control of the points lead after earning his first Tomahawk GNCC win two weeks ago in New York. As the series heads into the final round before GNCC summer break, K. Russell is looking to earn his seventh win of the season.
Sitting 24 points behind K. Russell is Rockstar Energy/Factory Husqvarna Racing's Thad Duvall. After earning two wins thus far in the season, Duvall has been proving that he is capable of becoming a national champion. After finishing in the third-place position in New York, Duvall is eager to battle for his third overall win in his home state of West Virginia.
JCR/Honda's Trevor Bollinger was applying the pressure to K. Russell at round eight for the duration of the three-hour race, ultimately finishing second overall. This was Bollinger's second podium appearance of 2018, therefore making him one to keep an eye on this weekend.
After a mechanical issue forced him out of the race after just five laps, Tely Energy Racing/KTM's Steward Baylor Jr. is looking forward to a better race come this Sunday afternoon. However, after suffering from an intermediate tear to his MCL this past weekend, it seems as though Baylor Jr. will be pushing through some pain as he tries to tackle the Snowshoe Mountain.
Rockstar Energy/Factory Husqvarna Racing's Josh Strang has had two great back-to-back performances after finishing second at round seven and a fourth at round eight. Strang is hoping for another podium finish before the GNCC Series takes its summer break. After earning the win at Snowshoe back in 2011, Strang is looking to return to the center of the podium.
Last year's Snowshoe Winner AmPro Yamaha's Ricky Russell did not have the start to the season he hoped for. As mechanical issues left him out of the top ten at the first four rounds, R. Russell rebounded for a third-place finish at Camp Coker. This Sunday, R. Russell is hoping to conquer the mountain once again and stand in the center of the stage.
FMF/KTM Factory Racing's Josh Toth has been on a winning streak in the XC2 250 Pro class, with four straight victories. However, Trail Jesters/KTM's Ben Kelley remains at the top with the points lead. Toth put in a great ride at Snowshoe last year, finishing second overall. This year Toth is hoping to once again land on the overall podium and earn valuable points towards defending his XC2 championship.
Coastal Racing/Husqvarna Teammates Craig Delong and Pascal Rauchenecker currently hold the third and fourth spots in the XC2 250 Pro class. Delong has finished on the podium at the last three events, but is hoping to stand in the center after the race this Sunday. Rauchenecker suffered a hand injury and missed round seven, but he is back now and ready to battle at the front of the pack this weekend. M&E Honda/Fly Racing/Alpinestar Austin Lee rounds out the top five in the XC2 250 Pro class.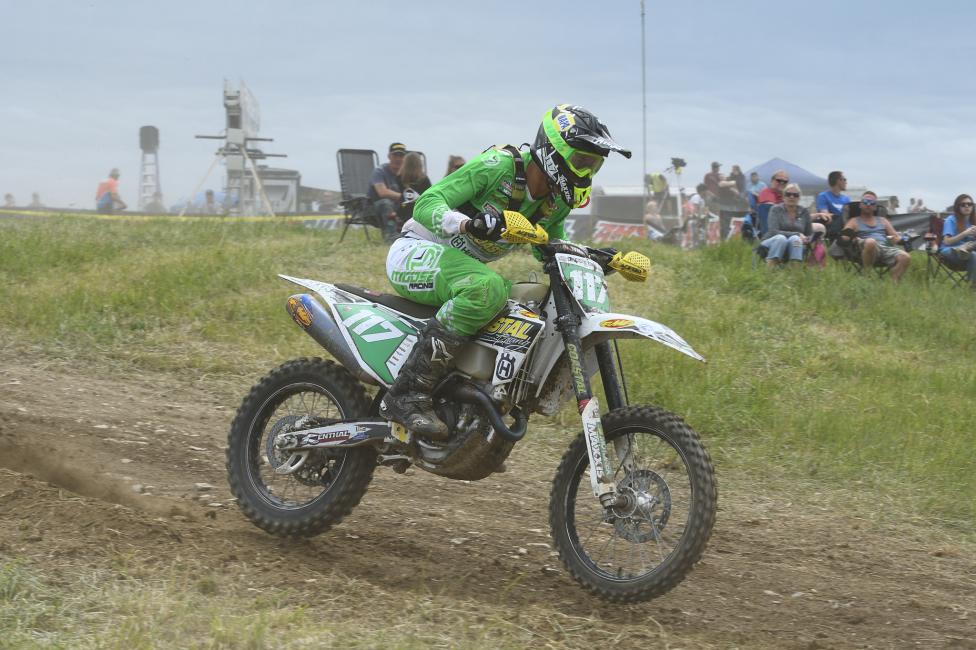 On Sunday, June 24, the motorcycles will take to the woods of West Virginia following the same race schedule of youth racing action, starting the day off at 8 a.m. Women and amateur riders race at 10 a.m. and the pros and top amateurs will start at 1 p.m.
This event will also play host to GNCC's second Fantic eMTB race on Friday, June 22, at 6 p.m. Fantic eMTB Racing will feature seven classes, with no pre-qualifying: Pro, Schoolboy (12-18), Junior (19-29), Vet (30-39), Senior (40-49), Masters (50+), and Women. Class 1 Pedal Assist Bicycles with a motor-powered speed of 20 mph and motor wattage of <=750 watts eligible only. Bicycle helmet and eye protection are required.
Local riders expected to compete this weekend on motorcycles will be Kenny Hawkins (Super Senior A 45+), Thad Workman (Open B), Corey Tolliver (Vet C 30+), Wesley Lantz (Senior C 40+), Tyler Titchnell (250 C College 18-24), Billy Evans (Super Senior C 45+), Garrett George (4-Stroke B Lites), Scott Haynes (Masters B 50+), Paul Leftwich (Masters C 50+), Landon Tharp (65 10-11), Sean Wishart (Super Senior C 45+), Michael Gum (Open C College 16-24), Thomas Alkire (250 C Jr. 25+), Kasey Belt (Junior A/B 25+), Matt Bruffey (Open B), and Kiefer Galiano (65 7-9).
All local riders are invited and encouraged to compete in the event, as GNCC Racing offers classes for riders of all skill and experience levels. The amateur race entry fee is $50, and riders can sign up at the track or pre-enter. To learn more about GNCC Racing, refer to the GNCC 101 webpage.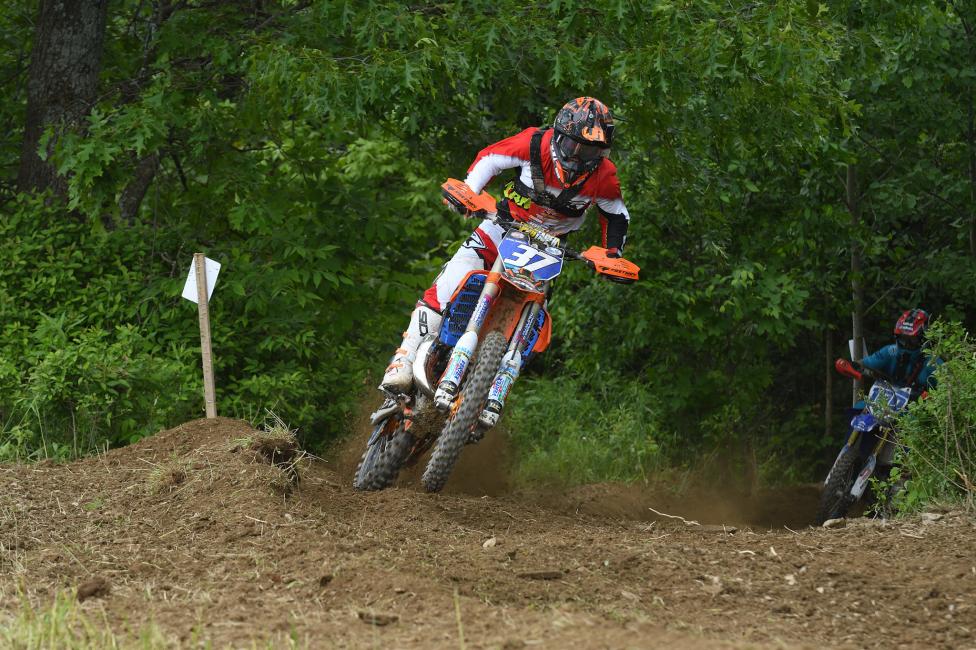 Adult (12+) gate admission is $25 for the full weekend and $15 for kids (6-11), with kids five and under free for the full weekend. Gate admission includes pro pit access and pro autographs at no additional charge in addition to a free ski lift ticket, so fans can enjoy the race action below as they glide through the sky.
For a complete schedule of the weekend's activities, including live music, a graduation commencement, mountain biking, and more, please visit the Amsoil Snowshoe GNCC event page on the series website by clicking here.
The 1 p.m. Bike Pro race will be broadcasted live in its entirety on RacerTV.com and can be viewed as archived video online by visiting the GNCC Live page online. A highlight show featuring the event will be aired on the NBC Sports Network on Saturday, July 28, at 1:00 p.m.
For more information on the GNCC series, visit the official website at www.gnccracing.com or call (304) 284-0084. Join the conversation on the series Facebook page, follow us on Twitter and Instagram, and be sure to always hashtag #GNCC.
GNCC
Rider
Hometown
Bike
1
Kailub Russell
Boonville, NC

United States

KTM
2
Trevor Bollinger
Morganton, NC

United States

Honda
3
Thad Duvall
Williamstown, WV

United States

Husqvarna
4
Josh Strang
Inverell

Australia

Husqvarna
5
Ricky Russell
Duvall, WA

United States

Yamaha
6
Josh Toth
Winstead, CT

United States

KTM
7
Craig Delong
Morgantown, PA

United States

Husqvarna
8
Pascal Rauchenecker

Austria

Husqvarna
9
Layne Michael
Fairmont, WV

United States

Husqvarna
10
Ben Kelley
Harwinton, CT

United States

KTM
Full Results
GNCC
Rider
Hometown
Bike
1
Josh Toth
Winstead, CT

United States

KTM
2
Craig Delong
Morgantown, PA

United States

Husqvarna
3
Pascal Rauchenecker

Austria

Husqvarna
4
Ben Kelley
Harwinton, CT

United States

KTM
5
Liam Draper
Auckland

New Zealand

Husqvarna
6
Jonathan Johnson
Landrum, SC

United States

Yamaha
7
Ryder Lafferty
Millville, NJ

United States

KTM
8
Evan Smith
Jefferson, GA

United States

Husqvarna
9
Austin Lee
Bedford, IN

United States

Honda
10
Michael Witkowski
North Liberty, IN

United States

Beta
Full Results
GNCC
| Position | Rider | Hometown | Points |
| --- | --- | --- | --- |
| 1 | Kailub Russell | Boonville, NC | 297 |
| 2 | Thad Duvall | Williamstown, WV | 262 |
| 3 | Steward Baylor | Belton, SC | 219 |
| 4 | Trevor Bollinger | Morganton, NC | 208 |
| 5 | Ben Kelley | Harwinton, CT | 192 |
| 6 | Josh Strang | Inverell | 189 |
| 7 | Josh Toth | Winstead, CT | 177 |
| 8 | Ricky Russell | Duvall, WA | 142 |
| 9 | Grant Baylor | Belton, SC | 115 |
| 10 | Craig Delong | Morgantown, PA | 104 |
Full Standings
GNCC
| Position | Rider | Hometown | Points |
| --- | --- | --- | --- |
| 1 | Ben Kelley | Harwinton, CT | 323 |
| 2 | Josh Toth | Winstead, CT | 305 |
| 3 | Craig Delong | Morgantown, PA | 199 |
| 4 | Austin Lee | Bedford, IN | 170 |
| 5 | Evan Smith | Jefferson, GA | 158 |
| 6 | Michael Witkowski | North Liberty, IN | 147 |
| 7 | Pascal Rauchenecker | | 145 |
| 8 | Jonathan Johnson | Landrum, SC | 141 |
| 9 | Liam Draper | Auckland | 131 |
| 10 | Zack Hayes | Sumter, SC | 99 |
Full Standings