Pro Circuit Releases 2018 KTM, Husqvarna Two-Stroke Pipes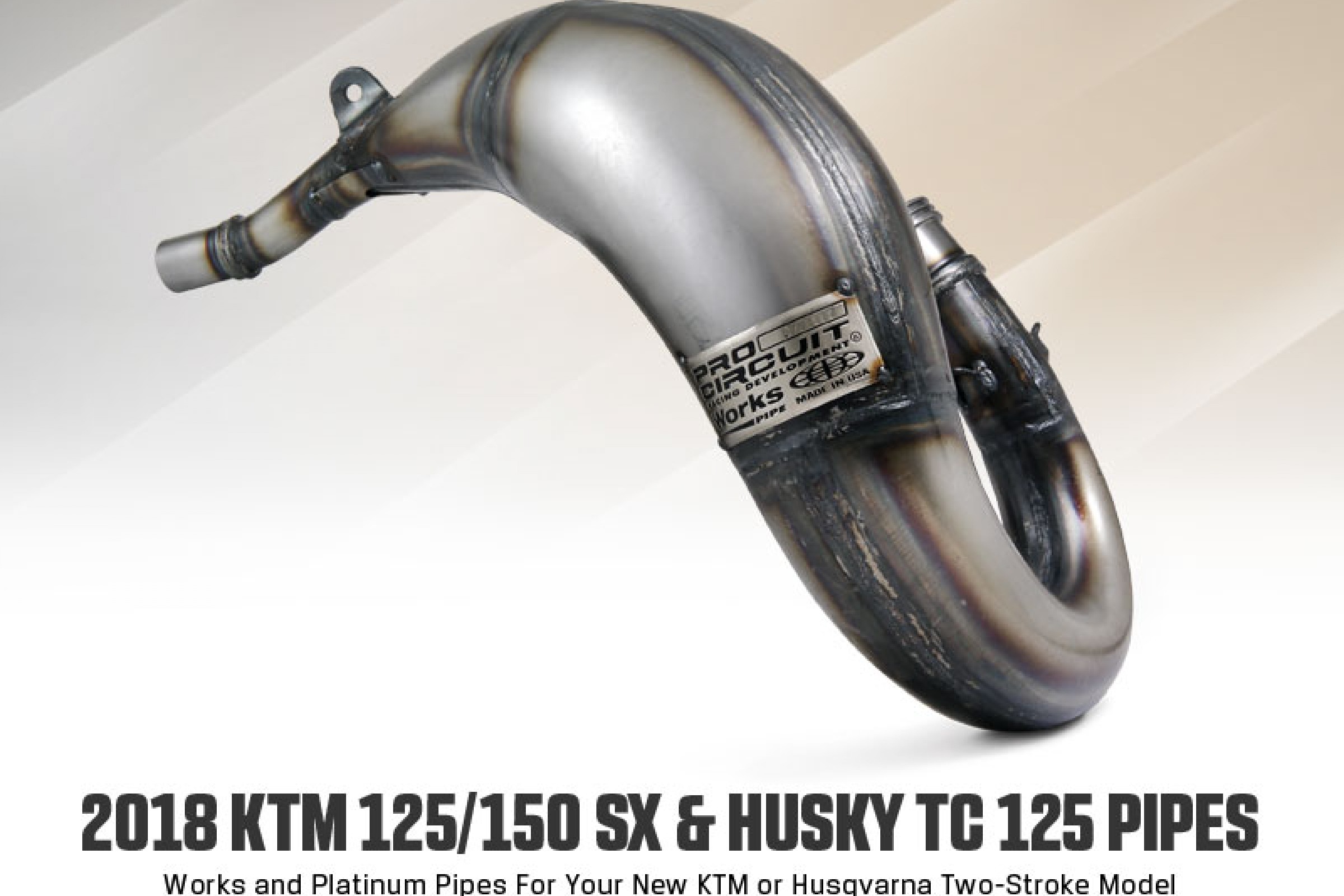 CORONA, Calif. — KTM and Husqvarna two-stroke riders will be excited to hear the release of our new Works and Platinum Pipes built for the 125/150 SX and TC 125 models. Ready to bolt on and shred the track or trail, the Works and Platinum Pipes for the new KTM and Husqvarna models offer a noticeable performance and horsepower boost across the entire RPM range. Since the previous Pro Circuit silencers continue into the 2018 models, these pipes will work with any 2016-'18 Pro Circuit silencer for the KTM 125/150 SX or Husqvarna TC 125. Add a bit more performance and fun into your next riding experience with a Works or Platinum Pipe.
Pro Circuit. We Race.
Works Pipe
The original Pro Circuit Works Pipe offers unparalleled performance and power for every two-stroke application. Increased horsepower and torque gains will quickly be noticed across the entire rpm range. The unplated, oiled metal finish requires some maintenance, but really gives your bike that "works look."
Features
Stamped AKDQ high-quality carbon steel construction
Hand-welded and -pounded seams
Reinforced mounting brackets and stinger
Made in the USA
Platinum Pipe
The Platinum Pipe offers the same performance gains as the Works Pipe, but is a more ideal choice for extreme weather condition riding. It is constructed of AKDQ high-quality carbon steel and includes a nickel-plated finish to reduce rider maintenance and to help protect the pipe against nature's elements. The Platinum Pipe also features hand-welded and -pounded seams and reinforced mounting brackets and stingers for increased durability.
Features
Stamped AKDQ high-quality carbon steel construction
Hand-welded and -pounded seams
Reinforced mounting brackets and stinger
Electroless nickel plating increases part life two to ten times longer
Made in the USA