Watch GNCC Racing on RacerTV.com and NBCSN This Weekend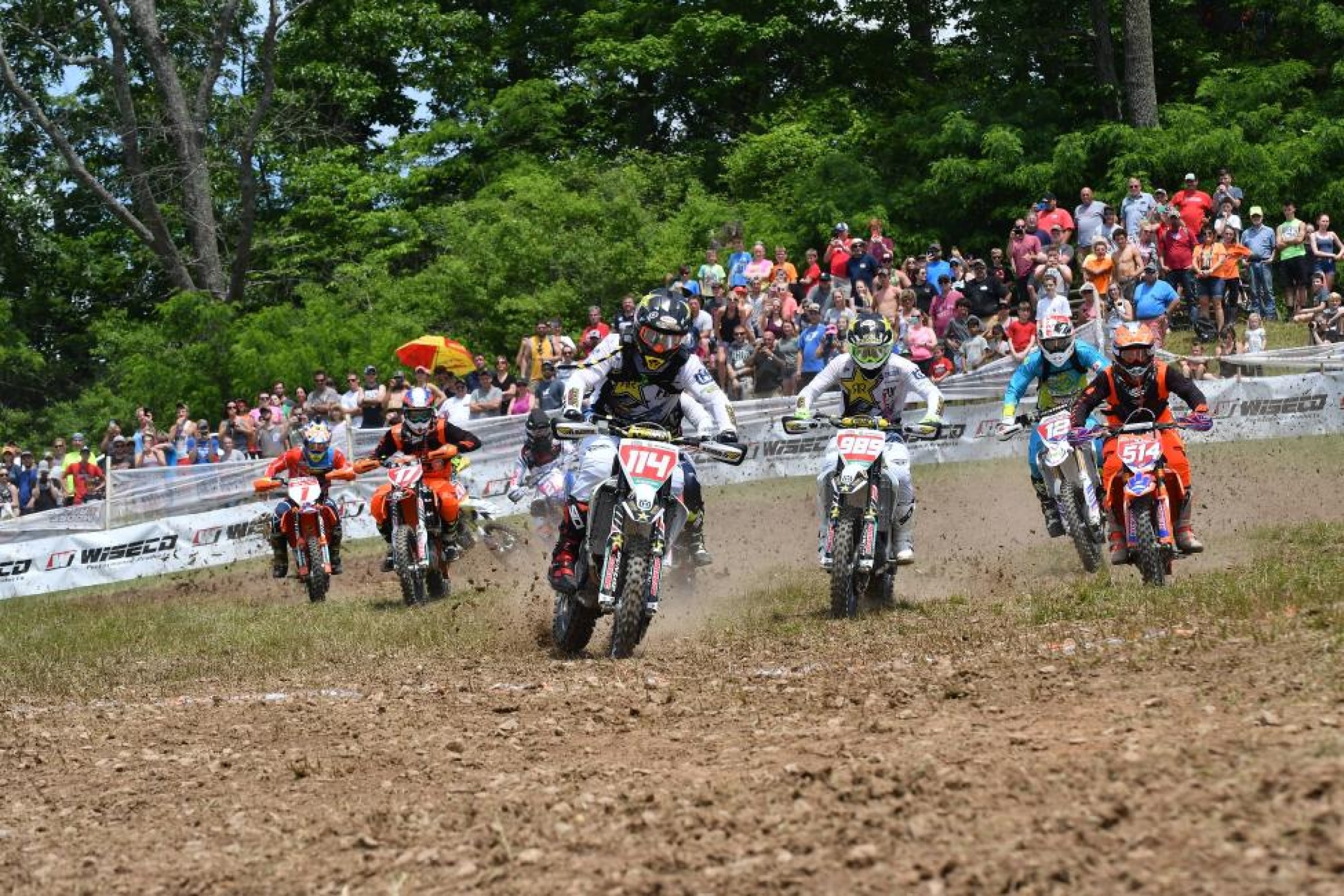 Alpine, NY
Tomahawk
GNCC Racing
MORGANTOWN, W.Va. — This weekend, do not miss GNCC Live on RacerTV.com from the 2018 Amsoil Grand National Cross Country (GNCC) Series, an AMA National Championship, round eight — Dunlop Tomahawk from Odessa, New York. The live broadcast starts Saturday, June 9, at 1 p.m. EDT for pro ATV racing, and on Sunday, June 10, at 1 p.m. EDT for pro bike racing.
After earning his second win of the season in Ohio on May 27, Thad Duvall is looking to keep his momentum rolling into this weekend's GNCC. Duvall is hopeful to earn his third win at a venue he has already been victorious at in years past. However, Kailub Russell will be aiming to return to the center of the podium and to earn a win at the Tomahawk GNCC, one venue he has not earned an overall win at since it joined the schedule in 2015.
Josh Strang is another rider who will be looking for the front spot of the race this weekend. Strang found himself at the front of the pack two weeks ago, when he finished in the second-place position—his best finish so far in 2018. Strang has had success at this race in the past, and he will be looking to earn his first overall win of the season on Sunday.
Josh Toth has earned four class wins in the XC2 250 Pro class, but still finds himself 20 points behind current points leader Ben Kelley. After finishing second at the past three events, Kelley is hoping to return to the center of the podium Sunday afternoon. Craig Delong has rounded out the podium for XC2 at the last two rounds. Delong had a rough start to the season, but he has been looking like his normal self these past couple weeks.
The FMF XC3 125 Pro-Am class saw Alex Teagarden take the win at round seven, which is his second of the season. Jason Raines earned second and remains second in the points followed by Cody Barnes in third place. Jesse Ansley holds onto the points lead after finishing fourth at the previous round; however, he will be one to keep an eye on as he remains eager to return to the center of the podium this weekend.
The 1 p.m. pro races will be broadcast live on the Internet via RacerTV on www.racertv.com both days. A highlight show featuring the event will air on NBC Sports Network on Sunday, July 8, at 6:00 p.m.
Watch Saturday's Pro ATV coverage here, and Sunday's Pro Bike coverage here.
2018 GNCC Live RacerTV.com Schedule
| | | | | |
| --- | --- | --- | --- | --- |
| Roundd | Date | Time | Event | Location |
| 8 | June 9 | 1 PM | Tomahawk ATV | Odessa, NY |
| | June 10 | 1PM | Tomahawk Bike | |
| 9 | June 23 | 1 PM | Snowshoe ATV | Snowshoe, WV |
| | June 24 | 1 PM | Snowshoe Bike | |
| 10 | Sept. 15 | 1 PM | Black Sky ATV | Harpursville, NY |
| | Sept. 16 | 1 PM | Black Sky Bike | |
| 11 | Sept. 29 | 1 PM | Mason-Dixon ATV | Mount Morris, PA |
| | Sept. 30 | 1 PM | Mason-Dixon Bike | |
| 12 | Oct. 13 | 1 PM | Powerline Park ATV | St. Clairsville, OH |
| | Oct. 13 | 4 PM | Powerline Park UTV | |
| | Oct. 14 | 1 PM | Powerline Park Bike | |
| 13 | Oct. 27 | 1 PM | Ironman ATV | Crawfordsville, IN |
| | Oct. 27 | 4 PM | Ironman UTV | |
| | Oct. 28 | 1 PM | Ironman Bike | |
NBCSN Channel number on Popular Cable/Satellite Providers:
AT&T U-verse: Standard 640 / HD 1640
DIRECTV: 220
DISH Network: 159
2018 NBCSN Broadcast Schedule
| | | | | |
| --- | --- | --- | --- | --- |
| Round | Premiere Date | Time | Event | Location |
| 6 | June 9 | 06:00 PM | X-Factor | Peru, IN |
| 7 | June 23 | 06:00 PM | The John Penton | Millfield, OH |
| 8 | July 8 | 06:00 PM | Tomahawk | Odessa, NY |
| 9 | July 28 | 01:00 PM | Snowshoe | Snowshoe, WV |
| 10 | November 10 | 03:00 PM | Black Sky | Harpursville, NY |
| 11 | November 11 | 03:00 PM | Mason-Dixon | Mount Morris, PA |
| 12 | November 18 | 01:30 PM | Powerline Park | St. Clairsville, OH |
| 13 | November 25 | 05:30 PM | Ironman | Crawfordsville, IN |