Dean Ferris Captures Fifth Overall Win at Murray Bridge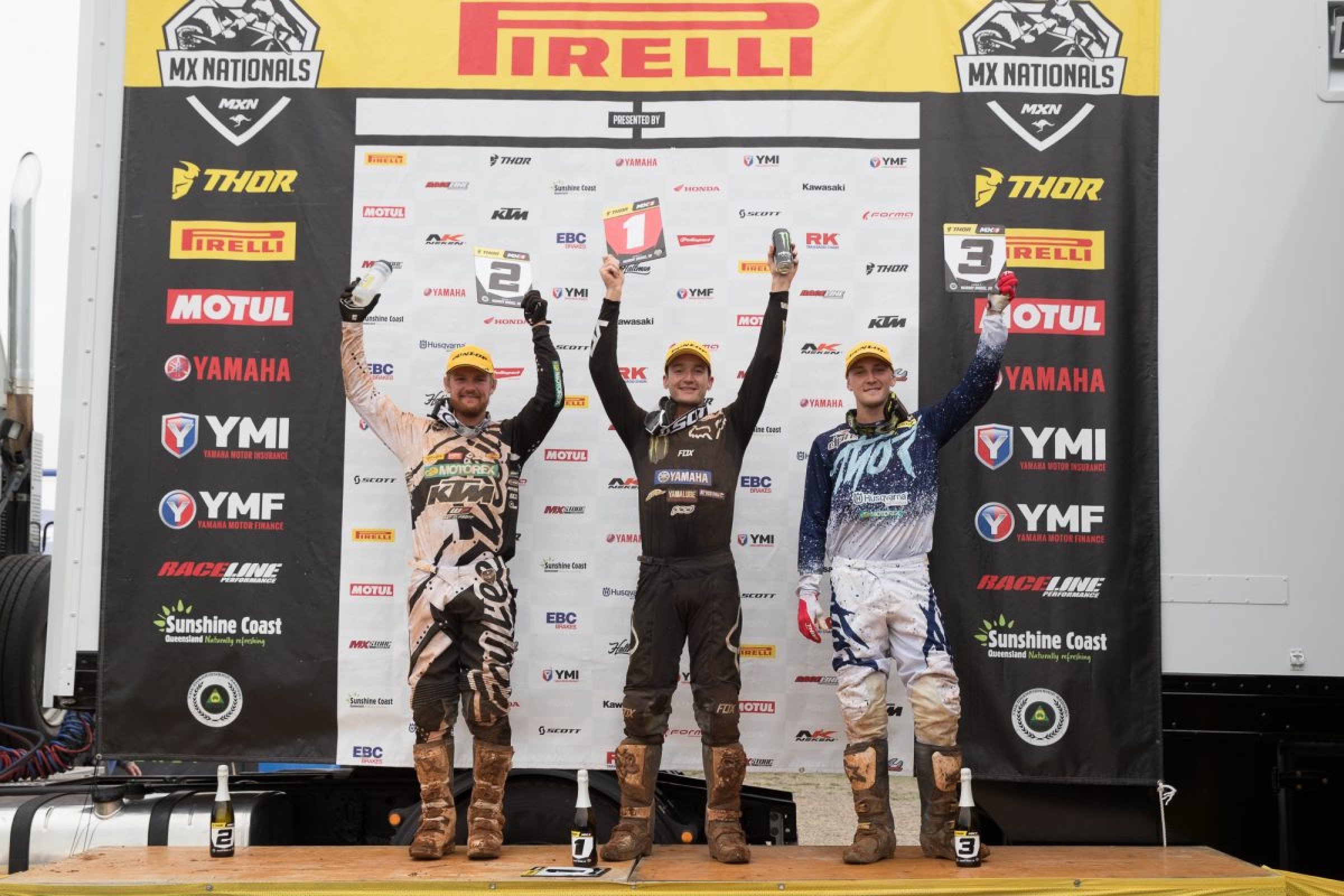 MX1
At thrilling sixth round of MX Nationals action at Murray Bridge, CDR Yamaha Monster Energy Team's Dean Ferris extended his streak of round wins to five, but relented his first race win of the season to DPH Motorsport Husqvarna-mounted Victorian Kade Mosig.
It was a hard battle, but two-time defending champion Ferris maintained his overall record with a 1-2 result, while rivals Kirk Gibbs (KTM Motocross Racing Team) and Mosig rounded out the overall podium in the orange, loamy Murray Bridge soil.
When the gate dropped on the opening Thor MX1 moto, KTM Motocross Racing Team's Luke Clout surged to the front of the pack and commanded the race for 25 minutes while Ferris clawed his way through the pack. With just a handful of laps remaining, Ferris made his move for the lead, and held a desperate Clout at bay to eventually win by five seconds. A goggle-less Gibbs finished third, while local hero Brett Metcalfe (Penrite Honda Racing) and Kiwi Rhys Carter (Complete Parts Kawasaki) filled the top five.
In the second MX1 outing, Mosig led from the first turn on his way to his first race win of 2018, while fending off immense pressure from Ferris for the race's duration. Gibbs finished a consistent third, more than 20 seconds behind the leading pair, trailed by an improved Dylan Long (CDR Yamaha Monster Energy Racing Team) and Brett Metcalfe.
Results:
1 Dean Ferris (Yamaha) 67
2 Kirk Gibbs (KTM) 60
3 Kade Mosig (Husqvarna) 57
4 Luke Clout (KTM) 56
5 Brett Metcalfe (Honda) 53
6 Dylan Long (Yamaha) 51
7 Caleb Ward (Husqvarna) 50
8 Mitch Evans (KTM) 48
9 Rhys Carter (Kawasaki) 48
10 Connor Tierney (Yamaha) 42
MX2
Despite not winning a race, Serco Yamaha's Pirelli MX2 championship leader Wilson Todd extended his series lead heading into the series' mid-season break after an enthralling day of racing at Murray Bridge
After two eventful motos, just four points separated the top four positions, as Todd stood atop the podium, with Davey Motorsports KTM's Hamish Harwood in second. A memorable day for class rookie Jy Roberts (Husqvarna) saw him close out third position.
KTM Motocross Racing Team's defending MX2 champion Egan Mastin dominated the opening race with a wire-to-wire victory, enjoying a nine-second lead over his rival Todd, who had his hands full keeping third-placed Kyle Webster (Penrite Pirelli Honda CRF Racing) at arm's length. 2017 round winner and fastest qualifier Hamish Harwood crossed the finishline in fourth, with Dylan Wills (DPH Motorsport Husqvarna) fifth.
In the Pirelli MX2's second outing, young Jy Roberts snatched the holeshot and never looked back on his way to a break-out race win more than seven seconds ahead of the hard-charging Harwood. A consistent Todd placed third, while Webster finished fourth and Aaron Tanti (Complete Parts Kawasaki) rounded out the top five.
Results:
1 Wilson Todd (Yamaha) 62
2 Hamish Harwood (KTM) 60
3 Jy Roberts (Husqvarna) 59
4 Kyle Webster (Honda) 58
5 Egan Mastin (KTM) 55
6 Dylan Wills (Husqvarna) 50
7 Kale Makeham (Yamaha) 48
8 Aaron Tanti (Kawasaki) 47
9 Kaleb Barham (Husqvarna) 42
10 Joel Evans (Husqvarna) 41