Glen Helen Raceway
San Bernardino

,

CA
Glen Helen
Lucas Oil AMA Pro Motocross Championship
Welcome to Racerhead, coming to you from a crowded press tent at Glen Helen Raceway. We just finished having press day practice, and the track has come around nicely. Jody, Karl, Brian, and crew have been doing nip-tucks out here all week long, and the riders I spoke after practice—Justin Barcia, Christian Craig, Jason Anderson, Blake Baggett, Eli Tomac—all gave it the thumbs-up. The racing should be fantastic tomorrow, and Jason Weigandt will have more on that later.
Sadly, we have to start with horrible news once again, and once again it's one of the giants of the motorcycle industry. This is the official announcement:
Jeffrey D. Fox
12/23/56 – 5/23/18
It is with great sadness to announce the passing of Jeff Fox, former president of LeMans Corporation of Janesville, Wisconsin. Fox grew up in the family business of the Parts Unlimited distributing company, which grew through the years under the LeMans Corporation umbrella to include Drag Specialties, Thor MX, Moose Racing, Icon, and other leading motorcycle and powersports brands.
After retiring from LeMans Corp in 2007, he created a business of self-storage facilities known as Fox Den Store-It with locations operating in Edgerton and Janesville, WI; Fort Knox, TN; Rapid City and Summerset, SD, and more in development.
Jeff enjoyed the outdoors and often took his family on hunting and fishing trips to Canada, as well as the annual Sturgis motorcycle rally. He was also an avid lover of Wisconsin sports, especially the Green Bay Packers, Wisconsin Badgers, and Milwaukee Brewers. Jeff passed away at Miller Park on Wednesday, May 23, while enjoying a Brewers baseball game with family and associates. He is survived by his wife, Charise, son Justin, and daughter Jamie.
A Memorial service will be held on Thursday, May 31, 2018 starting at 2:00 p.m. at Schneider's Funeral Home at 1800 E. Racine St., Janesville WI 53545.
I was lucky enough to know Jeff Fox since the newspaper days. He started sponsoring supercross and the nationals in 1995, as well as more riders than you might ever imagine through the Parts Unlimited family, which included more brands than you probably realize. He was extremely smart, generous, funny, kind, supportive… But I have to admit that when he retired in 2007, I was selfishly a little bummed. He was always fun to be around at the races, and the sport really needed him, as the recession was coming and everyone was starting to feel it. But then Jeff never really left completely, he just wanted to focus more on his family—his lovely wife Charice, his son Justin and his daughter Jamie—and who could blame him?
Now I take comfort in the fact that he retired back then, because in this incredibly sad moment it's nice to know that his family got his focus for the last 11 years, not the family business. And the things that he changed in his time at the helm of Parts Unlimited truly changed the sport forever. The work, friendship and contributions Jeff Fox brought to global motorcycling will never be forgotten. I don't really know what else to say…
Godspeed, Jeff.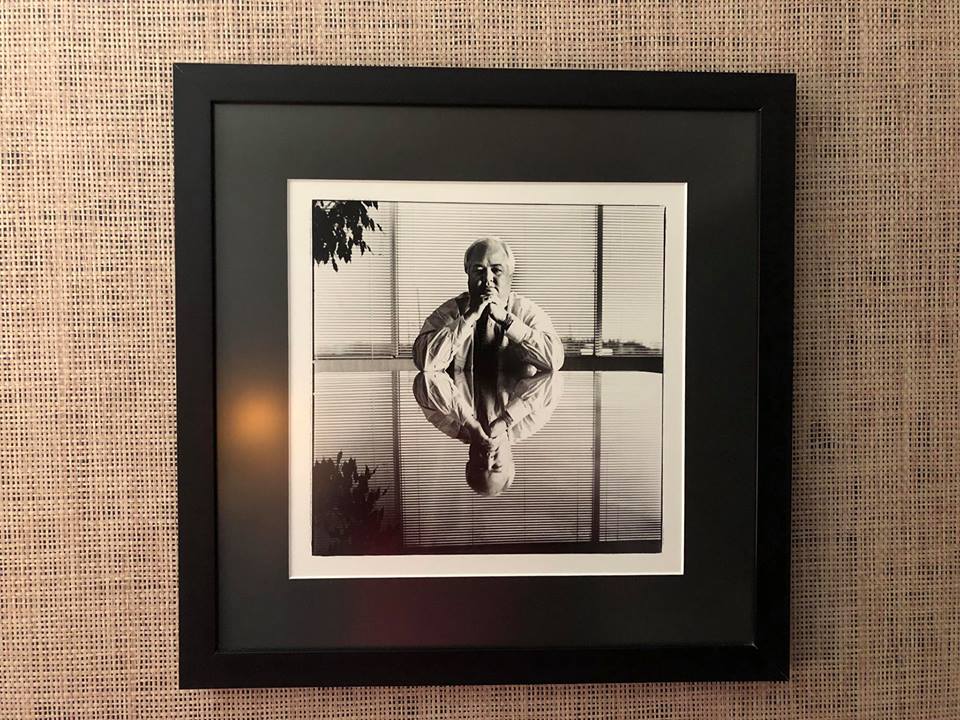 Press Day (Jason Weigandt)
Lots of updates from a loaded press day today at Glen Helen. The first riders I sought out were Jason Anderson and Ken Roczen, who would both obviously hope to make some process after struggles late in the motos at Hangtown. They have their reasons, as Roczen of course is working his way back from injury, and Anderson had very little outdoor prep time and literally didn't do any testing at all before Hangtown on his new Rockstar Edition Husqvarna. Anderson told me today he did a day of outdoor riding during supercross but decided he wasn't into it and wanted to keep the focus on supercross to the end. He then logged five days, including press day, of motocross prep before Hangtown. At that point, he was just trying to get used to outdoors again, so he didn't test the bike, he just rode with the settings the team gave him. He rode more this week and made some shock changes, but still he's focused more on getting seat time than throwing a ton of changes on the bike. Last week during his post-race TV interview, Anderson said he was good for a few laps and then "was trash after that." Today he joked that he felt less like trash, but it's not race day so he's still not sure how good he'll actually be tomorrow.
Roczen told me he wasn't super sore after Hangtown, his thumb did hurt a bit but he was able to do some riding and testing this week. He still can't do a full load of riding like he would do if he were 100 percent. "I'll let you guys know when I'm race ready," he told me today before blasting off for a few laps.
Last year, Blake Baggett was said to be flying in pre-season work but then struggled at Hangtown. He made a ton of changes for Glen Helen last year, and I remember him running down a whole list of things he changed, like forks, shock, clamps, engine hangers, and more. I asked Blake today if he changed a whole bunch of stuff like that again.
"Yes," he said.
I also talked to Baggett's Rocky Mountain ATV/MC-WPS-KTM teammate Benny Bloss. Benny rode very, very well at Hangtown, going from last to tenth in 450 moto one, and passing Anderson late in moto two to grab fifth. Bloss told me today that Hangtown didn't feel like a national to him—he was much more relaxed than usual, in fact he was surprised he felt so few nerves compared to usual. "It felt like a regular race but just with a lot of fast guys," he said.
Bradley Taft opened some eyes last weekend with tenth overall in the 450s, riding a box-stock Husqvarna. He only even decided to race the Tuesday before the event, when his brother bought him a new bike. This week, he got some A-kit suspension for the bike, which he thinks will work much better as long as his settings are right. Top ten in a national on stock suspension is impressive.
Austin Forkner got hurt last week in the strangest way. He promises he is not lying. His holeshot device popped up while his chest was over the bars waiting for the gate to drop, and he took a blow to the chest. He popped ribs out of place and said it actually hurt in his back more than anything else. The pain got worse as the moto went on, and he eventually pulled off the track. Forkner was able to ride twice this week and felt pretty good. He should be fine for tomorrow.
Jeremy Martin says he went back to Colorado this week to go to work with Eli Tomac, but he did get to do some testing, as the GEICO Honda team sent him some suspension to try. He wasn't totally comfortable last week so he was fine with the 2-2 scores at Hangtown and hopes for better here. Similar story for his teammates. RJ Hampshire said he didn't feel like he rode well at Hangtown but just stayed steady and logged a top ten. He wants more, soon, and tested with the team all week. Chase Sexton said he rode terribly in the first moto last week but was happy with his riding in the second moto.
There was almost some drama in the 250 Class on Tuesday as Zach Osborne had a crash and hurt his thumb. The moment he hit the ground, he was worried he had done some major damage, but things have improved over the last two days, and he felt okay riding today. Zach seems to be putting the thumb damage in the "not bad but could be better" category. He's not too concerned with it.
That's the scoops from press day today. Man, this should be exciting tomorrow.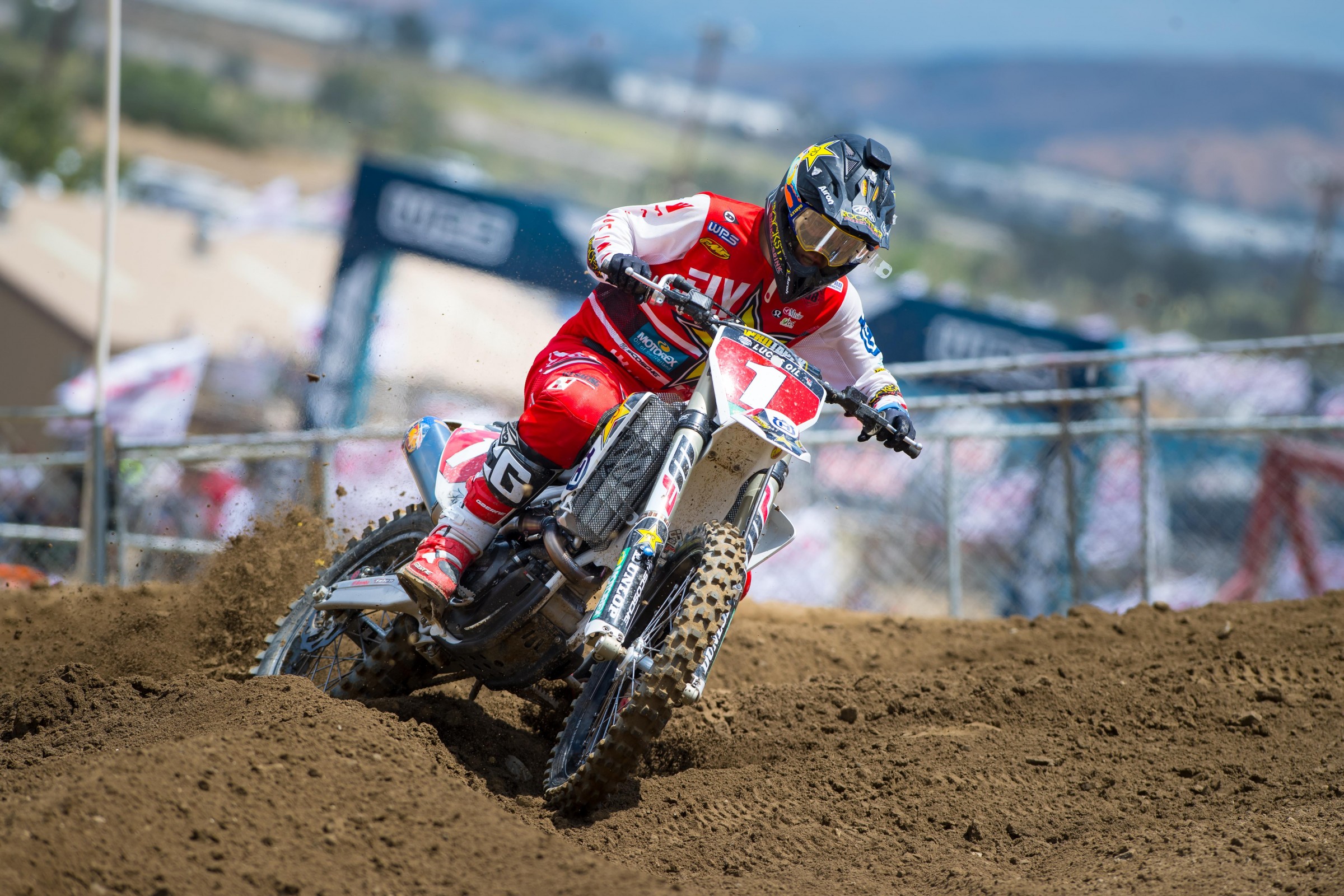 LOCALS ONLY (Steve Matthes)
Round two of the Lucas Oil Pro Motocross Championship this weekend in Glen Helen is a bit of a tricky round for us in the media to deal with. By that, I mean the results are sometimes skewed because GH is such a locals-only place where you kind of have to know how to ride it to do well. Yes, lots of the riders out there on Saturday will have a lot of laps at The Helen, so you would think it would be fine, but there's just something about the loose soil, hard base, square-edged stuff that is tough to ride. Lack of traction, knowing how to not bury the bike in those tempting big berms, and having a bit of no fear all goes into doing well at The Helen. Justin Hill rode great here a couple of years ago and didn't do much else; Alex Martin's only AMA National overall win was here; Phil Nicoletti made his only podium here; Josh Grant routinely put in great rides here.... I don't know, it's a unique animal.
Pro Perspective (Jason Thomas)
Glen Helen means different things to different people. For me, I dreaded it. I lived in Florida and didn't ride outdoors all that much in California. Dealing with the local guys that specialized at Glen Helen was never fun. They were fast enough to really mess up my day and then when I finally wore them out, I had to figure out ways to pass them on a track they knew like the back of their hand. The track itself was an opponent for me, too. The huge downhills were always a weak spot as I grew up on flat ground and just didn't feel as comfortable on the descents. The Glen Helen shadows were another factor that I never really acclimated to. The late afternoon sun would drop behind the hills during the second moto and created nasty shadows for the jump faces and uphills. It was really a guessing game as to what rut I was in or if there was an impending bump that I was completely oblivious to. Maybe that was normal to other riders but for me, I never figured it out.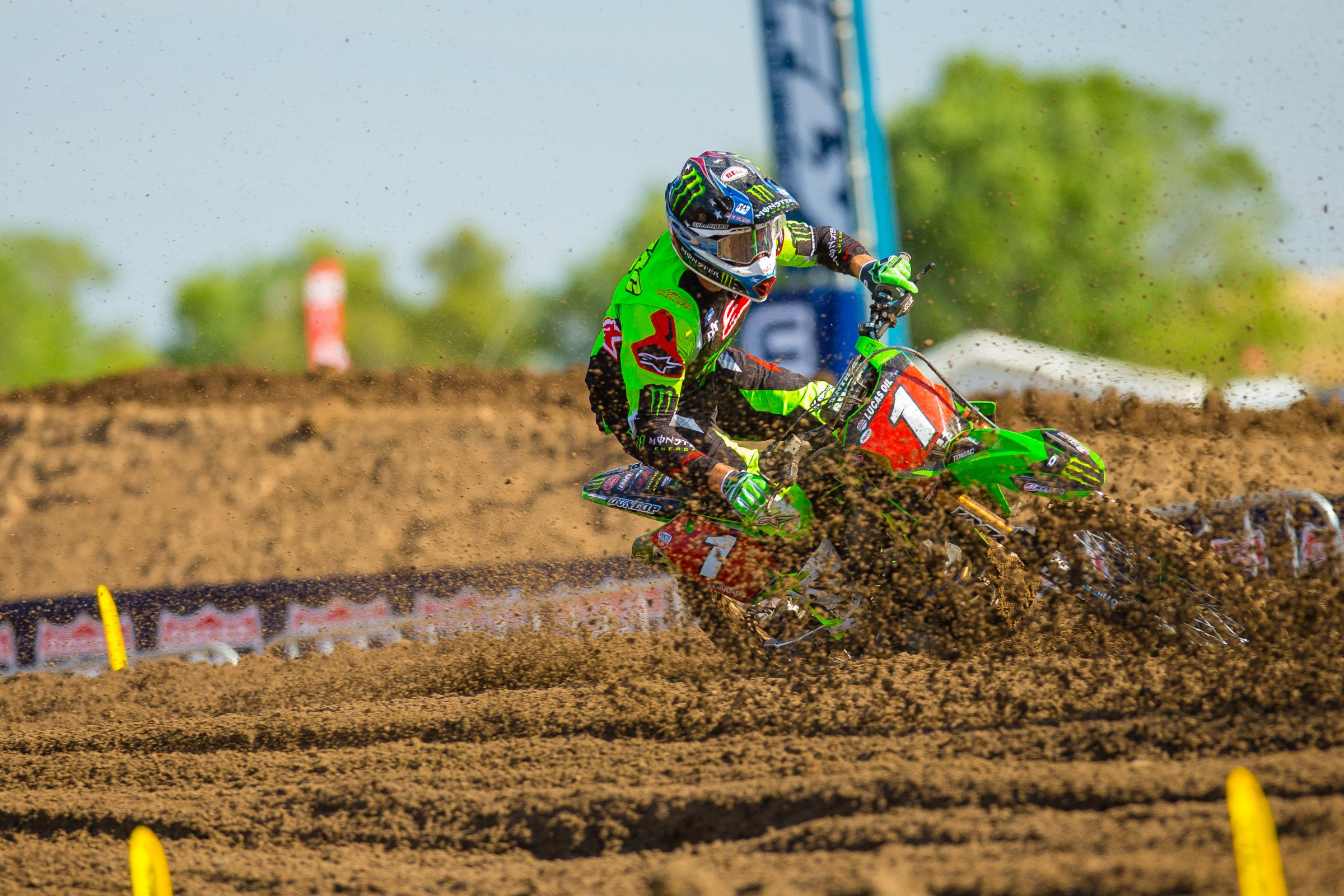 All in all, Glen Helen was just a challenge for me. With 12 rounds spanning the entire country, it's inevitable to have good tracks and not so good tracks for one's particular skill set. I always went in with the same mindset, though. If I could just suffer through the first 15 minutes and keep my rivals in sight, I knew I could hunt them down in the latter stages. I would always try to follow those who knew this track best. Just because I didn't have the experience that they did with the track doesn't mean I couldn't steal their lines as the day evolved. Knowing that it was a difficult round made me extra vigilant in my preparation, too. I studied the track in between motos more than normal and really paid attention to the developing lines on the sighting lap. Glen Helen can be your best friend or your toughest foe. How the riders approach it tomorrow can be the difference in those two extremes. Watch for the locals to come out swinging but also know that the east coasters and foreigners will be lurking and learning, biding their time in hopes of a good finish by the checkers.
WALKING WOUNDED (Matthes)
Couple of injury updates here, and it doesn't sound like Monster Energy Yamaha's Cooper Webb is going to be back until at least RedBud. Yamaha is putting privateer hero Alex Ray on the bike this weekend for a three-race trial. After three races, it'll be looked at and decided if both parties want to keep it going until Webb is back, which should be a race or two after High Point (Ray's third race). Ray has never broken the top 20 in his motocross career (although he's raced limited nationals) so this should be interesting. I asked a Yamaha VIP where he thinks Ray will finish, and he said in terms of fill-in rides, Ray should be somewhere between Scott Champion (Washougal fill-in a few years ago) and Matt Goerke (won a 450 Class National as a fill-in). Alrighty then....
Also, Monster Energy Kawasaki was hoping to get Josh Grant back soon, but he had to undergo another surgery on his leg and will be out for a while. Kawasaki would've put Tyler Bowers on the #33 machine, but he broke his leg in Las Vegas. It wasn't that bad of a break, and it seems that The Bear will be back riding before too long. So look for Tyler to be racing nationals whenever he gets up to speed.
Privateer Kevin Moranz raced his first ever pro national at Hangtown and got close to the top 20 in one moto. I talked to the 18-year-old for my Privateer Island Podcast earlier this week, and he told me how he's living in his van with his mechanic buddy in the parking lot of Race Tech. He's hardcore, I like it! Living the dream, right? Get it wherever you get podcasts, people.
Oh, and before I go, read everything you can on PulpMX.com right away. I'd appreciate it.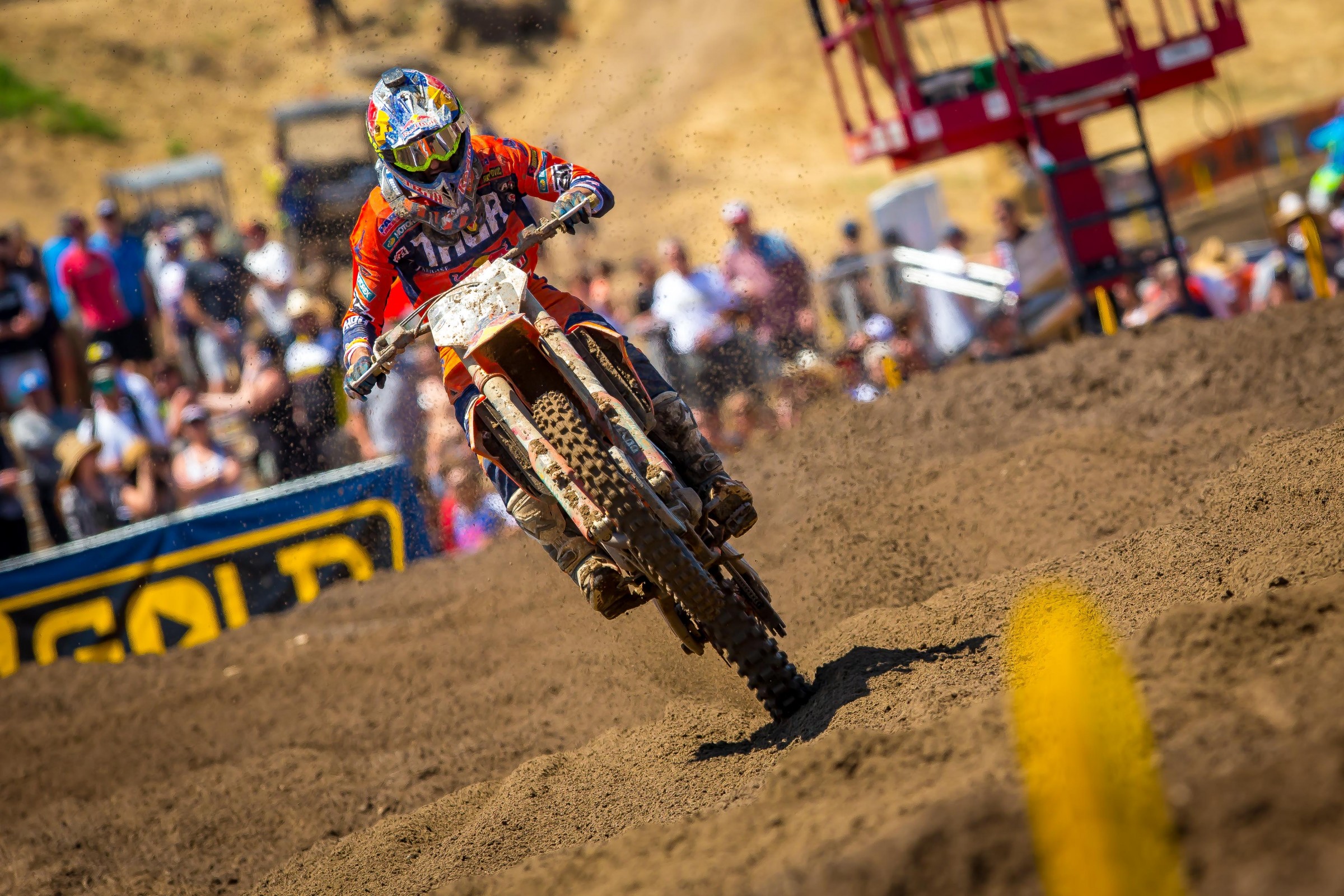 The Rookies (Chase Stallo)
The tradition continued last weekend: A handful of riders—Garrett Marchbanks, Enzo Lopes, Jordan Bailey, and Jake Masterpool—made their professional debuts at the Lucas Oil Pro Motocross opener. It's becoming more of a trend as teams want their young riders to get a full season of Pro Motocross in before moving to Monster Energy Supercross. Still, it's more common for amateurs to race Loretta Lynn's, then race the last few nationals, and then hit supercross.
All the rookies cited nerves last weekend—expected—but all performed rather well. Back in 2004, Josh Grant exploded on the scene in his pro debut, pulling away in his first moto until his engine stalled. A few years later, it was Justin Barcia grabbing the early lead before he faded to ninth. He took third in the second moto, though. And then Eli Tomac wrecked it all in 2010, going 3-1 to win the overall. He is still the only rider ever to win their first national in their first race.
Let's take a look at how some recent debuts went. (Note: These are only riders who made their professional debuts at the opening round of Lucas Oil Pro Motocross.)
| | | | |
| --- | --- | --- | --- |
| Rider | Year | Venue | Results |
| Josh Grant | 2004 | Hangtown | 35-32 for 35th overall |
| Justin Barcia | 2009 | Glen Helen | 9-3 for 6th overall |
| Eli Tomac | 2010 | Hangtown | 3-1 for 1st overall |
| Jessy Nelson | 2012 | Hangtown | 13-17 for 16th overall |
| Cooper Webb | 2013 | Hangtown | 5-18 for 11th overall |
| Austin Forkner | 2016 | Hangtown | 13-7 for 8th overall |
| Tristan Charboneau | 2016 | Hangtown | 6-14 for 9th overall |
| Sean Cantrell | 2017 | Hangtown | 10-13 for 12th overall |
| Michael Mosiman | 2017 | Hangtown | 12-14 for 14th overall |
| Garrett Marchbanks | 2018 | Hangtown | 12-6 for 10th overall |
| Enzo Lopes | 2018 | Hangtown | 13-15 for 15th overall |
| Jordan Bailey | 2018 | Hangtown | 19-19 for 19th overall |
| Jake Masterpool | 2018 | Hangtown | 14-14 for 14th overall (450 Class) |
WORD UP (Matthes)
Every week on our Racer X Race Review Podcast, we try to give Jason Weigandt a word to squeeze into the broadcast, and he's become great at it. El Chupacabra was born from the word of the day, as was "crown molding" that Grant Langston still uses! This week the word is "star-nosed mole," and although it's kind of funny, Weigandt is going to knock this one out of the park whenever a rider takes a soil sample.
Beta Intro (Kyle Scott)
On Wednesday, Beta Motorcycles invited the motocross media out to try trials riding on their Evo 2-Stroke and Evo 4-Stroke at MotoVentures Dirt Bike Training Facility, which is literally across the street from Cahuilla Creek in Anza, California. I've never ridden trials before, but it was quite an experience. Coming from a track rat motocross background, I just wanted to moto at first. Soon after getting a little lost cruising the trails of the property, I felt comfortable on the Evo 2-Stroke 300 and headed over to the area where Beta had setup some very beginner trials courses. Later in the day they had a planned "battle of the mags" competition between each publication where we were to be scored like a normal trials competition to see how we'd do.
One thing that is different about trials compared to motocross is you're not allowed to ride the course before the competition. So before we started, we messed around on some rocks nearby and tried to figure out the wizardry they call trials. Professional trials rider and factory Beta rider Ty Cullins was on hand showing us how it's done and the things he's able to do are insane. Jumping from rock to rock or up and over stuff I wouldn't even have considered possible. Especially this 10-foot high "splat" that he did launching off a two-foot-high rock as a ramp.
In the competition, I personally was sub-par at best and wasn't in the running for the win. Plus, I missed a stage completely as I was a little more focused on getting some good shots for you to enjoy. As moto guys we all wanted to pin it over stuff, but we soon found out the best way to go fast in trials is by going slow. It's like a game of chess where you plan your moves several steps in advance. Beta did make some cool trophies for the winners of the two classes they had, congrats to Don Williams and Mark Tilley who won the beginner and advanced classes respectively.
If you're not into climbing rocks and logs that's fine, I think these are great play bikes for just cruising around too, especially if you live somewhere with tighter trails or if you're limited on space for a full-size bike. While motoing in the trails, I felt like I was on a mountain bike with an engine. The turning radius is just about the same as a mountain bike so you can really have fun with these bikes. Their 2018 line-up includes 20 different trials bikes alone ranging from minis, mini-electrics, two-strokes, four-strokes, to trials sport, which also include a seat. Bottom line: give these trials bikes a go.
In addition to a huge line up of trials bikes, this Italian, family owned company makes an entire fleet of motocross bikes. From race edition two strokes (125/250/300cc) and four strokes (350/390/430/450/480/500cc) for GNCCs, enduros and hare scrambles to full on dual sports that are street legal in all 50 states. You can BYOB (Build Your Own Beta) at betausa.com
SIR JACK CALLING (DC)
In the latest issue of Racer X Illustrated there is a really cool Gate Pic from the 1976 British 250cc Grand Prix that I found in the Racer X Archives. I wasn't sure of the provenance of the photo or the track, but I guessed it to be Farleigh Castle. Of course I was wrong, as I found out in the following email from one of my all-time favorite motocross people I've met along the way, Sir Jack Burnicle. Here's what he wrote:
Great to see that start pic from the 1976 British 250GP, an event that contained some of the world's best past, present and future! The event took place not at Farleigh but at the Fox and Hounds circuit at Newbury, in the Royal Country of Berkshire, west of London—a course designed by Roger de Coster! The leading rider is grand prix winner Gennady Moiseev (23) chased by Russian compatriot Anatoly Ovchinnikov (26). Other riders with identifiable numbers besides Harry Everts (1) are Sylvain Geboers (2), Jim Pomeroy (22), Gerard Rond (17), Daniel Pean (14, first Frenchman ever to win a grand prix!), Andy Roberton (34), Pauli Pippola (12), Andre Malherbe (5), Torleif Hansen (19), Vladimir Kavinov (24), Bob Wright (33), Jean-Jacques Bruno (15), Jaroslav Falta (6), Miroslav Halm (8) and perpetual Irish backmarker Dennis McBride (18)! The pack also includes Joel Robert, Heikki Mikkola, Hakan Carlqvist (on an Ossa!), Neil Hudson, Rolf Dieffenbach, Raymond Boven and Falta's Czech mate Antonin Barbarovsky...some cast list!
The starting gate didn't drop cleanly for race one and Robert, Geboers and Mikkola protested, Robert blocking the track with his Puch! A restart saw Moiseev lead all the way, chased hard until lap 11 of 17 by Pomeroy, when 'Bimbo' cartwheeled his Bultaco spectacularly downhill! He remounted to finish fifth but the shoulder injury forced him out of race two. Mikkola also crashed out of race one. Everts finished second and 19-year-old rookie Neil Hudson third in his first 250GP ahead of Barbarovsky, Ovchinnikov, Pean, Dieffenbach, Robert and Malherbe completed the top ten behind Pomeroy.
Second race Hudson and Mikkola collided in the first turn. Moiseev won again from Everts, Kavinov, Barbarovsky, Robert, Malherbe, Boven, Hansen, Dieffenbach and Roberton with Hudson recovering to 14th. Mikkola retired with machine damage and Moiseev had cut his title lead down to ten points, Gennady winning overall from Everts and Antonin Barbarovsky.
Attached are a couple of Burnicular snaps from the day showing Pomeroy (22) leading Everts in pursuit of Moiseev in race one, the second race duel for third place between Kavinov (24) and Barbarovsky (7) and triumphant Moiseev (23). The earth was always criticised for having so many stones in it but ran another British 250GP in 1984.
Hey, Watch It!
Griffin Denbesten, who was a contestant in the Racer X Amateur Film Festival last year, was at Hangtown and put together this pretty cool video:
You can find a host of two-stroke videos from last weekend's 125 All Star race here, including helmet cam footage from Ryan Villopoto and David Pingree.
RACER X FILMS: JAKE MASTERPOOL'S PRO DEBUT AT HANGTOWN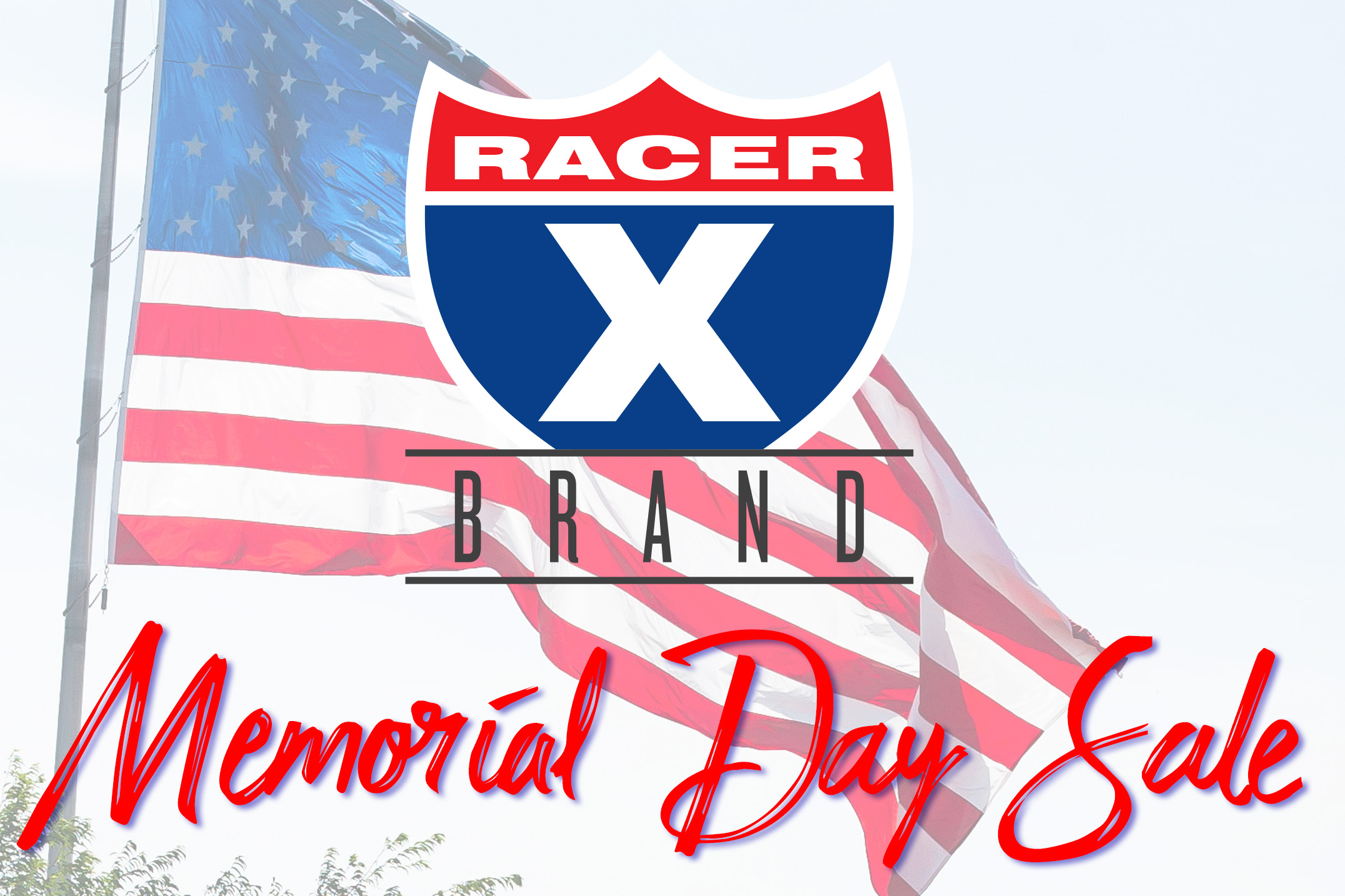 Subscribe or Renew Now and Get a Free Retro Racer X Tee
Subscribe now for as low as $9.98 and receive a FREE Retro Racer X Tee plus immediate access to our current digital edition.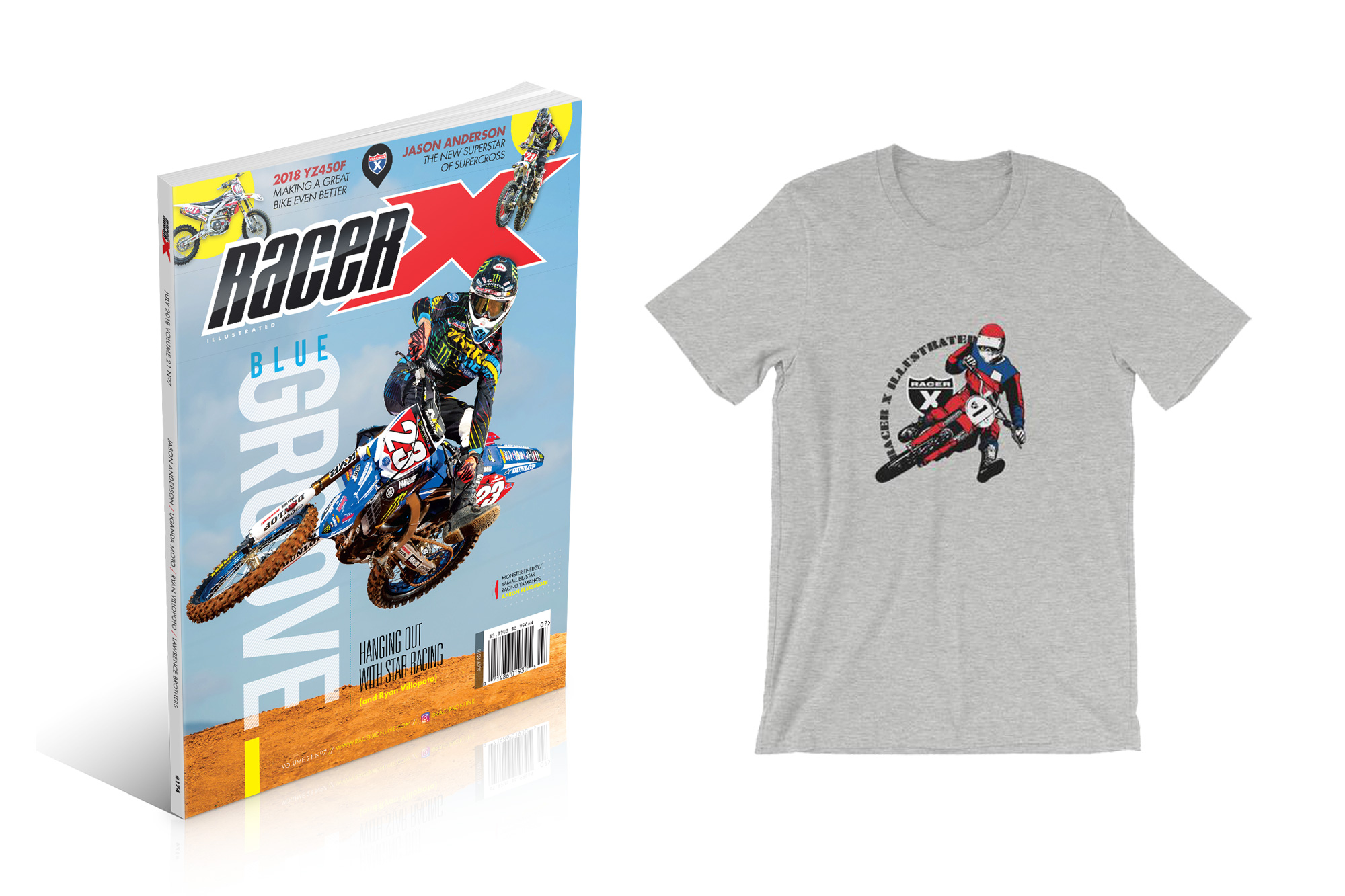 Subscribe at Glen Helen and Receive All 12 Official 2018 Racer X Event Stickers
Are you headed to the Glen Helen National this weekend? Make sure you stop by the Racer X booth, located in Sponsor Village, and subscribe for as low as $10 and receive ALL TWELVE Official 2018 Lucas Oil Pro Motocross Racer X event stickers. You will also receive a complimentary magazine, free Racer X stickers, as well as extra event stickers. Be sure to check out our Racer X Brand items on display and grab some gear. See you at the races!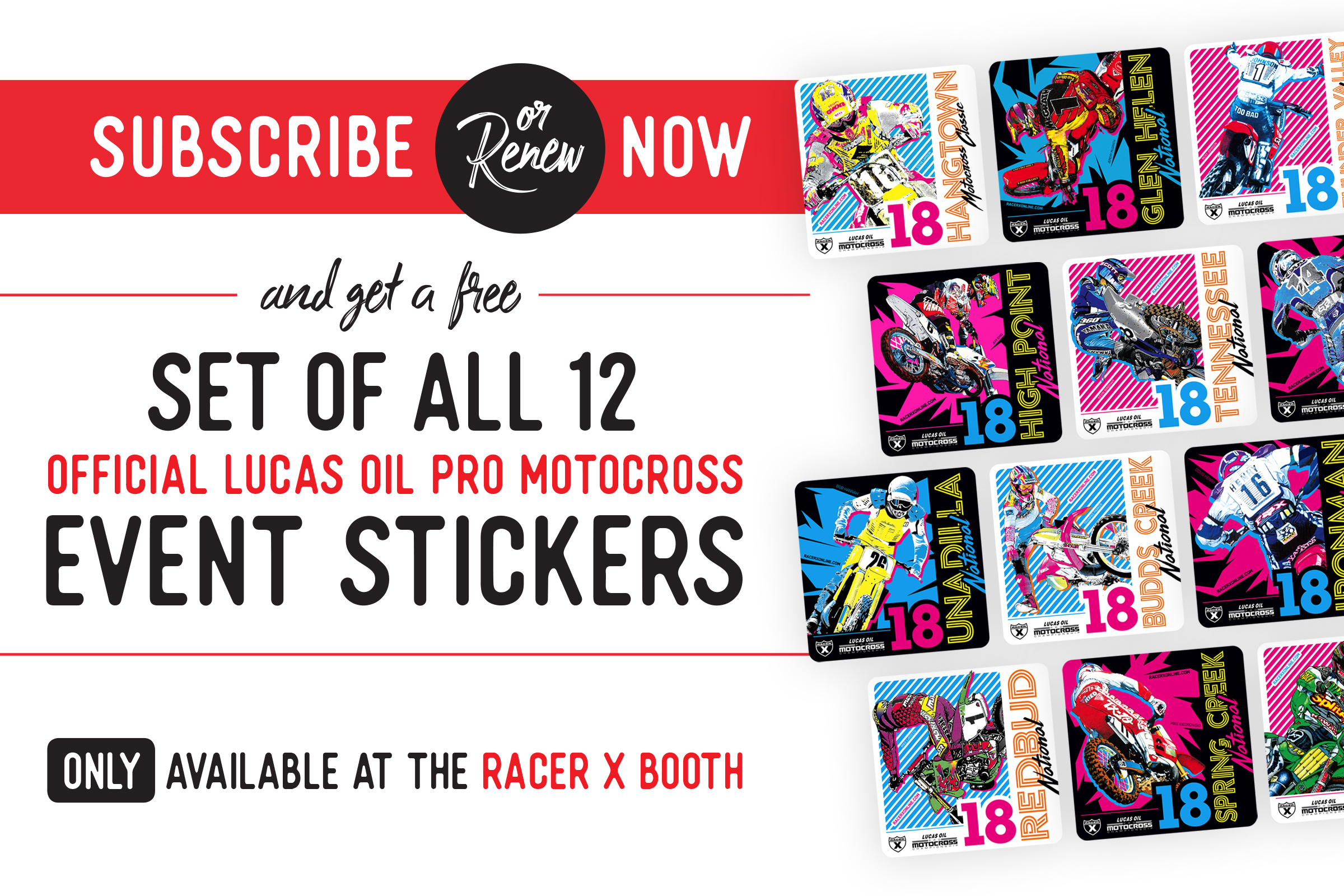 Going to the Glen Helen Motocross National this weekend? Want to be able to get into the pits all day?
The only way to cruise the pits whenever you'd like is with the Racer X All-Day Pit Pass, but quantities are limited! Make you stop by the Racer X Pit Pass Booth, located in Sponsor Village, and purchase your Racer X All-Day Pit Pass while they're still available and receive all-day pit access, plus a one-year subscription to Racer X Illustrated , for just $50.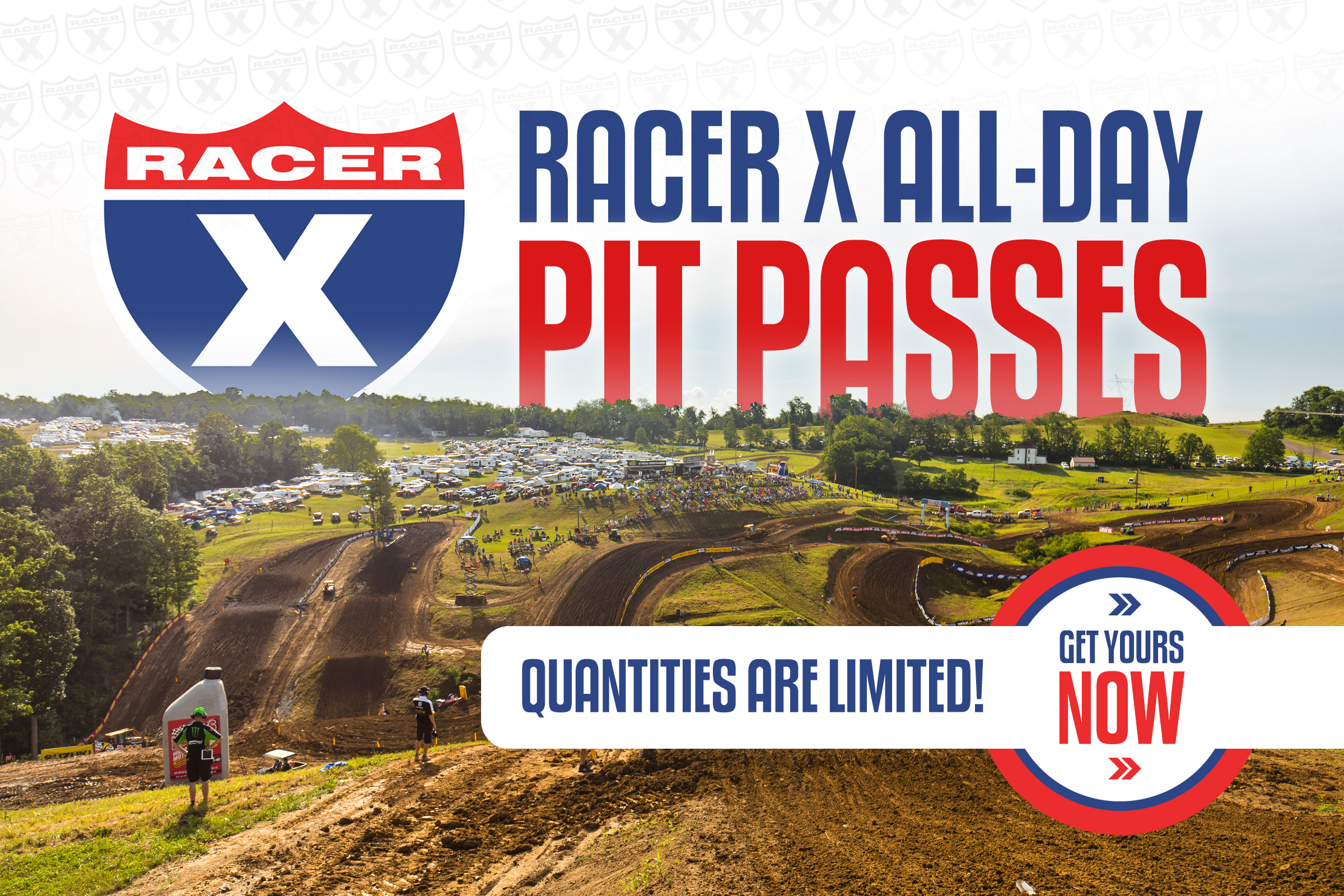 If you already pre-ordered online for this event, you'll need to pick up your Racer X Pit Pass at the Racer X Pit Pass booth (located in Sponsor Village), where you'll also receive an extra copy of Racer X , the official event sticker, and Racer X stickers.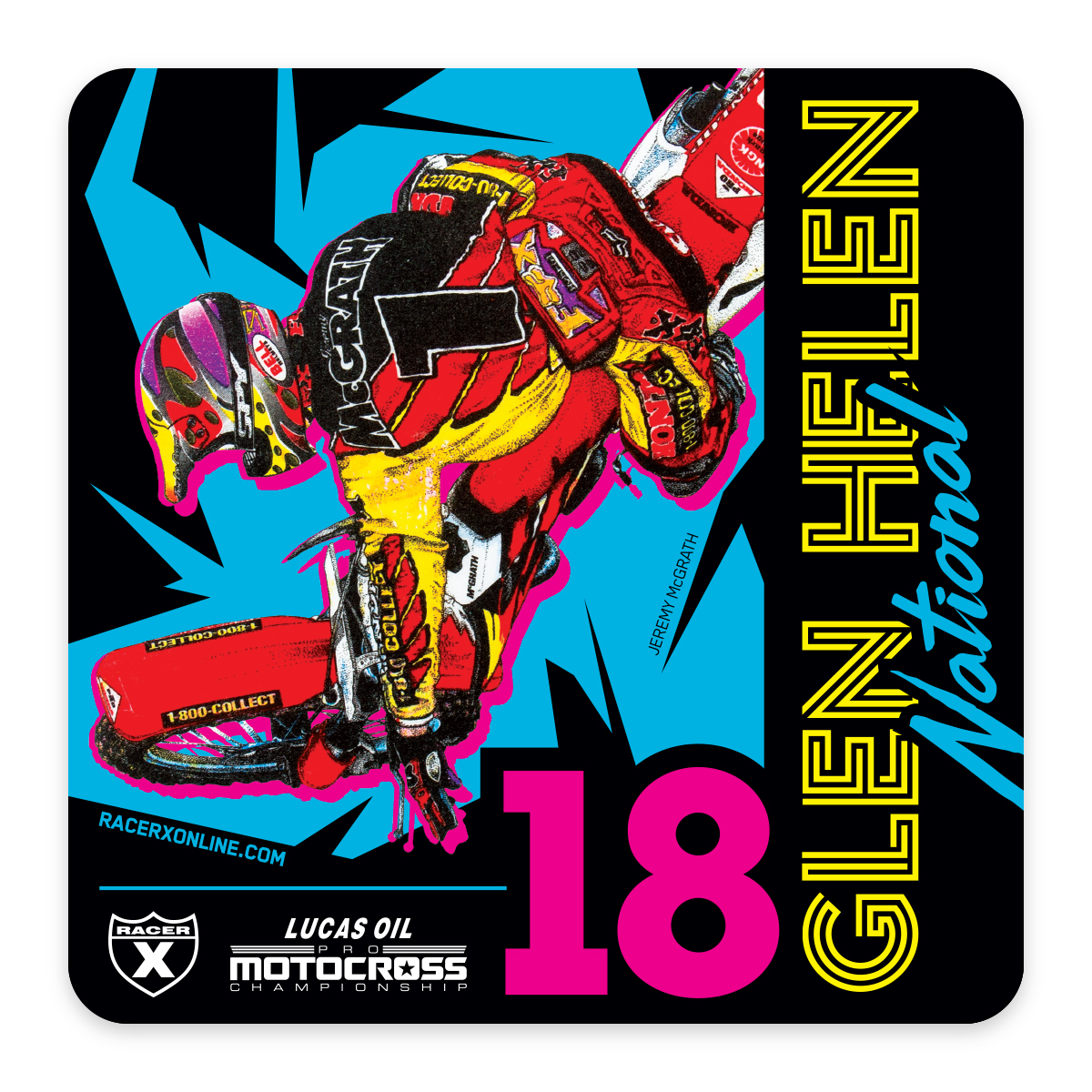 Racer X learned this week that picturesque Zaca Station located in California has closed. The track hosted a ton of photo and video shoots and we recently held the Racer X Ride Day there. We'll try and get more information next week. Sad to lose such a beautiful track as this.
For episode 79 of The MotoXpod show, Darkside and Muscle Mark talk to Davey Coombs about the 2018 Nationals, track design, his love for retro signs, and even Jason Weigandt. Derik Dwyer follows to discuss wrenching for Jeremy Martin and Christian Craig and what he sacrifices to do his job. They also talk to Makeup To Mud nominee Elizabeth Hooker about being a female racer and her recent battle with breast cancer. Check the MotoXpod show out every Tuesday on iTunes and all podcast apps.
Thank you for reading Racerhead—see you at the races.