MX Sports Pro Racing and Vet Tix Renew Partnership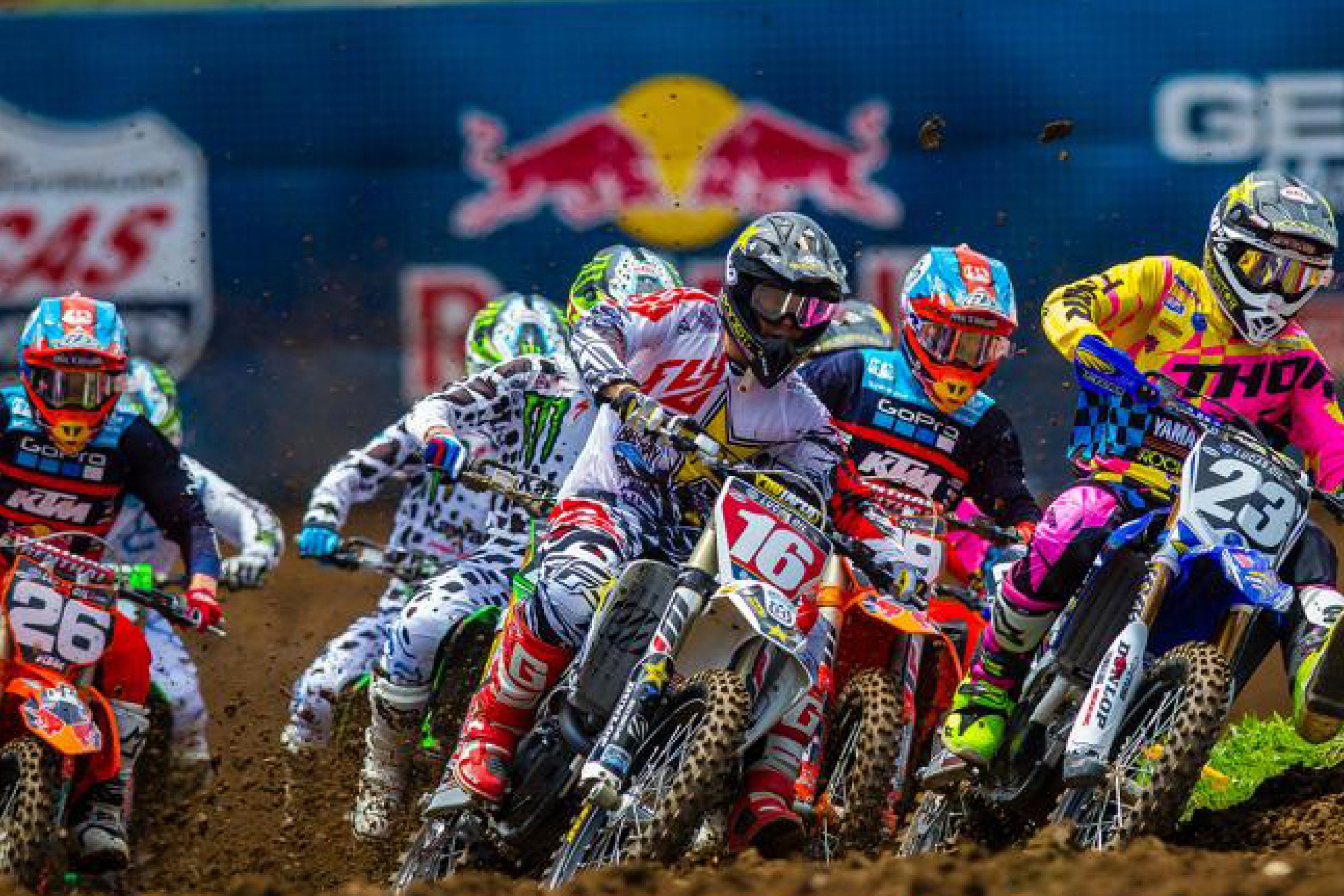 MORGANTOWN, W. Va. — MX Sports Pro Racing and the Veteran Tickets Foundation have renewed their seventh year of partnership for the upcoming 2018 Lucas Oil Pro Motocross Championship, sanctioned by AMA Pro Racing. Collectively, the parties will come together to provide an opportunity for military veterans to obtain free admission at all 12 rounds of the world's most prestigious off-road motorcycle racing series, with a select number of tickets available at VetTix.org, a national non-profit, non-governmental 501c(3) tax-exempt organization.
A total of 50 tickets per event will be donated to Vet Tix, totaling in 600 for the season across all 12 rounds of the championship. These will be made available to both active duty and retired servicemen and -women at no cost. Each set of tickets will be made available two to four weeks prior to every respective round of the season and can be claimed on a first-come, first-served basis through VetTix.org. The first three rounds, consisting of the Hangtown Motocross Classic, Glen Helen National, and Thunder Valley are currently available.
Additionally, GEICO Motorcycle, a longtime supporter of both Pro Motocross and the military, will leverage its partnership of the championship to provide an additional 100 tickets for the GEICO Motorcycle Budds Creek National. The renowned insurance provider will also host a VIP hospitality area for military veterans and their families, who simply need to show a valid military ID for complimentary access at select rounds on the schedule—the Red Bull Hangtown Motocross Classic, Giant RV Glen Helen National, and GEICO Motorcycle Budds Creek National.
"We're thrilled that our longstanding partnership with the Lucas Oil Pro Motocross Championship will continue into the 2018 season. The opportunity to attend an AMA pro motocross event has become a highly anticipated and sought-after opportunity for our veterans and their families," Mike Focareto, CEO of the Veteran Tickets Foundation, said. "The initiative alongside MX Sports Pro Racing provides what would otherwise be an unattainable opportunity for many of our veterans to experience the thrill of the this captivating sport alongside their family and friends. Together, it's the least we can do to show our immense gratitude for their service."
Vet Tix carries valued partnerships with virtually all major sporting leagues and organizations, including marquee brands like Major League Baseball, the National Basketball Association, the National Football League, and National Hockey League. Additionally, Vet Tix works alongside sports entertainment franchises like World Wrestling Entertainment and Professional Bull Riders, as well as motorsports organizations like the NHRA, Grand National Cross Country Series (GNCC), ATV Motocross National Championship, and several racetracks that host NASCAR and IndyCar events.
The Lucas Oil Pro Motocross Championship was one of the first prominent motorsports properties in the country to partner with the Veteran Tickets Foundation and has provided this service to veterans of the armed forces for the seventh year running.
"As one of the pioneering racing organizations to partner with Vet Tix, it's an honor to continue this relationship for another season in appreciation of our service men and women," MX Sports Pro Racing President Davey Coombs said. "This initiative thrives with the sole purpose of providing lasting memories for our veterans and their families. The Veteran Tickets Foundation continues to be an invaluable partner of the Lucas Oil Pro Motocross Championship, and we're invested in keeping this special tradition going for years to come."
Based in Phoenix, Arizona, the Veterans Tickets Foundation was founded by U.S. Navy veteran Michael Focareto in 2008 and has been providing free tickets to veterans and active-duty members of the military and their families ever since. Over the course of nearly a decade, the organization has given away well over 1,000,000 tickets to veterans nationwide.
All active and retired military veterans can create an account on VetTix.org to receive emails and reminders about when tickets to the 2018 Lucas Oil Pro Motocross Championship become available. Additional information can also be found at VetTix.org.
The 2018 Lucas Oil Pro Motocross Championship will kick off on Saturday, May 19, with the Hangtown Motocross Classic from Prairie City SVRA in Sacramento, California.
2018 Lucas Oil Pro Motocross Championship Schedule
May 19
Hangtown Motocross Classic
Prairie City SVRA
Rancho Cordova, California
May 26
Glen Helen National
Glen Helen Raceway
San Bernardino, California
June 2
Thunder Valley National
Thunder Valley MX Park
Lakewood, Colorado
June 16
High Point National
High Point Raceway
Mt. Morris, Pennsylvania
June 23
Tennessee National
Muddy Creek Raceway
Blountville, Tennessee
June 30
Southwick National
Southwick MX Park
Southwick, Massachusetts
July 7
RedBud National
RedBud MX
Buchanan, Michigan
July 21
Spring Creek National
Spring Creek MX Park
Millville, Minnesota
July 28
Washougal National
Washougal MX Park
Washougal, Washington
August 11
Unadilla National
Unadilla MX
New Berlin, New York
August 18
Budds Creek National
Budds Creek MX Park
Mechanicsville, Maryland
August 25
Ironman National
Ironman Raceway
Crawfordsville, Indiana
For information about the Lucas Oil Pro Motocross Championship, please visit ProMotocross.com and be sure to follow all of the Pro Motocross social media channels for exclusive content and additional information on the latest news: