Daniel Herrlein Captures Arenacross Overall in Reno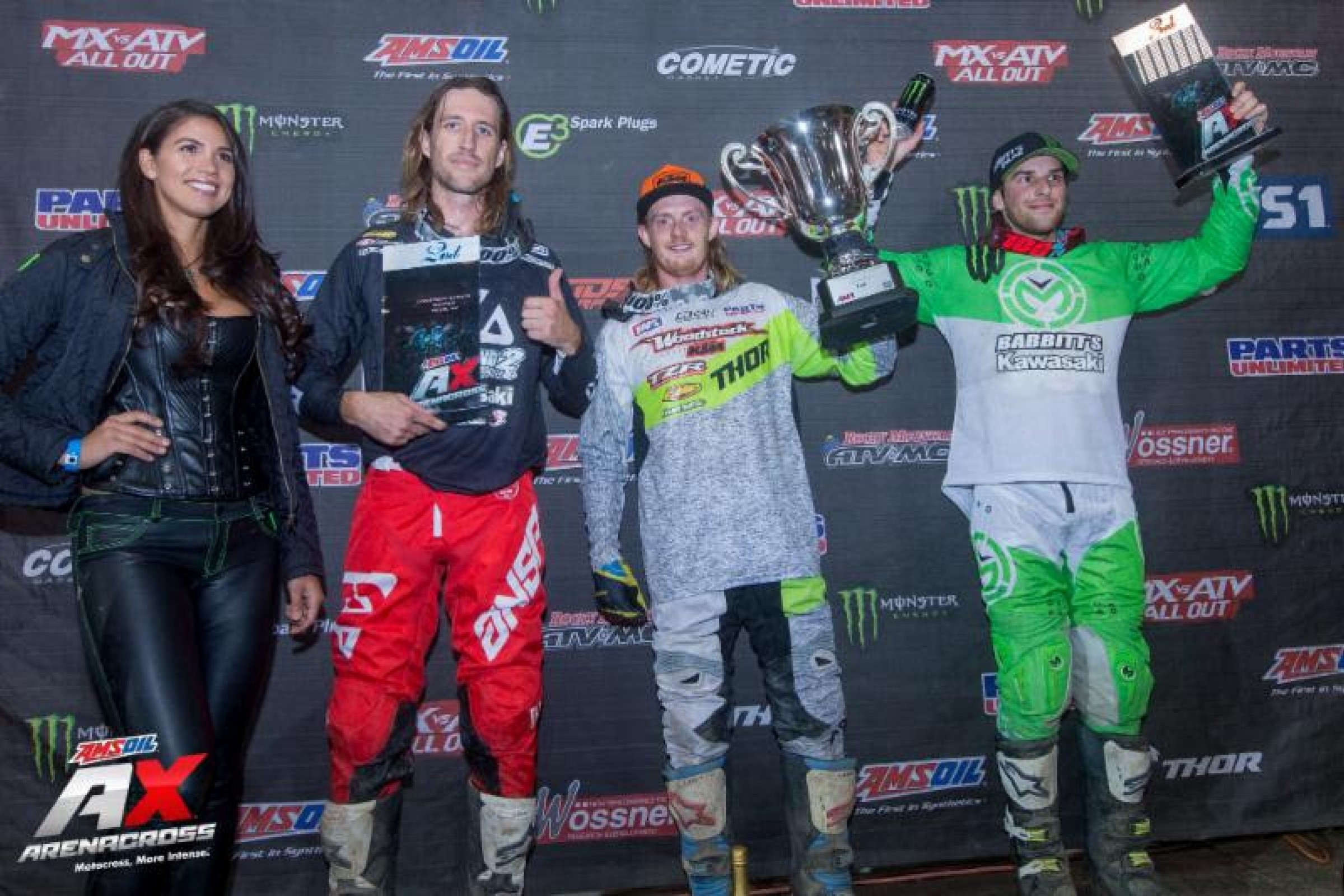 RENO, Nev. - AMSOIL Arenacross hosted the penultimate round of the Race to the Ricky Carmichael Cup inside Livestock Events Center in Reno, Nevada. The 250AX battle went down to the last lap between Team Babbitt's Monster Energy Kawasaki rider Jacob Hayes and Rockford Fosgate TiLube Honda's Chris Blose. In the Arenacross Lites West Class, GPF Babbitt's Online competitor Ryan Breece extended his points lead by taking the Main Event victory.
The first 250AX Main Event saw tight action into the first turn where Hayes got held up after the start, and Blose took off with the early lead. By Lap 6, Hayes moved into second place behind Blose, with TZR Sportland 2 rider Travis Sewell and Woodstock KTM's Daniel Herrlein also at the front of the pack and sandwiched between the action. Hayes waited until the final turn of the Main Event to take the inside line on Blose, and the two connected and went down with both riders scrambling to get on their bikes and finish the race. Hayes made quick work and ended up taking the win with Sewell in second, Herrlein third and Blose fourth.
The anticipated second Main Event saw Blose get out to an early lead with Herrlein, Hayes and Sewell in tow. Hayes worked his way up to second behind Blose, and it seemed as if Blose would have an easy win ahead of Hayes until an eventful last lap when Hayes ran Blose high on the straight before heading into the whoops, and the two made contact. Herrlein and Sewell both made passes on the top running duo, with Herrlein pulling off his first Main Event win of the season and Sewell in second followed by Hayes and Blose. One point separates Blose and Hayes as the series concludes in Las Vegas to crown a new 250AX champion on May 4.
In the fourth round of the AX Lites West Class, Rockford Fosgate TiLube Honda's Carson Brown took the early lead with Ryan Breece and Plumbing Plus rider Kevin Moranz in third. Halfway through the Main Event, Breece saw the opportunity to make the pass on Brown and found the lead. Moranz also made the pass on Brown to secure second a couple of laps later. The win did not come easy for Breece as Moranz was quickly making up time and gave a solid effort up until the checkered flag, but the race win belonged to the current points leader, Breece, followed by Moranz in second and Brown third.
250AX Class Main Event Results
Daniel Herrlein, Bethesda, Ohio, KTM (3-1)
Travis Sewell, Westville, Ind., Kawasaki (2-2)
Jacob Hayes, Greensboro, N.C., Kawasaki (1-3)
Chris Blose, Phoenix, Ariz, Honda (4-4)
Gared Steinke, Woodland, Calif., Kawasaki (5-5)
Kyle Bitterman, West Pelzer, S.C., Kawasaki (6-7)
Ryan Breece, Athol, Idaho, Kawasaki (4-6)
Kevin Moranz, Topeka, Kan., KTM (8-7)
Steven Mages, Sardinia, Ohio, Kawasaki (9-8)
Dare Demartile, Lincoln, Calif., Honda (10-10)
250AX Class Championship Standings
Chris Blose, Phoenix, Ariz., Honda (135)
Jacob Hayes, Greensboro, N.C., Kawasaki (134)
Travis Sewell, Westville, Ind., Kawasaki (99)
Daniel Herrlein, Bethesda, Ohio, KTM (97)
Gared Steinke, Woodland, Calif., Kawasaki (96)
Heath Harrison, Silverhill, Ala., Honda (81)
Kyle Bitterman, West Pelzer, S.C., Kawasaki (64)
Gavin Faith, Duncombe, Iowa, Kawasaki (10)
Shane Sewell, Westville, Ind., Kawasaki (4)
Jacob Williamson, Swartz Creek, Mich., Kawasaki (3)
AX Lites West Class Main Event Results
Ryan Breece, Athol, Idaho, Kawasaki
Kevin Moranz, Topeka, Kan., KTM
Carson Brown, Ravensdale, Wash., Honda
Mitchell Falk, Costa Mesa, Calif., KTM
Devin Harriman, Brush Prairie, Wash., KTM
Richard Jackson, Holdenville, Okla., Kawasaki
Dare Demartile, Lincoln, Calif., Honda
Dawson Newby, Eaton, Co., KTM
Hunter Schlosser, El Paso, Texas, Honda
Derek Drake, San Luis Obispo, Calif., KTM
AX Lites West Class Championship Standings
Ryan Breece, Athol, Idaho, Kawasaki (78)
Kevin Moranz, Topeka, Kan., KTM (65)
Carson Brown, Ravensdale, Wash., Honda (64)
Devin Harriman, Brush Prairie, Wash., KTM (41)
Johnny Garcia, Moriarty, N.M., Honda (31)
Mason Kerr, Altoona, Iowa, Kawasaki (27)
Preston Taylor, Hastings, Neb., Kawasaki (27)
Dare Demartile, Lincoln, Calif., Honda (23)
Hunter Hilton, Youngsville, La., (23)
Blaine Silveira, Lemoore, Calif., Honda (22)