Kailub Russell Edges Thad Duvall at Camp Coker Bullet GNCC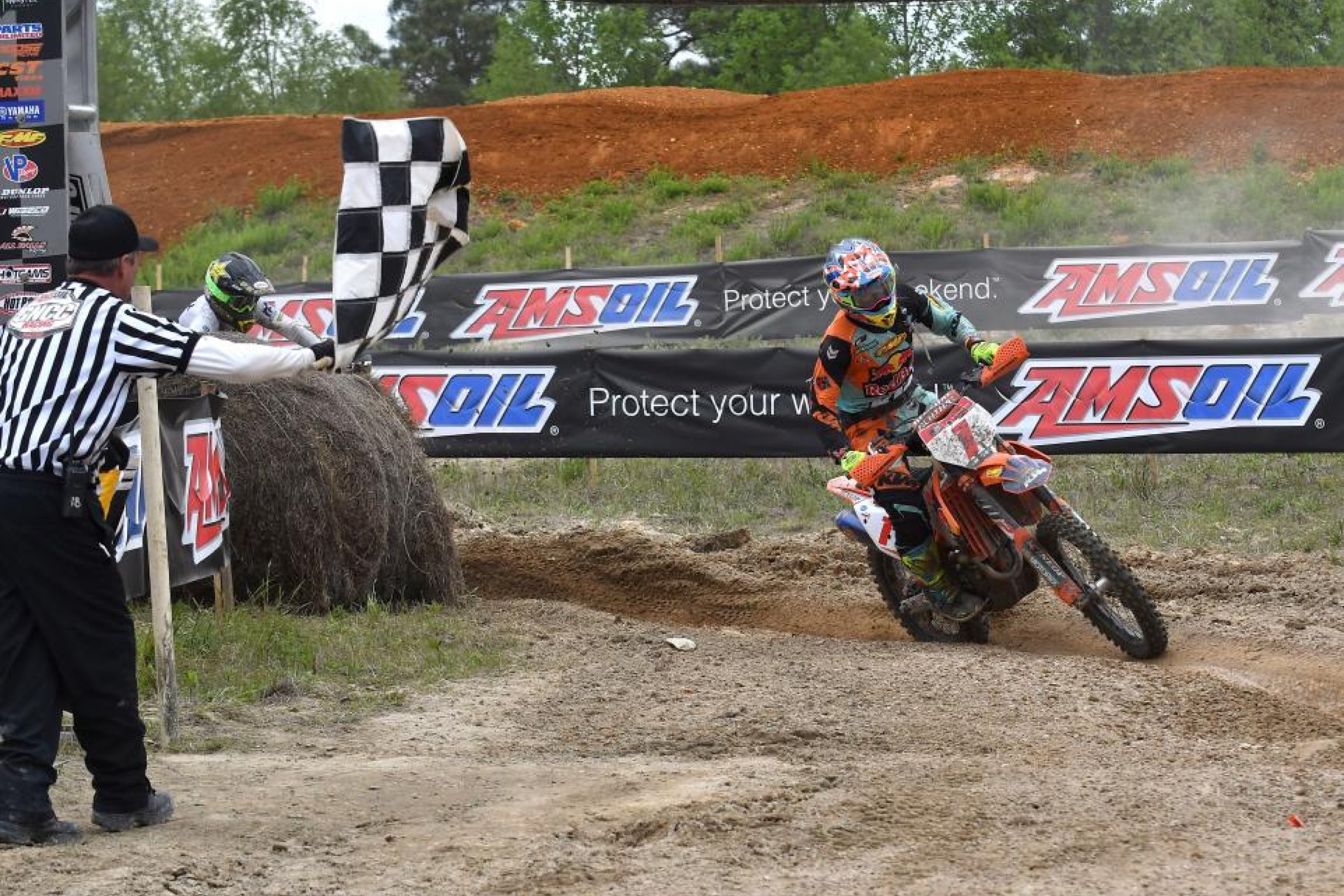 Society Hill, SC
Camp Coker Bullet
GNCC Racing
SOCIETY HILL, S.C. — Round five of the 2018 Amsoil Grand National Cross Country (GNCC) Series, an AMA National Championship, continued on April 22 with the third annual CST Tires Camp Coker Bullet GNCC. When the checkered flag flew at Moree's Sportsman's Preserve, it was FMF/KTM Factory Racing's Kailub Russell taking his fourth win of the season.
Rockstar Energy/Factory Husqvarna Racing's Thad Duvall grabbed the early lead and earned the $250 All Balls Racing Holeshot Award. K. Russell and AmPro Yamaha's Ricky Russell were hot on his heels heading into the first turn.
Russell would pass Duvall and push ahead for a six-second gap as they came through timing and scoring on lap one. K. Russell and Duvall continued to break away from the rest of the XC1 Open Pro field just as R. Russell and Beta USA's Jordan Ashburn were fighting forward.
On lap three, Duvall would make a pass for the lead around the three-mile marker, but by the time the riders came through the finish, K. Russell was back in the lead by mere seconds. R. Russell continued to hold the number-three spot, followed by hard-charging JCR Honda rider Trevor Bollinger.
As the two-lap card came out, it was K. Russell leading by 2.2 seconds over Duvall. Tely Energy Racing/KTM's Steward Baylor Jr. had to make an early pit on lap three, but worked his way back up to a top-five finishing position.
When the checkered flag flew, it was K. Russell just .620 seconds ahead of Duvall. After three hours of wheel-to-wheel racing, the two shared a pat on the back from one another after crossing the finish line.
Russell continued to hold onto his third-place finish, followed by Bollinger in fourth. S. Baylor continued to push and finished in fifth, followed by Rockstar Energy/Factory Husqvarna Racing's Josh Strang in sixth.
Ashburn came away with the seventh-place position, while KR4/Husqvarna's Cory Buttrick held down eighth. Solid Performance KTM/Fly Racing's Jesse Groemm ended the day in ninth and GasGas/FAR's Andrew Delong earned his first top-ten finish of the season.
The XC2 250 Pro class saw Coastal Racing/Husqvarna's Craig Delong take the Hot Cams $100 Holeshot Award as the green flag waved. However, it was Raines Riding University/Atlas Sales/Yamaha's Cole Mattison leading as riders came around on the first lap. FMF/KTM Factory Racing's Josh Toth was right behind him, with Beta USA's Mike Witkowski running in the third-place position.
As the racing continued, Trail Jesters/KTM Racing's Ben Kelley made the move into the second-place position, followed by M&E Honda/Fly Racing/Maxxis' Austin Lee charging to third place. KR4/Husqvarna's Liam Draper was having his best race of 2018, running in the fourth place position.
At the conclusion of the three-hour race, it was Toth taking the win, followed by Kelley, who was 11 seconds behind. Lee remained in the third spot, followed by Draper and Husqvarna-rider Evan Smith, who rounded out the top five.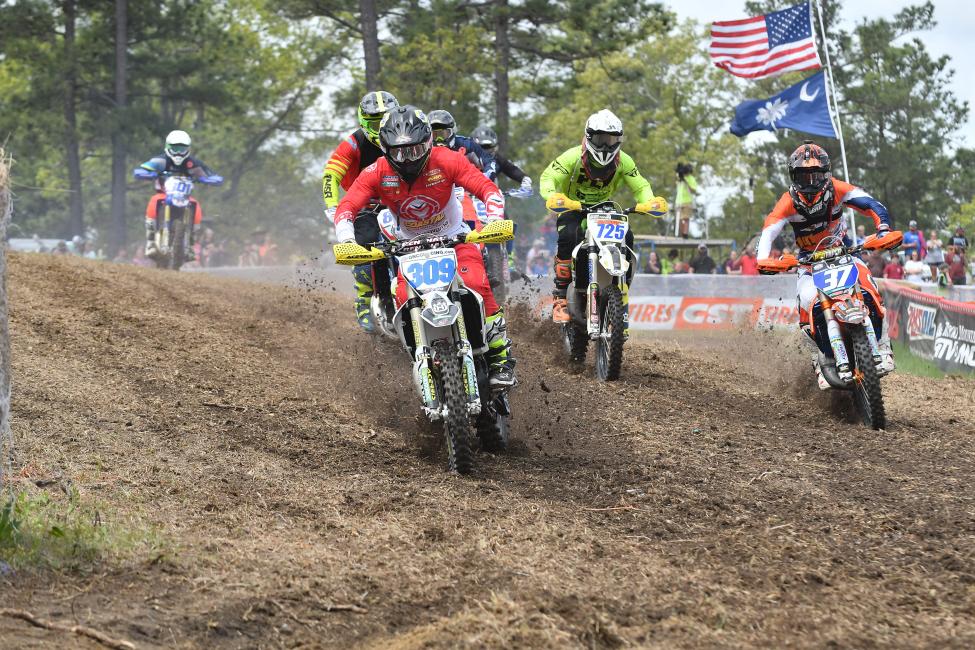 As the FMF XC3 125 Pro-Am class took off, it was Coastal Racing/Husqvarna's Alex Teagarden grabbing the Wiseco FMF XC3 $100 Holeshot Award. However, it was FMF/Maxxis/RPM KTM's Jesse Ansley who took home the win in South Carolina. Raines Riding University/Atlas Sales/Yamaha's Jason Raines came through in second, followed by MCS Racing's Cody Barnes rounding out the top three. Holeshot award winner Teagarden would come away with a fourth-place position, and KR4/Husqvarna's Colin Keegan took the fifth place position.
The WXC class swept the 10 a.m. overall podium. KR4/Husqvarna's Tayla Jones was back on top in South Carolina, earning her fourth win of the season. Fly Racing/Maxxis/Seat Concepts/KTM's Becca Sheets and Trail Jesters/Bonaza Plumbing/KTM's Mackenzie Tricker rounded out the top three.
The first race of the day was the 8 a.m. youth division, where Peyton Whipkey earned his fourth win of the season, remaining first in the YXC1 Super Mini Sr. (14-15) class. Max Fernandez and Tyler Palmer finished second and third overall, while Joseph Cunningham took home the YXC2 Super Mini Jr. (12-13) class win.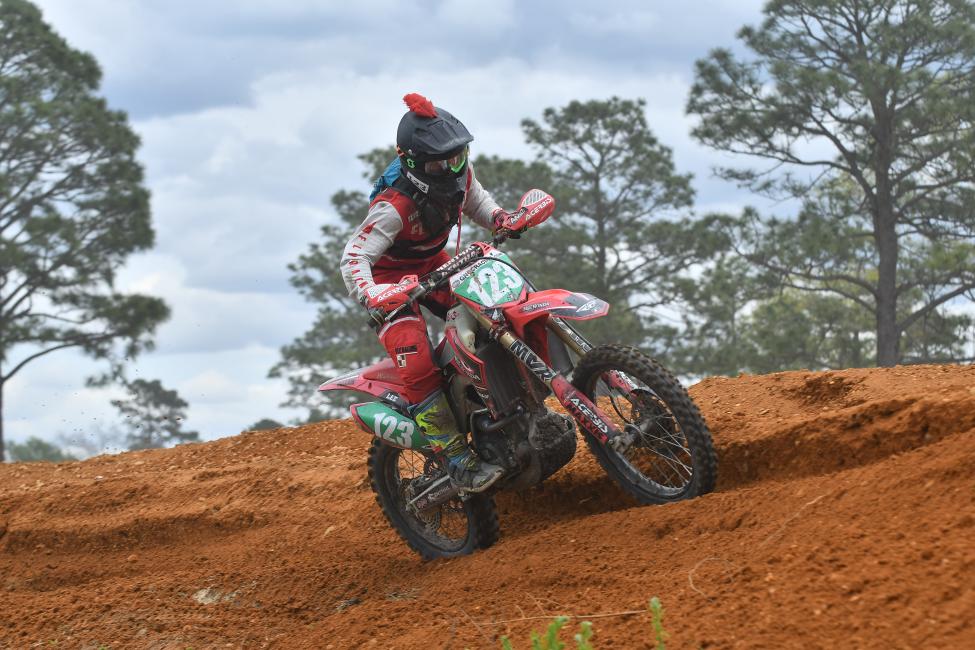 The 2018 Amsoil Grand National Cross Country Series will continue May 12-13 with the second annual X-Factor GNCC in Peru, Indiana.
The 1 p.m. race was broadcast live in its entirety on RacerTV.com and can be viewed as an archived video now online by visiting the GNCC Live page online. A highlight show featuring the event will air Sunday, June 3, at 3 p.m.
For more information on the GNCC series, visit the official website at www.gnccracing.com or call (304) 284-0084. Join the conversation on the series Facebook page, follow us on Twitter and Instagram, and be sure to always hashtag #GNCC.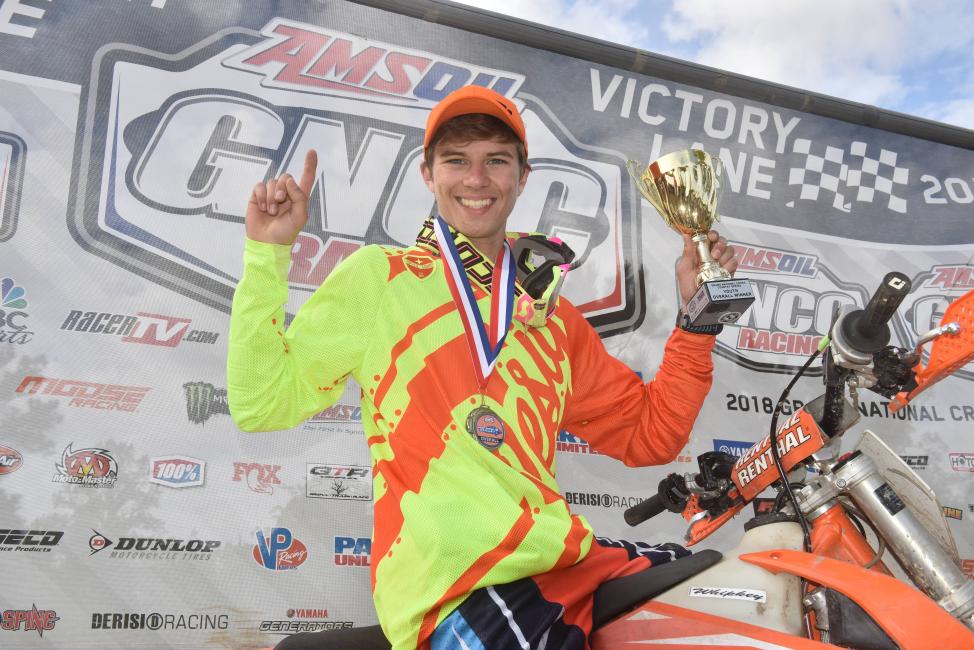 XC1 Open Pro Event Results
Kailub Russell (KTM)
Thad Duvall (HQV)
Ricky Russell (YAM)
Trevor Bollinger (HON)
Steward Baylor Jr. (KTM)
Josh Strang (HQV)
Jordan Ashburn (BET)
Cory Buttrick (HQV)
Jesse Groemm (KTM)
Andrew Delong (GAS)
*Overall National Championship Standings
Kailub Russell (145)
Thad Duvall (126)
Steward Baylor Jr. (99)
Trevor Bollinger (90)
Ben Kelley (79)
Josh Strang (71)
Josh Toth (61)
Layne Michael (52)
Ricky Russell (51)
Pascal Rauchenecker (50)
*Indicates that the Overall National Championship Standings will determine the 2018 National Champion.
XC2 250 Pro Event Results
Josh Toth (KTM)
Ben Kelley (KTM)
Austin Lee (HON)
Liam Draper (HQV)
Evan Smith (HQV)
Trevor Barrett (YAM)
Braxton McGee (HQV)
Jonathan Johnson (YAM)
Pascal Rauchenecker (HQV)
Nick Davis (GAS)
XC2 250 Pro Series Standings
Ben Kelley (140)
Josh Toth (110)
Pascal Rauchenecker (100)
Craig Delong (75)
Liam Draper (69)
Austin Lee (65)
Evan Smith (59)
Trevor Barrett (52)
Nick Davis (51)
Jonathan Johnson (51)