Alpinestars Offers Supertech Gear Early Release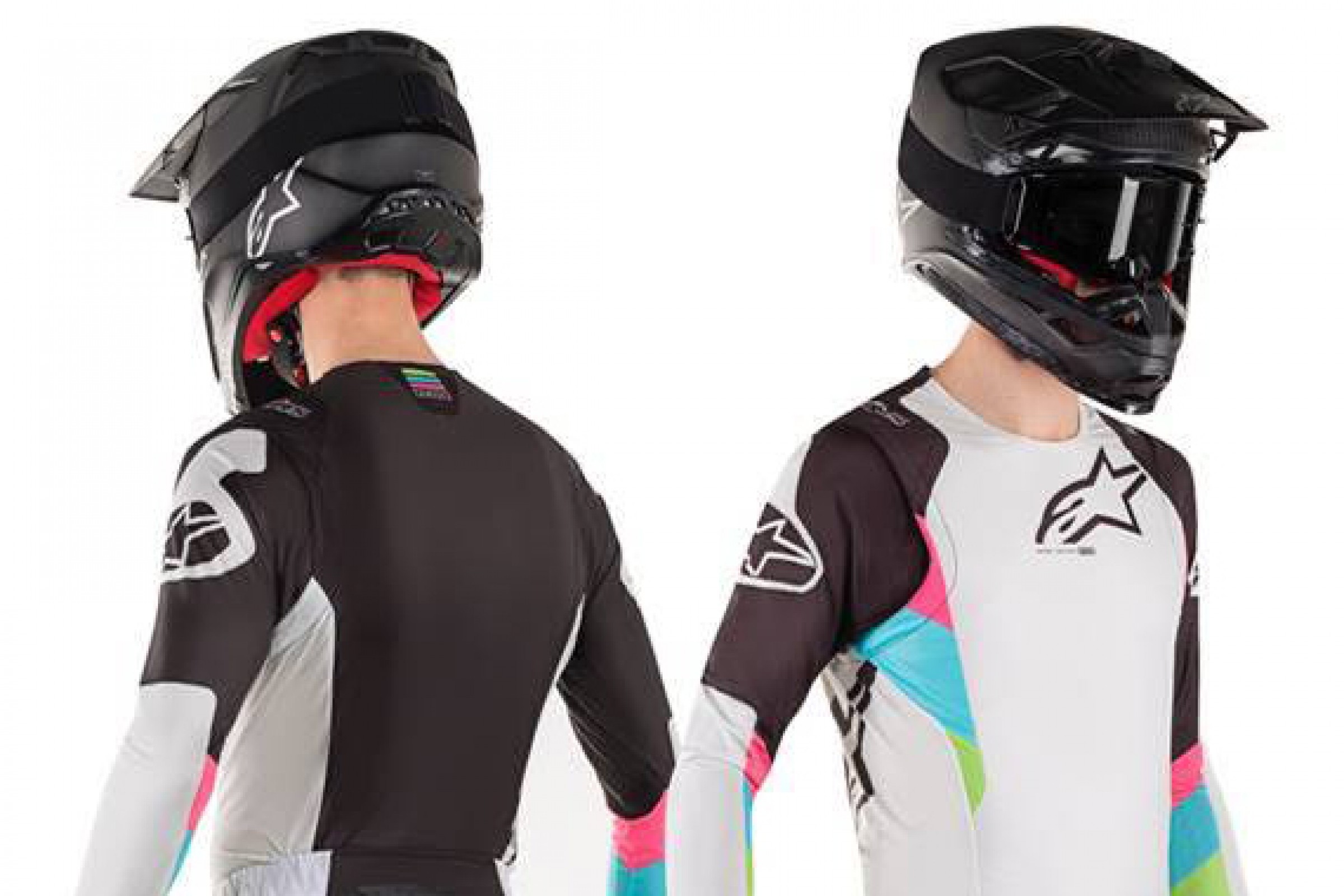 Foxborough, MA —The much-anticipated Alpinestars 2019 Motocross collection is just around the corner, but this kit just can't wait to take the holeshot. The 2019 Alpinestars Supertech Jersey and Pant in Cool Grey Black, as well as the Aviator glove in Cool Grey Black, will make its debut in an early release at Foxborough Supercross this weekend. To complement this gear set, Alpinestars also dropped a Limited Edition Vision Tech 10 boot to match. Get a jump on the coolest kit around.
Supertech is Alpinestars' innovative new motocross apparel line designed for superior racing performance. Featuring an innovative performance fit design, a chassis consisting of advanced stretch material and an ultra-lightweight construction. With a simple, clean design and an aggressive look, the Supertech Pant incorporates a host of race-proved technologies for comfort and performance-winning pedigree in Supercross and Motocross. The Supertech Jersey is the lightest-ever MX jersey and features a host of race-proved technologies, such as the innovative floating arm construction for superior freedom of movement and an extended back panel to maintain a flawless riding fit.
The Limited Edition Vision Tech 10 boot will be available while supplies last. The 2019 Supertech Jersey and Pant in Cool Grey Black, and the 2019 Aviator Glove in Cool Grey Black will hit stores for the season ahead.
TECH 10
The world's most technologically advanced and protective motocross boot, the Tech 10 offers unrivalled race-winning performance to moto riders who demand nothing less than the best. The Limited Edition Vision Tech 10 fuses all the performance innovations of the iconic Tech 10 with a unique color combination. The result is a boot that not only knows its history, but isn't afraid to make some.
CONSTRUCTION
The one-piece co-injected foot chassis incorporates five different advanced polymer compounds in a single streamlined and lightweight piece to offer strength and flexibility throughout the structure while maintaining its robust structural integrity with no joints or weak points.
Innovative, lightweight upper combines full-grain leather with advanced lightweight microfiber and an impact and abrasion resistant TPU shell.
Medial-facing panel is constructed from a one-piece, specifically formulated polymer for improved structural stability and integrity, and incorporates a rubber insert panel for maximum grip contact with bike and improved abrasion resistance.
PROTECTION
The Tech 10 boot is CE certified.
Frontal protection features a dual closure system with an internal microfiber flap, plus Velcro for a precise fit closure attached securely with a micro-adjustable, easy-to-operate, lightweight buckle. Shin incorporates a unique TPU blade system engineered to prevent frontal hyperextension and offer greater flex control.
Contoured TPU calf protector plate offers impact resistance and incorporates Alpinestars innovative rear blade system, formed with hard shock resistant polymer to protect the heel and features a rear hyperextension guard.
Innovative ergonomic design for lateral and medial flex zones to provide superb front and rear flexion support which helps prevent damaging torsional forces around the ankle area.
Multi-density foot shell incorporating heel and toe protection is highly resistant to abrasion and impact and adds to the boot's overall durability.
KEY FEATURES
Exclusive dual compound sole is seamlessly integrated to the multi-density foot base structure with built-in support. The sole offers superior durability, grip, and feel while riding.
The central sole insert is easily replaceable and Alpinestars offers a full sole replacement and boot repair service.
New buckle closure system includes high-impact aluminum bridge closures, with memory and a quick release/locking system with self-aligning design for easy, precise closure and improved riding performance and security. All buckles are easily replaceable.
Soft microfiber gaiter helps seal out excessive water and dirt.
Poly-fabric lining with 3D open cell foam incorporates anti-slip suede on heel area to keep foot located inside the boot.
INNER ANKLE BRACE
Innovative biomechanical inner ankle brace features medial and lateral "C" torsion bars to control ankle and leg rotation, while allowing freedom of movement. Wide fit torsion bar replacements are included. These dual connection torsion bars offer the rider natural ankle movement with progressive damping of torsional forces during an accident.
TPU protection, shock-absorbing padding on the heel and ankles, and an ultra-thin and flexible forefoot area for increased sensitivity and control.
New, dual compound, removable anatomic foot-bed includes EVA for comfort and support and aids even weight distribution.
To match the Vision Tech 10 boots comes the Limited Edition Vision MX 19 Supertech Gear. The Vision Supertech hosts many new technical innovations. The Supertech pant and jersey envision complete and pure fluidity with an 80 percent advanced stretch fabric main body construction. A new athletic fit offering superior comfort and an extreme weight reduction benefit.
SUPERTECH JERESEY
With a new performance design for an athletic fit, a chassis consisting entirely of advanced stretch mesh, and an ultra-lightweight construction, the Supertech Jersey is Alpinestars lightest-ever MX jersey, featuring a host of race-proved technologies such as the innovative floating arm construction for superior freedom of movement and an extended back panel to maintain a flawless riding fit.
CONSTRUCTION
Ultra-lightweight advanced fabric main construction for moisture-wicking and performance fit. Jersey features a more fitted, lightweight design.
Chassis consists of stretch mesh chassis with open mesh inserts on arms and side torso for high levels of cooling airflow.
Innovative, fully-floating arm construction offers excellent freedom of movement.
Neck and sleeves feature tape-welded hems for reduced weight and improved levels of comfort.
Pre-curved sleeves for maximum comfort and performance fit.
Extended rear design helps maintain perfect riding fit.
Sublimated fade-resistant graphics.
SUPERTECH PANT
With a simple, clean design and an aggressive look, the Supertech Pant incorporates a host of race-proved technologies for comfort and performance-winning pedigree in Supercross and motocross.
CONSTRUCTION
Meticulously designed to a new pattern fit to keep pant perfectly positioned while riding aggressively and to offer unrivaled levels of flexibility and movement.
Main shell extensively constructed (80 percent) from advanced stretch fabric for superior freedom of movement. Textile fiber composition specifically developed by Alpinestars to offer high levels of mechanical properties, such as strength, elasticity and durability.
Heavy (900 denier) reinforcements on seat area provide seam strength, durability and critical coverage.
Strategically positioned stretch mesh inserts offer cooling comfort and freedom of movement.
Leather panels on inner leg provide heat resistance, grip, and comfort.
Ratchet waist closure system offers precise, personalized, and secure fit. Waist incorporates stretch inserts for adaptive fit and comfort.
TPU-reinforced knee area and on back for lightweight abrasion resistance.
Welded hems on leg strength and reduced weight. Leg cuffs also feature stretch insert for easy on and off access.
Advance poly-fabric mesh lining offer comfort and internal cooling.
Interior brushed effect for excellent skin-contact comfort.
AVIATOR GLOVE
Lightweight, perforated and optimized for motocross, the short cuff Aviator Glove incorporates a stretch textile chassis and synthetic suede reinforcements for high levels of grip, durability and comfort
CONSTRUCTION
Stretch fabric on top of hand for excellent levels of flexibility and fit.
Single-piece synthetic suede palm for reduced material construction to promote better grip and sensitivity on bike's levers.
Palm and fingers feature localized perforations to prevent heat buildup.
Innovative stretch insert in adductor (palm and thumb) for improved hand movement and lever control.
Pre-curved finger shaping with finger gussets to reduce fatigue and aid mobility.
Stretch mesh finger sidewalls for improved mobility.
Reinforced thumb area for durability and seam stability.
PU laser laminated zones on backhand for improved abrasion resistance.
PU laser laminated grip areas on palm and fingers for improved lever control.
Wrist features hook and loop grip closure plus neoprene for safe, comfortable and personalized fit.