Jacob Hayes Edges Out Chris Blose in Wichita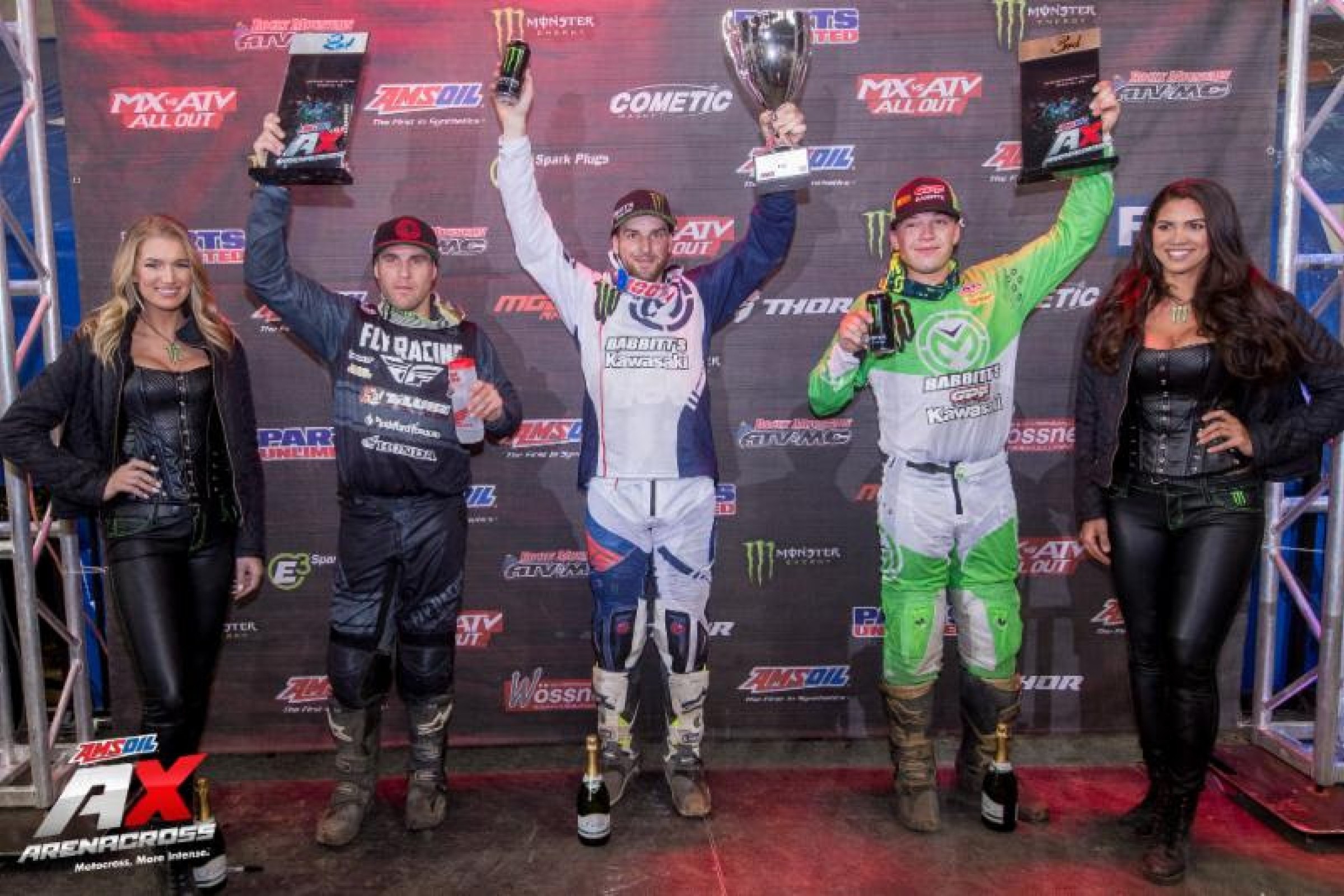 WICHITA, Kan. - AMSOIL Arenacross hosted the second round of the Race to the Ricky Carmichael Cup inside INTRUST Bank Arena in Wichita, Kansas for the first time since 2013. The constant back-and-forth action between Team Babbitt's Monster Energy Kawasaki's Jacob Hayes and Rockford Fosgate TiLube Honda's Chris Blose left fans on the edge of their seats. Meanwhile, GPF Babbitt's Online rider Ryan Breece showed race fans why he has the 1W plate by grabbing his third-consecutive overall Arenacross Lites win.
The first Main Event saw Blose take the holeshot with Hayes close behind in second. Hayes tipped in the sand turn on lap 4 and fell back to fourth, allowing Ryan Breece and Sportland 2 TZR Kawasaki's Travis Sewell into second and third, respectively. Hayes slowly made his passes stick to retrieve his second-place position by the finish. Blose took the win, Hayes second and Sewell third.
The second Main Event saw Hayes take the holeshot with Blose close on his rear wheel. The duo continued this way with less than two seconds separating them. WCMC TZR Woodstock KTM's Daniel Herrlein rode to a consistent third-place finish in the second Main Event. Only one point separates Blose and Hayes heading into Portland for Round 3 of the Race to the Ricky Carmichael Cup inside Veterans Memorial Arena on April 21.
The third round of the AX Lites West season started off with 2017 defending West Coast champion, Ryan Breece, taking the holeshot and leading all 15 laps to secure his third-consecutive AX Lites Main Event of the season. His teammate, GPF Babbitt's Online rider, Isaac Teasdale, rode a consistent race to finish second and Plumbing Plus rider, Kevin Moranz, rounded out the top three.
250AX Class Main Event Results
1. Jacob Hayes, Greensboro, N.C., Kawasaki (2-1)
2. Chris Blose, Phoenix, Ariz, Honda (1-2)
3. Ryan Breece, Athol, Idaho, Kawasaki (4-6)
4. Daniel Herrlein, Bethesda, Ohio, KTM (7-3)
5. Gared Steinke, Woodland, Calif., Kawasaki (6-5)
6. Travis Sewell, Westville, Ind., Kawasaki (3-11)
7. Kevin Moranz, Topeka, Kan., KTM (8-7)
8. Richard Jackson, Holdenville, Okla., Kawasaki (13-4)
9. Heath Harrison, Silverhill, Ala., Honda (9-8)
10. Lance Kobusch, New Florence, Mo., Kawasaki (10-9)
250AX Class Championship Standings
1. Chris Blose, Phoenix, Ariz., Honda (74)
2. Jacob Hayes, Greensboro, N.C., Kawasaki (73)
3. Daniel Herrlein, Bethesda, Ohio, KTM (48)
4. Heath Harrison, Silverhill, Ala., Honda (46)
5. Gared Steinke, Woodland, Calif., Kawasaki (43)
6. Travis Sewell, Westville, Ind., Kawasaki (40)
7. Kyle Bitterman, West Pelzer, S.C., Kawasaki (32)
8. Gavin Faith, Duncombe, Iowa, Kawasaki (10)
9. Shane Sewell, Westville, Ind., Kawasaki (4)
10. Jacob Williamson, Swartz Creek, Mich., Kawasaki (3)
AX Lites West Class Main Event Results
1. Ryan Breece, Athol, Idaho, Kawasaki
2. Isaac Teasdale, Robbinsville, N.C., Kawasaki
3. Kevin Moranz, Topeka, Kan., KTM
4. Carson Brown, Ravensdale, Wash., Honda
5. Lance Kobusch, New Florence, Mo., Kawasaki
6. Jake McKinney, Hamersville, Ohio, Kawaski
7. Mason Kerr, Altoona, Iowa, Kawasaki
8. Dylan Rouse, Florence, Ky., KTM
9. Blaine Silveira, Lemoore, Calif., Honda
10. Devin Harriman, Brush Prairie, Wash., KTM
AX Lites West Class Championship Standings
1. Ryan Breece, Athol, Idaho, Kawasaki (48)
2. Kevin Moranz, Topeka, Kan., KTM (41)
3. Carson Brown, Ravensdale, Wash., Honda (34)
4. Preston Taylor, Hastings, Neb., Kawasaki (27)
5. Johnny Garcia, Moriarty, N.M., Honda (19)
6. Devin Harriman, Brush Prairie, Wash., KTM (17)
7. Blaine Silveira, Lemoore, Calif., Honda (13)
8. Lance Kobusch, New Florence, Mo., Kawasaki (12)
9. Robbie Wageman, Newhall, Calif., Yamaha (11)
10. Casey Brennen, Albuquerque, N.M., (11)