Kailub Russell Looks to Continue Win Streak at FMF Steele Creek GNCC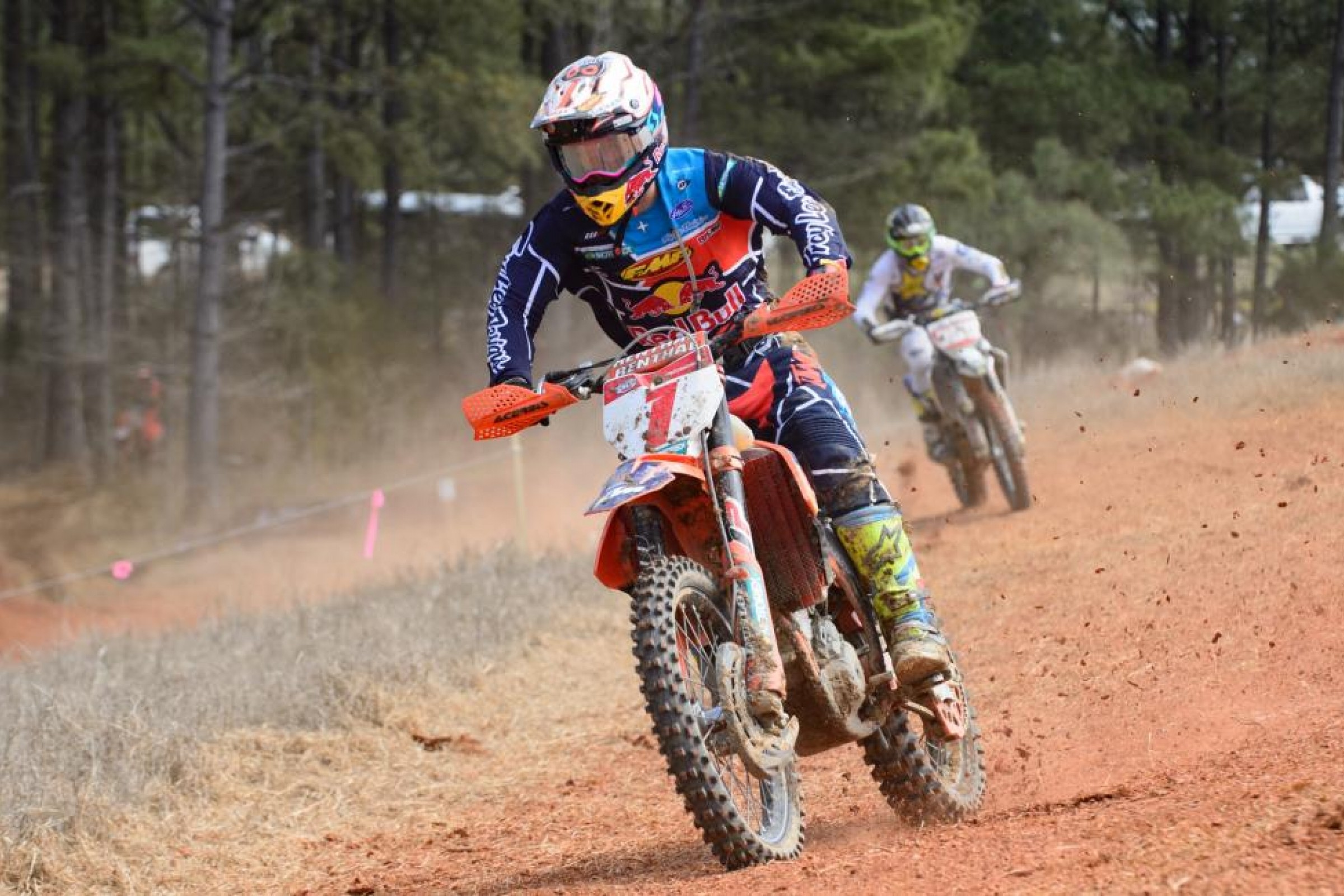 Morganton, NC
Steele Creek
GNCC Racing
MORGANTOWN, W.Va — The 2018 Amsoil Grand National Cross Country (GNCC) Series, an AMA National Championship, heads to Morganton, North Carolina, this weekend, April 7-8, for round four of the 13-race championship series. FMF/KTM Factory Racing's Kailub Russell comes into this weekend's race with three consecutive wins. However, those wins did not come easy, and K. Russell will look to battle for his fourth win of the season at the FMF Steele Creek GNCC.
After a strong start to the season, Rockstar Energy/Factory Husqvarna Racing's Thad Duvall comes into round four just 19 points behind K. Russell. Duvall has the confidence to be a top contender and has proven thus far that he has the speed to run at the front of the pack. Finishing seconds behind the leader at rounds one and three, Duvall is looking to earn his first win of the season this Sunday and stop K. Russell's success.
Tely Energy Racing/KTM's Steward Baylor currently sits third in the championship points battle, but is looking to contest for his first win of the season in North Carolina and earn valuable championship points. After charging through the pack in Georgia, S. Baylor is looking to get a better start this coming weekend to be in the mix with K. Russell and Duvall.
Morganton native Trevor Bollinger has had a consistent start to the 2018 season by finishing fourth in XC1 at the first three events. Bollinger will be one to keep an eye on this Sunday as he competes on his home turf. This event is known to have one of the largest cheering sections witnessed throughout the whole season. Bollinger is hoping to put in a good ride in front of family and friends, and secure his first podium finish of the year.
Getting a great jump off the line at the first round was Rockstar Energy/Factory Husqvarna Racing's Josh Strang, earning him the $250 All Balls Racing holeshot award. Strang was battling a foot injury in 2017, but is looking healthy and confident as we head into the fourth round this year. This weekend he is looking to battle for a podium finish and possibly his first win since the 2016 Tomahawk GNCC.
After a disappointing start to the season, AmPro Yamaha's Ricky Russell is hoping his bad luck streak is over. R. Russell was on a mission in Georgia, leading the first two laps before disaster struck and a stick caused a mechanical issue with his radiator. Ultimately, R. Russell was unable to finish the race. R. Russell is looking to make his way back to the podium this weekend.
Trail Jesters/KTM's Ben Kelley holds the early lead in the XC2 250 Pro class with two consecutive wins at the first three rounds. Coastal Racing/Husqvarna's Pascal Rauchenecker has been off to a strong start and he has finished on the podium at the first three events. FMF/KTM Factory Racing's Josh Toth earned the win at round one, and then battled through the Florida sand to finish second at round two. Toth had some misfortune in Georgia, catching his hand in a vine and leaving him unable to contest for the win. Rauchenecker's teammate Craig Delong is currently fourth while KR4/Husqvarna-rider Liam Draper rounds out the top five in the XC2 250 Pro division heading into this weekend.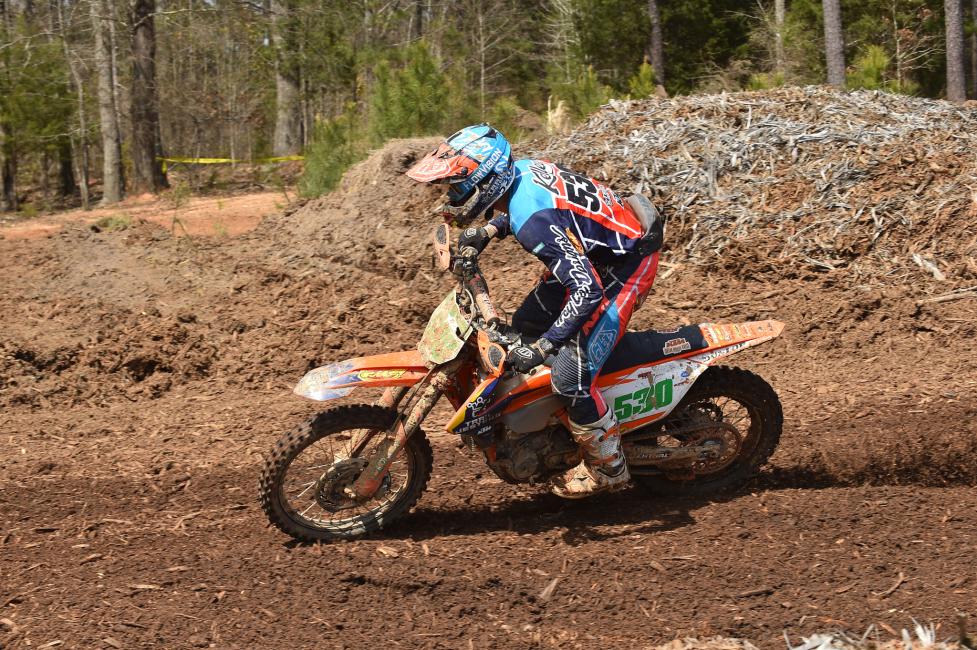 The FMF XC3 125 Pro-Am class has seen three different winners in three events. Coastal Racing/Husqvarna's Alex Teagarden took the win at round one, but has since suffered some unfortunate luck. He's looking to return to his winning ways and see victory this weekend. FMF/Maxxis/RPM KTM's Jesse Ansley scored the second win in his home state of Florida and currently sits third in points. MCS Racing's Cody Barnes took home the win at round three and sits second in points. Raines Riding University/Yamaha's Jason Raines currently holds a six-point lead, but has yet to earn a win in the class. Raines will look to contest for his first win this weekend.
Sunday's race schedule is as follows: Youth bike racing begins at 8 a.m., followed by amateurs and women at 10 a.m. The pros and top amateurs take to the track at 1 p.m.
Spectator passes run $20 for adults and $10 for children (6-11), and kids five and under are free for the full weekend (Saturday through Sunday), with pro pit access and pro autographs at no additional charge. Camping fees are $40 for full hookup spots and $25 for primitive camping. Full hookup campsites are first-come-first-served, and camping fees are per night.
The event is co-sanctioned with SETRA, a series that produces local racing events in the southeast, and will ultimately bring out a full slate of local racers. All local riders are invited and encouraged to compete in the event, as GNCC Racing offers classes for riders of all skill and experience levels. The amateur race entry fee is only $50 and riders can sign up at the event. To learn more about GNCC Racing, refer to the GNCC 101 webpage.
Local racers expected to compete this Sunday will be Trevor Barrett (XC2 250 Pro), Bolton Beroth (4-Stroke A Lites), Trevor Bollinger (XC1 Open Pro), Tyler Bruton (Junior A/B 25+), Drew Callaway (85cc 12-13), Conner Smith (Open A), Ty Callaway (125 B/C), Matt Cerven (Open A), Eli Childers (4-Stroke A Lites), Noah Cooper (85cc 12-13), Zachary Davidson (200 A), Nathan Davis (4-Stroke A Lites), Jake Easler (4-Stroke B Lites), Jackson Freeman (65cc 7-9), Drew Gross (YXC1 Super Mini Sr. 14-15), Bryson Jenkins (4-Stroke B Lites), Lucas Towery (Junior A/B 25+), Ross Kennedy (Vet B 30+), Blaine Kimrey (250 A), William Lackey (Senior A 40+), Hunter Williams (4-Stroke A Lites), Dylan Zimpel (200 A), Braxton McGee (XC2 250 Pro), Gatlin Welborn (4-Stroke B Lites), Alexis Phillips (Women C), William O'Brien (Vet B 30+), and Chris McManus (4-Stroke A Lites).
Tune in to RacerTV.com on Sunday at 1 p.m. EST to catch LIVE streaming of the Pro bike race. For more information on GNCC LIVE coverage, visit www.racertv.com. A highlight show featuring the event will air on NBC Sports Network on Saturday, May 26 at 2:30 p.m. ET.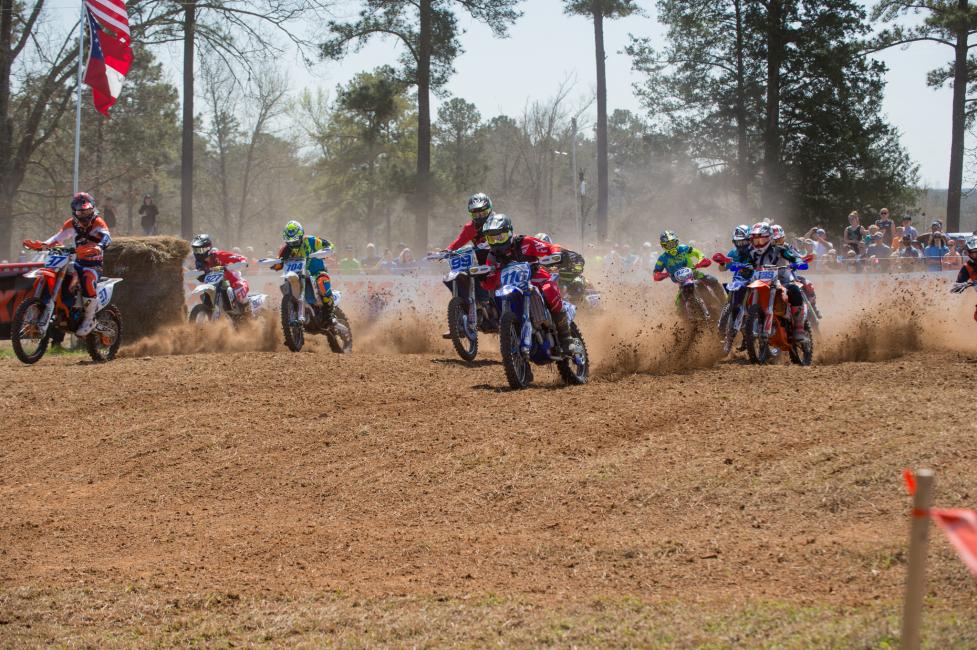 For a complete schedule of the weekend's activities, please visit the Steele Creek GNCC event page on the series website by clicking here.
For more information on the GNCC series, visit the official website at www.gnccracing.com or call (304) 284-0084. Join the conversation on the series Facebook page, follow us on Twitter and Instagram, and be sure to always hashtag #GNCC.