Chris Blose Takes Over Points Lead with Win in Nampa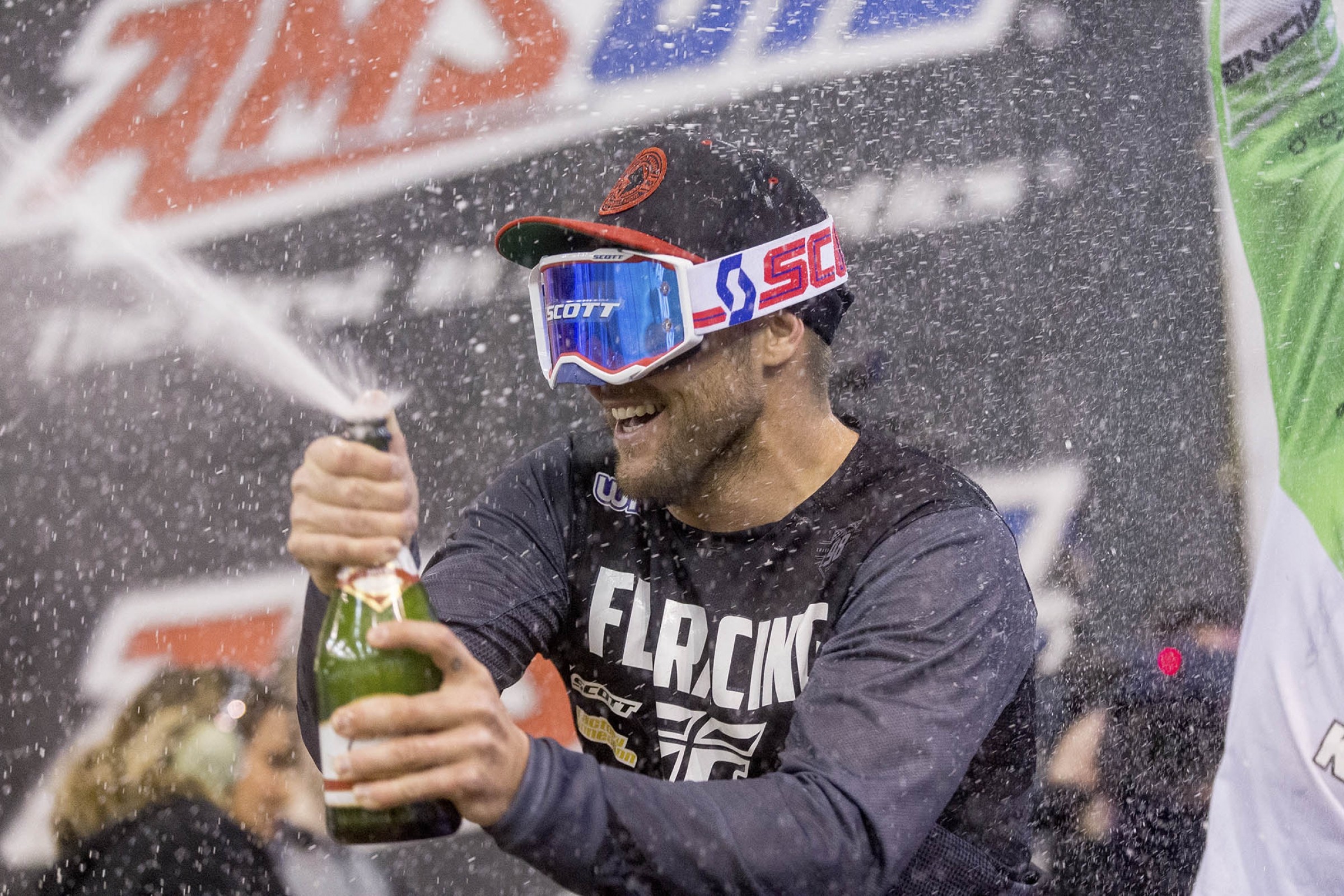 NAMPA, Idaho - AMSOIL Arenacross hosted the first round of the Race to the Ricky Carmichael Cup inside the Ford Idaho Center in front of a nearly sold-out crowd. GPF Babbitt's Online's Ryan Breece extended his Arenacross Lites West points lead, and Chris Blose took over the 250AX points lead after a phenomenal victory over Jacob Hayes.
The afternoon started with two-time defending 250AX champion Gavin Faith going down in the rhythm section, which forced a red flag as the points leader was transported off the track to be evaluated.
In the first 250AX Main Event, TiLube Rockford Fosgate Honda's Chris Blose grabbed the holeshot with Team Babbitt's Monster Energy Kawasaki's Jacob Hayes and Motosport Hillsboro Custom Power Sports Gared Steinke following in third. Blose and Hayes were battling it out until about halfway when Hayes made the pass stick on Blose for the lead. Hayes took the first Main Event win with Blose second and Heath Harrison third.
The second Main Event saw Hayes take the holeshot with Blose close behind and Sportland 2 TZR Racing's Travis Sewell in third. About halfway through the second Main Event, Blose made the move on Hayes for the lead and was on a mission for the overall. Hayes and Blose went into the last Main Event tied for the overall, because Blose took the extra point in the Rocky Mountain ATV MC Head to Head victory. Blose finished ahead of Hayes, and Ryan Breece rounded out the podium.
In the second round of the AX Lites West season, GPF Babbitt's Online rider Ryan Breece took the holeshot and never looked back, leading all 15 laps. His teammate, Isaac Teasdale, quickly moved into second and followed close behind while Yankton Motorsports' Preston Taylor raced his way to his first podium of the 2018 season.
250AX Main Event
| | | | |
| --- | --- | --- | --- |
| OVERALL FINISH | RIDER | MOTO 1 | MOTO 2 |
| 1st | Chris Blose | 2nd | 1st |
| 2nd | Jacob Hayes | 1st | 2nd |
| 3rd | Ryan Breece | 4th | 3rd |
| 4th | Heath Harrison | 3rd | 5th |
| 5th | Robbie Wageman | 7th | 6th |
| 6th | Kyle Bitterman | 6th | 7th |
| 7th | Daniel Herrlein | 11th | 4th |
| 8th | Isaac Teasdale | 8th | 9th |
| 9th | Travis Sewell | 5th | 12th |
| 10th | Kevin Moranz | 9th | 10th |
AX Lites West Region Main Event
| | | |
| --- | --- | --- |
| OVERALL FINISH | RIDER | BIKE |
| 1st | Ryan Breece | Kawasaki |
| 2nd | Isaac Teasdale | Kawasaki |
| 3rd | Preston Taylor | Kawasaki |
| 4th | Kevin Moranz | KTM |
| 5th | Johnny Garcia | Honda |
| 6th | Robbie Wageman | Yamaha |
| 7th | Zac Mangum | Suzuki |
| 8th | Corbin Hayes | Yamaha |
| 9th | Carson Brown | Honda |
| 10th | Devin Harriman | KTM |
250AX Class Championship Standings
| | | | |
| --- | --- | --- | --- |
| OVERALL FINISH | RIDER | BIKE | Points |
| 1st | Chris Blose | Honda | 42 |
| 2nd | Jacob Hayes | Kawasaki | 40 |
| 3rd | Heath Harrison | Honda | 29 |
| 4th | Kyle Bitterman | Kawasaki | 27 |
| 5th | Daniel Herrlein | KTM | 24 |
| 6th | Garden Steinke | Kawasaki | 20 |
| 7th | Travis Sewell | Kawasaki | 19 |
| 8th | Gavin Faith | Kawasaki | 10 |
| 9th | Shane Sewell | Kawasaki | 4 |
| 10th | Jacob Williamson | Kawasaki | 3 |
AX Lites West Class Championship Standings
| | | |
| --- | --- | --- |
| OVERALL FINISH | RIDER | points |
| 1st | Ryan Breece | 32 |
| 2nd | Kevin Moranz | 27 |
| 3rd | Preston Taylor | 26 |
| 4th | Carson Brown | 21 |
| 5th | Johnny Garcia | 16 |
| 6th | Robbie Wageman | 11 |
| 7th | Casey Brennen | 11 |
| 8th | Zac Mangum | 10 |
| 9th | Rookie White | 10 |
| 10th | Devin Harriman | 10 |
AX Lites East Championship Standings
| | | |
| --- | --- | --- |
| OVERALL FINISH | RIDER | POINTS |
| 1st | Heath Harrison | 86 |
| 2nd | Isaac Teasdale | 82 |
| 3rd | Garrett Marchbanks | 47 |
| 4th | Tanner Basso | 33 |
| 5th | Tanner Ward | 33 |
| 6th | Tanner Stack | 32 |
| 7th | Carter Halpain | 29 |
| 8th | Josh Mosiman | 28 |
| 9th | TJ Albright | 26 |
| 10th | Jeremy Hand | 21 |