Welcome to Racerhead and a busy weekend with the Indianapolis Supercross and the first East-West Shootout of 2018, as well as another of MXGP over in Europe, this time in Spain. Indy is not far from our home offices here in Morgantown, so if you're going, keep an eye out for the Racer X contingent. And also keep an eye for all the West Region guys we haven't seen in some time, including points leader Aaron Plessinger of the Yamalube/Star Racing Yamaha team, Monster Energy/Pro Circuit Kawasaki's Joey Savatgy and Adam Cianciarulo, Troy Lee Designs/Red Bull KTM rider Shane McElrath, and more.
Before we get into the week's news and a preview of the races, we have to make a couple of somber farewells. Longtime friend, racing mother, and event staffer Ruth Ann Benson passed away earlier this week after a very difficult battle with pancreatic cancer. Ruth was a wonderful person—always smiling, always helpful, and always supportive of everyone around her. She was a popular presence at the races, and it's just not going to be the same without her. She will be laid to rest tomorrow in Maryland.
And in Johnstown, Pennsylvania, Ed Cernic Sr., the father of Jeff Cernic of Cernic's Racing, also passed away. Mr. Cernic was a U.S. Army veteran and very proud of his service to our country. He was also a frequent traveler with Jeff and Moe Sidor and me when we would take our annual trips to races like the Motocross of Nations in Europe or the Bercy Supercross, taking the time to revisit places he had visited following World War II. He helped support Jeff and his whole family in their motorcycling endeavors, as it was Ed who founded the family's first motorcycle shop back in 1969. He was always smiling and was widely respected in his local community and even on a statewide level. Ed Cernic Sr. was 85 years old.
Godspeed to both Ruth and Ed.
150 (Andras Hegyi)
Eli Tomac is becoming a bigger and bigger name in Kawasaki's history. In St. Louis he won his 15th AMA Supercross in the saddle of a Kawasaki, tying the legendary Ricky Carmichael on the all-time list. Also, Tomac got Kawasaki's 150th win in premier-class AMA Supercross.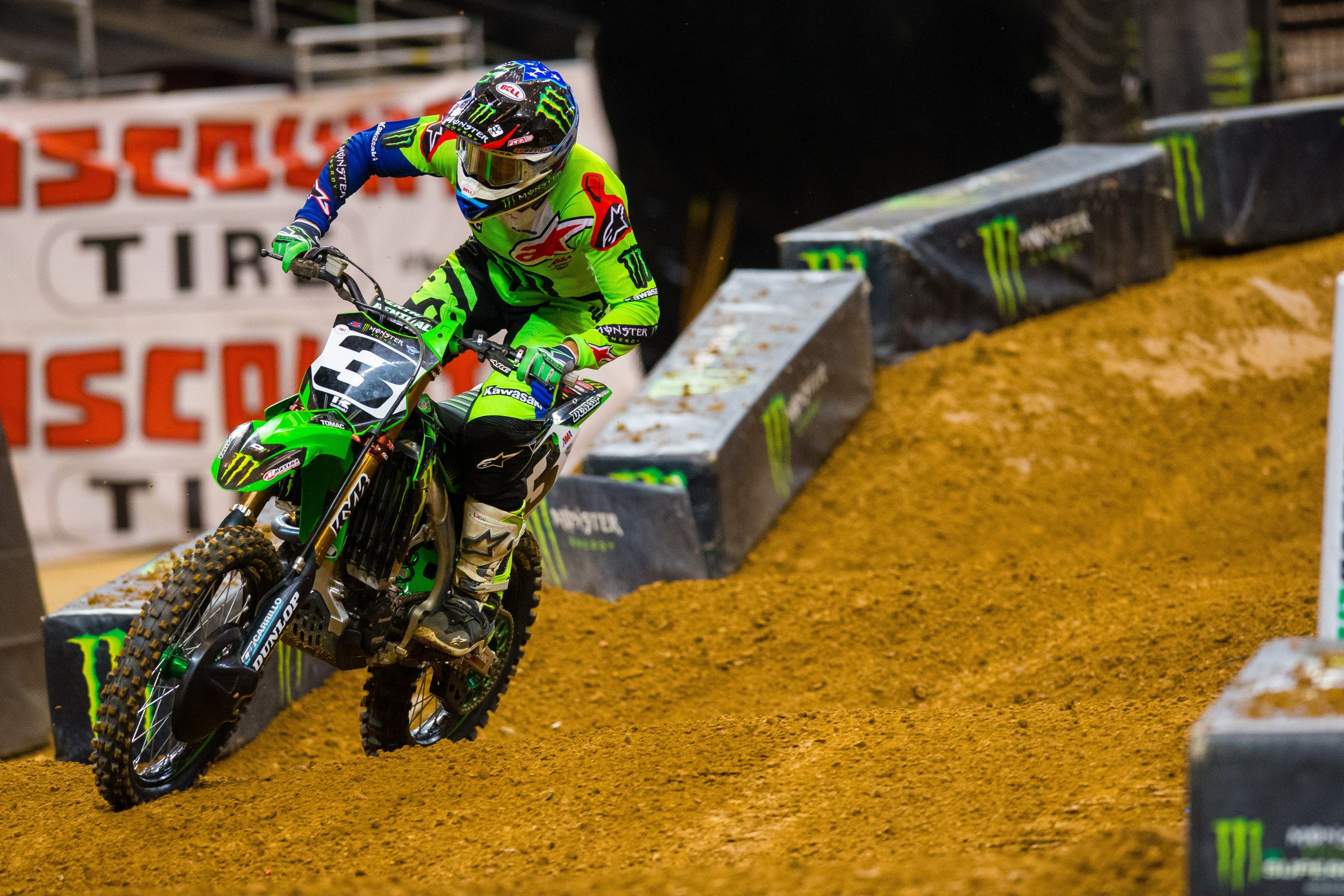 Carmichael's 15
Ricky Carmichael raced with Kawasaki in the then-premier 250 class between 1999 and 2001. The GOAT rode the KX250 in 44 races. The Floridian got his maiden Kawasaki victory in his 21st race, in 2000 (Daytona). He had a memorable 2001 season, as RC got 14 wins—including the last 13 in a row—against the King of the Supercross, Jeremy McGrath.
Tomac's 15
Eli Tomac debuted with Kawasaki in 2016. He got his first Kawasaki win in the same year, in his ninth race (also Daytona). His 15th win on a Kawasaki means only Ryan Villopoto, James Stewart, and Jeff Ward have more wins with Kawasaki.
Kawasaki's 150 wins in the supercross premier class
Ryan Villopoto (41 wins), James Stewart (25), Jeff Ward (20), Eli Tomac and Ricky Carmichael (15 each), Mike LaRocco (7), Jeff Emig (6), Mike Kiedrowski (5), Jimmy Weinert (4), Chad Reed, Ron Lechien (3 each) and Gaylon Mosier, Mark Barnett, Jeff Matiasevich, Damon Huffman, Sebastien Tortelli, Ezra Lusk (1 each)
Pro Perspective: East/West Showdown (David Pingree and Jason Thomas)
David Pingree: I'm a big fan of the East-West Showdown, especially since I'm not racing anymore. As a fan, there just aren't any downsides to this. You get to see ALL the best 250SX riders at the same time, which can only make the racing more intense.
As a racer, this can either be a huge help or it can destroy you. By this point in either series, the title has come down to two or three riders, and those elite few are able to stay on the podium even on their worst night for the most part. However, with the addition of riders from the opposite coast, it gets significantly more difficult to reach the podium. That means a points lead/deficit can disappear quickly and tighten the title chase right up. For guys caught up in a championship fight like Osborne, Forkner, Plessinger, Savatgy, McElrath and Cianciarulo, this is going to be a stressful weekend. For the rest of us, it's going to be amazing.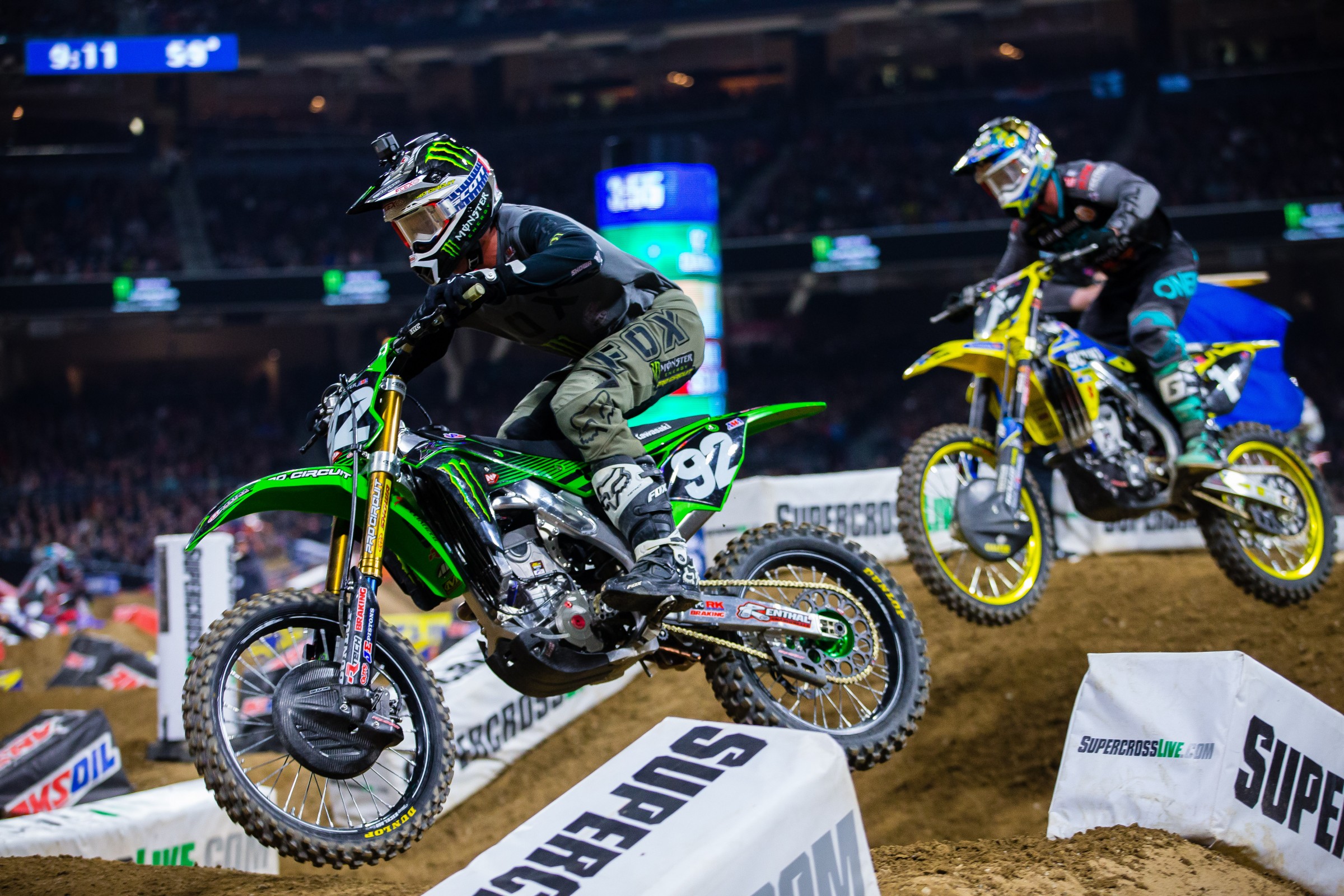 Jason Thomas: I love the Showdown concept. As Ping said, there is simply no downside to adding that many more elite-level guys into the 250 class every now and then. The trouble comes in for riders like Zach Osborne, who just want to keep the status quo. He has been at odds with the Monster Energy/Pro Circuit Kawasaki riders going back to last season. With separate incidents involving Adam Cianciarulo, Joey Savatgy, and Austin Forkner, he will have plenty of trouble to avoid. He will want to ride above the fray and get solid points and get the heck out of Dodge. For a rider like Forkner, he will want to make the best use of his help and try to get a win. If he can grab a holeshot and get away, he would hope Osborne's starting woes resurface and the deeper field would keep him out of the top five. For the West Region guys, they have been off for so long that they will just be trying to get a good finish and get back into the swing of it. They haven't raced a 250 race since February 10, so I don't expect any specific issues to linger after such a long layoff. If anyone says they know what to expect this weekend, they're lying. That's what makes these shootouts so special—they are unpredictable, intense, and awesome.
MXGP of la comunitat valenciana (Adam Wheeler)
MXGP will have thawed out by now and should be grateful to head south through Europe to warmer climes with the first Grand Prix of Spain in over a year. The Redsand circuit on the Mediterranean coastline benefits from local funding and support from the third-largest city in the country, hence the title "Grand Prix de la Comunitat Valenciana." Redsand is part of a leisure-tourism company/complex that attracts sports teams and athletes to a sprawl of facilities and hotels in a zone of Spain that is known for consistently good weather. This setup means the track has been a popular testing and training draw among Grand Prix athletes in the winter months, and the organizers of the third MXGP of 2018 (their first) have been angling for a round of the FIM Motocross World Championship for several years. A large sect of MXGP and MX2 riders will therefore be familiar with the loose and slightly sandy red terrain, and apparently a copious effort has been made to chisel a largely flat but spacious area of land into a GP-spec venue.
Arguably, this is what MXGP craved and missed to a degree with Talavera de la Reina for three years between 2014-'16. The hard-pack site near Madrid boasts a lot of character, but the narrow layout was restrictive, ill-suited to modern MXGP, and a relatively poor spectating experience. Prior to Talavera, Grand Prix had some stellar years at Bellpuig in western Catalunya—ten minutes from Cervera, where MotoGP World Champion Marc Marquez and his Moto3 title winner brother Alex were born and still reside.
Indeed, a junior Marquez—whose parents worked at the Motoclub that owned Bellpuig and some of the other local tracks and were often marshals and assistants on race day meetings—remembers the time when Grand Prix used to come to town.
"I was in that environment from a very young age, and I remember writing my Christmas list for a 'bike to make jumps,'" Marquez said recently in an interview discussing his motocross roots. "Some of the first memories I have of any bike race was seeing [Stefan] Everts and [Mickael] Pichon at Bellpuig. I think it was 2001; Pichon was riding the Suzuki with the #2. You know it can be funny sometimes how you remember certain riders for certain reasons, and I just have those two in my mind. Until I was eight, everything was motocross. And I wanted to continue riding and racing, but my dad made a 'promotional cup' [for asphalt] and a guy said to him, 'Put Marc in for it; he's got a lot of corner speed.' So, I did it… and didn't like it at first. The bike was too big and I was too small and I'd been winning in motocross; I was Catalan champion and was looking at racing the Spanish championship. Anyway, after a year my Dad had an offer for some assistance [for road racing] and that was it."
Back in 2007, Spain could look on Jonathan Barragan's brief flash of time at the top of the sport (he was not only Spain's first GP winner in the premier class, but also the first to win on home soil). The nation now has a far brighter prospect to cheer. This weekend will represent 17-year-old Jorge Prado's maiden home Grand Prix in MX2. The Red Bull KTM rider looked in good form in freezing and snowy Valkenswaard, Holland, last week, where his 2-2 represented a first podium appearance of the year. Prado was even able to apply some late-race pressure to teammate Pauls Jonass; the Latvian is currently 100 percent in his title defense for moto and GP wins. The 2019 pre-production 250 SX-F is proving to be a fireball out of the gate and has enough power to ensure the orange (and white) continue to be the reference for the category. Prado knows Redsand intimately … but so does Rockstar Energy Husqvarna duo Thomas Kjer Olsen (twice third in 2018) and Thomas Covington. This weekend could be Jonass' hardest challenge yet.
Aside from the buzz and expectation around Prado, Redsand will see the next chapter in the Herlings-Cairoli duel. The Dutchman has claimed the opening two rounds and three of four motos, all of those by chasing and passing the World Champion. Herlings has logged hundreds of laps at Redsand, while Cairoli is fairly unfamiliar with the track that was once part of Harry Everts' Spanish coaching setup. It will be fascinating to see if #222 changes tactics and tries to put his Red Bull KTM teammate under a different form of pressure.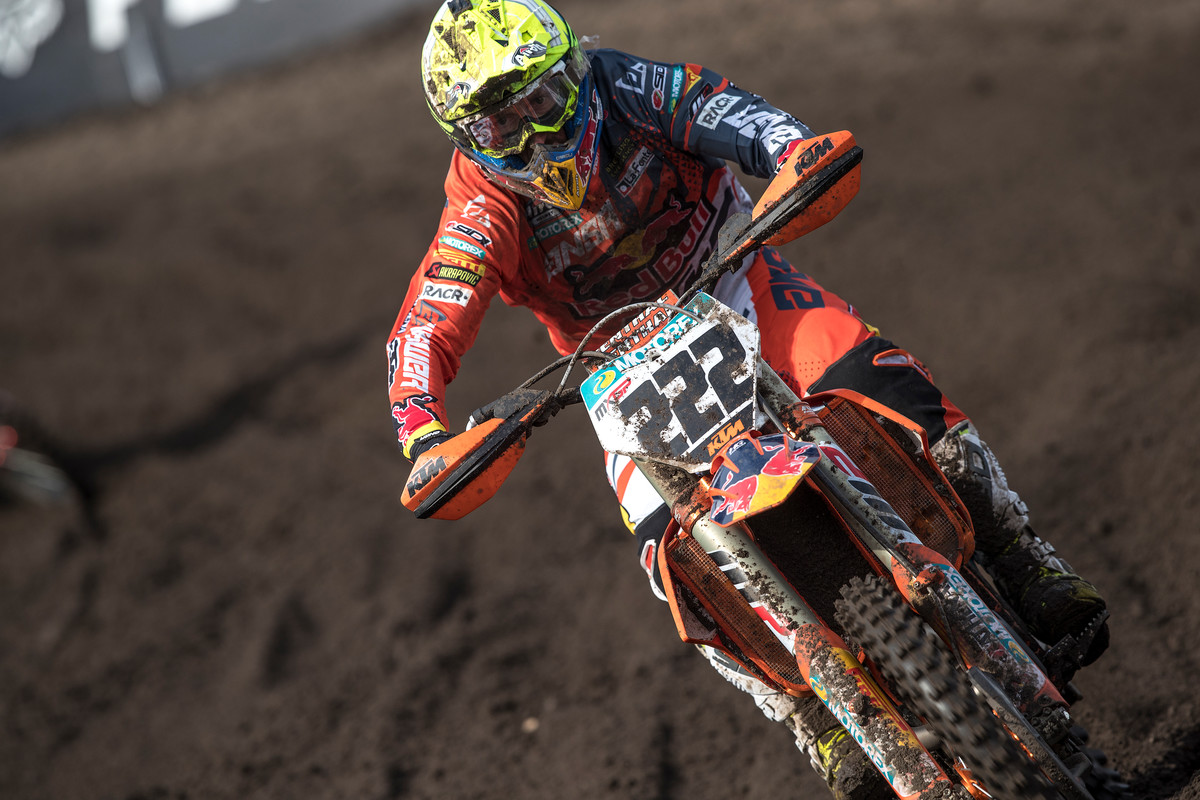 Other news in MXGP involves the calendar flexing back to 20 rounds with the recent confirmation of Bulgaria back onto the slate for the first time since 2014. August will be a busy month for teams, with trips to Belgium, Switzerland, and then Sevlievo before continuing east to Turkey. The announcement of Bulgaria's return fills a gap vacated by the canceled Grand Prix of Sweden that was annulled in January. An interesting footnote: Jeffrey Herlings made his GP debut as a factory rider at Sevlievo back in 2010 as a 15-year-old and finished fourth. He was on the podium at the next race in Italy and procured the first of his 69 victories at round three in Valkenswaard, the weather-bashed Eurocircuit where he claimed his last success just a few days ago.
COMING CLEAN (Matthes)
This week I did a Racer X Podcast with former Maico and Husqvarna factory rider Andy Stacy about his long career in the sport. Like a lot of riders in the eighties, Andy had some seriously good results, but there just weren't many rides. Well, that and Andy's opportunities took place on bikes that just weren't up to par compared to what the Japanese were making. A friend of Andy's had reached out to me about dialing him up a while ago, and although it took some time, we got it done. Give it a listen here.
Something that made it an interesting listen is Andy being honest about his time spent incarcerated. He was an accomplice in a loan scam deal spearheaded by Illinois MX mainstay Rusty Ott. (You can read about it here.) While Ott is still in jail, Stacy wasn't in there for long. I wouldn't have done the podcast if Andy didn't want to talk about this time, and to his credit, Andy wanted to tell his side of the story. He admitted guilt, talked a lot about why he did it, his time in what seems like a minimum-security jail, and how he kept up on the races while in there. And it sounds like Andy's wife is a hell of a woman for sticking with him during this whole time as well. Good luck to Andy Stacy in his next venture, and thanks for checking it out.
8 (Andras Hegyi)
Last week, at his home Grand Prix at Valkenswaard (MXGP of Europe), Herlings set two new records, becoming the first Dutch rider to win in the premier class. Valkenswaard has held the GPs since 1974, and 32 races were held there before a home rider could win this class.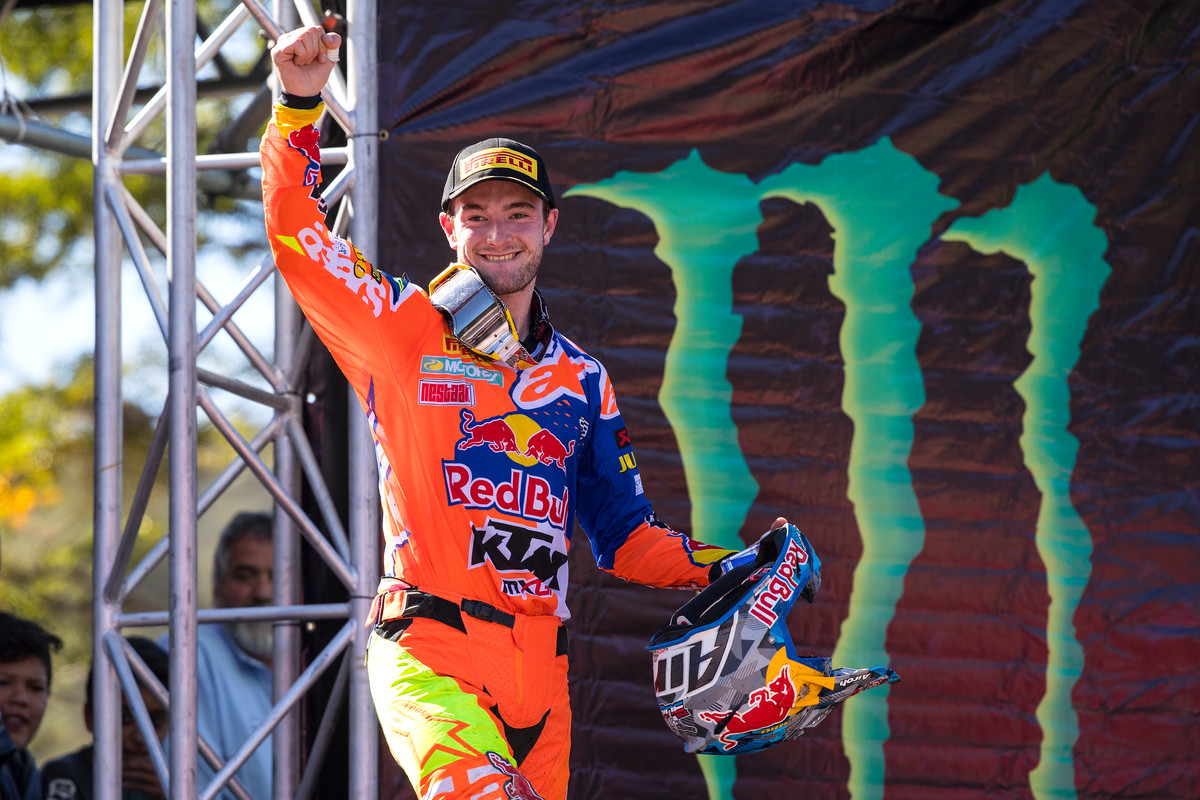 Herlings also became the first motocrosser to win eight GPs at the same track. Herlings overtook two Belgian legends, Roger De Coster and Stefan Everts, who both got seven wins each at Namur, Belgium, at the legendary Citadelle track.
GNCC Round 3 Recap (Jared Bolton)
In the blink of an eye, three rounds of GNCC Racing are in the books. So far, we've seen some of the tightest racing the series has seen since the Scott Summers-Scott Plessinger battles of the nineties, or the Rodney Smith-Shane Watts-Barry Hawk-Steve Hatch-Jason Raines-Fred Andrews battles of the early 2000s.
When you look back at those battles, it's kind of interesting to see things beginning to come full-circle. When the professional ranks of GNCC Racing took off in the nineties, the top Bike guys would essentially go on a fast-paced trail ride for the opening portions of the race, then in the final hour, they would turn up the heat and sprint to the finish. When Juha Salminen came along in 2005, the game began to change a bit. Juha's fitness and technique was so much different than what the top GNCC pros were used to that they were forced to figure it out. As the years progressed, we began to see the top pros sprint for the entire three-hour race. Now it looks as if the game is changing once again. Kailub Russell and Thad Duvall are at the forefront of this change, and from a spectator's standpoint, it appears they're taking a bit of an old-school approach to the opening laps of the race.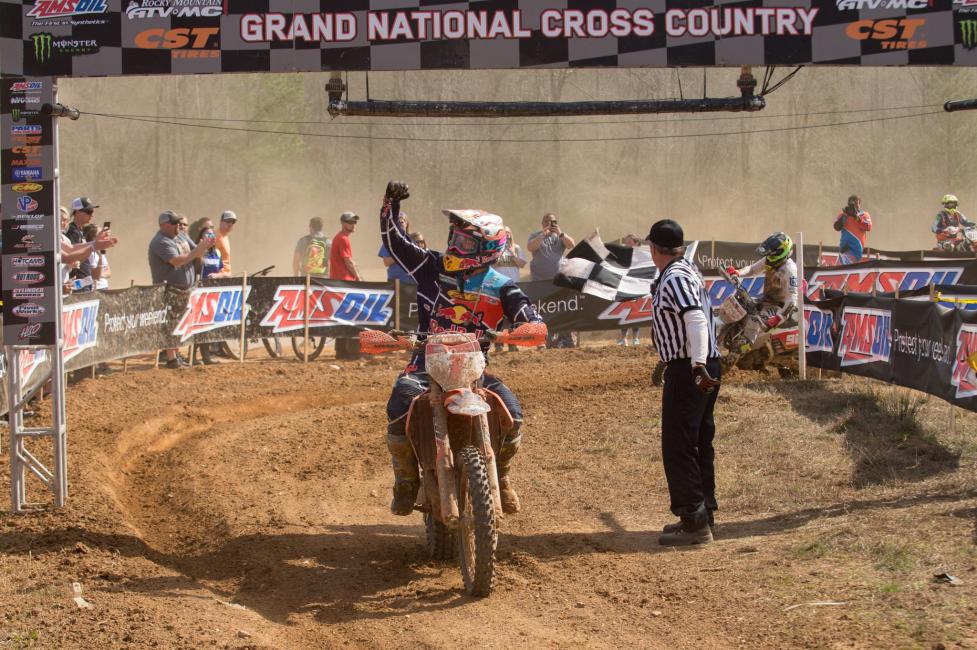 In all three rounds thus far, they've been the top guys to beat. However, they really don't seem to push at their full potential until the second half of the race. At all three rounds, just before the two-lap card goes out, they have upped the pace and begun to pull away from the rest of the pack. It seems as if they've settled into a smooth pace in the first half of the race, learned the track, and then began their drive to the front of the pack in the latter stages. On the flipside, guys like Steward Baylor and Trevor Bollinger have also been riding phenomenal this season, still running at that pace with the goal of getting out front early and holding that lead.
That technique may very well still work, because if they can pull out a good enough lead and save their fitness for the end of the race, they can capitalize on Russell or Duvall waiting just a little too long to begin their charge. As for the racing itself, Russell is the man to beat with three wins in three rounds so far, but Duvall and Baylor have both been right there in contention as well. Bollinger, meanwhile, has taken three-straight fourths.
Steele Creek, up next, is a literal home race for Bollinger, as he grew up and still lives just on the other side of town. It's a pretty rare occurrence for a GNCC competitor to have a true "hometown" race, and with that type of motivation behind him, you can't help but wonder if it will give Trevor that extra boost he's been looking for.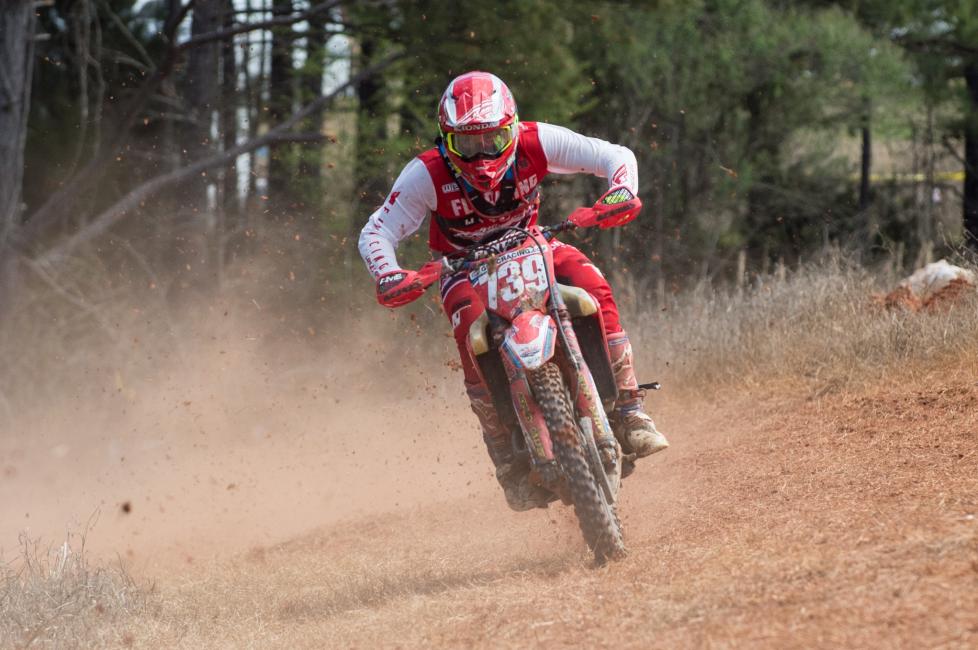 While Josh Strang may call Australia his real home, his American home is also not very far from Steele Creek. Living in Denver, North Carolina, just around an hour from Steele Creek, Strang is no stranger to the center of the podium. The 2010 GNCC National Champion has claimed three wins at Steele Creek in the past, and will ultimately be looking to claim another win, which would be his first since the Tomahawk GNCC in 2016.
In the XC2 class, Ben Kelley is on fire right now. After claiming his first XC2 class win in Florida, he backed it up with another win at The General. As part of the Trail Jesters crew, Kelley's support from the Factory KTM folks has been upped a bit this season, and it looks like the extra support has been key in taking Ben to the next level. Coastal Racing's Pascal Rauchenecker has been pretty consistent so far in 2018, claiming two third-place finishes and one second place. While some may have expected Pascal to come in and gobble up wins like he did in his debut performance last year at Ironman, his consistency is still key in keeping things close for the XC2 championship, as he currently sits second place in class points.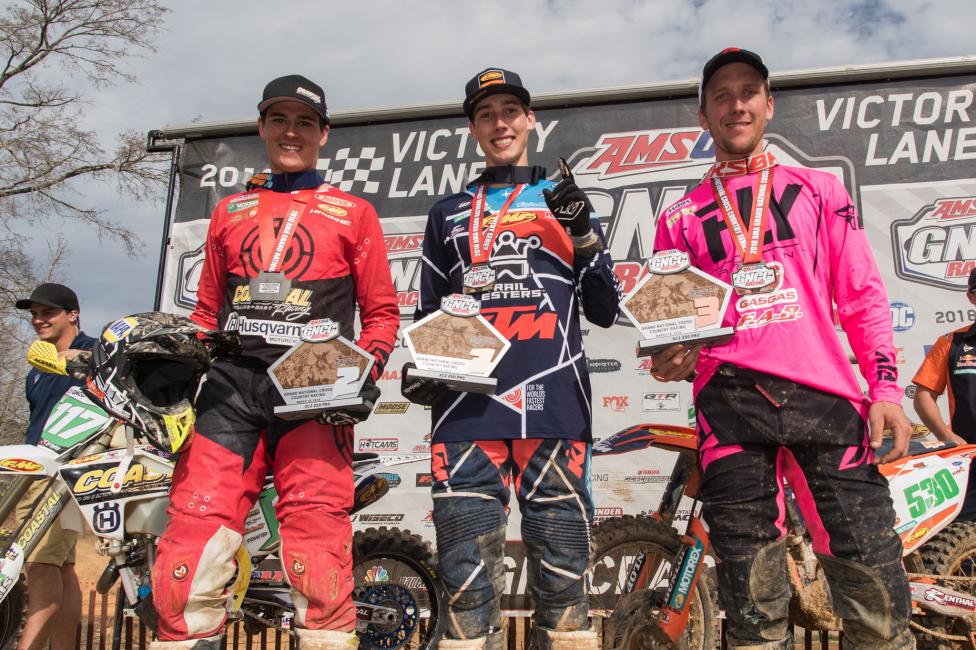 Defending XC2 class champion Josh Toth started the season strong with a win at Big Buck, then led round two until a late crash pushed him back to second place. Unfortunately, disaster would strike for Toth at round three, as an encounter with a vine would leave him with a hand injury, ultimately dropping him out a lap early. Last we heard, Toth was still waiting to hear back on his injury, so we'll keep an eye out for any updates. Craig Delong hasn't exactly seen the season he had hoped for so far, but a fifth and two fourth-place finishes is nothing to scoff at. There's no doubt that once Craig shakes out the minor issues, he'll be back up front contending for XC2 class wins once again.
The FMF XC3 class (for 125s) has been pretty exciting so far with three winners in three rounds. Alex Teagarden would put together a great ride at Big Buck to claim the class win. When we rolled into Florida, it came as no surprise that Florida's own Jesse Ansley would come away with the class win. Cody Barnes won round three. However, through all of this, former XC1 Pro contender Jason Raines has been Mr. Consistent and currently leads the XC3 class points.
Vale Signor Aprilia! (Andras Hegyi)
The Italian motorcycle industry, and motorcycling all over the world, lost a good man on March 13. Ivano Beggio, the creator of Aprilia, passed away at the age of 74. Signor Beggio was one of the greatest in the history of Italian motorcycle industry. Through Beggio, Aprilia became a world-famous motorcycle brand, as well as a success in motorcycle racing.
Beggio, born in 1944 near the end of World War II, began his career as a technician working for his father's little bicycle factory, named Aprilia, in Noale, Northern Italy, near Venice. In 1968, Beggio took over the presidency of Aprilia, and from that time, a new dimension opened. He was Aprilia's president between 1968 and 2006. During those 38 years, he made Aprilia famous for its aesthetically and technologically innovative models.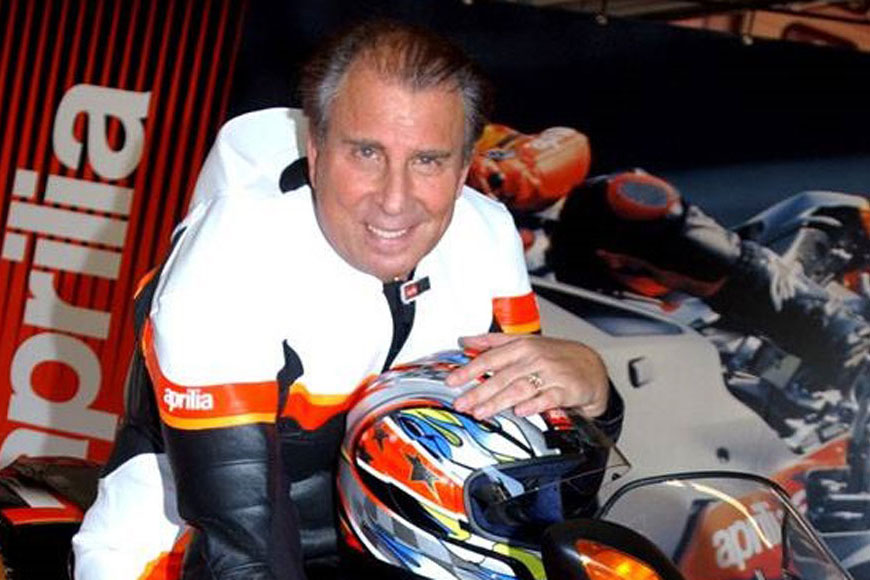 So far, Aprilia has had 54 world titles in all in the various world championship series, and 294 GP wins in MotoGP, the highest number among the European brands. Moreover, Ivano Beggio was a patron of the young talents. His biggest act was the patronage of Valentino Rossi, the nine-time world champion and one of the greatest motorcycle racers ever.
His fundamental passion for racing began with off-road racing, mainly with motocross. He always visited motocross races, and when he became Aprilia's president, he founded a motocross racing division in 1974. In the seventies and eighties, Aprilia was a player with riders like Ivan Alborghetti, Corrado Maddii, Michele Fanton, Fabrizio Pirovano, Giuseppe Andreani and Massimo Contini. Andreani got two 125cc GP wins.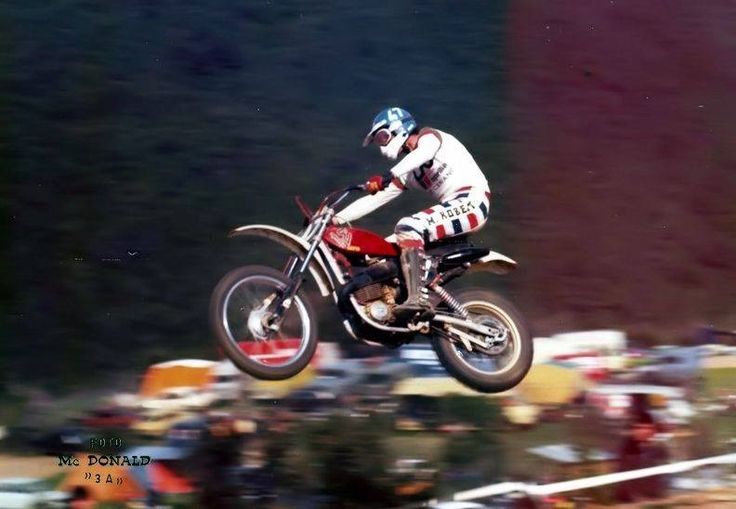 In the 2000s, in the new four-stroke era, Aprilia returned to the world championship with its innovative V-twin-model, the MXV, racing in the premier MX1 class. Other stars who raced for Aprilia included the New Zealander Joshua Coppins, the Belgian Cedric Melotte, the Swiss rider Julien Bill, and the Spanish racer Francisco Garcia Vico.
Hey, Watch It!
Jason Weigandt's new Racer X Exhaust podcast, presented by Yoshimura, is up and running and a new episode debuted this week, where Weege went on a run with Ken Roczen and trainer Blake Savage and recorded some of the conversation. Look up Racer X Podcast Network wherever you find your podcasts, and subscribe. And you can even listen to it on YouTube:
Ryan Dungey puts out a statement on "retirement" with this video with Fox Racing promoting their new limited edition gear set:
Racer X Films: Baker's Factory Tour 2.0
Head-Scratching Headlines of the Week
"John Dowd resigns from Trump's personal legal team" — cbsnews.com
Random Notes
SUPERCROSS HANGOUT WITH MATTHES, WEEGE AND/OR JASON THOMAS
Subscribe today for as low as $9.98 for a chance to win two free tickets and all-day pit access to the following Monster Energy Supercross event of your choice: Seattle, Minneapolis, Foxboro, Salt Lake City, or Las Vegas. You'll get to hang out with Steve Matthes as well as Racer X's Jason Weigandt or Fly Racing's Jason Thomas for part of the day, which could include scouring the pits for free lunch and a brief tour of some race rigs—basically, whatever Matthes, Weege, or JT get themselves into on a normal day at the races. Weigandt will be available to attend Minneapolic, Foxboro and Las Vegas; Thomas will be at Seattle, and Salt Lake City. Matthes is there no matter what.
Races include Seattle, Minneapolis, Foxboro, Salt Lake City, and Las Vegas.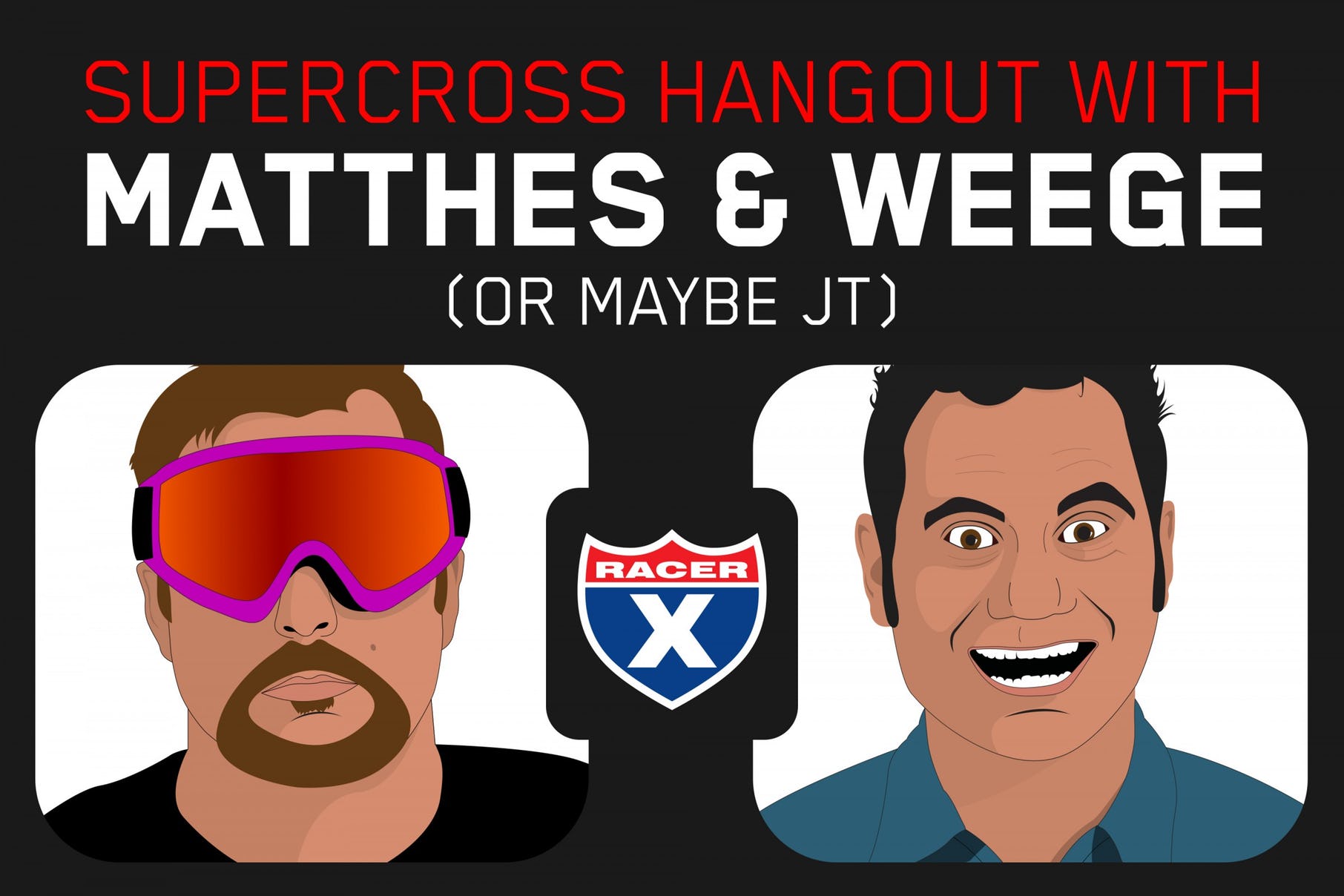 Subscribe Now and Get a Free FXR T-Shirt
Subscribe now for as low as $9.98 and receive a FREE FXR t-shirt, plus access to our digital edition.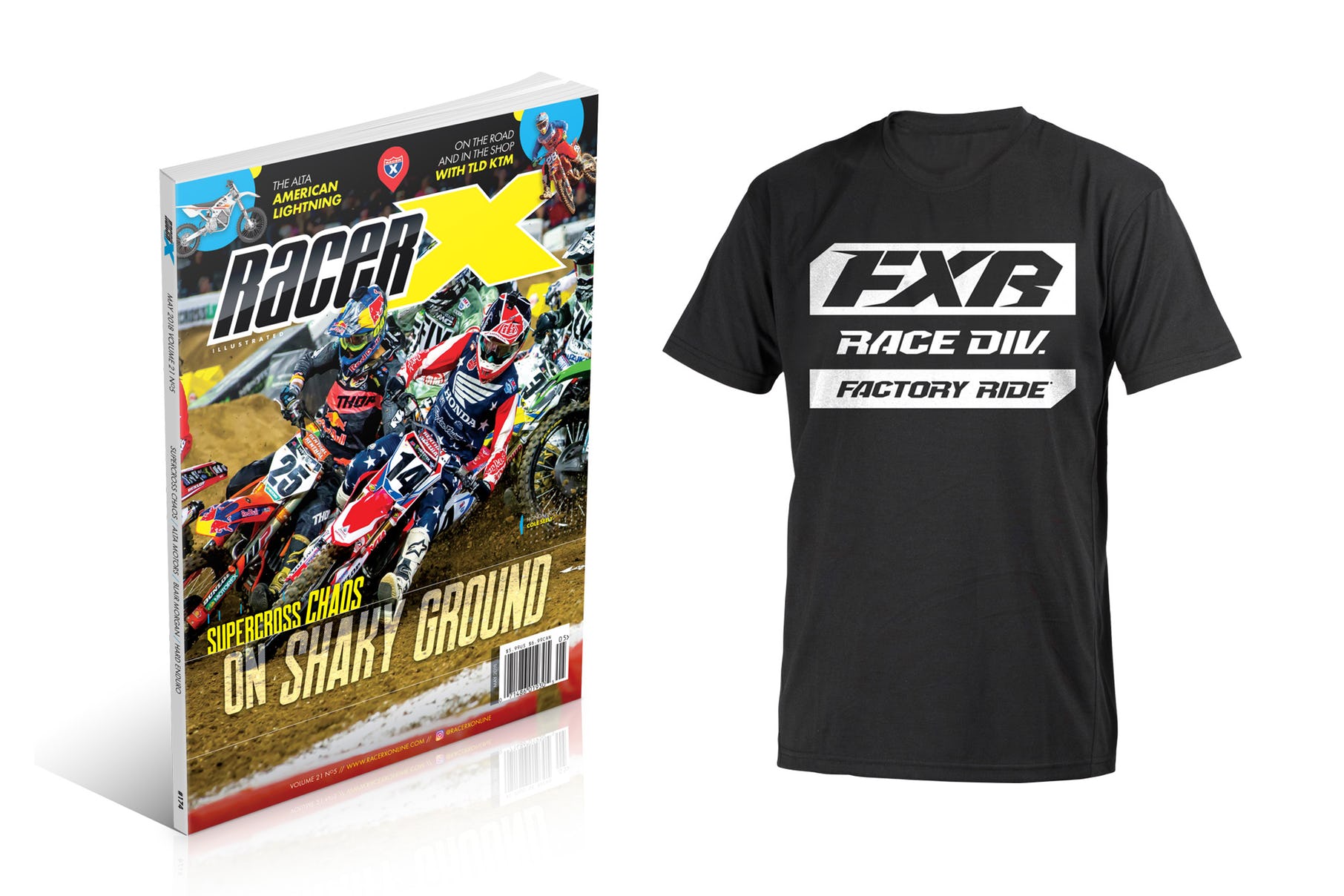 Sorry to cut this short, but it's time to hit the road! Thanks for reading Racerhead—see you at the races!