Autotrader/Yoshimura Suzuki Team To Support Road 2 Recovery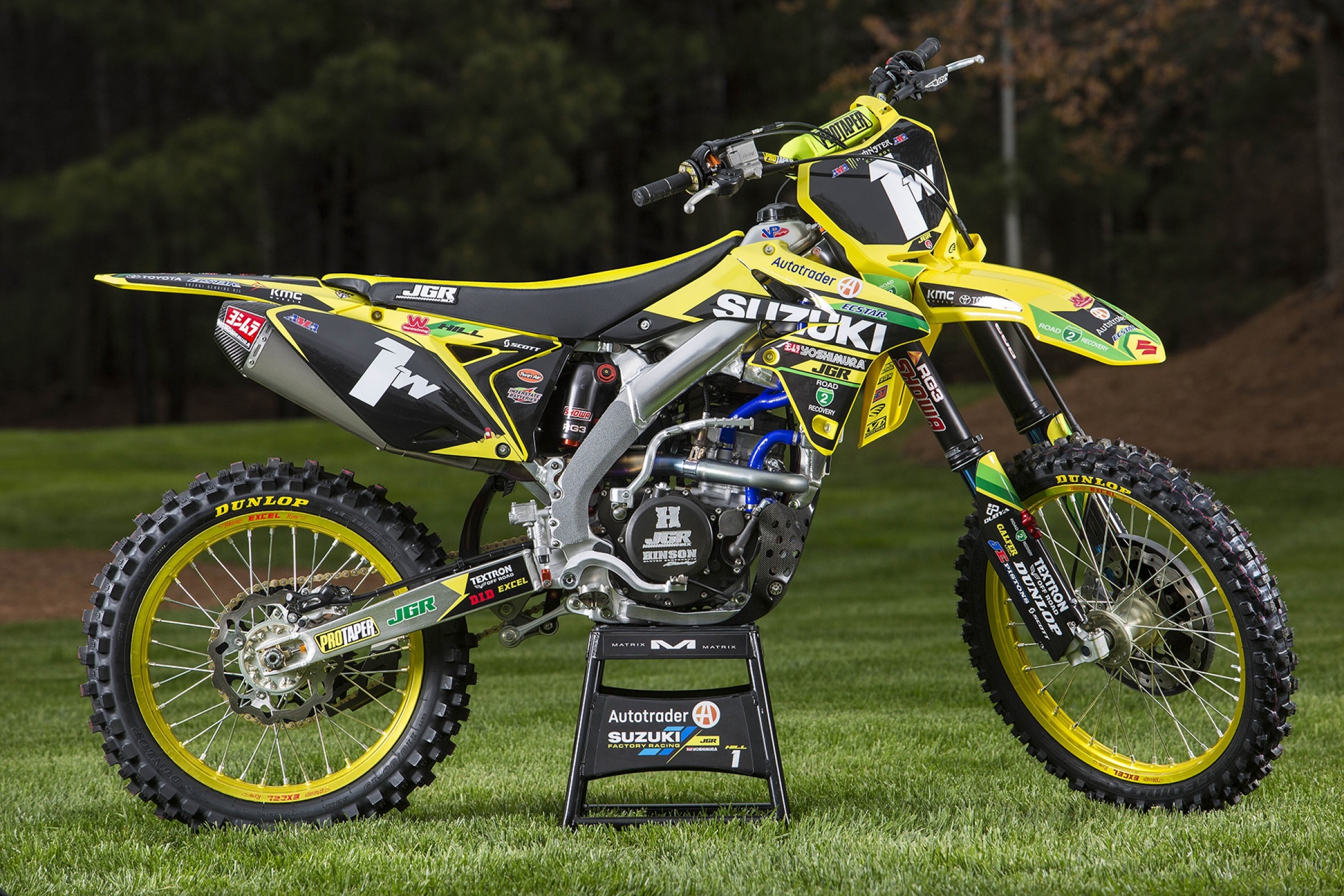 Huntersville, NC — The Autotrader/Yoshimura/Suzuki Factory Racing team bikes will have a different look on Saturday at Lucas Oil Stadium for round 12 of the 2018 Monster Energy Supercross series. The team has joined forces with the Road 2 Recovery (R2R) Foundation in an effort to increase awareness and raise funding for the nonprofit organization.
The Suzuki RM-Z450s of Weston Peick and Malcolm Stewart, along with the Suzuki RM-Z250s of Justin Hill, Kyle Peters, and Phil Nicoletti, will share a unique graphic design that incorporates the Road 2 Recovery colors. The Suzuki plastics, along with individual rider jerseys from the race, will then be auctioned off. JGRMX will also be offering the graphics kit for a limited time via www.jgrmx.com, with all proceeds going to R2R.
Founded in 2000, the Road 2 Recovery Foundation is dedicated to helping AMA licensed Professional Motocross/Supercross riders and Action Sports Athletes with financial assistance if they sustain career-ending injuries. They also provide motivational, emotional, and spiritual support to these individuals and their families.
"We at R2R can't thank the whole Autotrader/Yoshimura/Suzuki Factory Racing Team and riders enough for this generous contribution," Lori Amstutz, director of marketing and events, said. "The funds from this auction will go a long way in helping Road 2 Recovery carry out our mission of helping injured athletes. It will also help us to continue funding special projects like the Alpinestars Mobile Medical Unit, which directly helps keep these athletes safe every weekend. We are honored!"
Autotrader/Yoshimura/Suzuki Factory Racing team manager Jeremy Albrecht added, "I noticed that there weren't any themed supercross races this year, but I wanted to do something special that would help the sport. Jimmy Button and I came up with the idea and began working on an action plan to make it happen. We hope this weekend's race raises awareness for the Road 2 Recovery Foundation and provides financial support for their initiatives."
Beginning Monday, the autographed Autotrader/Yoshimura/Suzuki Factory Racing Team plastics and rider jerseys will be available for bidding. Please click here to view the selection. You can also purchase the limited edition R2R Suzuki graphics kit through www.jgrmx.com, with all of the proceeds going to the foundation.