Chris Blose Picks Up First Win of 2018 in Denver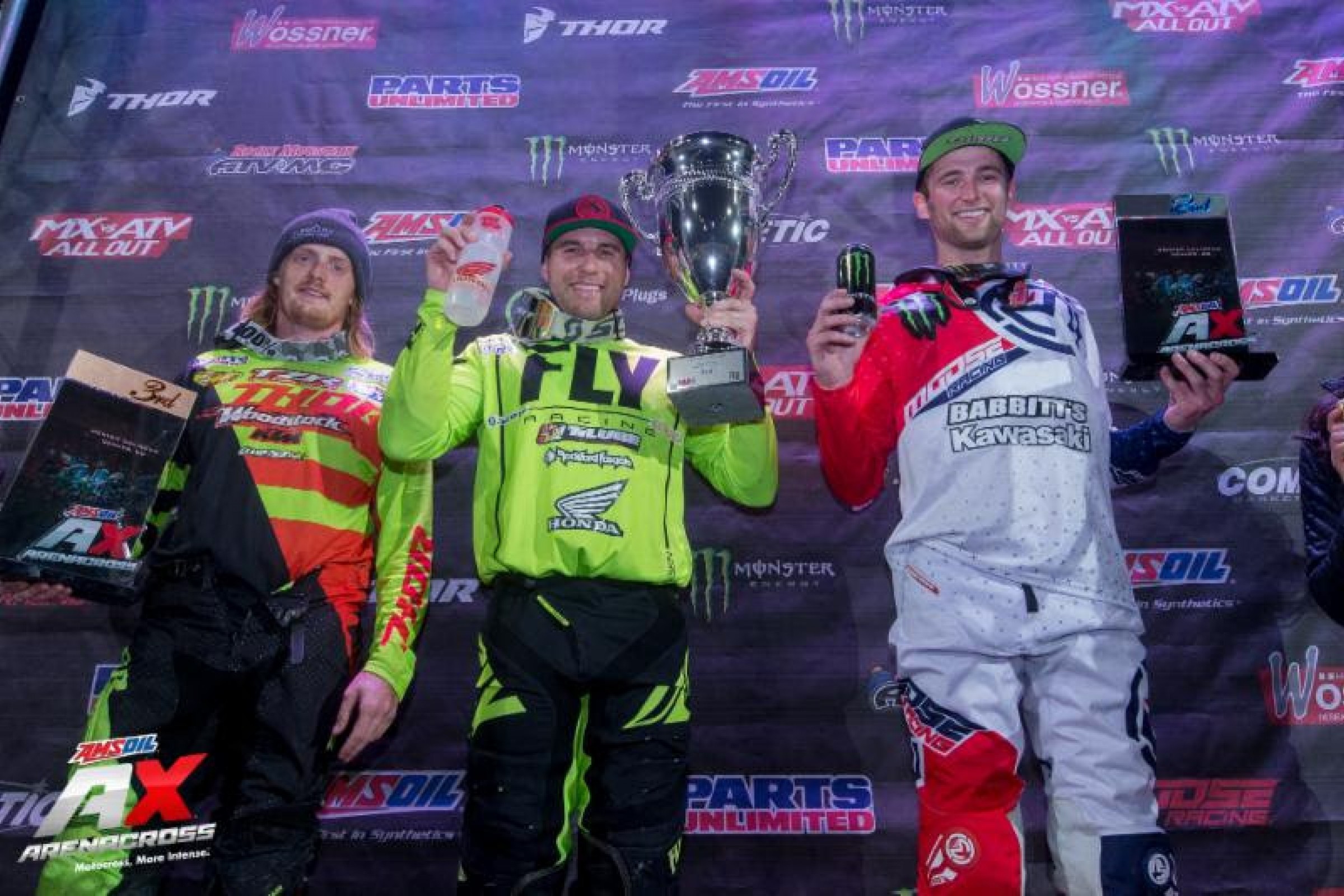 DENVER, Colo., - AMSOIL Arenacross hosted its third-annual Military Appreciation race inside the Denver Coliseum for Round 7 of the 2018 season. TiLube Rockford Fosgate Honda's Chris Blose won his first 250AX overall of the season and defending Arenacross Lites West champion, Ryan Breece, won the opening round of the Lites West season.
The night started out with two restarts in the heat races, one of which the 250AX points leader, Jacob Hayes, did not finish, forcing him to the 250AX Last Chance Qualifier where he finished third, not qualifying to compete in the 250AX Main Events and losing the points lead heading into the points reset.
The first 250AX Main Event saw Blose out front right from the start and although he led all 15 laps, the win did not come easy as Team Babbitt's Monster Energy Kawasaki's Gavin Faith stayed within a second of his sight the entire main event.
The second main event saw Blose out front again, with TZR Woodstock KTM's Daniel Herrlein and Faith in tow. A few laps into the race, Faith made the pass stick on Herrlein to secure second place. Just over the halfway point, Faith made the move on Blose in the turn after the whoops and took over the lead and went on to take the second main event victory with Blose and Herrlein finishing second and third.
The overall 250AX Main Event winner was determined because of the Rocky Mountain ATV/MC Head 2 Head Challenge victory, which was won by Blose. By Blose securing that additional championship point, he took the overall win in Denver; Faith finished second and Herrlein third.
The AX Lites West season kicked off in Denver and defending champion, GPF Babbitt's Online rider Ryan Breece, stormed out of the gate and led all 15 laps. Breece's teammate, Isaac Teasdale, worked his way up from a mid-pack start to finish second and Plumbing Plus' Kevin Moranz also worked his way from a mid-pack start to finish on the podium with a third.
Round 7 was of large significance to the 250AX riders as the points have officially reset for the top 10, and now only nine points separate points leader Gavin Faith from Travis Sewell, who sits in tenth.
250AX Class Main Event Results
1. Chris Blose, Phoenix, Ariz. (1-2)
2. Gavin Faith, Fort Dodge, Iowa (2-1)
3. Daniel Herrlein, Bethesda, Ohio (4-3)
4. Isaac Teasdale, Robbinsville, N.C. (6-4)
5. Kyle Bitterman, Pelzer, S.C. (5-6)
6. Ryan Breece, Athol, Idaho (8-5)
7. Travis Sewell, Westville, Ind. (7-7)
8. Gared Steinke, Auburn, Calif. (3-13)
9. Kevin Moranz, Topeka, Kan. (9-8)
10. Lane Staley, Chillicothe, Ohio (10-10)
250AX Class Championship Standings
1. Gavin Faith, Duncombe, Iowa, Kawasaki (10)
2. Chris Blose, Phoenix, Ariz., Honda (9)
3. Jacob Hayes, Greensboro, N.C., Kawasaki (8)
4. Gared Steinke, Woodland, Calif., Kawasaki (7)
5. Kyle Bitterman, West Pelzer, S.C., Kawasaki (6)
6. Daniel Herrlein, Bethesda, Ohio, KTM (5)
7. Shane Sewell, Westville, Ind., Kawasaki (4)
8. Jacob Williamson, Swartz Creek, Mich., Kawasaki (3)
9. Heath Harrison, Silverhill, Ala., Honda (2)
10. Travis Sewell, Westville, Ind., Kawasaki (1)
AX Lites West Class Main Event Results
1. Ryan Breece, Athol, Idaho, Kawasaki
2. Isaac Teasdale, Robbinsville, N.C., Kawasaki
3. Kevin Moranz, Topeka, Kan., KTM
4. Carson Brown, Ravensdale, Wash., Honda
5. Preston Taylor, Hastings, Neb., Kawaski
6. Casey Brennen, Albuquerque, N.M., Yamaha
7. Rookie White, Winchester, Calif., Yamaha
8. Jake McKinney, Hamersville, Ohio, Kawasaki
9. Dawson Newby, Eaton, Colo., KTM
10. Hunter Hilton, Youngsville, La., Husqvarna