Kailub Russell Looks to Claim Second Win at Wild Boar GNCC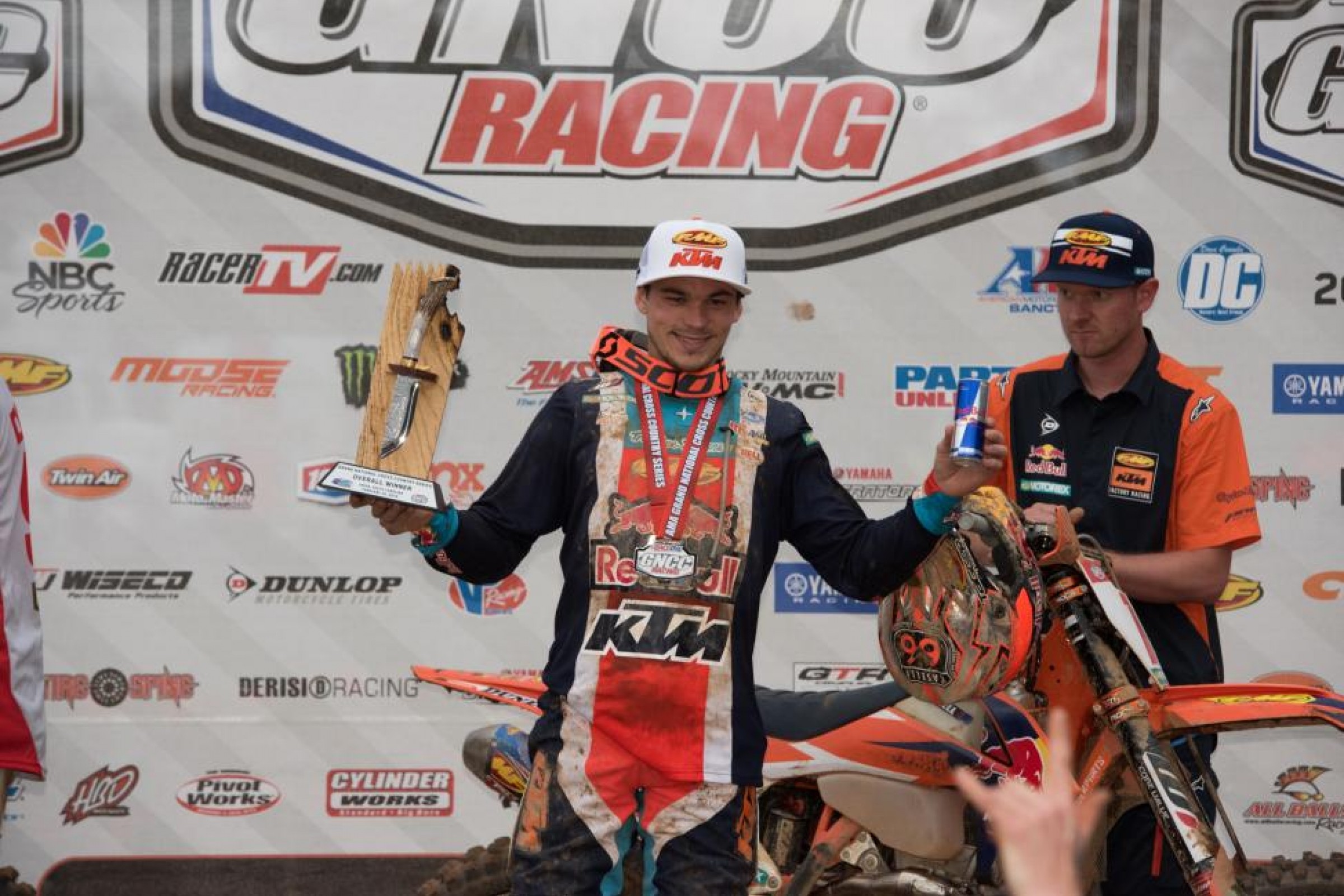 Hogwaller
Palatka

,

FL
Wild Boar
GNCC Racing
MORGANTOWN, W.Va — After a close battle at the opening round just two weeks ago, the 2018 Amsoil Grand National Cross Country (GNCC) Series, an AMA National Championship, continues this weekend, March 10-11, in Palatka, Florida. The Moose Racing Wild Boar GNCC will play host to the second race of the 13-round series.
Each year the Wild Boar GNCC is held in conjunction with Daytona Beach's Bike Week festivities, which contributes to a unique and large crowd. Industry personnel, longtime series followers, and local race enthusiasts will all gather this Sunday to watch the GNCC series continue.
At the season opening round, defending series champion FMF/KTM Factory Racing's Kailub Russell would claim the race win. Interestingly enough, this marked just the second time in the five-time champion's career that he has been able to claim the win at the season opener.
The race win did not come easy for Russell, as last year's championship runner-up, Rockstar Energy Factory Husqvarna Racing's Thad Duvall, would make it a race-long battle with Russell. Duvall showed that his 2017 race season was no fluke, as he would challenge for the race win down to the wire, finishing in second place just a little over one second behind Russell. With two weeks to prepare for the rough and rugged Florida terrain, Duvall will be looking to rebound and challenge for the race win once again.
Tely Energy Racing/KTM's Steward Baylor would also start the 2018 season on a high note with a third-place finish in the opening round. Baylor is no stranger to the Florida terrain and considers himself to be a strong rider in sandy conditions. With a history of strong finishes in Florida GNCC rounds throughout his career, there is no doubt that Baylor could be in contention for the race win.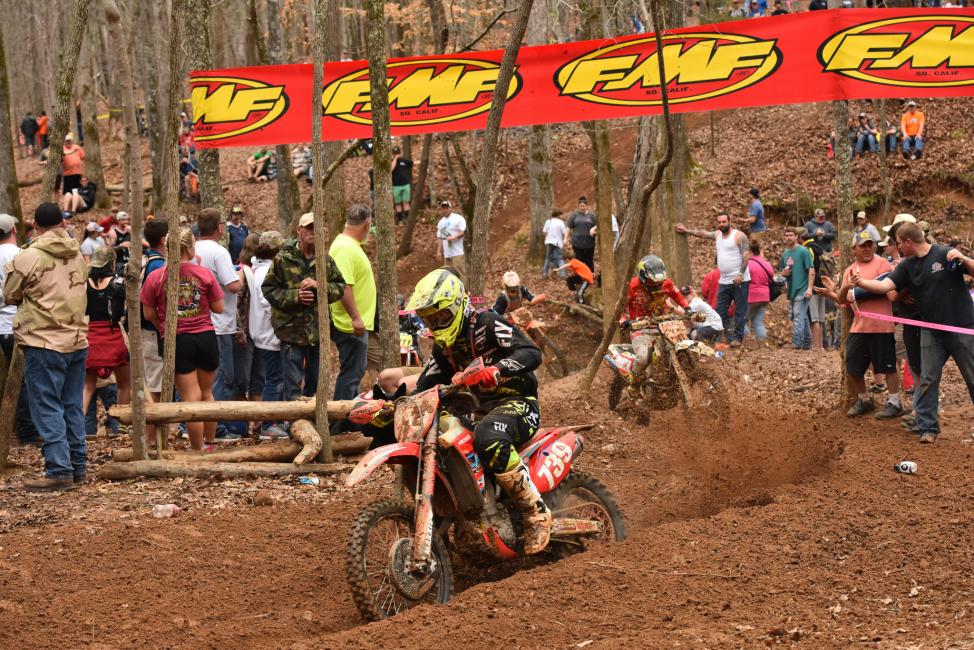 JCR Honda-backed rider Trevor Bollinger would run in podium contention for much of the opening round. The 2016 XC2 250 Pro class champion enters his sophomore season in the XC1 Open Pro class in 2018 and is looking for strong finishes. Bollinger is obviously hungry for his first overall win, but will also be looking to build up to that win by claiming his first XC1 Open Pro class podium. If his speed at the opening round is an indication of his potential in the 2018 season, then Bollinger is likely to find himself in contention for race wins soon.
2010 GNCC National Champion and Rockstar Energy/Factory Husqvarna Racing's Josh Strang had an up-and-down 2017 season as he fought through an injury and other issues that kept him from performing at his full potential. He would begin the 2018 season strong by claiming the XC1 Open Pro class holeshot at round one and run in podium contention for much of the race. Strang would hold on to finish a solid fifth place in the opening round and will be looking to return to his old form soon.
Last season's XC2 250 Pro class champion, FMF/KTM Factory Racing's Josh Toth, would have an excellent opening round claiming the XC2 250 Pro class win and finish an impressive sixth place overall. As we enter round two, Toth will be looking to begin a win streak as he searches for his second XC2 250 Pro class championship. Also strong in the XC2 250 Pro class at the opening round was Trail Jesters KTM Racing's Ben Kelley, who took second place in class and seventh overall.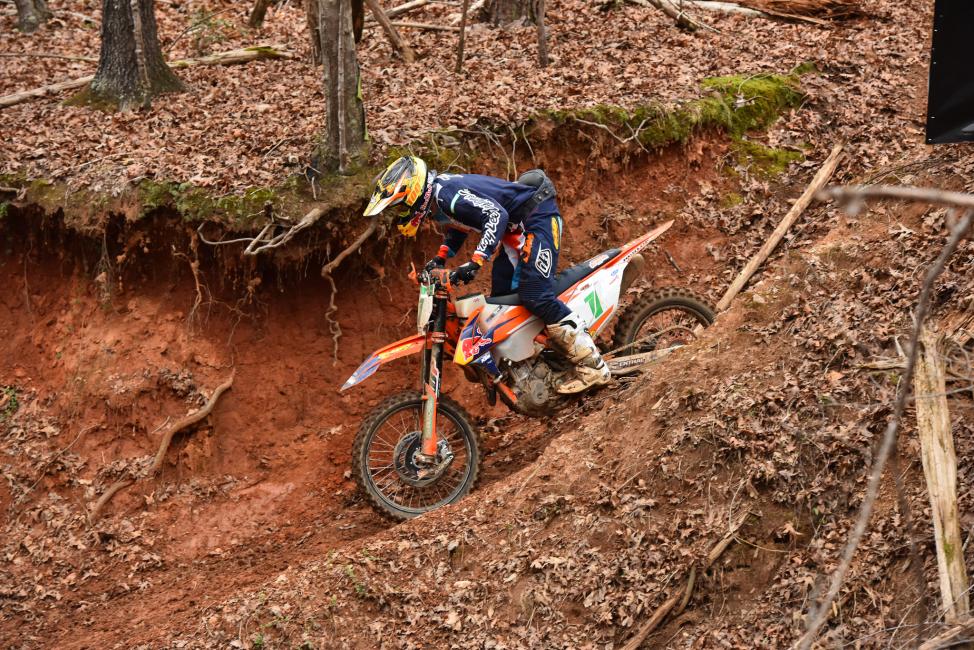 KR4/Husqvarna's Layne Michael would make his XC1 Open Pro class debut at the season opening round and proved to be quite successful, as he would finish sixth place in the XC1 class and eighth place overall. XC2 250 Pro class racers Coastal Racing/Husqvarna's Pascal Rauchenecker and M&E Honda/FLY Racing/Maxxis' Austin Lee would round out the top ten overall, and also finish third and fourth place in the XC2 250 Pro class, respectively. Both of these riders will be back and looking to gun for the XC2 class podium at the Wild Boar.
Sunday's race schedule is as follows: Youth Bike racing begins at 8 a.m., followed by amateurs and women at 10 a.m. and pros and top amateurs at 1 p.m.
The amateur race entry fee is only $50, and youth race entry fee is only $30. To learn more about GNCC Racing, refer to the GNCC 101 webpage.
Spectator passes run $20 for adults and $10 for children (6-11), and kids 5 and under are free for the full weekend (Saturday through Sunday), with pro pit access and pro autographs at no additional charge.
To get to the track from Highway 17 South, take Route 19 South to Route 310 West. Continue driving past the Rodman Plantation sign. Turn right approximately two miles at the Hog Waller sign.
The 1 p.m. pro races will be broadcast live on the internet via Racer TV both days. A highlight show featuring the event will air on NBC Sports Network on Saturday, April 21, at 5:30 p.m.
All local racers are invited to compete at the Wild Boar GNCC, as GNCC Racing offers classes for riders of all skill and experience levels.
Local racers expected to compete this Sunday will be Mike Veach (Masters A 50+), Mel Cunningham (Silver Masters B 55+), Tucker Hopson (250 C College 18-24), Brian Hart (Vet C 30+), Bill Pitts (Super Senior C 45+), Jesse Ansley (FMF XC3 125 Pro-Am), Landon Lynn (200 A), and Allen Linville (Vet A 30+). Tune in to RacerTV.com on Saturday at 1 p.m. EST to catch live streaming of the Pro Bike race. For more information on GNCC live coverage, visit www.racertv.com.
For more information on the GNCC series, visit the official website at www.gnccracing.com or call (304) 284-0084. Join the conversation on the series Facebook page, follow us on Twitter and Instagram, and be sure to always hashtag #GNCC.