Tampa, FL
Tampa
Monster Energy AMA Supercross Championship
Monster Energy Kawasaki's Eli Tomac picked up his fourth win of the season in Tampa. It was a strange one, though, as Tomac lost positions to Marvin Musquin and Justin Hill early and had to battle back to the lead. "It was a tough race tonight," Tomac said in a team statement. "A couple of guys got around me early on, but I was able to find my groove and ride up to the front. I found a good line in the heat race and I used that to get by Marv, and overall this was a good racetrack for us. A win in this 450 class is pretty hard to come by, and this feels really good."
Red Bull KTM's Marvin Musquin continues to get closer to the form he showed at Anaheim 1, when he won. He battled Tomac to take second in Tampa. "It's awesome to finish the day on the podium for second place," he said in a team statement. "We fought for the lead so that was nice to have a battle with Eli, but I just missed a little bit to fight until the end with him. We showed some good speed overall—I was missing a little bit of time on the big rhythm sections, but other than that, I felt pretty good on the rest of the track. We corrected my whoops a little bit and my turns were good, so I was pretty happy about my riding. And to lead some laps was definitely good and going in the right direction for the future. I know it's second place but I'll take it, it's some good points."
Rockstar Energy Husqvarna Factory Racing's Jason Anderson finished third, on what was a quiet night for him. Considering he holds nearly a 40-point lead in the standings, third place is not a problem. "My weekend went pretty average," Anderson said in a team statement. "I qualified third, got a heat race win, and, in the main event, came from the back up to third. That's all I had, but I'm looking forward to the next race."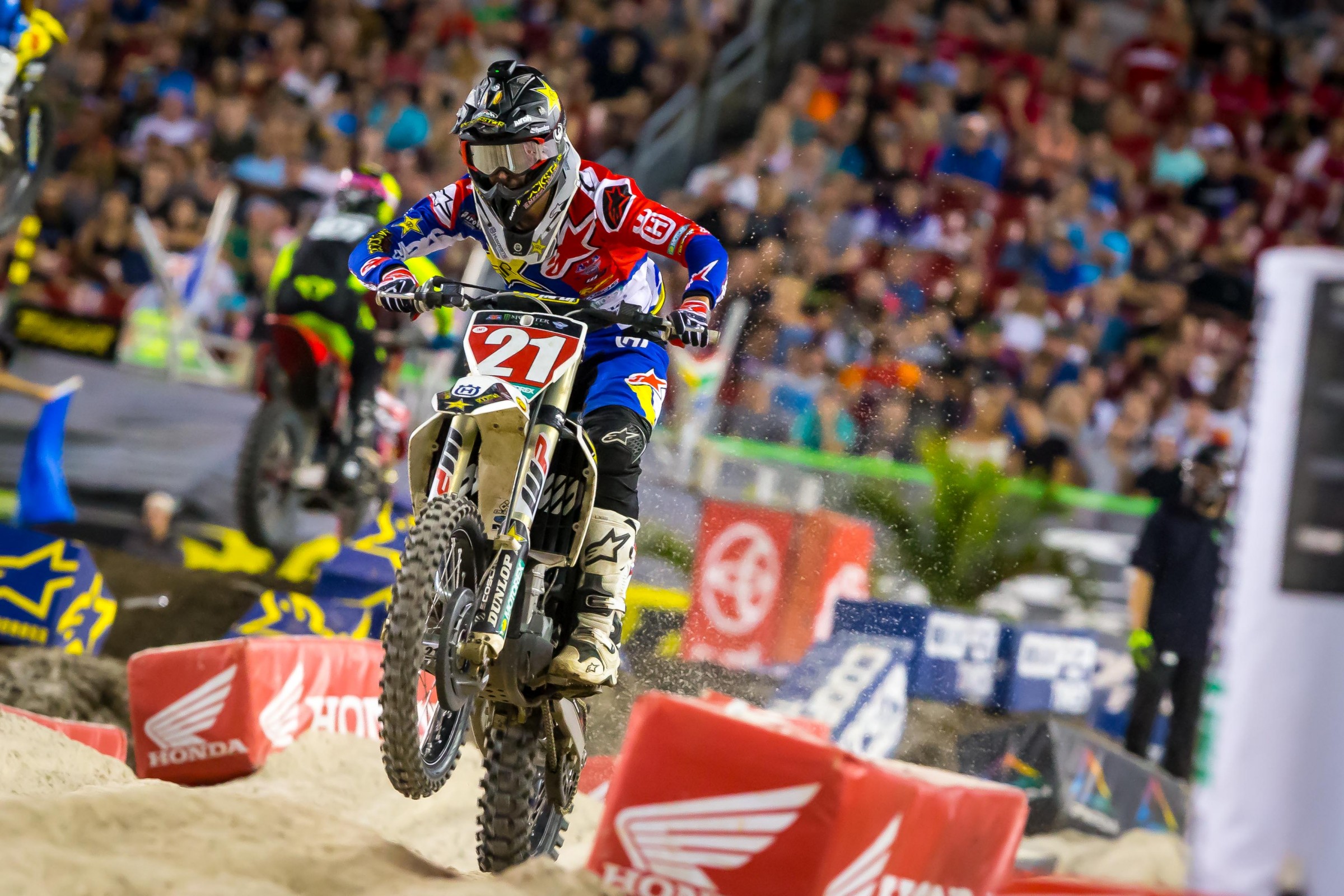 Monster Energy/Factory Yamaha's Cooper Webb picked up his best 450 finish of the year. After the race, he said via Instagram, "Tampa was another step in the right direction. Qualified P2 and ended up fourth in the main. I know what I need to work on to be up there, so gonna work hard this week to be up there at the home race in Atlanta! Got myself a holeshot too, that was nice!"
Red Bull KTM's Broc Tickle tied his season best with a fifth. In a team statement Tickle said, "Overall, I'm happy with the night. This week it was good to get back to the Baker's Factory and ride here in Florida. Practice went a little better today and we made some changes before the main event. I put my full trust in the Red Bull KTM crew and we made a change that was in the right direction to get me comfortable, and I was able to go out there and put in a solid 20 minutes to end up fifth, so it's a step in the right direction. We're making baby steps and making progress during the week to get better so for me, it's keep focusing on the things I need to do that can help me on the weekend and making it happen."
Autotrader/Yoshimura Suzuki's Justin Hill turned a lot of heads on his 450 supercross debut. He was jumping a quad at the end of the rhythm section that not one else was doing besides Blake Baggett (and Baggett ended up crashing into a net when he overjumped it in his heat race.) Hill made the leap consistently and was making up a lot of ground with it. He even did something that not many can say these days: he passed Tomac. While battling with Musquin for the lead, he attempted to cut down in a corner, but caught his front wheel on Musquin's rear and went down, losing the leaders. In a team statement, Hill said, "I was less than intimidated by the 450 guys. The speed was easier than I thought it would have been. I was comfortable at battling the frontrunners. The experienced guys seem to do less dumb stuff. Riding with the smart guys seems to work better for me.
"As I get more involved in the 450 Class I feel like I could be the guy, because that type of riding style suits me well," he continued. "The first few laps after I got up following the crash, I was trying to regroup. I had a bent front brake lever and it was hanging pretty far down. Then I started getting the quad jump again. There was no way I was going to do that section without a front brake. I'll have another week on the Suzuki RM-Z450 and head to Atlanta with new goals. I'm looking forward to it."
"I felt like my weekend was definitely more progress, and I'm feeling a lot better," Rockstar Energy Husqvarna Factory Racing's Dean Wilson said in a team statement. Wilson now has 9-8-7 finishes in his last three races, continuing to make progress after a crash at Anaheim 1. "I got my first full week of training in two months, so that was nice. I feel like I have a lot more than what I'm showing, but I'm keeping it consistent and I know I can be running in the top five for sure. My speed is there, it's just believing that I can do it. I think that will get better every race, it's a work in progress and I'm still healing, but it was definitely a better weekend."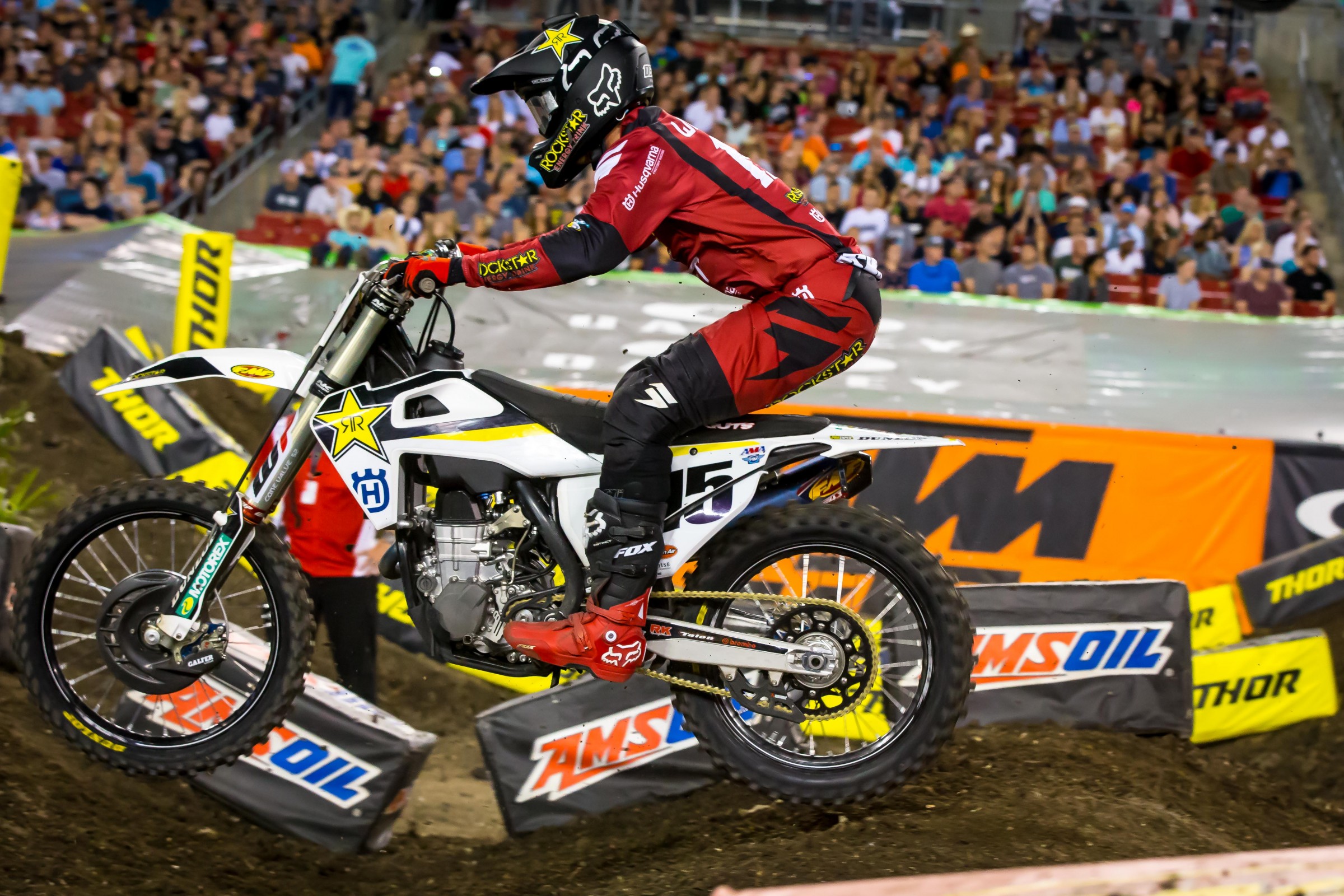 As mentioned, Rocky Mountain ATV/MC-KTM-WPS's Blake Baggett was the first to jump the big quad in the rhythm section. In the heat, he clipped the end of it, flew over a berm and ended up in the net outside the corner. In the main, he got together with his teammate Benny Bloss on the first lap, leaving both on the ground and at the back of the pack. Baggett came back to ninth, ending his three-race podium streak. In a team statement, he said, "Tonight was tough. I felt I had the speed tonight. It was unfortunate about the incident early in the main, as I feel we could have been up front. We will regroup and look forward to getting back on the podium in Atlanta next weekend."
Autotrader/Yoshimura Suzuki's Weston Peick tied his worst result of the season with a 12th. A crash in the sand led to his undoing. "That was the first race at Tampa in a long time," said Peick in a team statement. "It was nice to go somewhere new. It was a hot day with a lot of humidity. Practice went well for me, despite not feeling very in tune with the track. I tangled with some people in the heat race and had to work from about tenth place to fourth by the finish. Before the heat race, we softened up the shock a bit because of the sand section and the ruts. I had a good start in the main and was around the top five for over half of the race. Then I made a weird mistake in the sand section. I cross-rutted off the face, landed, hooked left, and went over the bars. I hit my thigh, and it took a while to get the bike out of the sand."
"Today was great," 51Fifty Energy Drink Yamaha's Kyle Chisholm said after the race in a team press release. The always-consistent Chisholm has scored 13th in both of his 450SX races this year. "This is basically my hometown race and we were able to shake all the nerves out last weekend. A bunch of my family and friends were here today, so the overall vibe was really fun. The bike worked great all day on the tough track and we were once again able to qualify directly from the heat race. I'm happy to match my result from last weekend, but would love to crack the top ten before the East Coast rounds are done."
Filling in for the sidelined Josh Grant, who broke his leg last week in practice, was Monster Energy Kawasaki's Tyler Bowers. We talked to Bowers during the afternoon and he indicated that the switch from a privateer Kawasaki to the factory bike has gone smoothly. In a team statement he said, "Today went well. I felt super comfortable on the factory Monster Energy Kawasaki as soon as I hit the track in the morning and felt I rode well all night. I had a great heat race, but didn't get the start I wanted in the main and ended up finishing 14th. Overall, I think it was a great weekend and can't thank Monster Energy Kawasaki enough for giving me this opportunity."
After missing a few races, Matthew Bisceglia made his return to racing in Tampa, finishing 19th. On Instagram, he wrote, "Thankful to be back at the races this weekend! I definitely felt a bit rusty, but happy to come back home healthy and ready to put in a solid week before Atlanta."
Chad Reed broke the all time AMA Supercross starts record on Saturday night. He would end up having to go to the LCQ to get there, though. In the main he was running in 11th, his best of the season, when he had bike issues and pulled off the track. In a TV interview after he pulled off, he said, "It just keeps cutting out. It did it like three laps ago and you kind of second-guess, like, did that really happen? Then it happened on the face of the triple and the face of the finish line. What was I in, 11th? No 11th is worth jumping over the front of the bike. That was my best performance of the year, so that's a shame, but you know what, there's a bigger picture. We'll just keep working. I made a good step today, so we'll just keep plugging away."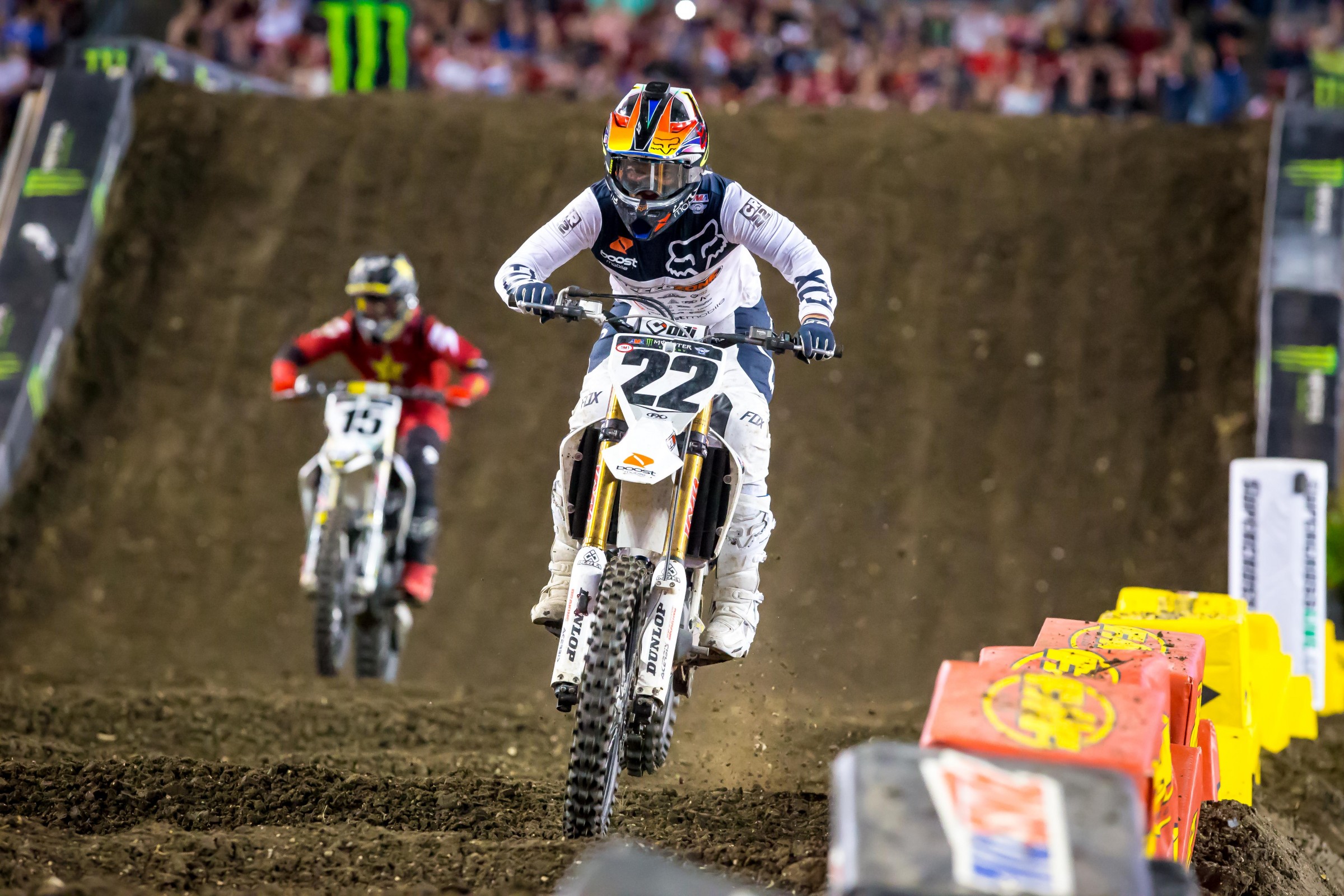 Following a DNF, Rocky Mountain ATV/MC-KTM-WPS's Benny Bloss posted on Instagram, "Day was going pretty good in Tampa, finished fifth in my heat race and felt pretty solid on the bike. And then on the second lap of the main I ended up going down with Blake Baggett in the sand and ending my night. Bummed to end the night the way I did, but we will be back at it for Atlanta!"
Honda HRC's Cole Seely sustained an injury to his pelvis and tailbone during his heat race at Raymond James Stadium on Saturday night. Team Honda provided the following update yesterday: "Seely had sustained fractures to his sacrum and the left and right sides of his pelvis. He underwent an initial procedure Saturday evening to realign the pelvis. On Sunday, a more extensive operation was performed to repair substantial damage to his abdominal wall, fixate the pelvis with a large plate and screws, and insert a screw on each side of the sacrum."
Initial prognosis is for eight weeks of non-weight bearing. He is scheduled for a follow-up appointment in 10-14 days. Honda has yet to announce their plans on fill-in riders for the injured Seely and Ken Roczen.
Monster Energy/Pro Circuit Kawasaki's Austin Forkner picked up his first supercross win after a battle with Dylan Ferrandis that went right to the finish. In a team statement he said, "I am so stoked to get the win. I felt the pressure coming, but I tried to hit my marks and pull a gap. I thought we were both going down, but I just hit the gas and kept it up. I'm so happy for the team and to get this first win under my belt."
Monster Energy/Yamalube/Star Racing Yamaha's Dylan Ferrandis was close to making a move on Forkner the last laps. In the press conference after the race, he said, "I was thinking about making the pass in the last lap. The thing is, for me, tonight was really my first race of the season because last weekend I crashed at the start. I had to stop in the pits and I hurt my leg a little bit. So, it was really my first race tonight. I just ride, just miss a little bit of racing and just burn all my oxygen in the first few laps. I was a little bit out of oxygen so I cannot do really what I want, but I tried. I tried on the last lap to make the pass, but it didn't work. It's okay. I feel good. Now I know what I need to work on. We're going to try to fight for the win next weekend."
"It was decent day here in Tampa," Rockstar Energy Husqvarna Factory Racing's Zach Osborne said in a team press release. Osborne finished third. "I won my heat race and got off to a really good start in the main event, but I just didn't quite execute there at the end like I would've liked to. I tried to kind of play it safe in the middle and maybe it got away from me a little bit. I'll work on that this week."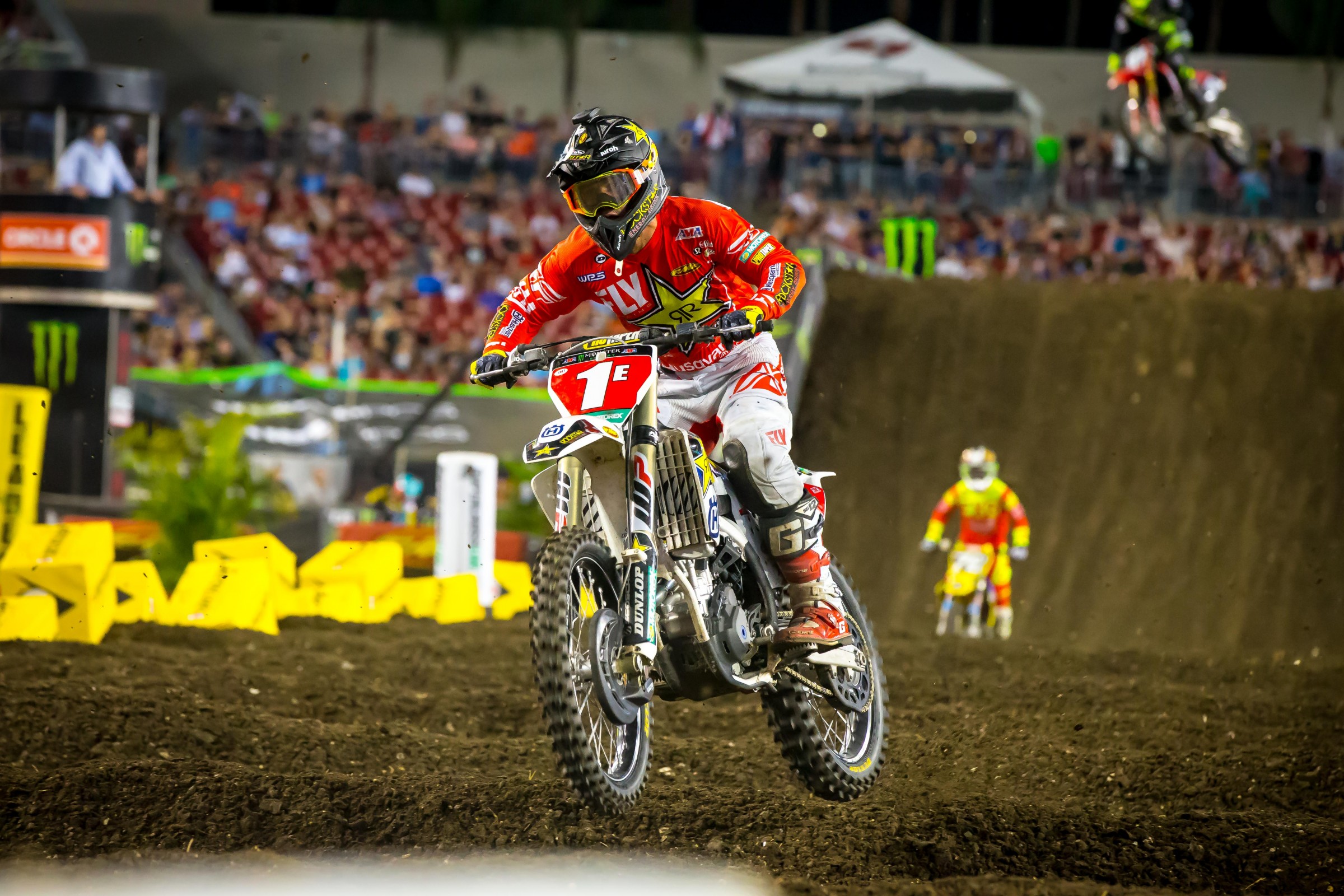 For the second week in a row, GEICO Honda's RJ Hampshire got a good start and led opening laps in the main event, but mistakes caused him to shuffle back to fourth. In a team statement Hampshire said, "Was so excited to race in my city. Felt decent all day. One mistake in the heat race cost me the win. I got another holeshot in the main and did not ride well at all those opening laps. Same thing as last weekend. Made so many mistakes and couldn't mentally put it together. It took me a couple laps to settle down and then I kind of found a groove. It's frustrating to holeshot both weekends and end up with two fourths. I need to prove that I can be a threat in this championship. I'm not the same rider as in years' past and I have the bike to put me out front. I'll continue to plug away and work on those opening laps for next weekend."
Poking fun at himself, he also took to Twitter and wrote, "Someone shoot that squirrel that's on the track those opening laps… it's embarrassing."
Monster Energy/Pro Circuit Kawasaki's Martin Davalos had the speed to win last week in Tampa but a huge first-turn crash put him down hard, ending his night. Health wise, he was considered a race-day decision to go ride in Tampa, but he suited up, won a heat race, and took fifth in the main. "It was really good to be able to get back out there and race," he said in team press release. "It was a tough week, but I was focused and knew I wanted to ride. I love racing in Florida and the track was really fun. It will be nice to build on this weekend."
"Tampa has lots of positives for me," GEICO Honda's Cameron McAdoo said in a team statement. He finished eighth in the main after breaking a bone in his hand last week (Kyle Peters got out of shape and landed on McAdoo in a rhythm lane). "The first being I was able to race after suffering a broken hand last weekend. We worked really hard all week long getting rid of swelling and trying to get the hand useable, so I was happy to even be able to be out there. I was happy with my start in the heat race but felt like I rode tight, and I want to race those front guys harder because that's where I feel I belong. All in all, we ended up eighth on the night, so it's something that we will build off of."
Autotrader/Yoshimura Suzuki's Jimmy Decotis landed on the podium last week, but dealt with adversity in Tampa and had to come back through the pack for tenth. "I felt a little bit off in the beginning of the day and struggled to get into a groove," he said in a team statement. "Things started coming together in the final practice. The heat race went really well. I worked to fourth place. I had a really good jump off the gate in the main event, but missed a shift halfway down the straightaway. Someone crashed in the second turn and I did all I could to avoid his rear wheel, which was spinning pretty fast. Unfortunately, my front wheel hit his rear wheel and I went down before I knew what was happening. I laid there so that I wouldn't get hit by the rest of the field, and then picked up my RM-Z250. I put my head down and charged as best as I could. It's unfortunate stuff like that happens, especially after finishing on the podium last weekend, but that's why we race nine rounds. I'm healthy and happy, so I'll keep building and get ready for Atlanta."
Autotrader/Yoshimura Suzuki's Kyle Peters took 13th. "I was in good position during the heat race, but I rode too timid during the opening laps," he said in a team statement. "After running sixth on the opening lap, I made a bobble in the sand section and dropped back a few spots. A few laps later I got taken out while going past the mechanics' area. I tried to salvage as many points as I could, but I can't be that far back in the pack. I'm really disappointed and frustrated. I need to bring everything I'm doing at the practice track to the racetrack."
For the second week in a row, Jordon Smith caused GEICO Honda's Jeremy Martin to hit the deck. Smith scrubbed hard in front of Martin over a triple, which caused Martin to jump off the track. Upon trying to re-enter, Martin washed his front end on the plywood. Martin got up, and then Lorenzo Locurcio crashed in front of him in the whoops, leaving him with nowhere to go, and down on the ground again. He took a disappointing 12th. In a team statement Martin said, "Rough weekend in Tampa. Speed felt solid all day to be there for a podium finish. Pretty sure I was sleeping on the gate in the main, which put me in a poor position and exposed me to some people I shouldn't have been around. Just need to move on. Looking forward to round three."